And voila……the markets are back to flashing green in 2016. Simple central bank manipulation? Or perhaps the economy is turning the corner? Seems like most in the media would choose the central bank, but one indicator of a better economy has turned up: the Dow Transports Index "DJT". Since hitting a low on January 20, 2016, the DJT is up 20%. Over the same period the S&P 500 is up 9.8%. For those optimists in the convertible bond world, Echo Global Logistics (NASDAQ:ECHO) offers an opportunity to invest in an improving economy through a HOCS 20 name.
Echo arranges shipping for its clients, but the company does not own trucks, trains and airplanes, limiting capital investment. Rather, Echo uses its understanding of it clients plus its proprietary technology to optimize shipping efficiency and cost. Echo has acquired several companies in the logistics industry to stoke growth, with its latest and largest, acquisition completed last June when it bought fellow Chicago company Command Transportation, LLC which had particular expertise in truckload business.
Echo's 2.50% convertible bonds has been listed on the HOCS 20 since the end of January thanks to the company's rapid growth and clean balance sheet. The HOCS score currently stands at 70 overall/80 growth/50 safety. With the bond trading just above par and the stock in the middle of its 52 week range, it is what we would term a Hillside "OINC light" (old issue, new chance). The bond only traded up to a high of about 109 last summer, so the drop has not been dramatic, but the par price does make the paper similar to a new bond. The bond seems just right for those portfolios that will need a goose if US manufacturing turns up and shipping rebounds along with it.
Economic Backdrop
The following chart of the Department of Transportation Index, Freight Component highlights the current shipping slowdown since the end of 2014.
Department of Transportation Index, Freight Component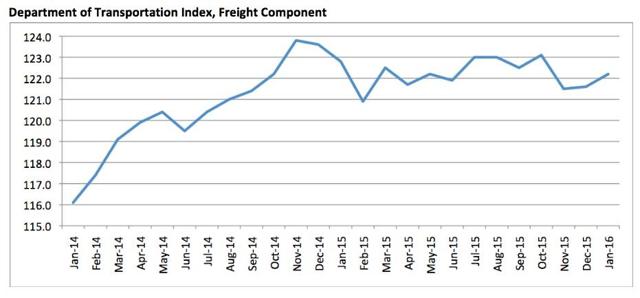 Source: Department of Transportation/Saint Louis Federal Reserve Bank
With about 16 months separating the peak in the freight transportation index from today, there has been some encouraging economic data most recently that points to at least nascent "green shoots". Last week, business equipment spending recorded its second straight month of a 0.6% increase, indicating that manufacturing may finally be pulling out from a long string of declining ISM manufacturing survey declines. Further, the Fed decided to keep rates at an ultra-low level because of slowing world economic growth. Then the Philly Fed recorded its first positive reading in six months. More importantly however, Echo executives remarked on their February 2 conference call that January showed signs of strength compared to a weak fourth quarter. All mildly encouraging signs.
Echo Leveraged to an Economic Rebound in the US
Echo is leveraged to any rebound in the economy as 81% of total revenue was from transactional clients, up from 74% in 2014 and 70% in 2013. Transactional pricing is not just spot pricing, but a mix of pre-existing price agreements for LTL (less than truckload) clients and spot for truckload (TL) transactions. Echo will gain from both the increase in volume that comes with an economic rebound as well as the increase in spot pricing that results from tighter supply if the good times start to roll again.
The alternative to transactional revenue is "Managed Transportation Revenue" under which Echo contracts with a client for a bundle of services which could include shipping, logistics, auditing and sourcing. While somewhat less leveraged to the economy, Echo has greater control over the client and a much larger share of revenue per client.
Industry Snapshot
While Echo is the smallest of the three public logistics firms including CH Robinson Worldwide (NASDAQ:CHRW) and XPO Logistics, Inc. (NYSEMKT:XPO), its assets are the most concentrated in the US. Echo is able to avail itself of an international network for those clients shipping globally, but it does not have the investment overseas in human resources and equipment that CH Robinson and XPO have. For now, at least, that could be an advantage as Europe and Asia struggle to regain economic momentum.
Echo is also more heavily weighted to TL versus LTL. That shields the company somewhat from the Internet effect where goods are shipped directly to the customer rather than to a showroom floor. On the other hand, the LTL business does benefit in the larger goods segment as those are shipped directly to the consumer through carriers other than UPS (NYSE:UPS) or FedEx (NYSE:FDX). XPO has the greatest market share in this "white glove" service.
A brief comparison of these three logistics firms are as follows:
| | | | |
| --- | --- | --- | --- |
| (in $ million) | Echo | CH Robinson Worldwide | XPO Logistics |
| Revenue | 1,512 | 13,476 | 7,623 |
| Market Cap | 816 | 10,470 | 3,160 |
| Gross Margin | 17.6% | 16.8% | 14.0% |
| EBITDA | 45 | 925 | 494 |
| Net Debt/EBITDA | 4.3x | 0.4x | 10.0x |
Source: Bloomberg/SEC Filings
Clearly, Echo is the small kid on the block, but that has not slowed the company's revenue growth, though much of the growth historically is due to acquisitions. Including the Command Transportation acquisition, revenue grew 29% in 2015. 2015 Truckload revenue grew 55.9% to $965.4 million. Most of the TL revenue growth was due to the Command acquisition, but revenue also grew 4% organically including a 21% growth in volume offset by a 15% decline in rates. The LTL segment increased 3.1% to $445.3 million. Intermodal revenue grew 4.3% to $74.2 million.
Credit
Echo's balance sheet leverage lies in the middle of CH Robinson and the more highly leveraged XPO logistics. Because Echo does not own its transportation assets, but farms the work out to third party shippers, its capital expenditures are relatively low. Total capital expenditures were $14.7 million in 2015 and $15.2 million in 2014 resulting in free cash flow of $56.1 million in 2015 and $17.2 million in 2014.
In addition to the $57 million in cash on Echo's balance sheet, the company as a $200 million credit facility which is currently undrawn. As the Command integration evolves, gross margins are expected to increase. Its only debt is the convertible bonds.
For 2016, Echo is guiding to revenue between $1.80 billion and $1.88 billion, assuming no change in today's fuel prices. That is almost a 20% increase in the top-line. Capex is expected to be $22 million to $26 million range.
Conclusion:
Echo has continued to expand despite a soft freight market and remains a strong company from a credit perspective. The high HOCS score indicates that the convertible bond will do what it is supposed to do - participate in the upside of the equity while at the same time limiting any downdraft. Management has a solid track record of integrating its acquisitions and managing through market downturns. Given the solid credit, the yield just under 2% looks attractive in a world where the Fed cannot enact even a 25 bp increase despite the unemployment rate falling well below its previous target.
Credit Waterfall: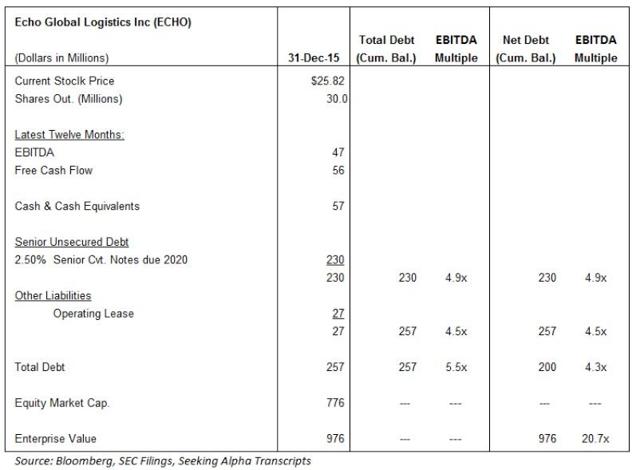 Financial Summary: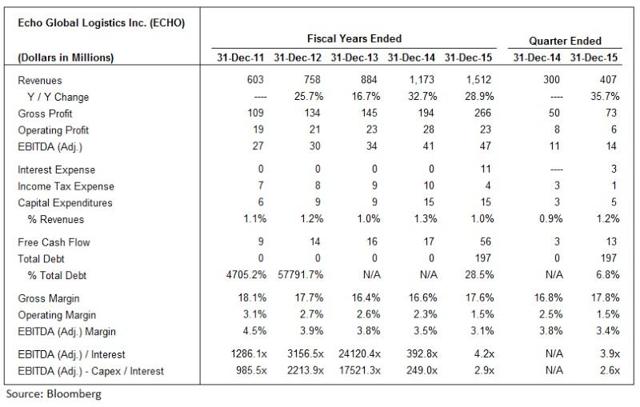 Disclosure: I/we have no positions in any stocks mentioned, and no plans to initiate any positions within the next 72 hours.
I wrote this article myself, and it expresses my own opinions. I am not receiving compensation for it. I have no business relationship with any company whose stock is mentioned in this article.