Double-Digit Revenue Gains
Last month, both Paycom (NYSE:PAYC) and Paylocity (NASDAQ:PCTY) reported results for the December quarter. Each registered high double-digit year-over-year revenue gains. The two companies were founded in the late 1990s to benefit from the ongoing shift of enterprise and small businesses to cloud-based payroll and HCM (human capital management) solutions.
Reflecting rising demand for these cloud-based services, both Paylocity and Paycom have enjoyed strong revenue expansion over the past several years, and as noted, the momentum continued in the December 2015 quarter. Paycom's revenue was up 48% year-over-year, while Paylocity's was up 61%.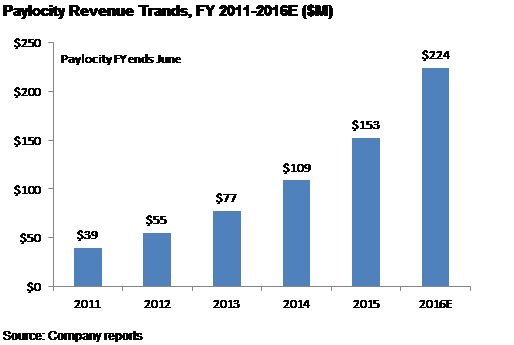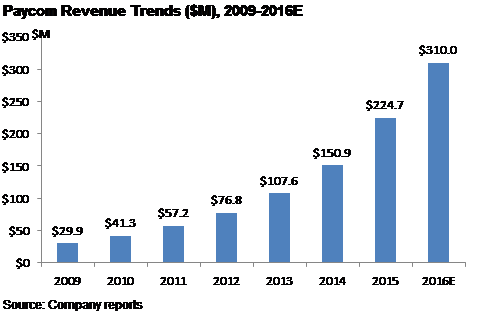 Paylocity has grown revenue over the past four years from $39 million in FY 2011 to $153 million in FY 2015 (Paylocity's fiscal year ends in June), as illustrated in the figure above. This equates to a CAGR of 40.7%. Paycom has grown revenue from $29.9 million in 2009 (its fiscal year ends in December) to $224.7 million in 2015, which represents an approximately 40.0% CAGR.
For both companies, a high proportion - 95% or higher - of revenue is recurring and predictable. This provides management and investors with substantial visibility into future revenue streams.
December 2015 Quarterly Results
Paycom: Revenue up 48%
Paycom generates most of its revenues from payroll services. It reported fourth quarter 2015 revenue of $65.1 million, a 48% improvement compared to the same quarter of 2014. Paycom's annualized new recurring revenue of $40.6 million advanced 97% from $20.6 million recorded in 2014's same quarter. On the higher revenue base, the company registered a 35% year-over-year adjusted EBITDA advance to $10.5 million.
Paycom's FY 2015 revenue reached a record $224.7 million, as noted, which represents a 49% annual advance. The company's 2015 adjusted EBITDA reached a record $48.1 million, up an impressive 78% versus 2014. GAAP net income was $20.9 million for FY15, with EPS coming in at $0.36 compared to $5.7 million and $0.11, respectively, in FY 2014.
Paycom provided 2016 guidance, with total revenues expected in the range of $309 million to $311 million and adjusted EBITDA in the range of $63 million to $65 million. These metrics imply year-over-year revenue and adjusted EBITDA growth of 38% and 31%-35%, respectively.
Paylocity: Revenue up 61%
Paylocity announced total quarterly revenue of $55.2 million, up 61% year over year, with recurring revenue of $52.3 million up 61% year over year, as well. The company attributed a portion of this to "the impact of [its] ACA Enhanced product."
Benefiting From Transition to ACA
The Affordable Care Act, ACA, or Obamacare mandates that firms provide healthcare insurance to employees. As of January 1, 2015, firms with 100 or more employees were required to offer affordable health insurance to their staff or face penalties. In 2016, firms with 51-100 employees must begin to comply with these ACA regulations. The percentage of firms offering health insurance benefits rises with firm size, as illustrated in the figure below. There are firms that did not offer benefits as of 2014, but will be required to do so under ACA. There are also incremental filing and paperwork requirements under ACA, as noted.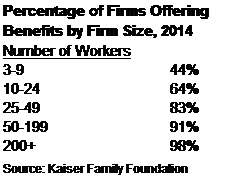 Paylocity's recently released ACA Enhanced is a new compliance solution to help clients manage the reporting requirements of the Affordable Care Act. In order to remain compliant, many smaller firms are expected to need assistance with the additional paperwork that ACA will create. In its 1Q FY16 conference, Paylocity's CEO said:
"We believe that the complexity of ACA legislation is the primary driver behind a greater number of in-house clients evaluating alternatives."
In the quarter ended December 31, 2015, Paylocity's adjusted EBITDA came in at $7.2 million versus negative adjusted EBITDA of ($0.2) million in the same period of the prior year. Paylocity's operating loss was ($1.3) million, compared to an operating loss of ($6.5) million and its net loss was ($1.2) million and ($0.02)/share versus ($6.4) million or ($0.13)/share, on a GAAP basis.
Paylocity also issued guidance. For fiscal 2016, Paylocity expects total revenue to be $223.0 million to $225.0 million and adjusted EBITDA to be $22.0 million to $23.0 million. These metrics imply year-over-year respective revenue and adjusted EBITDA growth of 38% and 174%.
Financial Metrics Compared
Paylocity enjoyed stronger top line growth in the December quarter off a smaller base. Paycom enjoys higher adjusted EBITDA margins than Paylocity (16% vs. 13%). Both companies anticipate roughly 38% prospective revenue growth in FY 2016, but Paylocity anticipates substantially higher year-over-year adjusted EBITDA growth in FY 2016 (174% vs. 33%), presumably as revenue expands and it begins to see some operating leverage. Paycom has been profitable on a GAAP basis, Paylocity has not.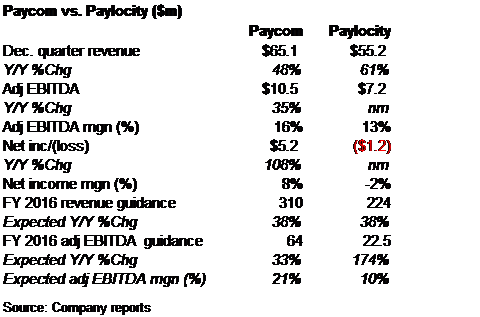 Sector Growth Drivers
The automated payroll and HCM industry has enjoyed strong growth over the past few years, as small businesses and enterprise transition from legacy systems to digital, cloud-based payroll services. Organizations, under pressure to constrain costs, see upgrading their IT solutions to those from third-party SaaS providers as one avenue to better manage personnel costs and to provide overall oversight of HR functions more efficiently, we believe.
Moreover, according to Paycom,
Organizations are also managing internal costs and administrative burdens by transitioning technological assets from on-premise to the cloud."
This transition enables businesses to avoid some of the problems associated with storing, updating, maintaining and general security of large quantities of data.
As we noted in our recent article, Paycom vs. Paylocity, companies with 20-499 employees outperformed larger ones in terms of job creation, implying a growing need for payroll services. According to the Bureau of Labor Statistics, small firms accounted for 63% or 14.3 million of the 22.9 million net new jobs created from 1993 through mid-2013 and 60% from mid-2009 through mid-2013. We believe this has led to a trend among companies, large and small, to outsource HR (Human Resources) services, including payroll.
Multiples Have Declined
The high growth of the automated payroll and HCM sector, as well as the automation of other back-office functions, has attracted a number of entrants. Paylocity and Paycom compete with a broad group of others, including Workday (NYSE:WDAY), Benefitfocus (NASDAQ:BNFT), Paychex (NASDAQ:PAYX), and The Ultimate Software Group (NASDAQ:ULTI). They also compete with legacy providers such as Automatic Data Processing (NASDAQ:ADP), Intuit (NASDAQ:INTU) and others. Most of the cloud-based providers have generally made strong inroads in recent years, as organizations transition to SaaS service providers.

However, since we last wrote on these companies in November 2015, PCTY and PAYC shares have pulled-back by 23% and 28%, respectively. BNFT shares have retreated 25% and WDAY shares 14%. By comparison, shares of more established players ADP and PAYX are up 4% and 0.3% over the same period.
PCTY shares trade at 5.2x on prospective revenue, according to Yahoo! Finance data, while PAYC shares trade at 6.4x. These multiples compare to 10.7x and 11.3x, respectively, in November 2015.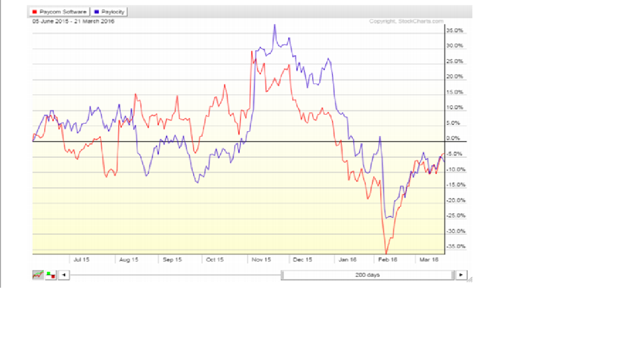 Will Growth Support Multiple Expansion?
We believe concerns about the near-to-medium term growth prospects of cloud-based providers have constrained the shares. Although growth may slow, Paycom believes that it is "in the early innings of a multi-year growth cycle." Presumably, this applies to the overall industry, as well. As noted, both companies expect revenue growth of roughly 38% in FY 2016. Paycom recently announced new office openings that management believes "are poised to drive growth in 2017, 2018 and beyond." In its recent quarterly conference call, Paylocity discussed growing its network of sales representatives, another potential growth driver.
Disclosure: I/we have no positions in any stocks mentioned, and no plans to initiate any positions within the next 72 hours.
I wrote this article myself, and it expresses my own opinions. I am not receiving compensation for it (other than from Seeking Alpha). I have no business relationship with any company whose stock is mentioned in this article.