Twelve months ago, I wrote an article here, which laid out my sell rating on WhiteWave Foods (NYSE:WWAV). The sell rating was largely due to overvaluation. At the time, the stock price was $43.06 and I projected a 31% decrease over 12 months to $29.73 per share. Although the stock is down approximately 8.73% over those twelve months, it is still a distance away from my 31% projection. The stock's 52-week low only hit $31.40, which is still above my target. While I was wrong about my performance projection, I still think the sell rating was warranted during the period. As you can see below, WhiteWave Foods has significantly underperformed against the SPY.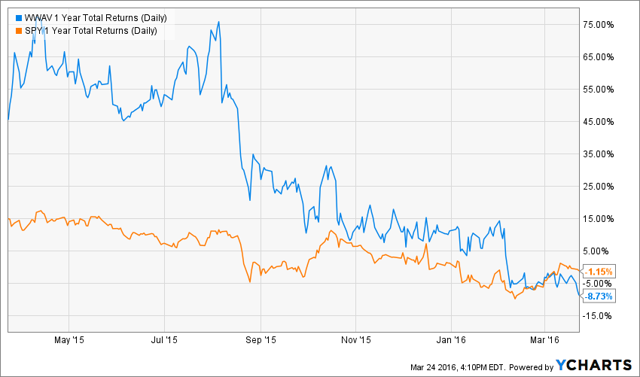 Source: YCharts
Here are some financial highlights from the past 12 months:
Growth - Over the last 12 months, WhiteWave Foods saw top line growth of 12.5%, which is less than the 17% increase I was projecting for fiscal 2015. Nevertheless, the 12.5% growth is significant enough to justify a P/E of 42 to investors.
Operating margin - One of the reasons their FCF outperformed my projection was due to the small but important increase in their operating margin, which went from 7.8% to 8.6%. Their operating margin still trails the industry average of 10%, but the fact that they are able to achieve double-digit top line growth while increasing OM means the company is running efficiently.
Capital expenditures - Capex came close to where I was predicting. The company has made significant investments into acquisitions, but was able to drop their capex spending by about 12%. We can assume that capital expenditures will continue to drop over the years as a percentage of revenue.
Debt - This can start becoming a burden for them. WhiteWave Foods grew long-term debt by 41% from $1.5 billion to $2.1 billion. This makes the company quite leveraged with a debt/equity ratio of 1.7.
The company's debt is important to note. While we should give WhiteWave Foods credit for their growth rate, we have to acknowledge that it is not organic growth and is being funded through heavy debt. Even if WhiteWave Foods reduces their shopping spree of acquisitions, their debt is still likely to rise to even higher levels. They currently have a cash ratio of 0.06, and a current ratio of 1. This implies that there is a high probability that the company will need more cash for working capital and short-term obligations.
Below, I've outlined my DCF model for WhiteWave Foods, which uses a discount rate of 10% and a terminal growth rate of 5%.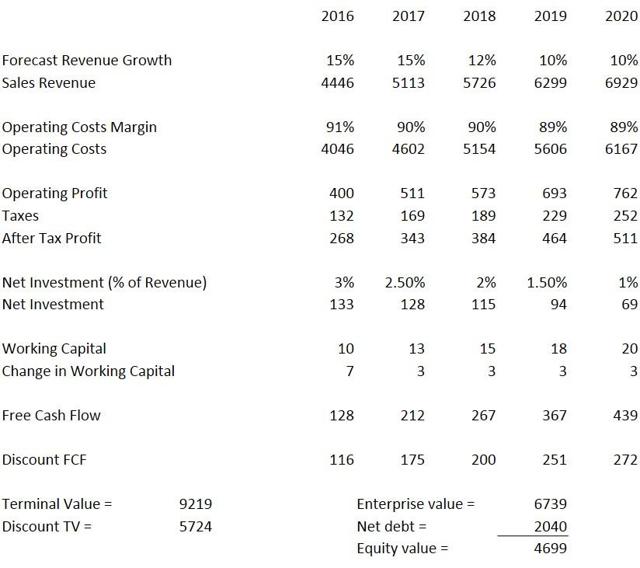 Source: Author's calculations
As you can see, I have their equity valued at about $4.7 billion. Their net debt is what is significantly dragging down their value of equity. The operating margins are in line with the industry and I have reduced their net investments and revenues in what I think is a fair structure.
Conclusion
WhiteWave Foods is a solid company that seems to trade a little high for where they currently are. Their debt is growing at a fast rate and will likely continue to pile up a bit more due to potential liquidity concerns. Although the company is growing, it is happening largely because of strategic acquisitions, which are not only increasing their debt but have a longer-term unknown synergistic effects thus far. Because the company is not shown to sustain any significant organic growth, it doesn't excite me as a growth investor. And since they trade at a pretty high premium given their high debt levels, it doesn't excite me as a value investor. Unless this stock went back down to its 52-week low of $31.40, it's still too rich for my blood.
Disclosure: I/we have no positions in any stocks mentioned, and no plans to initiate any positions within the next 72 hours.
I wrote this article myself, and it expresses my own opinions. I am not receiving compensation for it (other than from Seeking Alpha). I have no business relationship with any company whose stock is mentioned in this article.