Introduction
I have appreciated Alamos Gold (NYSE:AGI) in the past, and I thought the merger with AuRico Gold (NYSE:AUQ) was an interesting move as it allowed AGI to reduce its country risk by adding the Young-Davidson mine in Canada to its portfolio of producing mines. However, the preliminary indications from 2015 weren't really making me too excited, so I was wondering if I had to re-think my original thesis.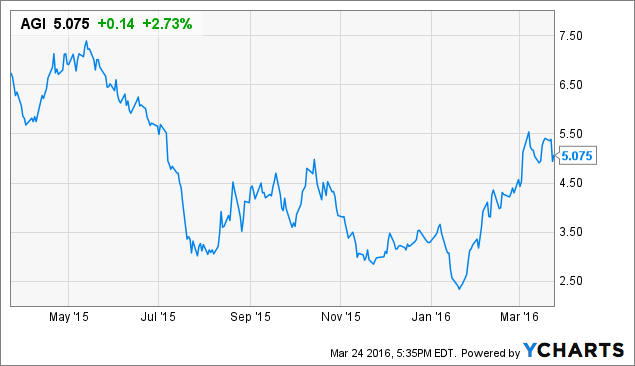 AGI data by YCharts
A Bottomless Pit?
The fourth quarter of 2015 was pretty good for Alamos Gold, and the Q4 production rate of almost 105,000 ounces of gold definitely is something the company can be proud of. The AISC was still on the higher end at $1,073/oz, and as the company sold its gold at just $1,109/oz, the net margin was thin. Very thin.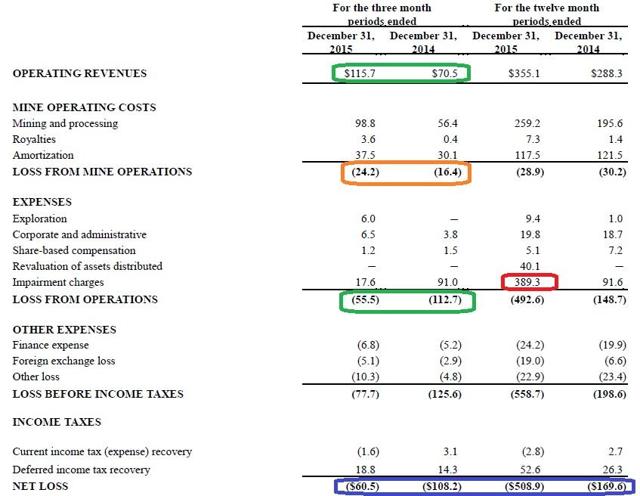 Source: Press release
The revenue was good (thanks to the higher production rate), and in the fourth quarter, Alamos's revenue increased to almost $116M. However, that wasn't sufficient to generate a positive operating income from its mining activities and most definitely not sufficient to show an operating income on the income statement. The operating loss in Q4 was in excess of $55M whilst the operating loss for the entire financial year was almost $493M. Truth be told, the majority of the full-year operating loss was caused by an impairment charge in excess of $389M, so if that impairment charge could have been avoided, the company's net loss would have been quite manageable.
This net loss came in at $509M, and that's indeed quite a bit worse compared to FY 2015, wherein the net loss remained limited to less than $170M. Good, even though the majority of the net loss was caused by the impairment charges on the value of the company's assets, I'm not particularly happy with AGI's performance on the cash flow front either.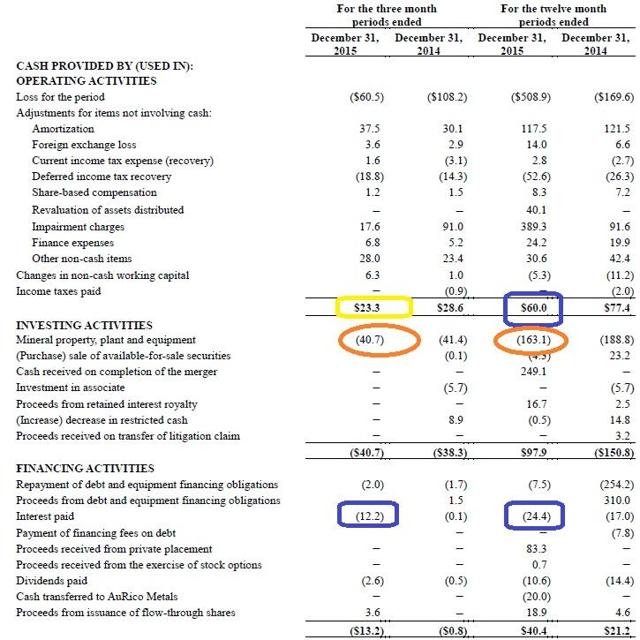 Source: Press release
In the fourth quarter of 2015, the operating cash flow was just $23.3M, but wait, that's not even the "real" operating cash flow, as the company preferred to report the interest expenses as a financing activity rather than an operating activity. That's completely legal, but you should most definitely be aware of this. Adjusting the Q4 cash flows for the cash outflow due to the interest payments, the adjusted OpCF falls to $11M. Definitely not sufficient to cover the $41M in capital expenditures.
Of course, the Q4 results don't represent "the truth", as the interest expenses were relatively higher compared to the other quarters. That's why the full-year cash flow results might be offering a better view on how Alamos is really doing. The operating cash flow was $60M, but once again you need to deduct a $24M interest expense, resulting in an adjusted operating cash flow of $36M, and that's really low considering the total capex was $163M.
Should We Expect Anything From 2016?
I'm really not happy with the final results of 2015 as the total net cash flow is very disappointing considering the company's interest expenses and high capital expenditures. Unfortunately, it doesn't look like 2016 will be better, as Alamos Gold has been guiding for a total capex of $138-158M. Using the midpoint of this guidance, the 2016 capex will be $148M, less than 10% lower compared to the level in 2015.

Source: Press release
Good, a lower capex is most definitely very welcome, but I'm afraid a minor capex reduction won't really be helping the company at all. It's encouraging to see less than half of the full-year capex guidance is considered to be sustaining capex, but the level of "growth" capital of $90M+ is quite surprising as I would have expected this to be less. A partial explanation is the fact the company will have to buy more equipment at Young-Davidson to transition from a contractor-operated to an owner-operated model, and if this is true, the total capex commitment should drop below $100M from next year on.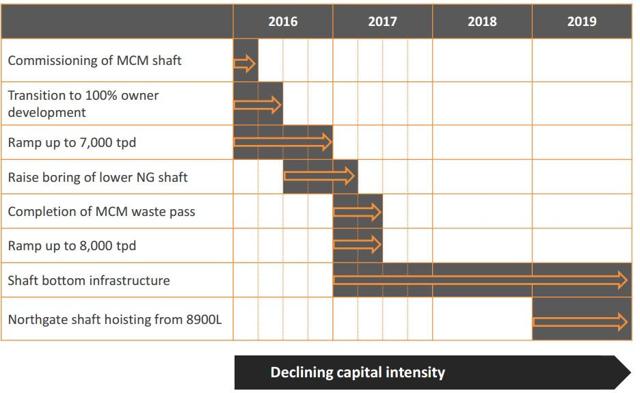 Source: Company presentation
Alamos is also guiding for a total gold production of 370,000-400,000 ounces of gold (midpoint: 385,000 ounces) at an all-in cost of $975/oz. That's relatively positive as this means that at the current gold price, a large part of the growth capex will be covered by the positive net cash flow. There is however one part of the guidance I fundamentally disagree with.
"In 2016, Young-Davidson and Mulatos are expected to self-finance their growth at a $1,100 gold price."
Let's see. In 2016 the Young-Davidson capex will be $95M or $558/oz ($95M/170,000 ounces). At Mulatos, the total capex of $35M will be approximately $250M. If we would add these numbers to the respective cash costs of $600/oz and $850/oz, the fully-loaded costs would be $1,158/oz and $1,100/oz, so I'm not sure the company's statement is correct in case the capex and production rate won't come in around the midpoint of the guidance. But okay, I can forgive the company for this as the growth capex at Young-Davidson seems to be a one-time event.
Investment Thesis
Alamos Gold's 2015 was bad. There's no way to sugarcoat it as the company was losing money pretty fast. Fortunately, 2016 is looking slightly better, but AGI's investors might have to wait for 2017 to see a substantial amount of free cash flow being generated as 2016 will be another year with a relatively high capital intensity. 2017 should be better as Alamos will see a lower growth capex as well as the benefits from using the owner-operator model at Young-Davidson.
I have no position in Alamos Gold and will very likely remain on the sidelines. That being said, I will continue to monitor the company's situation as I think 2017 might be the tipping point for AGI.
Disclosure: I/we have no positions in any stocks mentioned, and no plans to initiate any positions within the next 72 hours.
I wrote this article myself, and it expresses my own opinions. I am not receiving compensation for it (other than from Seeking Alpha). I have no business relationship with any company whose stock is mentioned in this article.