PetroChina (NYSE:PTR) announced that its production will decline in 2016 for the first time in 17 years. It's expecting a drop of 2.7% in 2016 due to the collapse in world crude oil prices. Its production from some of the older fields has become uneconomic. Production averaged 4.3 million barrels per day in 2015, up 2.8%.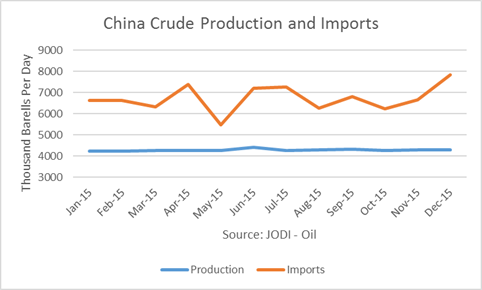 PetroChina expects China's oil production to fall around 5% this year. PTR has decided to reduce its 2016 capital budget by 5% from what it invested in 2015 as it focuses on controlling costs.
China's crude oil imports averaged 6.7 million barrels per day in 2015, up 9% from 2014. China had been importing crude to build its Strategic Petroleum Reserve (NYSE:SPR). In 2015, it increased its SPR by about 100 million barrels. In 2016, it plans to increase storage capacity by about 60 million barrels.
Consumption
Once the engine of world oil demand growth, China's consumption growth has slowed. The apparent consumption of refined products rose by only 1.2% in 2015. Gasoline and diesel products increased by 7.0% and decreased by 3.7%, respectively, as compared with 2014.
Between 2005 and 2014, the Chinese car market grew at an average compounded rate of 20% a year, becoming the world's largest. In 2015, car sales rose by 7.3%, but the market is expected to grow by just 3 to 5 percent every year until 2020.
Cities in China make it difficult and costly to get a license plate. The out-of-control pollution in Beijing, for example, was most recently illustrated by Mark Zuckerberg's "smog jog." At 9 a.m. an air-quality monitor at the United States Embassy in Beijing calculated the level of PM2.5, ultrafine particles at a level deemed "hazardous" under American air-quality standards.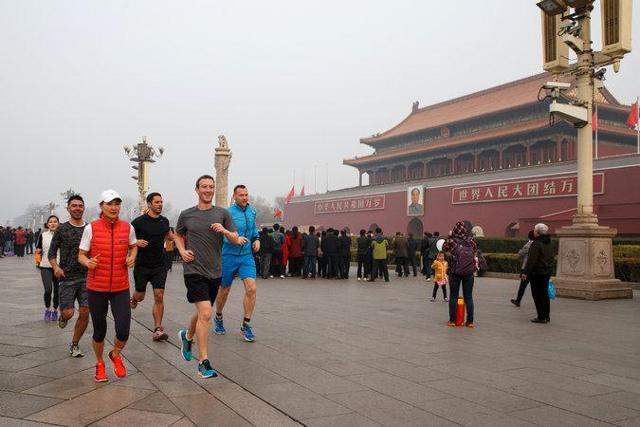 Source: Facebook
Lloyd Blankfein, Chairman and CEO of Goldman,Sachs, said that China had been pursuing an economic strategy of growth-at-any- cost. "They'll put a smoke-belching factory in the middle of the city. And nobody cared about pollution…but guess what? You get to a certain level of wealth and you have to breathe."
China has become the epicenter of electric vehicles. The central government has set stricter environmental standards for emissions than Europe. President Xi Jinping has made China's production of electric vehicles a strategic initiative. Car makers must build EVs in China. "There is really no choice for the automakers, if they are required to meet the more stringent emission standards by 2020," said Steve Man, an analyst with Bloomberg Intelligence.
Conclusions
Chinese crude production will be dropping in 2016 as a consequence of low world crude oil prices. The overall impact on its imports may be modest though. A 5% decline in production is about 215,000 b/d. If demand increases again by 1.2%, that will add another 350,000 b/d to import requirements. A 30 million barrel drop in the build rate of the SPR reduces imports by 83,000 b/d. On balance, imports may rise by about 260,000 b/d, a 4% increase from the 2015 level.
Disclosure: I/we have no positions in any stocks mentioned, and no plans to initiate any positions within the next 72 hours.
I wrote this article myself, and it expresses my own opinions. I am not receiving compensation for it (other than from Seeking Alpha). I have no business relationship with any company whose stock is mentioned in this article.