Annaly Capital Management (NYSE:NLY) is positioned to report a book value loss for the first quarter. This continues a very interesting trend in which NLY and several other mREITs have reported declining book values per share despite a flattening yield curve. For what it is worth, the decline in book value so far, looks like it would probably be less than the dividend so positive total economic return is entirely possible.
The Irony
Since mREITs generally borrow short and lend long, they may also carry some hedges on the short part of the yield curve. That typically leads to a scenario where a flattening of the yield curve would indicate gains in book value because it would increase in value if short-term rates increased or MBS would gain in value if long-term rates were declining. The flatter yield curve provides a challenge to earnings in future periods, but generally can strengthen book value temporarily.
That makes the declining book values per share for several mREITs over the last few quarters fairly interesting. There are a few factors at work. One of the factors for NLY is that they use some very long hedges. While management does not provide precise details for each of their swap positions, the figures they do provide demonstrate that some of their swaps have a very long life. The longest average life is around 20 years, though the "average" compiles all the swaps with over 10 years of life. That could be swaps with just over 10 years combined with 30-year swaps or it could be 20-year swaps.
To demonstrate, here is a slide from their latest earnings presentation. I've added an orange box around the values I'm referencing: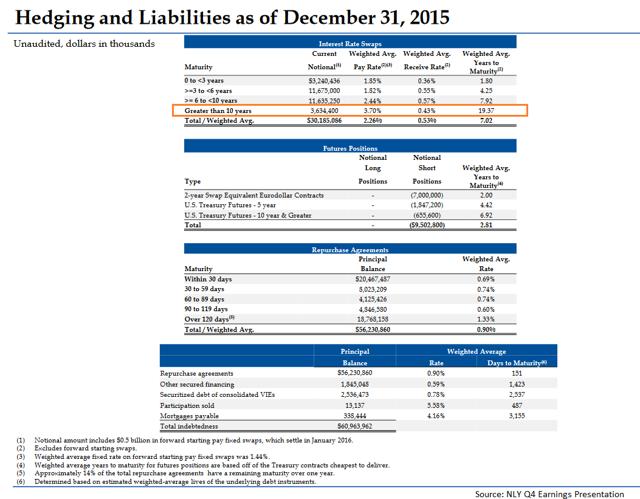 Those long hedges have more to do with protecting book value per share than protecting their cost of funds. When interest rates fall these hedges create a fair value loss that offsets the MBS gains, but several mREITs (including NLY) have frequently witnessed their losses on either MBS or swaps exceeding their gains on the other position.
Book Value Estimates
I put together some rough estimates of book value using the rates and prices from the end of trading for March 17th, 2016. This isn't perfectly up to date, but it provides a much more recent estimate than the end of the fourth quarter. Of course my estimates won't have the same level of accuracy that management can produce, but incorporating an extra 2.5 months of movements gives investors an idea of what they should expect.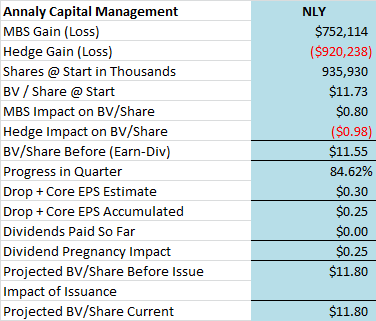 My rough estimate for BV as of March 17th would be up $.07 from the end of the quarter, but it also includes $.25 of net interest income that is used to pay the dividend. The next dividend is set to be $.30 (same as the last several dividends) and shares are scheduled to go ex-dividend on March 29th, 2016.
Omissions
As Annaly Capital Management moves further away from being a pure agency mREIT, it becomes materially more difficult to estimate their book value because of a lack of publicly available information for sell side analysts regarding the spreads on other assets. As a result, I've focused on estimating changes in BV resulting from agency MBS positions and hedges, but I've left out other assets. Earlier in the quarter (say in February), the fair value of those assets would've been down substantially, but the market has demonstrated less aversion to risk over the last several weeks which sent several risky investments significantly higher in prices.
I don't foresee this throwing numbers off substantially.
Basis Risk
MBS and LIBOR swaps are both often measured relative to treasuries and tend to be underperforming. The resulting impact has been a key factor in several mREITs losing book value over the quarter. LIBOR swaps carrying rates lower than treasuries is favorable for a lower cost of funds moving forward as old swaps expire and new ones are brought on, but the MBS positions may suffer as a result of high prepayments weakening the yields. The weaker yields expected on MBS assets should create a headwind for net interest spreads across the industry.
Discount
This puts my estimate for discount to book value using the latest closing price of $10.44 and the March 17th rough estimate of book value at 11.56%. In my opinion, the discounts across the sector, including the discount for NLY, are too small relative to the risk.
What Would Be More Attractive
I would find NLY quite attractive if the discount to book value (my latest estimates of book value) was running around 22%. I want a significant discount built into the values because the flat yield curve creates a problem for earnings. If I could buy the mREIT at a 12% discount with a steep yield curve, that would also be very attractive.
The ideal situation for me would be one where the OAS (option adjusted spreads) on MBS relative to treasuries was fairly significant, the yield curve became steeper around the 4 to 5-year range, and the LIBOR rates were lower than the treasury rates.
In this case, one for three just isn't enough for me. I like the low LIBOR rates relative to treasury for locking in a low cost of funds for the future, but I want to see more in the other two areas to justify dropping discounts to around 10% to 13%.
Conclusion
Using the first 2.5 months of returns suggests NLY may be on pace to generate a small positive total economic return for the quarter, but I would still be looking for book value to be lower than at the end of the fourth quarter. Currently, my latest projections have book value slightly higher due to the inclusion of the net interest income being accrued over the quarter. That additional book value disappears when the dividend for the quarter is paid.
I see headwinds for this sector as discounts are shrinking substantially while the yield curve flattens.
My overall stance is bearish because I believe the discounts are too small relative to the headwinds. If shares were trading around $9.00, I would feel most of the challenges were priced in. Below that would make the shares attractive even after accounting for the yield curve issues.
Disclosure: I/we have no positions in any stocks mentioned, and no plans to initiate any positions within the next 72 hours.
I wrote this article myself, and it expresses my own opinions. I am not receiving compensation for it (other than from Seeking Alpha). I have no business relationship with any company whose stock is mentioned in this article.
Additional disclosure: Information in this article represents the opinion of the analyst. All statements are represented as opinions, rather than facts, and should not be construed as advice to buy or sell a security. Ratings of "outperform" and "underperform" reflect the analyst's estimation of a divergence between the market value for a security and the price that would be appropriate given the potential for risks and returns relative to other securities. The analyst does not know your particular objectives for returns or constraints upon investing. All investors are encouraged to do their own research before making any investment decision. Information is regularly obtained from Yahoo Finance, Google Finance, and SEC Database. If Yahoo, Google, or the SEC database contained faulty or old information it could be incorporated into my analysis.