Having filed for a voluntary bankruptcy reorganization under Chapter 11 of the United States Bankruptcy Code, Republic Airways (OTCPK:RJETQ), formerly trading under (NASDAQ:RJET), is in the process of renegotiating its contracts with various counterparties in order to emerge as a stronger and more sustainable business. While bankruptcy filings usually come with heavily encumbered companies or those with tight liquidity constraints, Republic Airways' case is rather unique. Extenuating circumstances including a massive pilot shortage caused by increasing FAA experience requirements has but the regional jet operator in a bind. As of January 31st, Republic Airways actually had roughly $590 million in equity value according to bankruptcy documents; however, this bankruptcy filing has been seen as a strategic move in order to "right size" its business and rid itself of out of favor and less profitable smaller 50-seat aircraft such as the Embraer ERJ-145 and the Bombardier Q400. Along with this goal, Republic Airways' bankruptcy attorneys filed a motion in the US Bankruptcy Court in the Southern District of New York to authorize a comprehensive agreement between Republic Airways and Delta Air Lines (NYSE:DAL) that should accomplish a substantial portion of the regional airline's goals from its bankruptcy endeavor. Shares of Republic Airways currently sit roughly 55 cents above all time lows, having fallen by 92.1% over the past year. With obvious troubles associated with a weak pilot market and a tough contract situation, there are many concerns as to the performance of its common equity throughout and following its bankruptcy process.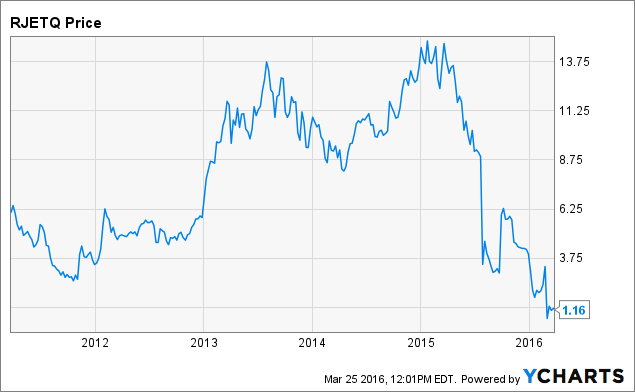 RJETQ data by YCharts
A Review of the Proposed Agreement
As part of the motion filed last Thursday, the comprehensive agreement provides for a number of key concessions by Delta Air Lines including:
A settlement of the outstanding litigation in a Georgia state court (subsequently moved to a federal court) relating to Republic Airways' alleged breach of contract by failing to provide adequate pilot staffing per a code share agreement for a general unsecured claim of $170 million,
Debtor in possession financing of $75 million from Delta Air Lines,
A retroactive increase in base rate costs for ERJ-145 aircraft to January 1st, 2016 and an extension of the wind down period of the agreement through December 31st, 2016,
A retroactive increase in base rate costs for E170 and E175 aircraft,
Continuation of slot leases to Delta Air Lines at LaGuardia Airport, and
Amendments to a ground handling agreement with Delta Air Lines.
Republic Airways' relationship over the past few years with Delta Air Lines has been tumultuous to say the least. As part of the bankruptcy restructuring process, the company's relationship with Delta Air Lines has been viewed as the proverbial "elephant in the room" and such a swift agreement should be seen as a rather surprising development. Amongst Republic Airways' relationships, the ERJ-145 code share partnership with Delta Air Lines has been particularly troublesome, especially as Delta Air Lines sought last year to unilaterally extend the agreement through 2021 past the May 2016 termination date. Republic Airways has sought to remove these old, unfavored and financially cumbersome aircraft from its fleet, especially as a new pilot agreement has led to an increase in costs amidst the ongoing pilot shortage.
In October of last year, Delta Air Lines filed a lawsuit against Republic Airways and a subsidiary alleging a contract breach due to the failure of fulfilling its obligations relating to pilot staffing and flight operation. Republic Airways had claimed that this was due to a force majeure outside of its control due to the aforementioned pilot shortage. Delta Air Lines had withheld in excess of $21 million in payments to Republic Airways through the end of last year due to this alleged contract breach. The motion filed on Thursday has provided for a $170 million unsecured claim for the settlement of this litigation and other concessions made by Delta Air Lines. The motion noted that Delta Air Lines had made claims in excess of $1 billion as part of the litigation and added the following statement as part of the discussion:
"Delta's complaint, which sought damages in an amount to be determined at trial, specifically sought recovery of lost profit. While Republic believes it has strong defenses to Delta's complaint, Delta would have sought in excess of a billion dollars in damages at trial. Further litigation at this point would be expensive, and thereby would deplete property of Republic's estate, likely would delay Republic's ability to emerge from these chapter 11 cases, and would be unlikely to produce a result better than the proposed settlement. Moreover, while Republic believes it would prevail in obtaining dismissal of the Delta Litigation, there is of course a risk that Delta could prevail and be awarded a substantial damages award, which would unnecessarily deplete Republic's estate. $170 million is a small fraction of the claims Delta was seeking and the settlement is an essential component in the overall restructuring of Republic's codeshare relationship with Delta, which will benefit the Debtors' estates by hundreds of millions of dollars."-Republic Airways Court Motion
As part of the agreement detailed in the court motion, Delta Air Lines will provide debtor in possession financing in the amount of $75 million, which will provide enhanced liquidity for Republic Airways as it proceeds with the bankruptcy process.
Despite the major headway made with the litigation settlement, the most significant development as part of this agreement is the mutually agreed wind down of the ERJ-145 agreements and the general increase in base rate costs. The wind down of the ERJ-145 agreement at the end of 2016 will provide enhanced visibility and will enable Republic Airways to emerge from bankruptcy with one of its major goals accomplished: effectively phasing out the ERJ-145 aircraft. While the amount of base cost increases agreed upon were redacted, it did include the following statement surrounding the benefit of the agreement:
"Delta also has agreed to pay a substantial increase in rates to cover Republic's cost of flying during the wind-down. Removal of the ERJ-145 aircraft from Republic's operation is a core goal of these chapter 11 cases-to make Republic's business more efficient by streamlining Republic's operations by operating one aircraft type (E170/175) and under a single operating certificate. An orderly wind-down also will reduce claims against the Debtors' estates of ERJ-145 aircraft financiers, because Republic will continue to operate the ERJ-145 aircraft beyond the May 31, 2016 period previously contemplated. The provision for the parties to mutually extend the wind-down period through December 31, 2016, allows for the possibility of an even further reduction in claims against the Debtors' estates."-Republic Airways Court Motion
This agreement supports the notion that Republic Airways is swiftly utilizing the bankruptcy process in order to effectively adjust its agreements and operating structure in order to emerge as a stronger competitor. The burden of the ERJ-145 code share agreement with Delta Air Lines and the uncertainty surrounding this has been one of the main issues it has grappled with in recent months and the resolution has been a key goal of bankruptcy. This agreement could spark further cooperation and concessions from United Continental (NYSE:UAL) and American Airlines (NASDAQ:AAL) as Republic Airways seeks to reflect the new realities of the pilot shortage and economics of its union pilot agreement in its operating contract. Republic Airways' contracts United Continental and American Airlines will cover exclusively E170 and E175 aircraft following this month's expiration of its Q400 contract with United Continental.
What Does This Mean for the Stock?
Republic Airways has seen heightened volatility in its share price since its bankruptcy filing in late February. This makes sense, as most investors are extremely cautious or restricted by mandate from owning the equity of a company in bankruptcy and/or a penny stock. Despite this, value remains in Republic Airways, its operating business and its assets. While its financial results have suffered significantly as a result of heavy obligations associated with ERJ-145 operations, the company maintains a surprisingly solvent balance sheet. In an atypical bankruptcy fashion, Republic Airways actually had $590 million in equity value as of January 31, 2016. While comparing this to a depressed equity value that currently sits just north $59 million, this represents a major discrepancy. The $170 million settlement will undoubtedly decrease the equity figure as will ongoing operating losses and legal costs associated with the bankruptcy process. Nevertheless, Republic Airways should be in a position to be profitable once it exits bankruptcy as the E170 and E175 contract focus will give the company enhanced business focus and streamlined operations. While the amount of base rate cost increases agreed to by Delta Air Lines associated with the ERJ-145 wind-down has been redacted from court filings, it was noted to be "substantial" in the motion filed. The enhanced liquidity from the debtor in possession financing should also be beneficial to Republic Airways during the bankruptcy process. The concessions from Delta Air Lines in this agreement are major and put the company well on the way to negotiating a successful exit from bankruptcy. The US Bankruptcy Court will be hearing this motion on April 14th. Republic Airways remains a very speculative investment given its current bankruptcy situation and there can be no certainty that it will emerge from its bankruptcy state. However, the company is taking meaningful steps to better position itself to emerge from bankruptcy in a stronger position which is evidenced by this latest agreement with Delta Air Lines.
Disclosure: I/we have no positions in any stocks mentioned, and no plans to initiate any positions within the next 72 hours.
I wrote this article myself, and it expresses my own opinions. I am not receiving compensation for it (other than from Seeking Alpha). I have no business relationship with any company whose stock is mentioned in this article.
Editor's Note: This article covers one or more stocks trading at less than $1 per share and/or with less than a $100 million market cap. Please be aware of the risks associated with these stocks.