FDR at Grand Coulee Dam, 1937: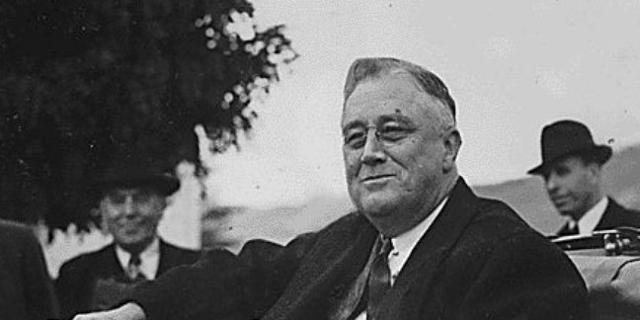 Source: ste101.com
A number of analysts have recently discussed the U.S. Federal Reserve's tendency to keep monetary policy extraordinarily loose in order to avoid repeating the epic mistakes made in 1937-1938, when a "recession within the Depression" occurred. A number of recent authors on Seeking Alpha and elsewhere have suggested that there may be close parallels between the policies and financial troubles of the Great Depression and now. I wanted to look specifically at the 1937-1938 recession to see if current conditions are comparable, and settle in my own mind how worried I should be about the potential for a repeat of this particular scenario. According to Douglas Irwin of Dartmouth College (September 11, 2011, voxeu.org) the "recession within the Depression" was a disaster for the economy, with GDP falling 11%, industrial production falling 32%, and unemployment soaring back up to around 20%. The market fell 50% by the time the recession bottomed in 1938.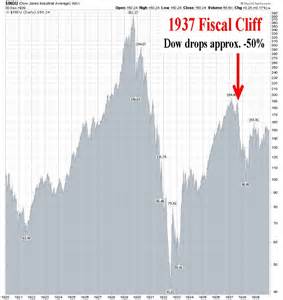 Source: climateerinvest.blogspot.com
Historically the Federal's Reserve's decision to double reserve requirements for banks was considered a major contributing factor in causing the recession of 1937-1938, since this caused banks to cut back on loans. Another significant factor was supposedly the FDR Administration's decision to balance the budget after returning to the gold standard (i.e., pegging the dollar to gold at $35/ounce). We will discuss these events in more detail shortly; however, research by Christina Romer and Douglas Irwin has shown that the effect of these two factors, although negative, was too small to have caused so much damage.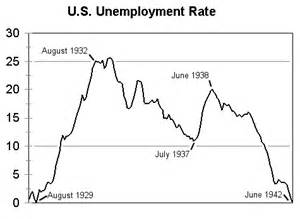 Source: myweb.rollins.edu
Unemployment Line, 1937: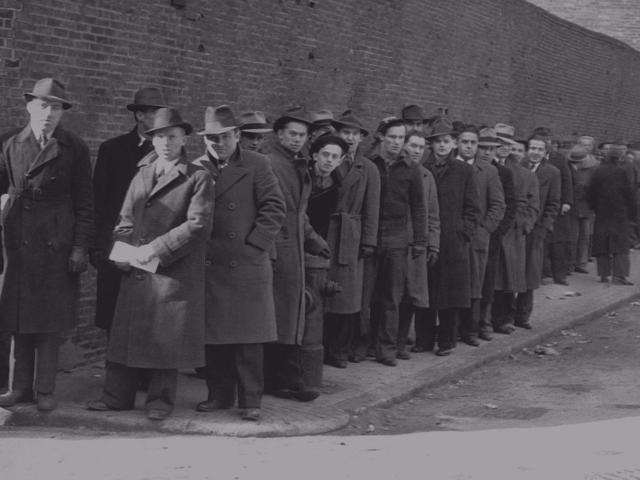 Source: businessinsider.com
The Monetary Base and Gold Stock in the Late 1930s: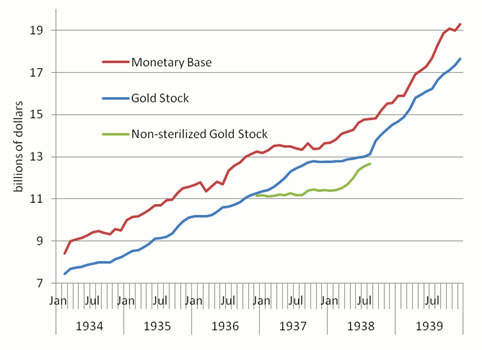 Source: Douglas Irwin, 2011, voxeu.org
Irwin has made the case instead that although there was a severe monetary shock, it originated in the decision by FDR's Treasury Department to sterilize all gold inflows beginning in late 1936. Gold reserves represented 85% of the monetary base, and the huge inflows of gold had made policy prior to late 1936 expansionary, thus aiding the recovery. As Amity Shlaes has written in her fascinating book on the Depression (The Forgotten Man, 2007, HarperCollins, New York, 464p), the Treasury Department eventually sterilized a full $1 billion in gold inflows, cutting the monetary base to flat or negative growth in the process, and of course the money supply went into a negative trend as well, dropping about 10%. Shlaes also points out that money was being withdrawn from wages for the first time under the Social Security Act, which had an immediate but likely small negative impact on spending. At the same time, as a result of the 1935 Wagner (Labor Relations) Act, wages were rising rapidly; indeed, wages rose 11% in 1937 alone. The auto industry saw wage increases of about 20% in late 1936 to early 1937. Although this would have increased spending by consumers, it negatively affected corporate profits.
Real Money Supply in the 1930s: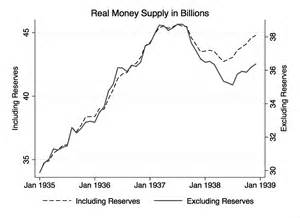 Source: studentpulse.com
As the recession deepened, a thirteen-year-old named William Troeller famously killed himself in Brooklyn because he couldn't find work (at 13!), his father was also out of work, the heat was turned off at home, and he was embarrassed to ask for his share at mealtime, according to his family. This incident disturbed a lot of people, as it felt more like something from a Dickens novel than an American story, according to Shlaes. Here we were, four and a half years into the New Deal, and eight years after the Great Crash, and yet things were going south again in a hurry. Some people were also angry because the FDR Administration had recently raised taxes. The Treasury Secretary gave a speech in 1937 about the need to balance the budget, but it was received with shocked disbelief and laughter.
1937 Breadline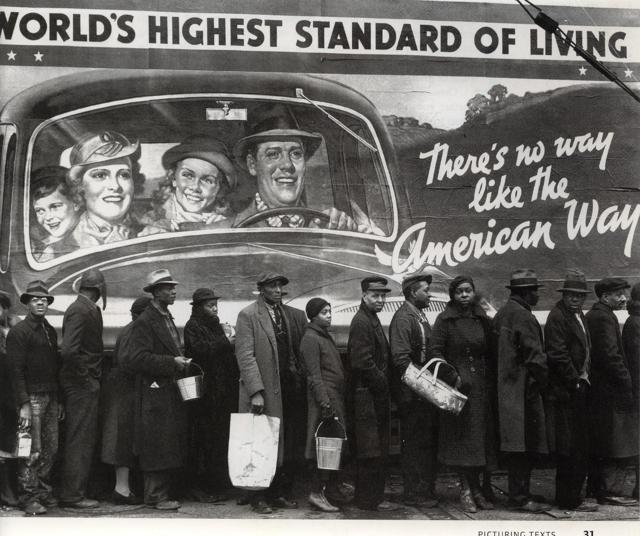 Source: Margaret Bourke-White, pinterest.com
1930s Industrial Production: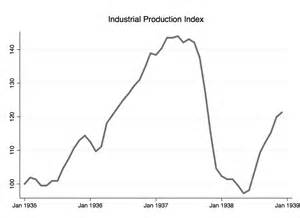 Source: studentpulse.com
Clearly the FDR Administration was out of sync with public opinion on the economy. But in 1936 Roosevelt had been worried about an election challenge from the left, according to Barry Eichengreen, author of Hall of Mirrors: The Great Depression, The Great Recession, and the Uses - and Misuses - of History (2015, Oxford University Press, New York, 512p). This challenge came from radio personality and activist Father Charles Coughlin, who insisted that FDR had been too easy on the rich and on bankers. This is part of what drove Roosevelt to try to balance the budget (decrease the deficit) and raise taxes on the rich. Still, as discussed above, research has shown that the first of these two factors was minor and could not have produced the massive damage to the economy observed in 1937-1938. The same is true about the impact of higher income taxes, which mainly affected the very wealthy. Higher corporate taxes have also been shown not to have been a major factor.
Correlation Is Not Causation: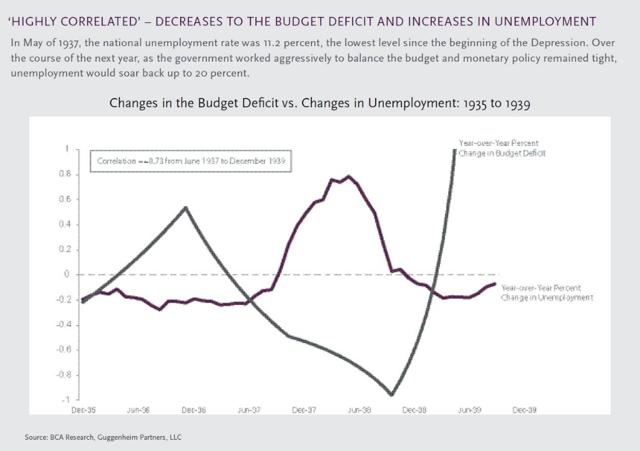 Source: prisonplanet.com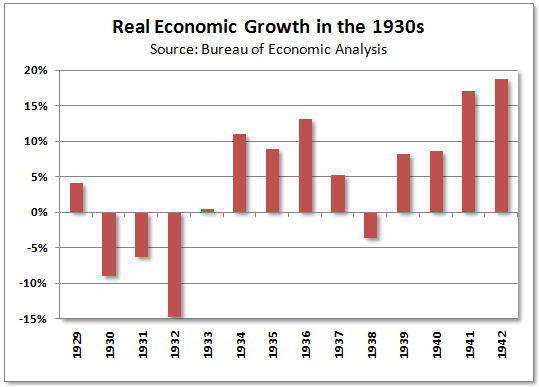 Source: timiacono.com
The decision by the Federal Reserve Board under Chairman Marriner Eccles to raise the reserve requirements was triggered by the failure of policy to have an impact on bank behavior. This was caused by major inflows of foreign funds, which created massive excess reserves that in turn made it unnecessary for banks to use the discount window. In an attempt to make policy effective again, the reserve requirements were increased from 13.0% to 19.5% in August 1936, and eventually all the way to 26% in May 1937. Although economists Milton Friedman and Anna Schwartz famously argued that this was the cause of the recession, subsequent research indicates that the impact from this was minor, according to Eichengreen.
Bank Reserves in the 1930s: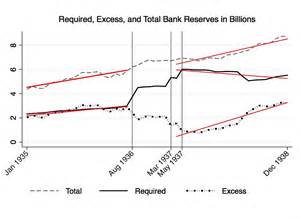 Source: studentpulse.com
The real trouble then, as suggested previously, was caused by the decision by Treasury Secretary Henry Morgenthau to fight inflationary pressures by sterilizing the inflows of gold starting in December 1936. Morgenthau had no training in economics and little experience in business, but he was a friend of FDR's, who was his neighbor in New York. Anyway, under Morgenthau's direction the Treasury sold bonds to directly offset each ounce of gold coming in, which had the effect of mopping up money supply. The gap between longer-term and short-term bonds decreased as short-term rates rose, indicating that a recession might occur, and indeed once the Treasury Department recognized the recession they reversed course. Evidence that this gold sterilization was a powerful driver of the recession comes from the timing of the eventual recovery, which began when the gold sterilization program ended in February 1938. This then provided a positive shock to the money supply.
Impact of Policy on Bond Markets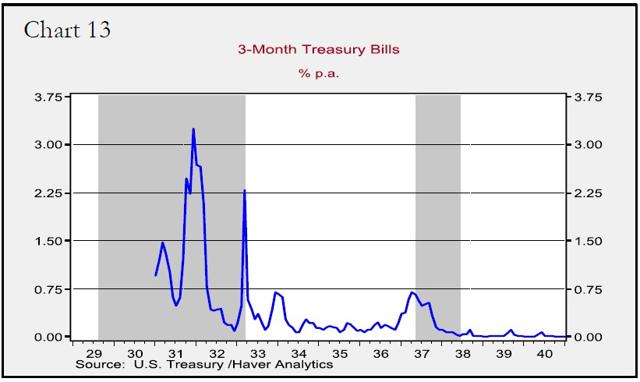 Source: valuewalk.com
Claudio Borio at the Bank for International Settlements (BIS) has written a paper (2014;www.bis.org/publ/work456.htm) that compares the causes of the Great Depression to the current situation. His thesis is that capital imbalances such as large money flows to and from commodities producing countries led to devaluations and defaults, which in turn produced a global financial crisis. In the current situation, commodity producing countries are again under pressure as money flows have reversed direction (outflows instead of inflows). Competitive devaluations are the result, just as in the 1930s, and trade has begun to suffer. The risk is that the situation will deteriorate due to excessive debt loads in many countries, again much like the situation in the 1930s. However, although this thesis has merit, it is too early in my opinion to say that we are descending into a full-blown global trade war. I have mentioned elsewhere that there are other parallels as well.
The political ramifications of the "recession within the Depression" were interesting. Roosevelt had long shown animosity to big business, especially the utility holding companies like Commonwealth and Southern, and his administration went after them. The president of Commonwealth and Southern was Wendell Willkie, later a candidate for president of the U.S., and he fought back. He gave speeches and participated in debates, laying out a case that government intrusion into business affairs was arbitrary, unfair, and likely causing so much uncertainty that the economy had been harmed. With the plethora of new laws and regulations under the New Deal, this was an easy argument to make. Willkie would go on making points about government crowding out business all the way to the election of 1940, but he was defeated in the presidential race.
Now let's compare the data from the recession of 1937-1938 to our present situation. GDP has been declining for two quarters now, and is expected to be weak again in Q1-2016. Unemployment data are actually excellent right now, and getting better. But food stamp, disability, and underemployment (U-6) data, while improving, are still high and suggest that all is not well. In any case the way we calculate unemployment (U-3) has been widely criticized due to all of the "adjustments" made to the data, and also based on obvious problems in the way an "employed" person is counted.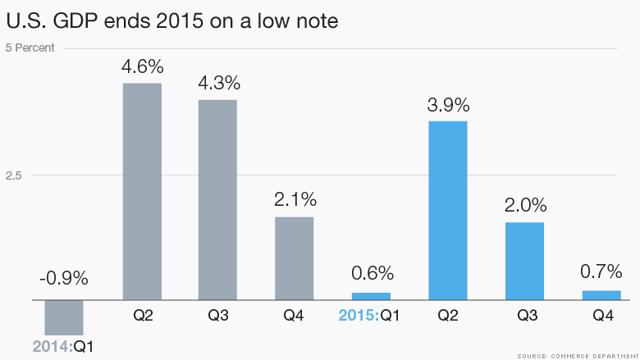 Source: money.cnn.com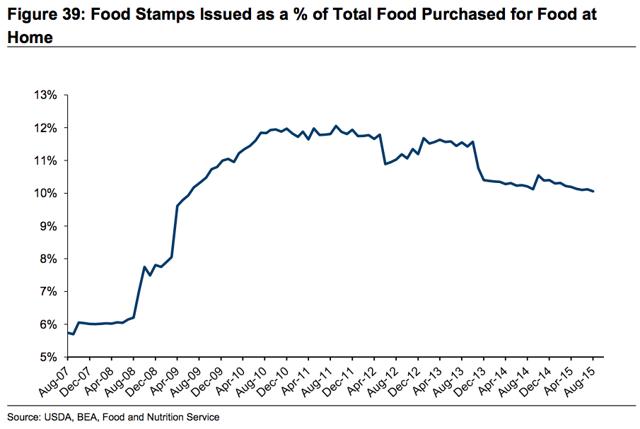 Unprecedented high level of excess bank reserves have telegraphed the failure of monetary policy to get traction in the real economy, much like what was seen in 1936. This explains the increasingly desperate tone of pronouncements from the Federal Reserve. This lack of traction has meant that ZIRP has been retained as if the financial emergency never ended. In other countries we currently see central bank experiments with NIRP, and perhaps NIRP will be coming to the US soon, if we see a recession. Still, the amount of excess reserves has finally started to decrease. Money supply growth has been falling since 2012, but actual M2 money supply is still increasing slightly over time.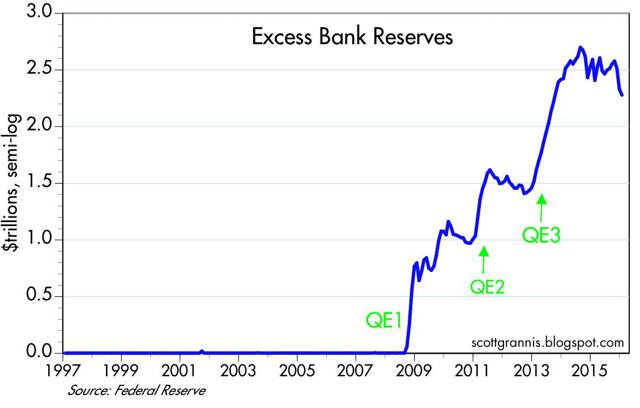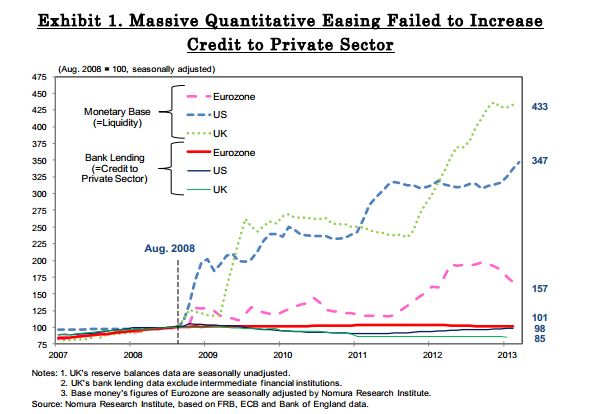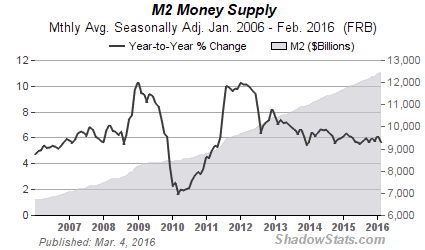 Industrial production, durable goods orders, and manufacturing indices have all been declining, as have prices; this is similar in trend to 1937, but much milder in terms of levels so far. Wages have risen slightly, but they would have to go a long ways to come up to the level of increases seen in 1936-1937. Profits have nevertheless peaked and are now in a mean reversion move to much lower levels.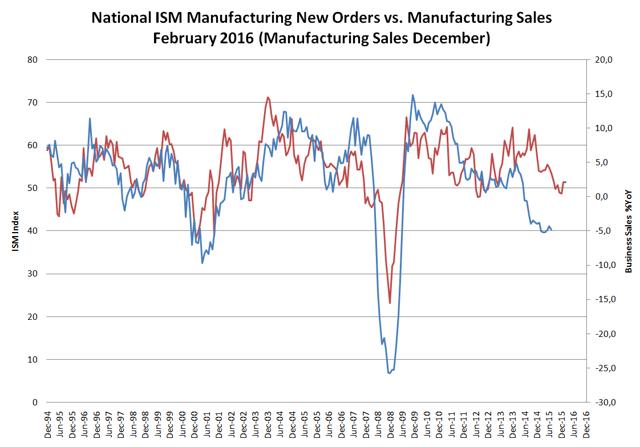 Source: acting-man.com (red = new orders; blue = sales)
Regulations have exploded in two large sectors of the current economy: the financial sector and the healthcare sector. Much like the FDR Administration in 1937, the Obama Administration has picked some sectors of the corporate world to vilify, which has increased business uncertainty just as it did in the late 1930s. New restrictions on banking are gradually pushing this industry downwards towards utility status, much like what was done to the utility sector in the 1930s as the TVA and other government entities directly competed with them. This regulatory factor plus cheap money has likely caused massive financial engineering to be favored over capital investment in the US. There is a long-term price for this, and since it does appear that the efficacy of buyback strategies is waning, maybe there will be a short-term price as well.
Financial Regulations Have Exploded in Volume: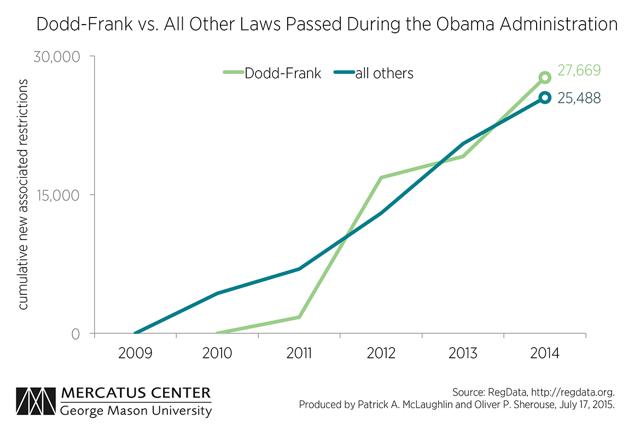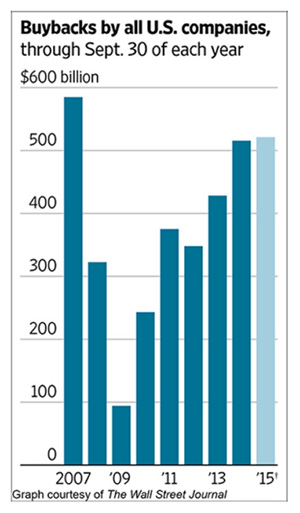 At the least a cyclical bear market appears to have started in recent months, and on a valuation basis there is room for a 50% drop from here, according to John Hussman and other well-known analysts. This is similar in potential downside to the 50% drop in 1937, but of course, so far we have only seen a correction in the major indexes (although most individual stocks have been in a bear market).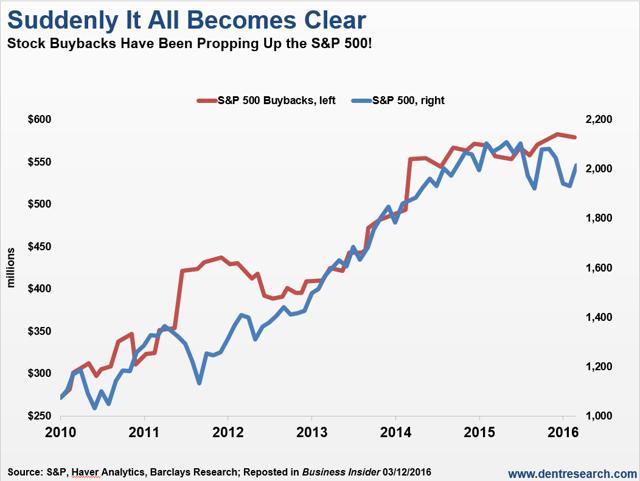 Source: davidstockmanscontracorner.com
In conclusion, some of the factors and circumstances found in the 1937-1938 "recession within the Depression" appear to be present now. A number of these data trends are disturbing but not yet alarming. However, in general the situation is much milder in both substance and tone than the 1937 event, at least so far. In part this is because our potential recession has probably not yet begun, whereas we are making comparisons to a full-fledged deep recession where we know what happened when it reached maximum ferocity. I would say that current data leave room for interpretation, and of course these data trends could further degenerate, but for now it seems a bit extreme to say we are headed the same way as in 1937; rather, I think it is more accurate to say that such an outcome is not excluded from consideration.
Trades of interest here would include (if you are feeling bearish) a move into long Treasuries ((NYSEARCA:EDV), (NYSEARCA:TLT), (NASDAQ:VGLT), (NYSEARCA:IEF)), defensive sectors ((NYSEARCA:SPLV), (NYSEARCA:USMV)), liquid alternatives ((MUTF:OTCRX), (MUTF:LSYMX), (MUTF:GJRTX), (MUTF:AQMIX), (MUTF:QMNIX)), and sophisticated hedge-like strategies ((NYSE:BXMX), (NYSE:ETJ), (MUTF:WARAX), (MUTF:DSOIX), (MUTF:DSEEX)).
Disclosure: I am/we are long TLT, VGLT, IEF, OTCRX, LSYMX, QMNIX, BXMX, ETJ, WARAX, DSOIX, DSEEX.
I wrote this article myself, and it expresses my own opinions. I am not receiving compensation for it (other than from Seeking Alpha). I have no business relationship with any company whose stock is mentioned in this article.
Additional disclosure: This article is intended to provide information to interested parties. As I have no knowledge of individual investor circumstances, goals, and/or portfolio concentration or diversification, readers are expected to complete their own due diligence before purchasing any stocks or other securities mentioned or recommended.