By Contributing Analyst Nathan Sell
Smith and Wesson (SWHC) has been booming so far this year. From the start of the year, the stock is up over 33% thanks to an impressive earnings report that created quite a buzz for the company. Gun companies in general have been benefiting from increased sales, but as you can see by the chart below, Smith and Wesson has grown the most by far in the sector.

The quarter's EPS at $0.59 beat by $0.20 and the revenue of $210.8 M beat by $35.87 M. The big thing that stands out to me for this company is the new divisions they have begun to create and the plans they have to continue this process. Smith and Wesson has been known for years as a leading firearm manufacturer, but the recent addition of the accessories division, made possible by the acquisition of Battenfeld Technologies (NYSEMKT:BTI) in the end of 2014, will be a huge driver of growth. Since then, the accessories division has grown to account for $16.1 million in sales for the last quarter alone. I believe the market as a whole has not taken into consideration the true potential for growth that this new division, as well as the future planned acquisitions, have for the company.
From the company's latest earnings report,
"Smith & Wesson Holding Corporation is a U.S.-based leader in firearm manufacturing and design, delivering a broad portfolio of quality firearms, related products, and training to the global military, law enforcement, and consumer markets. The company's firearms division brands include Smith & Wesson, M&P, and Thompson/Center Arms."
Firearms Division:
Smith and Wesson is currently experiencing a very strong revenue growth of 26% driven greatly by rising purchases of firearms. This trend seems to be continuing so far in 2016, with February NICS firearm checks (background checks done by the FBI) up 37.8% from a 5-year simple moving average of the same month and up 40.5% from February 2015. NICS is up annually an average of 7.2% over the last nine years.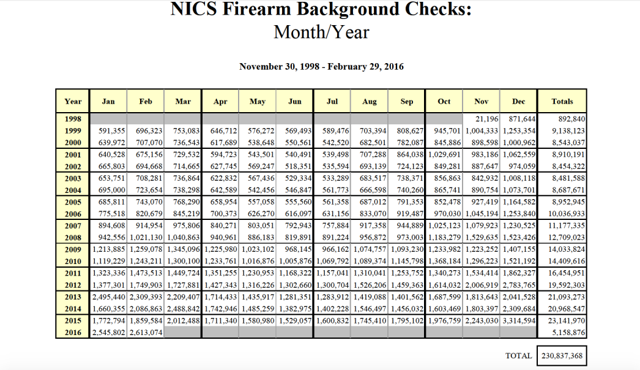 One problem I see with this rising firearm purchasing trend is the ability for S&W to continue producing and keeping inventory levels at a safe place for their existing products. This issue was addressed in their earnings call on March 3rd. The company seems to plan to keep up with demand by outsourcing some of their components, which may be more expensive, but I believe will still hold value in the long run. Keeping up with demand of the boom market will keep S&W in the forefront of the market. All in all, I see strong growth in an established division that is continuing to innovate and grow, as shown by the introduction of 9 new firearms (3 pistols and 6 rifles) in the M&P, Thompson, and Smith and Wesson brands alone this year.
Accessories Division:
The accessories division is one that I am very excited about for the future of Smith and Wesson. Established just over a year ago, there has already been significant growth which I expect to continue. First time purchasers of guns, accounting for around 25% of sales, tend to spend almost as much on accessories as on the gun itself. By entering the market for ear protection, range cases, flashlights, and other accessories, Smith and Wesson has expanded their products and possible revenue streams greatly. The acquisition of BTI has allowed them to cover most categories of accessories and compete using an existing supply chain.
In addition to the existing products, 121 new SKU's were introduced at the SHOT Show 2016 at the end of February. These new cases, holsters, and other accessories have been received very positively and my guess is they will sell well to new buyers and to existing owners of the firearms they complement. Along with the accessories division, S&W has announced plans to increase size by creating more divisions, namely Manufacturing Services and Shared Services divisions. This new structure may be hard to ease into, but in the end, allows for more possibilities of expansion in the future. A strong cash flow and a very comfortable line of credit will make it possible for acquisitions similar to what they have done with BTI.
Fundamental Analysis:
With a P/E of just over 20, and a forward P/E of around 16, I see SWHC as a well valued stock that has a significant upside potential. These price to earnings numbers are below the industry average and show us a slight undervaluation as compared to its peers. Along with this, a P/B value of 6.1 is solid, especially with the wild growth. This, along with a heavily growing book value per share leads me to believe that this growth is going to be sustainable in the long run.
SWHC also showcases an operating margin of 20.4% and an extremely strong profit margin of 11.7%, right on line and above the industry. This shows that they can properly cover their expenses and use their sales to create value, as well as to generate cash flow. Something that has helped these margins are the returns on investments, assets, and equity, all very strong. The management team has been very successful and I believe will continue to be in the future.
Unfortunately, this stock does not pay any dividends. I attribute this to the management's confidence in the growth of the company, supported by a quarterly revenue growth of 32%. The use of the cash saved by not paying dividends has been extremely profitable, whether it be to acquire subsidiaries, boost inventory, or other business operations. The free cash flow is very nice, keeping $1.91 per share in cash. The lack of a dividend does not mean the company is not strong, just that they have plans with which to use their cash, perhaps in the new division structuring, paralleling the strategies set forth by management.
Political Scene:
When talking gun stocks, politics must be mentioned in passing at least. Since the Obama administration took office back in 2008, SWHC has shown considerable gains thanks to fear of gun legislation (think buying water before a drought). With the presidential election coming up, considering what may happen if each party is elected is important. For Trump, Cruz, or Kasich, we see a typical Republican stance to defend gun rights under the Second Amendment. This would create security in Smith and Wesson's sales for the distant future, but they may drop because of decreased panic to "buy now".
If a Democrat is elected, however, we may be in for more of the same. Both Clinton and Sanders have taken a pro-gun control stance of some sort. This will continue the sales growth and gun boom as people try to buy before the legislation is passed, but if legislation is actually passed, SWHC may be in for a world of hurt, so stay conscious of that.
Conclusion:
The expansion of Smith and Wesson into different divisions and strong quarterly sales growth, along with good fundamentals and high product demand will continue to drive growth. The innovation in both the firearm and accessories divisions will new products being released shows the effectiveness of company management that can be continued in the future. Taking a look at the political scene will be wise, however, as gun control legislation will play a major role in share pricing. I expect Smith and Wesson to continue its quarterly growth.
Disclosure: I/we have no positions in any stocks mentioned, but may initiate a long position in SWHC over the next 72 hours.
I wrote this article myself, and it expresses my own opinions. I am not receiving compensation for it (other than from Seeking Alpha). I have no business relationship with any company whose stock is mentioned in this article.