Introduction
This article is intended to provide a summary of events since my previous article on the company. It will provide commentary on the company's latest quarter (Q3) and review the valuation in further detail. SoftBank (SFTB) remains undervalued, and management is committed to reducing the discount. It announced a 500B JPY buyback (equivalent to about $4.5B at current exchange rates). This is particularly significant given management's preference for investing minority stakes. The allocation of the company's free cash towards buybacks shows conviction in the fact that the company's shares are undervalued. Perhaps even more significant was the company's decision to separate the company into two divisions. Post-split, there will be two separate companies-one holding company for the international investment portfolio (including Sprint), and another for its Japanese assets (including the domestic telecom operation and Yahoo! Japan). This will make the balance sheet easier to analyze and hopefully unlock the value embedded in the sum-of-the-parts.
Q3 Summary
Since many of SoftBank's assets are publicly traded companies with existing coverage on SeekingAlpha, this article will principally discuss the operating assets of the company. Sprint (NYSE:S), in particular is of great relevance to SoftBank investors. On that front, I'll simply add that, despite years of disappointments, management appears to be bullish. Not for the first time, CEO Masayoshi Son joked that he had "previously thought about selling Sprint but since no-one wanted to buy the business he was left with no choice but to fix it" [himself]. However, there was also a sense of confidence in the current improvement initiatives. When asked to comment on whether it would two years for Sprint to regain a competitive footing made at the previous results briefing, Mr. Son replied that he now thought the recovery would be achieved earlier. While there is diminished credibility regarding management's views on Sprint, one must recognize that SoftBank made open-market purchases earlier in 2015. Moreover, Son's substantial personal stake in the company (approximately 19%) marks his commitment to value creation. Given the strong shareholder orientation, it would be surprising to see management impair the value of SoftBank further by continuing to waste resources on Sprint. The share price at Sprint (and therefore the value of SoftBank's holding) remains subdued despite issuing guidance for EBITDA growth in F16. A recovery in the share price will require actual results to bear out the resolution of the debt issues and improvement in competitiveness/earnings at Sprint that Mr. Son describes.
SoftBank's cash-cow asset, its domestic telecom operations continues to operate in a predictable, yet low-growth manner. Q1-3 revenues +8% YoY, with a stable ARPU. A slight decline in Telecom ARPU was offset by a rise in Service ARPU (see graph below). EBITDA grew ¥2.3bn (or 1%) YoY, with the total subscriber base down 2.5% YoY. Mobile subscribers do appear to be stabilizing however, with the major declines witnessed in 2014 coming under control. Mobile services revenue grew just 1% YoY. There is no particularly strong momentum, but the business is already positioned as a cash cow by the company, so there is no reason not to expect stable earnings to persist going forward. Capex on Network has peaked (as part of the trends my earlier article discussed) and now FCF is rising. Management expects to see higher FCF next year. Given this trajectory for stable FCF, I believe one might finally begin to value the company on that basis, as opposed to EBITDA.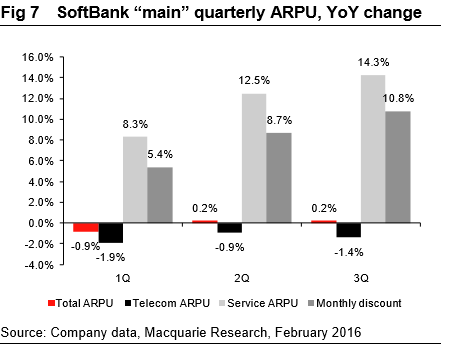 Source: Macquarie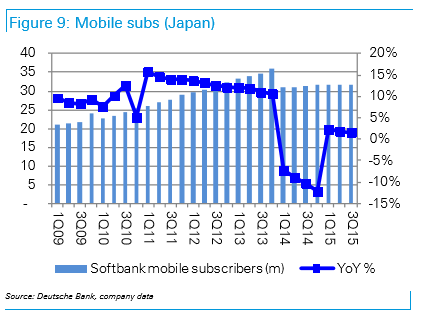 Source: Deutsche Bank
One alarming trend is rising churn. Looking at the graph below, one can see that churn rates are above peers and rising. Given behavior among its competitors, it would appear that we are in a churn cycle due to Docomo's resurgence, and the introduction of family plans interfering with user-operator allegiances. To stabilize this, management has discussed plans to offer Home bundle discounts (telecom + electricity + Optical Fibre). However, worsening trends in churn will be a key indicator to observe going forward going forward. Also, one must be careful that the industry does not engage in race-to-the-bottom price wars. Price wars, even if the final goal is to reduce churn or gain share, will be a losing proposition for shareholders.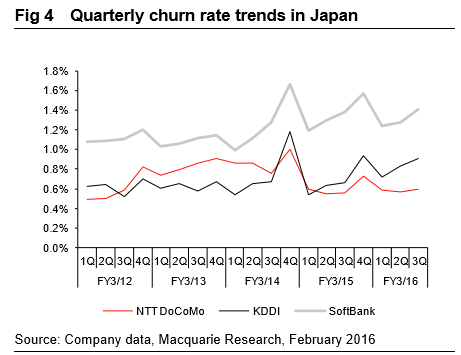 Source: Macquarie Research
Valuation Update
My valuation methodology remains unchanged. I believe the correct way to value SoftBank is to separate its publicly traded subsidiaries from its principal operating assets, and aggregate those values. I consider Sprint and Yahoo! Japan to be distinct from the Telecom business, as the former two are publicly traded and are valued on a different basis. Even the sell-side analysts who subscribe to this methodology incorrectly value SoftBank. When valuing the Telecom asset using EV/EBITDA, most analysts incorrectly use all of the company's net debt figures. A significant portion of that debt is Sprint's, which is non-recourse to the parent company. SoftBank consolidates it as it is an 80%+ ownership stake. Please refer to the following sample sell-side valuation, which erroneously uses 9.5T JPY in Net Debt for SoftBank, when the company really only has 5.54T JPY, after adjusting for Sprint's non-recourse debt. The upcoming separation should make this an easier balance sheet to understand and value.

Source: Macquarie
The following is my valuation table for SoftBank. Note that these values represent JPY figures. For the OTC security, it would imply a target price of $35.92. The higher Net-Debt figures (compared to those used in my previous article) reflect roughly 800B JPY of capitalized lease obligations. It is appropriate to consider these in the same light as debt obligations.
| | |
| --- | --- |
| | JPY Bn |
| Market Value of SoftBank's Public Stakes | 9362 |
| After 15% Hold Co Discount | 7957.7 |
| Japanese Telecom | |
| FY16 EBITDA | 1184 |
| EV/EBITDA | 6.0 |
| Net Debt | 5536 |
| Implied Value | 1718 |
| | |
| Implied Market Cap | 9675.7 |
| | |
| Implied Share Price (JPY) | 8141.6 |
| Current Price (JPY) | 5575 |
| Upside (%) | 46.0 |
To properly account for declining CapEx and SoftBank's very low-cost of capital, it might be better to look at the company's operating assets on the basis of FCF (after taxes and interest expenses, so FCF to Equity). Please see the following table for the valuation. Key assumptions include: 443B D&A, 340B in CapEx, 265B in Interest Expense, and a 35% tax rate.
| | |
| --- | --- |
| | JPY Bn |
| Market Value of SoftBank's Public Stakes | 9362 |
| After 15% Hold Co Discount | 7957.7 |
| Japanese Telecom | |
| FY16 Operating Profit | 741 |
| FY16 Net Income | 309.4 |
| Plus: D&A | 443 |
| Less: CapEx | 340 |
| FCF | 412.4 |
| P/FCF | 9.0 |
| Implied Value of Telecom | 3711.6 |
| | |
| Implied Market Cap | 11669.3 |
| Implied Share Price (JPY) | 10223.8 |
| Current Price (JPY) | 5575 |
| Upside (%) | 78.9 |
On a P/FCF, SoftBank's undervaluation is even more significant. If the telecom asset were to simply trade at 9X P/FCF, the stock would be worth 79% more than the current price implies. For the OTC security, this would represent a price of $44.00. Note also that these values are not pro-forma for the buyback, as it is not clear at what prices the buyback will be conducted. Provided that the majority of the buyback is completed before the split, substantial value will be created. There is yet another source of upside: SoftBank's privately held investments. These include stakes in Snapdeal (a leading Indian e-commerc company), Didi Kuaidi (China's Uber), Ola Cabs (India's Uber), Supercell (dominant mobile gaming company), SoFi (emerging P2P lender), among others. When these invariably go public, it will be easier to appraise their worth. Currently, they are being attributed no value in my analysis, or that of most of the sell-side. As such, they can only add to SoftBank's value, and currently represent attractive call options received for free at current prices.
To conclude, it would be important to add that this discount will not narrow immediately. My own valuation accounts for a 15% HoldCo discount. Looking at the graph below will show that the lowest this discount has been since the Alibaba (NYSE:BABA) IPO was 25%. This peak coincided with Sprint's 52-week high in 2015, which reflect SoftBank's renewed enthusiasm for the company and a series of open-market purchases. As such, it is clear that meaningful improvements at Sprint will be necessary to fully narrow the gap and unlock the underlying value. While improving fundamentals at Sprint have poor visibility, it is clear that some of the complexities will be removed upon completing of the split. After the separation occurs, it will be easier to navigate SoftBank's financials, making the analysis I have presented very feasible. So long as some of the current discount is narrowed, investors at current levels can benefit meaningfully. Moreover, SoftBank's value will not necessarily remain static: many of its other holdings are near 52 week lows and can appreciate. Additionally, the company's private investments will also enhance the company's worth.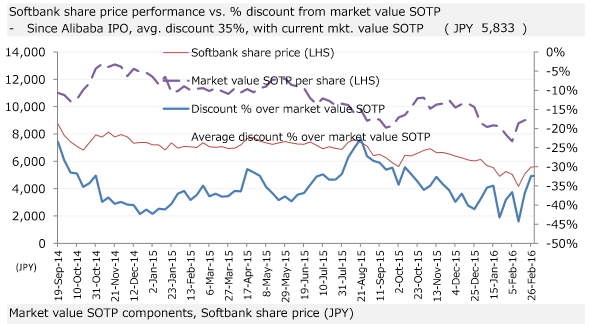 Source: Morgan Stanley
Disclosure: I am/we are long SFTBY.
I wrote this article myself, and it expresses my own opinions. I am not receiving compensation for it (other than from Seeking Alpha). I have no business relationship with any company whose stock is mentioned in this article.
Editor's Note: This article discusses one or more securities that do not trade on a major U.S. exchange. Please be aware of the risks associated with these stocks.