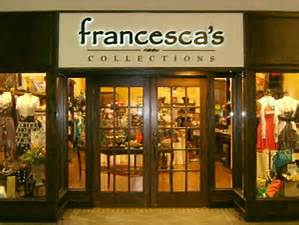 Francesca's (NASDAQ:FRAN) is a growth retailer that I began covering almost three years ago. I was initially drawn to the company's mix of rapid sales growth and very high margins in addition to its local boutique model that is highly scalable. Unfortunately for longs, FRAN lost its way and comp sales tanked for several quarters in the past couple of years. But a new CEO and a turnaround that was sorely needed have shares flying again. Very bullish Q4 earnings have FRAN trading at multi-year highs as comps blasted off during Q4 and commentary from management was upbeat. With FRAN at its highs, is there still time to buy?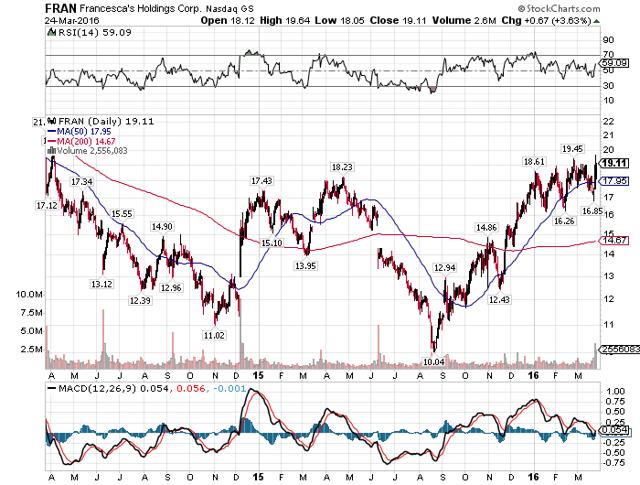 Total sales flew higher by 25% during Q4 as a combination of new stores and very high comp sales contributed. The company opened 83 boutiques during the fiscal year and it also saw comp sales hit +11% during Q4. The company's comp sales were higher as both traffic and average ticket rose, very bullish developments indeed. FRAN struggled with both traffic and average ticket size in the past couple of years so to see a lot of that unwound so quickly is very reaffirming for the bulls out there, yours truly included.
In addition to weak comp sales in the past couple of years, the company's margins were under pressure due to increased promotional activity. But in Q4, FRAN's gross margins were 340bps higher, coming in at 49.1%. This level is more consistent with where FRAN was in 2013 before its comp sales fell apart and I cannot explain how excited I am to see this number. The increase was due in part to a small amount of leverage in its occupancy expense but most of the gains were due to the company's lack of reliance upon promotions to move product. FRAN's strength in comp sales and margins is back in a big way and that means great things for its earnings trajectory going forward.
SG&A costs moved higher by 22% during the quarter on an adjusted basis, meaning that FRAN saw very little leverage from that as sales rose 25%. Higher incentive costs are generally a good thing as it means that financial targets are being met but keep in mind FRAN is also still growing its store base rapidly. That costs money in terms of opening stores and staffing them as well as hiring additional back office support staff. I would like to have seen some leverage from SG&A costs with sales rising at the pace that they did but perhaps that leaves the door open for some SG&A leverage in the future.
The move higher in gross margins allowed adjusted operating margins to move from 14.3% last year to 18.4% this year, an extraordinary number for a retailer. That level of profitability is what initially attracted me to FRAN and given the tremendous move up in operating margins, the future certainly looks bright.
FRAN also authorized a new $100 million share repurchase program, one that is good for about 12% of the float at current prices. The previous authorization is all but used up at this point so the reauthorization is certainly a welcome development. I love buybacks for companies with excess cash and FRAN is certainly one of those companies. And given that shares are still well off of their all-time highs despite the recent rally, if FRAN's momentum continues, now would be an opportune time for management to pull the trigger.
At 18.7 times this year's earnings, FRAN isn't as cheap as it once was. However, its turnaround story is certainly compelling at this point as it continues to grow comps and margins in addition to growing its store base. I will say that at this valuation, the easy money has been made but given that FRAN is slated to grow EPS in the double digit range for the foreseeable future, there is still much to like in this story.
The company's buyback alone is worth 10% or 12% of the float depending upon ultimate timing and prices of the purchases so that means the business itself has to do relatively little in order to hit the company's target. If we assume FRAN buys back $50 million this year, good for about 6% of the float, sales and margins would only need to contribute ~4% of EPS growth. That seems a very low bar to step over for FRAN considering it is still in turnaround mode and comparing against a relatively weak 2015.
FRAN's weighted average diluted share count in Q4 was 41.39 million and the company's guidance for this fiscal year was for shares to drop to 40.2 million. That implies that 1.19 million shares will be bought this year and given today's prices, that would imply spending of just $23 million. That is one quarter of the new authorization and I think FRAN can do better than that, particularly if the share price pulls back a bit. I think guidance for this year is light based upon the share count and that FRAN will spend more than just $23 million buying back shares. That means there's upside to its EPS estimate and by extension, the share price.
Given all of this, FRAN is still a buy here despite the massive rally that has taken place in the past six months or so. The stock has almost doubled off of its lows but there is more to come as FRAN's merchandise strategy is clearly on point with what consumers want. This will lead to higher comp sales and higher margins and will then allow FRAN to exceed its own guidance on share repurchases. I said back in December that FRAN was going into the $20s and that seems more certain than ever now; I'm still very bullish here.
Disclosure: I am/we are long FRAN.
I wrote this article myself, and it expresses my own opinions. I am not receiving compensation for it (other than from Seeking Alpha). I have no business relationship with any company whose stock is mentioned in this article.