Nike's (NYSE:NKE) shares fell from a high of $65.44 on Tuesday before earnings were released to a close of $61.65 on the week. This is after an earnings beat that was overshadowed by light revenue and weaker than expected guidance. Nike has been a bright spot during this economic recovery in the last few years, greatly outperforming the market and sector.
NKE Total Return Price data by YCharts
I have been long Nike for a couple of years now, utilizing its direct stock purchase plan to buy shares on a monthly basis and reinvest quarterly dividends. Despite the latest revenue miss, I plan to stay long and continue adding shares each month. Following are several reasons I'm still very optimistic on Nike.
Chinese economy is no issue for Nike
China's slowing growth has been a major headache for many of the United States' largest corporations and their shareholders; however, Nike is not feeling this same pain. For the nine months ended February 29, total sales in China were $2.806 billion, up 25.4% from the same period last year, including negative currency effects.
Sales in China have been gearing up, fiscal 2015 China sales were up 18% from 2014, and 2014 sales were up 5% over 2013.
Futures orders to be delivered in the fourth quarter are up 28% from a year ago in the China segment.
China sales are still a relatively small segment for Nike, being 11.6% of its sales in the first nine months of the year. There is still plenty of market to be taken in China. As China continues to move slowly towards a market oriented economy, the middle class will expand, and given their massive population, Nike has plenty of opportunity in the country.
Brand name
Nike has built an incredibly powerful brand. This is a unique competitive advantage that allows it to sell product at high margins.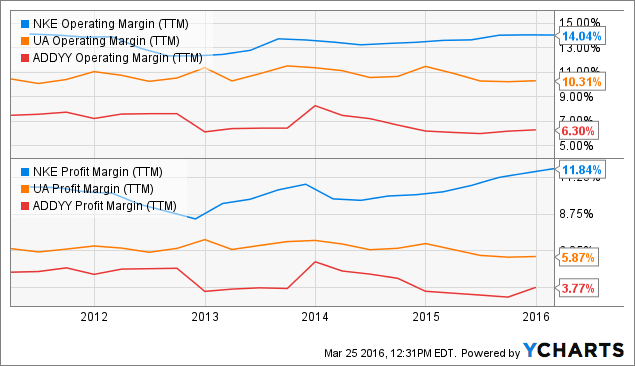 NKE Operating Margin (TTM) data by YCharts
Above you can see Nike vastly outperforms competitors Under Armour (NYSE:UA) and Adidas (OTCQX:ADDYY) in operating and net profit margin. Under Armour and Adidas are fairly strong brands in their own right; however, this shows the power of the Nike name.
Nike plans to continue margin expansion with its plan to increase direct to consumer, or DTC, sales. The company has made a large push towards opening Nike branded stores and gear up sales from Nike.com, cutting out middlemen sporting goods retail stores.
I also use return on equity and return on invested capital to see the strength of a company's competitive advantages. Below shows both against Under Armour and Adidas.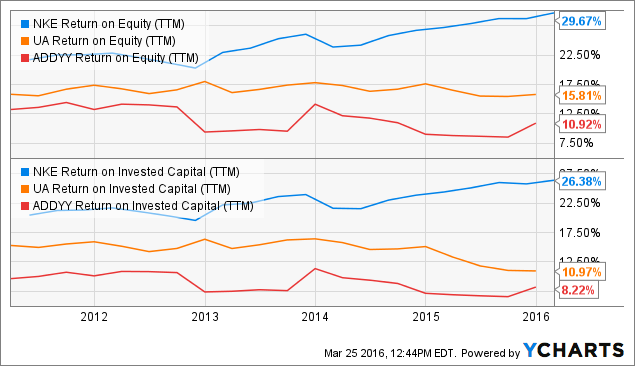 NKE Return on Equity (TTM) data by YCharts
Nike again trumps both competitors in this regard, showing the strength of its brand and business as a whole.
Balance sheet
Nike employs a conservative balance sheet. As of February 29, Nike had a long-term debt to equity ratio of 0.17.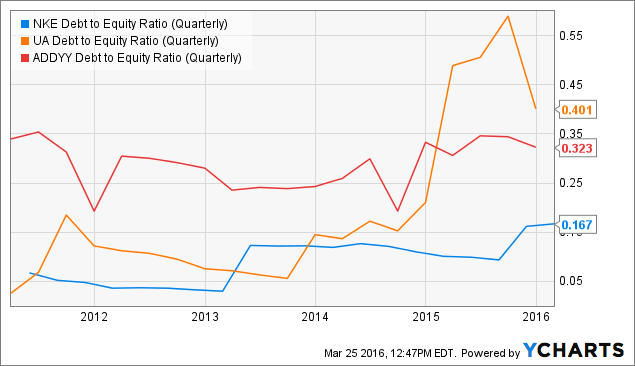 NKE Debt to Equity Ratio (Quarterly) data by YCharts
Both competitors employ about twice as much or more debt on their balance sheets than does Nike.
I see very little concern based on the balance sheet. Default risk is nearly zero and rising rates would affect the company minimally. In the first nine months of the year, Nike's earnings before interest and taxes, or EBIT, covered the company's interest expense by an incredible 255 times.
Low debt levels allow companies to be nimble, which I see as incredibly important in an industry as competitive as footwear and apparel.
Valuation relative to peers
Nike is priced somewhat rich; however, I do not consider it overvalued relative to peers.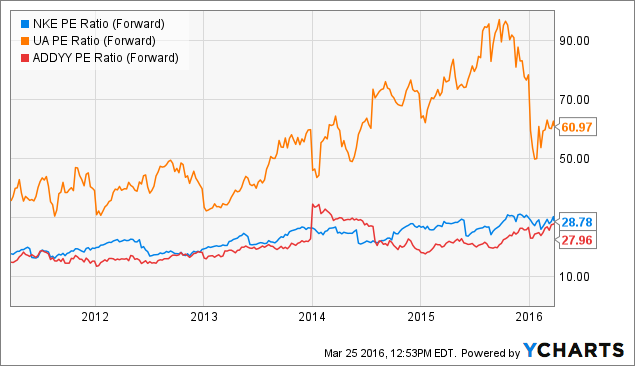 NKE PE Ratio (Forward) data by YCharts
Above you can see that Nike trades at a substantial discount to Under Armour, and roughly in line with Adidas on the basis of price to forward earnings.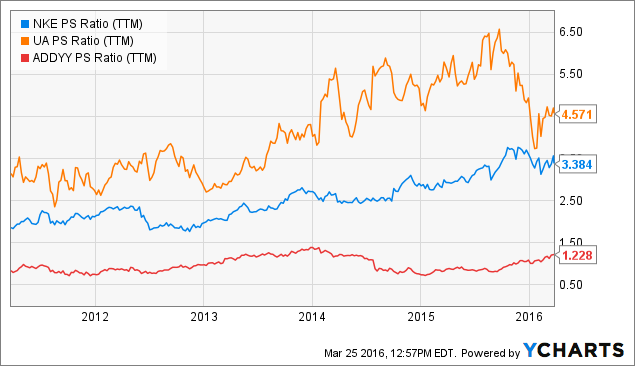 NKE PS Ratio (TTM) data by YCharts
Nike also trades at a discount to Under Armour on the basis of price to sales, but trades at a large premium to Adidas. This seems fair given the quick ascent of Under Armour and Adidas' lack of growth of the last few years, shown below.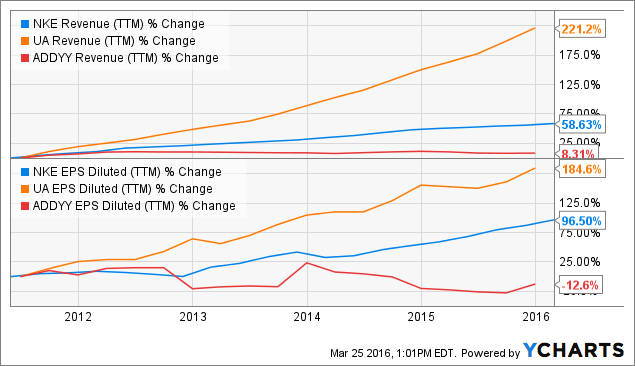 NKE Revenue (TTM) data by YCharts
All in for Nike
Given the above points, I plan to continue investing in - and growing my position in - Nike's shares. As shown in one figure above, with Nike earning over 26% on invested capital, I will gladly put my dollars to work with Nike and its management team.
I believe its fast growth and competitive position in the industry will allow investors to earn a great return on investment even at 29x forward earnings.
China will be a growth driver for many years to come and its North American operation will continue to be a cash machine with growing margins due to its focus on direct to consumer sales. The company is financed conservatively and management has been a great allocator of resources.
Disclosure: I am/we are long NKE.
I wrote this article myself, and it expresses my own opinions. I am not receiving compensation for it (other than from Seeking Alpha). I have no business relationship with any company whose stock is mentioned in this article.