In the recent few weeks, I have seen quite a few bullish articles on CVR Partners (NYSE:UAN) posted by Seeking Alpha contributors - myself included. In my original article, I made a purely relative call, arguing that shares are vastly mispriced, given Q4 2015 results in comparison to Q3 results and share prices at the time. I still remain bullish and am still sticking with my $9-10/share target price call within the first half of 2016. Yet, I felt compelled to elaborate on risks associated when investing in CVR Partners. Especially for all the new investors who may not have a good grasp of the fertilizer industry.
Without going into much details, I'll summarize CVR Partners' business. The company operates a single plant (effectively two now, once Rentech is included in results) producing raw ammonia and eventually converting it to UAN (urea ammonium nitrate). Both could be sold as fertilizers, but UAN is a higher margin product, justifying the added conversion step.
CVR Partners is majority owned by CVR Energy (NYSE:CVI), and as part of that relationship, enjoys some benefits of lower input costs by getting pet coke from CVR Refining (NYSE:CVRR) at a discounted rate.
CVR Partners is an MLP, meaning that all excess cash flow is distributed to shareholders, making the company attractive to yield-seeking investors. At the same time, this "slim" operations model introduces risk factors - the company does not retain adequate financial liquidity to weather market downturns or potential unexpected costs.
I believe the two prime drivers for the company's profitability are: (1) operational stability and (2) strong demand and pricing for nitrogen fertilizers.
Operational stability is fortunately something within CVR Partners' jurisdiction and control. That, however, was not the case in Q3 2015 when unplanned outages at Linde's air separation unit resulted in 18 days of unplanned downtime, with the company booking a net loss for the quarter and axing its third-quarter distribution.
Thankfully, these are one-time events, and barring major devastating accidents, this should not deter long-term investors. In the 3 years that I have been following the company, I would say I'm fairly satisfied with the management and its track record.
The fertilizer pricing, though, is a whole different game. And it in turn has two contributing factors: supply and demand
Nitrogen Fertilizer Demand
While year-on-year fertilizer applications are in part impacted by the success rate of preceding seasons' crop production, data shows consistent growth in nitrogen fertilizer usage (USDA Usage Report (07/13) , UAN Investor Presentation (05/2015):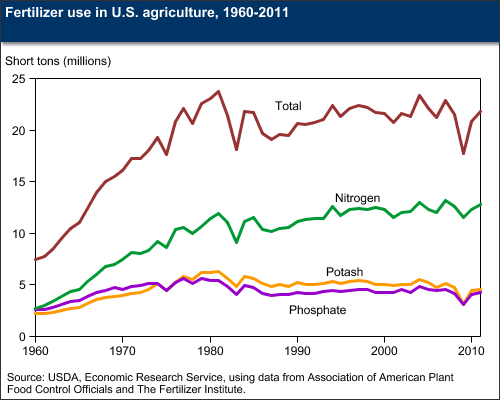 click to enlarge)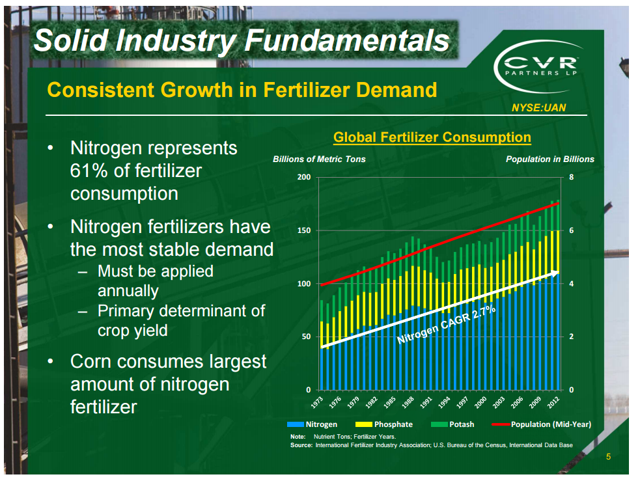 It's hard to forecast demand for the years ahead, but given the United States economy and consistent population growth, I would not expect sharp declines in annual fertilizer demand from farmers in the near future. I believe that the supply side of the equation is a far more interesting part of the picture, and bares much larger impact on nitrate-based fertilizer pricing.
Nitrogen Fertilizer Supply
First thing to touch here is the fact that the United States has been and is likely to remain a net importer of nitrogen (USDA Usage Report (07/13) , UAN Investor Presentation (05/2015):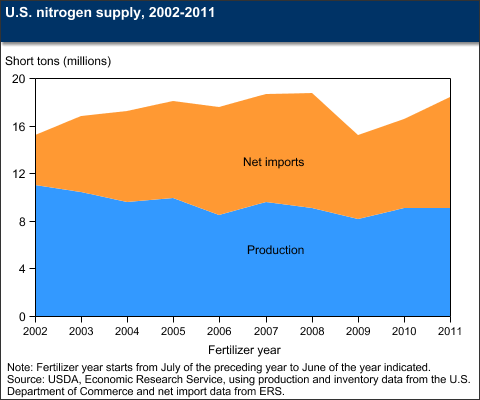 (click to enlarge)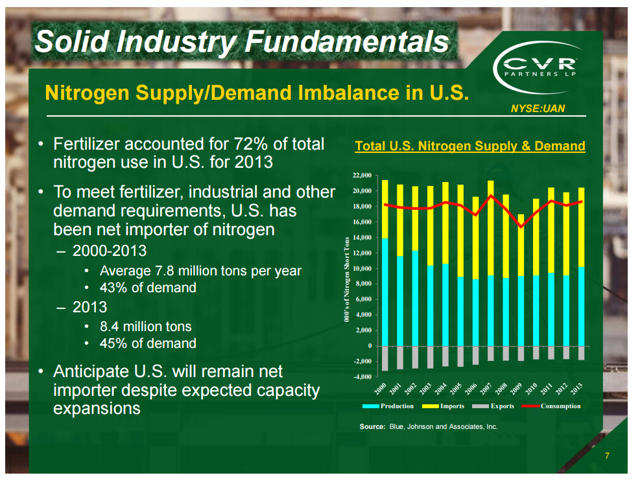 It is important to note that since 2009 net imports have been expanding, while internal production in the US has been in consistent decline.
The biggest reason for that are Chinese producers:
China largely uses anthracite and thermal coal to produce nitrogenous fertilizers. Since China's low-cost anthracite-based fertilizer producers are the least expensive producers to supply the last bit of fertilizer demand, they set the global market's floor price (Market Realist, 03/14).
While CVR Partners' Corn Belt position gives it an edge compared to US-based competitors, it is not enough to combat external producers who enjoy much less regulation in regards to coal based energy production. With coal prices plunging, Chinese producers are much incentivized to utilize coal for fertilizer production and subsequent exports to United States
As a result, nitrogen-based fertilizer prices have been tumbling:
(click to enlarge)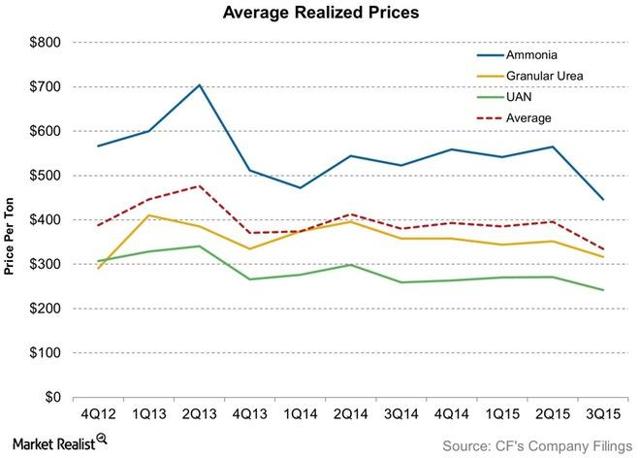 Remarkably, however, in early February 2016, fertilizer futures have sharply and dramatically reversed, with UAN spiking from $140 to more than $200 within two months:
(click to enlarge)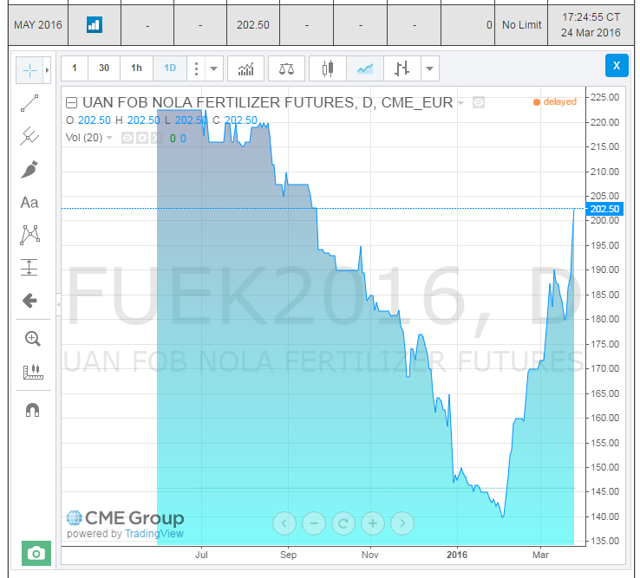 While upcoming planting season may certainly have been the driver, there is another major development in the Chinese economy: shutdown of coal plants in China:
Beijing, where pollution averaged more than twice national standard last year, will close the last of its four major coal-fired power plants next year. (Bloomberg, 03/2016)

China will stop approving new coal mines for the next three years and continue to trim production capacity as the world's biggest energy consumer tries to shift away from the fuel as it grapples with pollution. (Bloomberg, 12/2015)
There is also the Chinese export tax factor:
Due to abundant supply and lower fertilizer prices, the government has set a lower export tax for 2014 during peak and off-peak seasons. Urea exports will be taxed at 15% of value plus a fee of $6.55 per ton. During the off-season, urea exports will only be charged a fee of $6.55 per ton. These taxes are substantially below the ~77% export tax we saw in 2013 during the peak season. China's lower export tax should mean a less volatile year for urea prices. But it also means a lack of opportunity for higher profits for U.S. fertilizer producers. (Market Realist, 03/14)
Lastly, it is also hard to dismiss that all commodities have enjoyed a recent run up in valuations. Whether this run is set to continue is just as known as whether the United States will or will not enter recession, and who the next president will be.
Before investing in CVR Partners, please do consider that nitrogen fertilizers are a commodity and go through demand cycles, making CVR Partners vulnerable to events outside of its control. And I strongly encourage reading "An Investor's Guide to Nitrogen Fertilizer Companies in 2014" in full as it explains a whole lot about dynamics of this remarkable industry.
Disclosure: I am/we are long UAN.
I wrote this article myself, and it expresses my own opinions. I am not receiving compensation for it (other than from Seeking Alpha). I have no business relationship with any company whose stock is mentioned in this article.