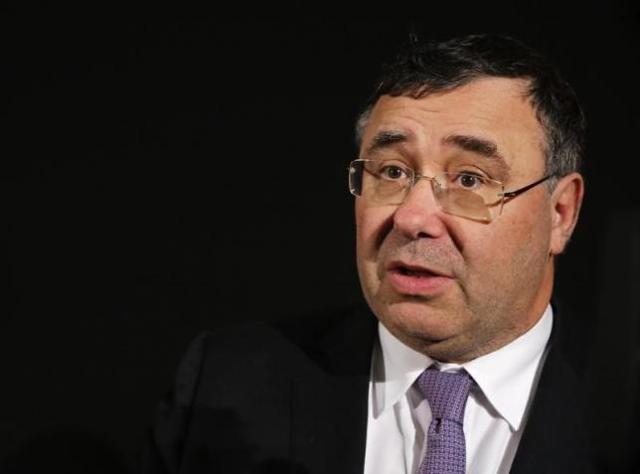 Total CEO Patrick Pouyanne. Source: Reuters
The merger between Halliburton (NYSE:HAL) and Baker Hughes (BHI) was announced with much fanfare. Over a year later oil prices are sub-$50, the global economy is in shambles and the deal is receiving a cool reception from regulators. Now oil giant Total S.A. (NYSE:TOT) CEO Patrick Pouyanne may have knifed the deal:
Total SA Chief Executive Officer Patrick Pouyanne said Tuesday that the planned tie-up of the world's second- and third-largest oil services providers is not good news for explorers and producers. "Obviously when you have less competition in service providers, I'm not in favor," Pouyanne said in an interview in New Orleans at the Scotia Howard Weil Energy Conference. When asked if he voiced his opinion on Halliburton planning to buy Baker Hughes, he said, "I'm doing my job."
HAL closed down over 2% to $35 while BHI was off over 3% to 45. BHI now trades at a 22% discount to its implied merger value of $58, indicative of how uncertain traders are that the deal will get done. For months after the deal was announced in November 2014 the discount was 10% or less.
The Situation
The proposed merger between the numbers two and three oilfield services companies has faced a groundswell of opposition. In October the Australia Competition and Consumer Commission ("ACCC") raised an issue that the merger could create coordinated behavior post-deal. In November Jefferies threw shade over potential concerns the deal might reduce competition at the upper end of the oil services market. I found it unusual in that investment banks are typically bullish on stocks and potential deals, and saw it as a clear sign the merger was in trouble.
Regulators have a point. Halliburton is already offering price concessions in certain sectors of the North American land drilling market. Halliburton, Baker Hughes and Schlumberger (NYSE:SLB) have the heft to provide concessions that lesser-capitalized companies like Weatherford International (NYSE:WFT), C&J Energy Services (CJES) or Oil States International (NYSE:OIS) may not. Halliburton has intimated it is willing to engage in asset sales (beyond those required by the DOJ) in order to get the merger approved. The question remains, "Can Halliburton ensure it will not disrupt the competitive balance in every product, in every market?"
Total -- The Unkindest Cut Of All?
The oil price rout has hurt oil drillers as well as oilfield services companies. Though price concessions could help drillers in some markets, rising prices due to outsized power by Halliburton or Schlumberger could potentially punish drillers in others. By convincing regulators that the deal is in the best interest of customers, Halliburton could potentially sway regulators. However, Halliburton would need the endorsement of customers to make that argument.
Instead, big oil is complaining to regulators. Angola's state oil producer and Chevron Brazil have both complained that the tie-up could raise prices or in some cases, result in a reduction services. Having Total, one of the six supermajor oil companies, throw stones at the deal in such a public way caught my attention. It probably caught the attention of the regulators as well. In my opinion, Total's opposition is the "unkindest cut of all."
Other Impediments
Other impediments also exist. The companies most likely to become a strong number three player to replace Baker Hughes are struggling. Both Weatherford and C&J Energy are facing liquidity strain and struggling to repay debt amassed when oil prices were much higher. The fact that a strong number three might not be able to help maintain demand/supply dynamics gives credence to Pouyanne's claims of "less competition."
The European Commission recently stopped the clock on reviewing the merger. Apparently, Halliburton did not include key information in its review package requested by the EU. The EU delayed the merger in March and July of last year as well. The companies have given a self-imposed deadline of April 30th to close the transaction. When the EU review will be re-started and if it can be completed before April 30th remains to be seen. If the April 30th deadline is breached and the companies continue pursuing the merger it could make Halliburton and Baker Hughes look desperate. To throw out a deadline and not stick to it could embolden regulators to make even more demands.
Ultimately, nobody thought the tie-up was a good idea except for HAL, BHI and a few hedge fund managers looking for a quick score. If the deal is deemed to potentially hurt competition, and more customers balk it likely won't get approved. I have a price target in the mid-$20s for both companies (sans the merger) which would make HAL and BHI overvalued by 29% and 44%, respectively. Investors should continue to avoid both stocks.
Disclosure: I am/we are short WFT, CJES, OIS.
I wrote this article myself, and it expresses my own opinions. I am not receiving compensation for it. I have no business relationship with any company whose stock is mentioned in this article.