Under Armour (NYSE:UA) is rapidly expanding its reputation in the apparel manufacturing industry and at the moment there is a lot of excitement surrounding the company's stock for various reasons.
In the past 5 years, UA's stock performance has been scintillating. A comparison of cumulative total return on UA common stock versus the cumulative total return of the S&P 500 Index and S&P 500 Apparel, Accessories and Luxury Goods Index from 2010 to 2015 can be seen in the chart below. So if you'd invested $100 in UA on December 31 (2010), your money would have grown to roughly $600 in five years. If, however you had chosen the S&P 500 Apparel, Accessories and Luxury Goods Index instead of UA, your $100 would have only grown to ~$123, which happens to be less than one-fourth of $600.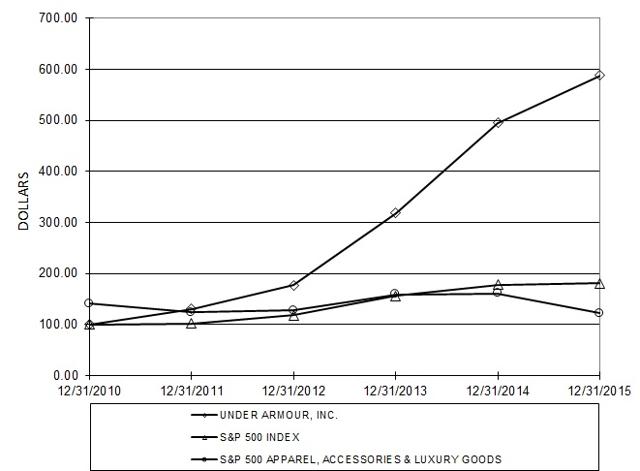 (Source: UA 10-K filing 2015)
2015 wasn't the best year for UA's stock but it still managed to outperform all of its industry peers.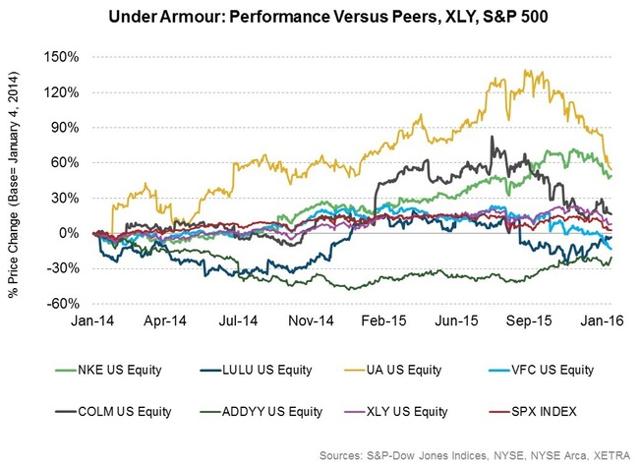 So how far does UA's stock performance shed light on the company's financial performance? UA is a fast growing business boasting arguably the world's most exciting roster of sponsored athletes including the likes of NBA superstar Stephen Curry and golf champ Jordan Spieth. These sponsorships have greatly helped UA build its brand and are without a doubt a major contributor to the company's success. Before discussing this further, especially with respect to Curry, it is worth highlighting UA's achievements in terms of EPS growth. In each of the last four quarters, UA's actual EPS beat analysts' estimated EPS. As illustrated below, the 'surprise' has never been negative since more than a year now showing that UA's top-line growth has trickled down to the bottom-line.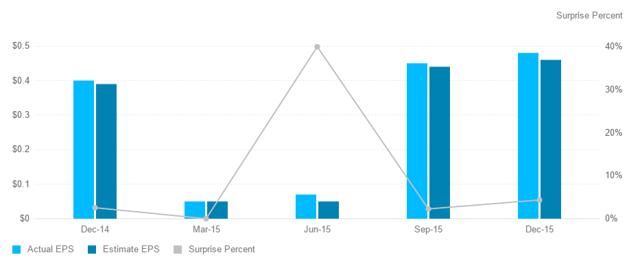 As its reliance on apparels falls, UA is becoming a more diversified business. Today the company is less vulnerable to setbacks in its apparel business than ever before. Noticeably UA's footwear business is growing at an unprecedented rate and is showing no signs of slowing down. If we look at how the contribution of footwear to UA's overall sales has changed over time, it is clear that in the coming years UA will become increasingly reliant on footwear. The chart below shows that UA's footwear sales are not only increasing at an increasing rate, but their contribution to UA's total sales is also climbing.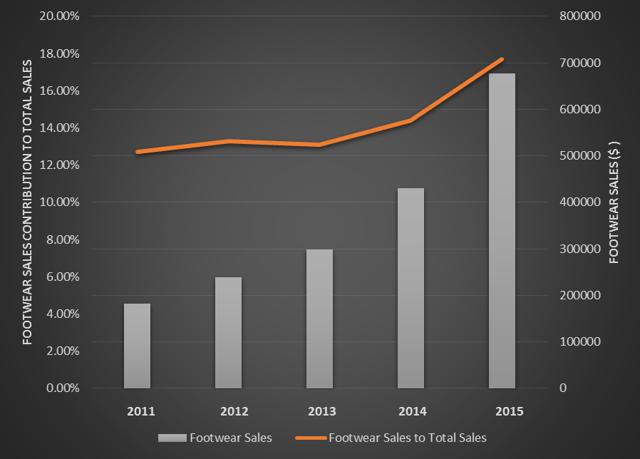 (Source: Under Armour's filings)
The 57% growth in footwear for 2015 can be largely attributed to the astounding sell-through of the Stephen Curry signature basketball shoe line. Remember UA entered the footwear landscape in 2006 and back then no one believed that this company could give Nike (NYSE:NKE) a run for its money. Certainly UA was extremely fortunate to sign Stephen Curry, whose success has almost single handedly put the company in an unbelievably favorable position. Quantifying Curry's value to UA isn't easy but I honestly believe Curry can do (and is already doing) what Michael Jordan did for Nike. When UA signed Curry for less than $4 million two years ago, I didn't really think it was a bargain but I was dead wrong. Curry went on to become the NBA's 2014-15 MVP and his popularity soared with those trademark 3-point shots. UA has capitalized on Curry's marketability very cleverly and is now giving Nike something to think about in the basketball shoe market.
The reality is that it is easier to envision yourself as Curry. The guy is 6'3", at least 5 inches shorter than LeBron James. He doesn't come across as a super human athlete with all of God's gifts and this is precisely why he is becoming a very relatable role model for young athletes. A lot of us can be fans of gifted demi-gods like Ramanujan (the Indian mathematician), Lionel Messi or Michael Jordan but deep inside our hearts we know that the Jordans and Messis are, to a great extent, 'born' and not 'made'. The irony is that what makes Curry the most marketable basketball player today is exactly why Nike didn't sign him. Nike's obsession with naturally endowed, super athletic stars has cost them because now Curry shoe sales are outperforming shoe sales of any other current NBA player (including LeBron James).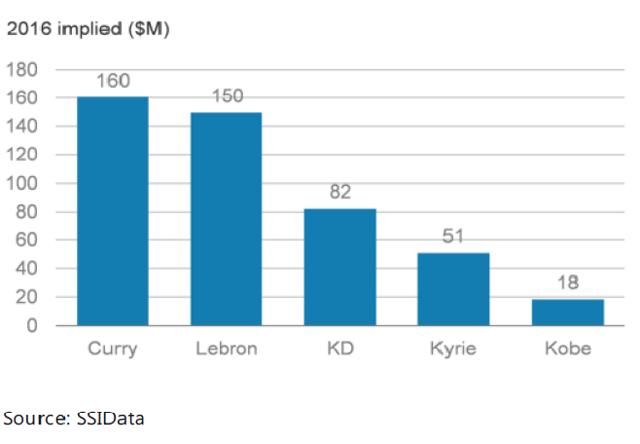 But the broad-based footwear strength isn't solely a result of Stephen Curry. UA is constantly looking to innovate and increase its market share outside the U.S. The company, for example, has already introduced the first partially 3D-printed shoe, the UA Architech, which will give UA an edge over its competitors still working on 3D-printed running shoes. Never before have we seen the release of a 3D-printed athletic shoe in the athletic shoe business and so UA's first-mover advantage could be immense. By 2017, UA can realistically expand sales to $7.5 billion, 22% of which are expected to come from the footwear business.
Could there be any negative implications of these trends? Currently ~70% of UA's revenues come from apparel and this percentage is likely to fall in coming years. Apparel is a higher margin business compared to footwear so as UA attempts to grow a market from a small base, SG&A could rise ominously while gross margins might decline.
Apart from making strides in footwear, UA is trying to make a name for itself in digital health. UA's transformation from an established apparel company to a lifestyle powerhouse isn't going to be easy by any means. The digital segment is still developing and UA must be well aware of the failures Google (NASDAQ:GOOG) has had in the wearables market. Even Microsoft (NASDAQ:MSFT) has tried (and failed) and is still trying its luck with the launch of Microsoft Band 2. It isn't easy to imagine a sportswear company building good technology but the point is that UA may be concerned about extending its software ecosystem more than anything else. The company has already brought at least 120 million registered users onto its social platform, Connected Fitness, after acquiring Edmondo and MyFitnessPal. Connected Fitness can become the world's most dominant digital health and fitness community and that itself represents a huge opportunity for UA.
On the negative side, UA's efforts to achieve diversification have come at a cost. The company's financial leverage has been on the rise more or less since the third quarter of 2013. Owing to the 2015 Connected Fitness acquisitions, UA's total debt has risen to $669 million and as it stands, nearly 30% of UA's assets are financed by debt. This is a risky position to be in even for a growth company with negative CFO.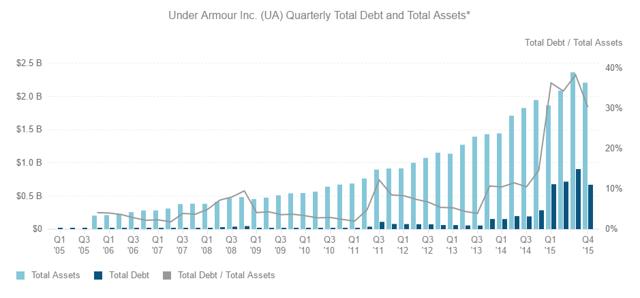 In order to assess UA's profitability, I look at the company's operating profit after tax to capital. This ratio throws light on a firm's capacity to generate after tax income using its capital. You can see the calculations below. Note that I have used 'average' of UA's capital in 2015 and 2014 to get a more realistic idea of the business's capacity to convert capital into profit. All figures are in USD millions.
FY 2015

Revenue

3963

Cost of revenue

2058

Gross profit

1906

Operating expenses

Sales, General and administrative

1497

Total operating expenses

1497

Operating income before tax

409

Effective tax rate (39.85%)

163

Operating Profit after tax

246
FY2015

FY2014

Total debt (short term plus long term)

669

284

Total Stockholder's equity

1668

1350

Less Cash

130

593

Capital

2207

1041

(Source: Morningstar)
Dividing the operating profit after tax by the mean capital of ~$1.6 billion, gives an operating profit yield of ~15% which is pretty good. Even if UA's after tax profit were to reduce by one-third, its yield would not fall below 10%. In truth this is unlikely to happen and despite increases in SG&A, I believe UA can boost its yield beyond 15%.
Conclusion
UA has a history of taking bold decisions and the company is poised to embrace the future with aplomb. All in all, I am optimistic about UA's growth prospects despite the risks. Multiplying UA'sthree-year average PE of 75.5 with analysts'average EPS estimate for Dec 16, we get a share price of around $98, which is where UA can be in less than a year.
Disclosure: I/we have no positions in any stocks mentioned, but may initiate a long position in UA over the next 72 hours.
I wrote this article myself, and it expresses my own opinions. I am not receiving compensation for it (other than from Seeking Alpha). I have no business relationship with any company whose stock is mentioned in this article.