Cummins (NYSE:CMI) is a cash generating machine and brought in $2.1 billion in operating cash in 2015 alone. With so much cash coming in it is very important to see where the company chooses to spend it and if it is value-creating for shareholders. In a previous article I looked into the capital allocation of Cummins and overall I was impressed with the decisions that management had made. One area of their capital allocation that warranted a deeper look was their share repurchase program. I decided to go back to 2010 to get a better idea of how the company had executed this aspect of their capital allocation. For those of you pressed for time please "fast forward" to the bottom where the information is summed up and presented as simply as I could.
2010
As the diesel engine maker dug itself out of the Great Recession they spent $241 million to repurchase shares as part of a 2007 authorized program of $500 million. During the recession the company had suspended the program in order to preserve valuable cash. This was a great year for the company and investors. The share price followed EPS higher and investors were rewarded for their patience through the recession. Opening the year at $46.35, investors saw their shares more than double in value to close the year at $110.01. Unfortunately for investors the company was just a little late to take full advantage of the depressed share price earlier in the year. The company retired 3.5 million shares of common stock at an average price of $68.57.
2011
After the outstanding year the company had in 2010, 2011 was a down year but a great opportunity to repurchase some shares at what would prove to be multi-year lows. Shares traded hands between a high of about $120 and a low just under $80. Recognizing the opportunity and having just $111 million left to repurchase shares from the 2007 authorization the board allocated another $1 billion in February 2011. Using what was left of the 2007 program and dipping heavily into the newly authorized amount the company was able to purchase 6.4 million shares for a total of $629 million. The average price per share was $98.46
2012
This year was mostly sideways for the company with some volatility mixed in. It was the first year since the recession that EPS didn't go up but dropped by 6%. The stock still traded to a high of over $129, but the low came in at about $83. The volatile price offered Cummins some opportunities to purchase shares at attractive prices and the company spent $256 million in total. That was good enough to purchase 2.6 million shares and at an average price of $99.47 that wasn't too bad. Management clearly felt shares were attractively priced and in December 2012 they authorized yet another $1 billion for share repurchases. So far the company had earmarked $2.5 billion in share repurchases from 2007.
2013
This is where Cummins started their storied rise to all time highs. Despite EPS dropping 12% YoY the company opened the year at $111.50 and closed it out at a remarkable $140.97. Management was conservative with their repurchase program here spending $381 million in total. This amount includes spending the last of the money allocated in 2011 and a small portion of the 2012 authorization, leaving $845 million at the end of 2013 for the next year. All added up, the company got rid of 3.3 million shares in 2013 at an average cost of $115.85.
2014
In 2014 Cummins reached an all time high of ~$160 a share and then started their infamous decline that took place all the way through 2016. Shares opened the year trading at $140 and closed at $144.17 and hit a low of $123.15. The company spent $670 million to snatch up 4.8 million shares, even amidst an all time high the average price paid was just $139.12. This is the year I fully expected Cummins to grossly overpay for shares and I was somewhat surprised they hadn't. Having just $175 million remaining the company rogered up another $1 billion in July bringing our total amount to $3.5 billion reaching back to 2007.
2015
Most of us know the story of Cummins' share price in 2015. The share price had a steady and sustained fall from $145.22 to $88.01 to close the year out. Those prices are also highs and lows for the year. Because of the steady decline in share price this year was also the most wasteful when it comes to repurchases. The company spent $900 million to close out the 2012 program and use up $726 million in the 2014 authorization. The average price they paid for a share was $124.30 which was good enough to get 7.2 million of them. Due to the rapid burn through their 2014 authorization the BoD authorized another $1 billion in November, running the total from 2007 up to $4.5 billion. In February of 2016 the company also decided it would be wise to enter into an accelerate share repurchase program to with Goldman Sachs to rapidly spend $500 million on shares.
Conclusion
When you look at the amount of money expended or authorized on share repurchases from 2010 to present day it is quite easy to criticize management and declare it has been a phenomenal waste of valuable cash. Many shareholders would rather see huge dividend increases or just special dividends paid.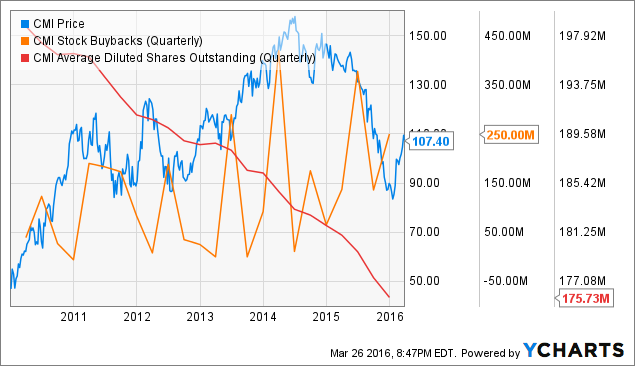 Looking at the overall numbers going back to 2010 may help put investors at ease. The company has committed $4.5 billion and so far have retired 27.8 million shares at an average price of $107.63.
| | | | | | |
| --- | --- | --- | --- | --- | --- |
| YEAR | $ SPENT | SHARES BOUGHT | AVG PRICE | HIGH | LOW |
| 2010 | $241 | 3.5 | $68.57 | $110 | $46 |
| 2011 | $629 | 6.4 | $98.46 | $120 | $80 |
| 2012 | $256 | 2.6 | $99.47 | $129 | $83 |
| 2013 | $381 | 3.3 | $115.85 | $141 | $103 |
| 2014 | $607 | 4.8 | $139.12 | $160 | $123 |
| 2015 | $900 | 7.2 | $124.30 | $145 | $88 |
| TOTALS | $3,077 | 27.8 | $107.63 | | |
Of course there is still about $1.5 billion that isn't accounted for yet. With the $500 million in accelerated repurchases occurring right now and expected to finish off in the 2nd quarter of 2016 the average should drop.
With the information presented individual investors are welcome to formulate their own opinions. My personal opinion is that the share repurchase programs have been beneficial and value-adding for shareholders. The company has been able to improve EPS and save millions in dividend payments, especially with a 32% five year growth rate. The impact of share buybacks on the dividend is worth a deeper look as well but for another time. Overall I'm satisfied with the buybacks and strongly feel the true benefits lie in the long-term.
Disclosure: I am/we are long CMI.
I wrote this article myself, and it expresses my own opinions. I am not receiving compensation for it (other than from Seeking Alpha). I have no business relationship with any company whose stock is mentioned in this article.