Honeywell International Inc (NYSE:HON) has suffered only a barely perceptible impact from recent macroeconomic headwinds. Market uncertainty and tumbling oil prices have barely made a dent in its overall performance over the last couple of quarters. Thankfully, the company has a highly diversified business model with very low exposure to the depressed energy sector.
The company's stock price has remained resilient against the headwinds of falling oil prices and an uncertain macroeconomic environment. This success is due to a strong product portfolio and a dedicated focus on innovation.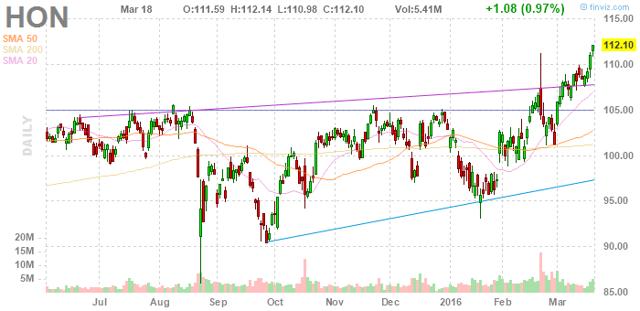 Its share price stood strong against two major plunges in the market, the first in the middle of last year and the second appearing with the start of 2016. Year to date, its share price has surged by nearly 9%, rising to around $112 a share. And that's not the end of it, in my view. Shorting Honeywell is not a good strategy.
HON's stock contains even more upside potential this year, on the back of exceptional business strategy, anticipated double-digit growth in earnings and focus on reducing its outstanding shares.
The company's business fundamentals are strong and its major business segments including aerospace and performance materials are posting convening profits. Recently, Deutsche Bank upgraded Honeywell over General Electric (NYSE:GE), on its strong future fundamentals. In addition, Deutsche Bank increased the target share price for Honeywell from $105 to $120.
Business Strategies For Sustainable Growth
Despite the economy's sluggish growth and other macroeconomic issues, the company has been consistently supporting its growth with innovative products as well as by investing in high-growth high-margin development. The company continues to invest in future products, supported by its continued investment in R&D and a healthy flow of funded restructuring projects.
In 2015, the company proactively funded $160 million of restructuring in order to build a robust pipeline of new products. These will enhance Honeywell's margins for this year and on into the next.
Innovative Technologies Are Backing Growth
The company's focus on innovation is allowing it to sustain its sales growth. Its Wi-Fi Water Leak and Freeze Detector was honored with the CES 2016 Editors' Choice Award. This ground-breaking device provides early alerts of frozen pipes and water leaks to avoid costly repairs. In the last year alone, sales for the company's connectable product portfolio increased by almost 30%, evidence of its continued investment in innovations that support growth.
Moreover, Honeywell's sale of turbochargers to enhance vehicle performance - both gas and diesel - grew over the past year. The company now estimates that nearly half of all cars on the road will have turbocharged engines by the end of 2020.
Honeywell is also equipped to capitalize on growing demand with an ever-expanding global footprint and highly differentiated technology. In the final quarter of 2015, Honeywell signed an agreement to supply its HTF series jet engines, advanced cockpit technologies, auxiliary power units, cabin pressure control systems, and environmental control systems to Cessna's new Citation Longitude business jet.
The company is also expanding its footprint and products through acquisitions. Recently, it closed on the Elster acquisition. In addition, the company acquired the remaining 30% stake in UOP Russell, a global leader in modular gas processing technology and equipment.
Double Digit Growth
On the other hand, the company remains cautious, and continues to cut costs while showing great discipline in its spending. For the final quarter of 2015, it posted earnings of $1.58 per share, a considerable increase from $1.43 in the same quarter of the previous year. Their aerospace segment generated growths of 29% while its performance materials segment enlarged by more than 9% in the latest quarter. Its segment margins increased 220 basis points, an accurate representation of its strong execution across the portfolio.
For this year, the company anticipates earnings per share in the range of $6.70 compared with $6.10 per share in 2015. The company's dividend growth is safe, firmly resting on the back of strong cash generating potential. In this year, HON is looking to return over $3.5 billion to its shareholders in the form of buybacks and dividends. It recently increased its dividend by 15% for this year.
Final Thoughts
Honeywell is a pleasing stock for defensive investors who are looking for sustainable growth in sales and cash flows. In the final quarter of 2015, the company's free cash flows expanded by almost 11%. We can expect similar increases this year, amid an anticipated double-digit growth in earnings.
The company's strategy of targeting high-margin, high-growth areas with its culture of providing innovative and differentiated technologies is working. Other than some microeconomic challenges and currency translations, the company's growth is exposed to very little risk. Its liquidity situation is strong with debt to equity ratio of only 0.3 when industry average is high around 0.9. Thus, the long-term investors can achieve steady share price appreciation and healthy dividends by holding this stock.
Disclosure: I/we have no positions in any stocks mentioned, but may initiate a long position in HON over the next 72 hours.
I wrote this article myself, and it expresses my own opinions. I am not receiving compensation for it (other than from Seeking Alpha). I have no business relationship with any company whose stock is mentioned in this article.