Introduction
Back in December, I made my case for Accenture (NYSE:ACN) and called the company a Christmas present you should buy for yourself. We're now three months later, so I wanted to check up on Accenture to see if the company was still meeting my requirements.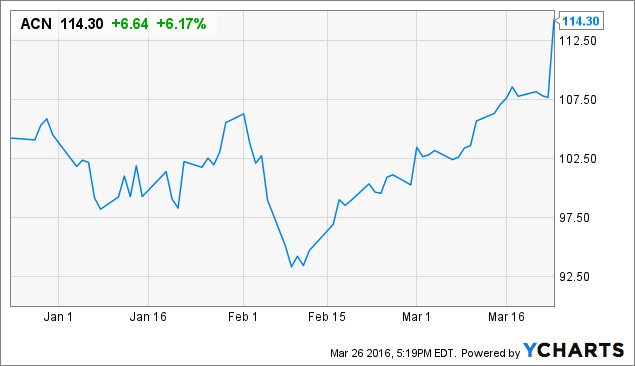 The second quarter was a bit week on the cash flow front…
Accenture's second quarter of the financial year 2016 was in line with my (and the market's) expectations as the company reported a revenue increase of 6% compared to the same quarter in the previous financial year. In fact, if you'd calculate the adjusted revenues excluding the impact from fluctuations in the currency exchange rates, the revenue would actually have increased by 12% and that would have been a very remarkable achievement for a company that is already generating in excess of $30B in revenue on an annual basis.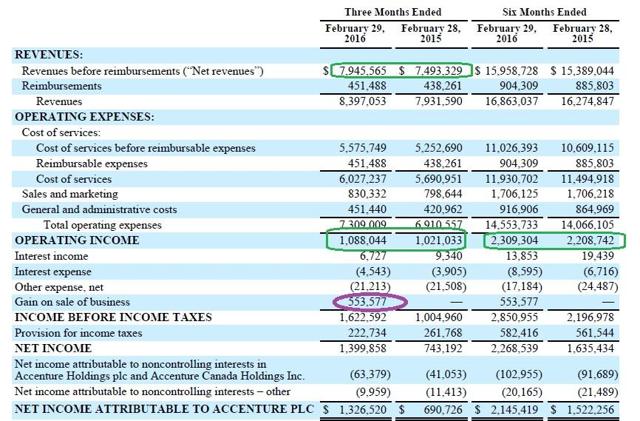 Source: SEC filings
Despite the higher operating expenses and the higher sales and marketing expenses in the second quarter (which were however lower than in the first quarter of the current financial year), the Q2 operating income increased from $1.02B to $1.09B, an increase of almost 7%. On top of that, Accenture completed the sale of a division and also recorded a one-time gain of in excess of $550M. As the tax bill was quite low, the net income of the second quarter was approximately $1.4B. Keep in mind this does include some one-time events, and then normalized net profit would have been quite a bit lower (at $800-850M). That's also 'visible' in the financial results of the first half of FY 2016, as the net income was 'just' $2.23B which seems to be a bit low considering the $1.4B net profit in the most recent quarter.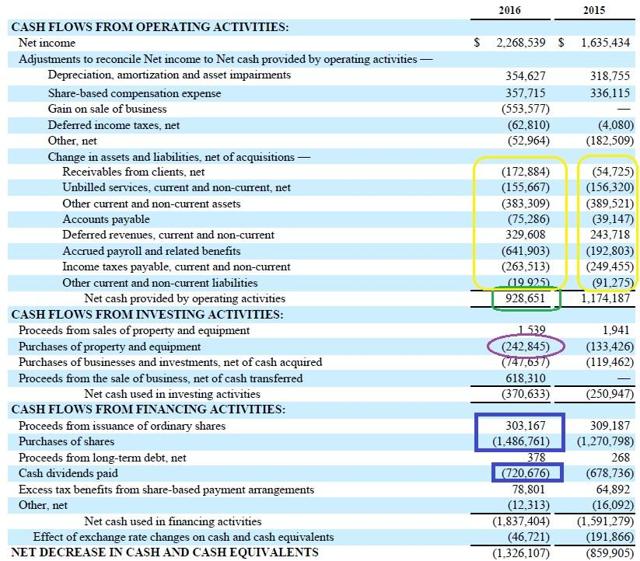 Source: SEC filings
An exceptional quarter, indeed, but what did this do with the cash flows generated by Accenture? Well, not that much, as the profitable sale of a subsidiary was deducted from the operating cash flow (as Accenture preferred to book the cash inflow as an investing activity, which I think is the correct way to do this, considering the income from the sale was most definitely a one-time event). The operating cash flow was $929M, but that's the result after taking the changes in Accenture's working capital position into consideration. As those WC changes were rather sizeable during the first semester, it would make more sense to compare apples with apples instead of with lemons. The adjusted operating cash flow was $2.3B and after deducting the $243M in capital expenditures, the adjusted free cash flow was $2.1B, which means the company is still completely on track to generate an adjusted free cash flow of $4B this year, which was my expectation in the previous article.
… But the full-year expectations remain solid
So don't let the 'low' operating cash flow fool you, as this was predominantly caused by the changes in Accenture's working capital position. That's not surprising and the company confirmed in the most recent conference call it remains on track to generate quite a bit of free cash flow:
for the full fiscal '16, we continue to expect operating cash flow to be in the range of $4.1 billion to $4.4 billion, property and equipment additions to be approximately $500 million and free cash flow to be in the range of $3.6 billion to $3.9 billion.
Keep in mind this very likely refers to the non-adjusted free cash flow result, and for now I'm sticking with my adjusted number of $4B.
Accenture's share buyback program is still in the fifth gear as the company spent almost $1.5B on repurchasing its own shares. This was partly funded by a $303M cash inflow due to some options being exercised, but still, the net cash outflow to repurchase shares was almost $1.2B and that's quite a lot of money! As Accenture's dividend also costed the company $721M, it looks like Accenture will spend 100% of its adjusted free cash flow on shareholder rewards. As the balance sheet looks very clean and robust, I obviously have no concerns and the mix of paying a dividend and repurchasing shares could be a good balanced exercise.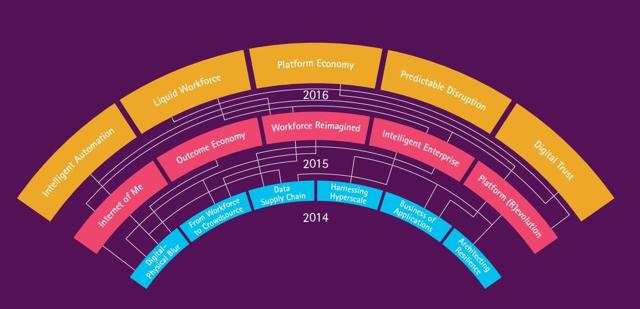 Source: company paper
The share repurchases are definitely necessary to counter the effect of the options being exercised. Despite having spent a net amount of $1.2B in the first semester, Accenture bought back a net amount of just 3.4 million shares, or just 0.5% of its total amount of outstanding shares.
Investment thesis
Accenture's second quarter shows the company is still on track to meet my expectations. The headline operating cash flow looks low but that's entirely caused by higher investments in the company's working capital position, and these investments will be 'reversed' later on this year (we saw the same thing happening last year).
If you bought yourself some Accenture as a Christmas gift, you're already sitting on a 10% gain. That's great, but it also means Accenture is now relatively correctly priced and it's no longer the bargain it was in December or during the sell-off in January.
Disclosure: I am/we are long ACN.
I wrote this article myself, and it expresses my own opinions. I am not receiving compensation for it (other than from Seeking Alpha). I have no business relationship with any company whose stock is mentioned in this article.
Additional disclosure: I have a long position in Accenture but as I think the company is closing in on its fair value, I'm considering writing a call option on my position.