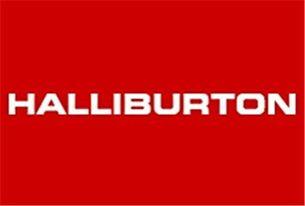 Halliburton Co (NYSE:HAL) has been strongly affected by its environment for the past 18 months, most notably by the historic drop of 70% in oil prices. The company's share price and financial performance have stumbled dramatically in front of a collapsing energy sector. Its share price plunged from $50 a share down to $27 on Feb 11, the lowest price for Halliburton since the days of the Great Depression.
On the financial front, low oil prices slashed Halliburton's sales by more than 42% in the final quarter of last year. Low oil prices have significantly threatened U.S. producers because of their higher production costs. The majority of U.S. oil producers require $55 a barrel just to maintain equilibrium. Almost across the board, these companies posted historic losses for last year. This now has them scrambling to conserve cash for their own survival.
American producers have slashed their planned investments by over 40% in the past year. They are expected to trim them beyond 40% for this year. While HAL has an extensive global footprint, nearly half of its sales come from its North American Operations. Halliburton's operations in North America plunged by 54%, down to $2.16B by the end of the most recent quarter. This represents its steepest fall in the past several years.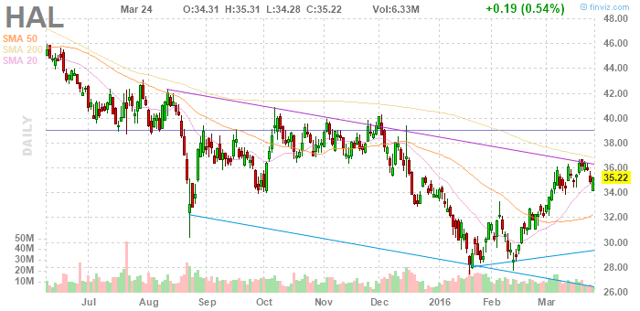 After hitting bottom at $26 a barrel on Feb 11, oil prices have rebounded steadily thanks to production talks, falling rig activities and reduced investments in future projects by many producers. Oil has gained more than 50%, less than 2 months after reaching a thirteen-year low. The rally has provided significant support to fumbling oil companies, rescuing the stock performance of many. Accordingly, HAL's stock price has soared by nearly 19% since Feb 11.
Is It A Sell?
Here the question arises whether the company's stock - rallying by 19% from its 52-week low of $27 a share - is now offering a selling opportunity. In my view, yes. This is a big opportunity for short-term value investors who bought this stock on the recent lows. The principle of buying low and selling high perfectly applies in HAL's case. I'm not expecting Halliburton's share price to see another gain of 19% any time soon.
There are several reasons for this negative expectation. Oil prices started to recover as soon as Russia and Saudi Arabia announced their intention to freeze their outputs at January levels. Thirteen additional major oil producers have since jumped on board, also proclaiming their intent to freeze production in order to support oil prices. They will likely all be in on an April 17th meeting in Doha, to further discuss production levels.
I have additional reservations. Despite these initiatives to freeze output levels, oil traders are still showing concern over U.S. oil production. Based on EIA reports, U.S. crude stockpiles increased almost 9.4 million barrels in the past week, exceeding the American Petroleum Institute's expectation of 8.8 million-barrels.
Experts now believe that U.S. producers may well enhance their production to take advantage of the recovery in crude prices. U.S. oil companies have the potential to drill at $40 per barrel and above. In Eagle Ford and the Permian Basin alone, more than 600 wells are awaiting completion, holding a production potential of 100,000 to 300,000 barrels a day. Therefore, traders are expecting oil prices to hover around $40 a barrel as higher prices could spur on increased production.
This is not good news for Halliburton's financial performance. The output freeze means low drilling and rigging activities in the near future, at a time when HAL's revenue generation is entirely dependent on the activity level of oil producers. In addition, rig counts have been falling at a significant rate for the past three months, negative news for any oil field services company. Recently, Baker Hughes Inc (BHI) reported that oil rigs drills in the U.S. had dropped by 15 in one week, falling to a seven-year low of 372.
In Conclusion
I believe that HAL's share price has already gained considerable appreciation on bullish sentiments without showing any physical change in fundamentals. Oil prices are unlikely to move forward from existing levels, as this could provoke greater oil production. In addition, drilling and production activities could fall further amid production talks and falling rig counts. Consequently, the company's financial performance and its backlog may well decline at a higher rate this year than in 2015.
Disclosure: I/we have no positions in any stocks mentioned, and no plans to initiate any positions within the next 72 hours.
I wrote this article myself, and it expresses my own opinions. I am not receiving compensation for it (other than from Seeking Alpha). I have no business relationship with any company whose stock is mentioned in this article.