On March 24, 2016 Eldorado Gold (NYSE:EGO) share price has sharply decreased after posting a $1.24B Q4 loss, including $1.25 in writedowns, largely on its projects in Greece; after stripping out the writedowns, EGO had a $19.3M adjusted loss, or $0.02/share.
The stock decreased with 9.91% (down $0.33) from the previous close with a volume of 5,740,824 shares traded on the New York Stock Exchange: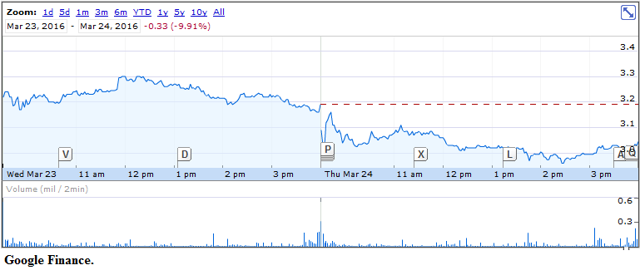 Eldorado also decided to suspend its semi-annual dividend:
EGO says it is suspending its semi-annual dividend, citing low gold prices even though gold has rallied YTD; eliminating the dividend will save $14M/year.
To whom does this bad news really matter and in what way?
It is hard to be very optimistic about Eldorado Gold right now and I am afraid the stock may eventually trade in the $2.50's again if gold cannot stay well above $1200/ Oz? Gold is of a paramount importance.

At this point of time, EGO is the perfect proxy for gold and will fluctuate accordingly.
Q4 2015 loss and dividend cut is disappointing news for buyers rather than for shareholders and I explain why:
To start with an investor who is seeking a new entering position for EGO should consider a price of $2.50 per share. On Jan. 26, 2016 I estimated a 12-month period share price of $2.47 taking into account the historical exposure of this gold stock to the changes in the gold price and in the S&P 500. Eldorado is historically more volatile than the comex, the INDEXNYSEGIS:HUI and other gold stocks like NYSE:NEM. Eldorado is historically less volatile than the stock market.
Let's see when this price may become reality:
Look at the graphic below. The investor has two possibilities:
The first possibility is some time late July and negative news about the resolution concerning the Chinese asset may help the investor to reach the purchasing price target. CEO Paul Wright says he expects a resolution in the "near term" and to provide an update on the process in Q2.
The second possibility is some time late October.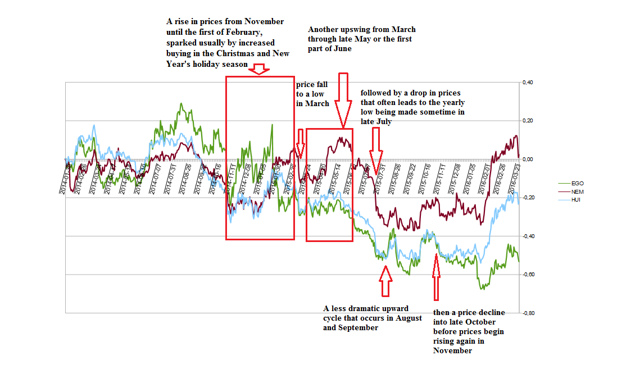 Source: the text in the graphic is taken from Investopedia.com
Missing analysts' expectations on EPS don't really matter for 2 reasons:
Because EGO is historically less volatile than the stock market
Because the stock market tends to not overreact to bad news about missing analysts' expectations on EPS. On the basis of a past event study, Q3, 2015 earnings announcement had no impact on the value of NYSE:EGO. Based on analysts' estimates, investors and traders were expecting a EPS of $0.01 for Eldorado Gold Corp, but the company released EPS of -$0.01 (a difference of -$0.02 per share), a surprise of -200.00%. For this 'Bad News', there was no evidence against the null-hypothesis, H0, that the event had no impact on the value of NYSE:EGO.
For buyers, see you in late July or late October 2016.
Disclosure: I/we have no positions in any stocks mentioned, and no plans to initiate any positions within the next 72 hours.
I wrote this article myself, and it expresses my own opinions. I am not receiving compensation for it (other than from Seeking Alpha). I have no business relationship with any company whose stock is mentioned in this article.