American Funds EuroPacific Growth fund (MUTF:AEPGX) is the first retirement asset I ever purchased. The fund has returned 10.49% annually since inception (1984) and was recently the 5th largest mutual fund. Novo Nordisk (NYSE:NVO) is their top holding and it's always been on my radar.
On December 16th 2015 I wrote my own article about Novo Nordisk. The summary is that I'd prefer new investment dollars going into NVO than current holding Johnson & Johnson (NYSE:JNJ). I waited until a good entry point and locked in @ $47 per share post earnings.
One of the best Seeking Alpha contributors wrote a fantastic 2 part article on Novo Nordisk a few weeks ago. Thanks DoctoRx. The beauty of his articles are that you are getting expert industry insight as well as sound investment logic.
I'd like to continue the conversation.
So why was Novo Nordisk on sale in the first place?
When earnings were released revenue met, EPS was slightly below expectations and management lowered guidance.

In my opinion the lowered guidance was the biggie. Operating profit growth was lowered from 15% to 10%. Operating margins weren't even listed. This is why the stock sold off from $55.84 to $46.58. Novo Nordisk is one of the best companies in the world, and I believe in the story long term. A hiccup is a buying opportunity.
NVO is comparable to winners of the last decade like Apple (OTC:APPL), Alphabet (NASDAQ:GOOG) (NASDAQ:GOOGL), Chipotle (NYSE:CMG), Under Armour (NYSE:UA). Look at the winners blow away the S&P 500 or another good health care stock like JNJ.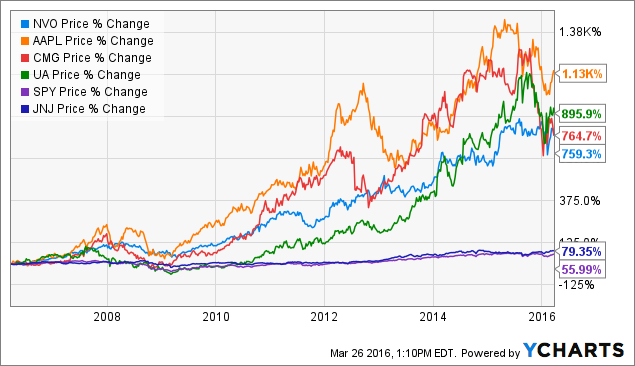 Novo Nordisk is actually #2 over the last 5 years.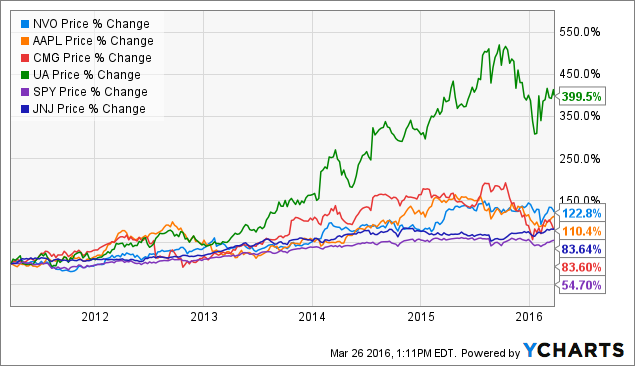 Past performance is not indicative of future gains but how many people even realize how much of a winner this stock has been? Everybody wishes they could have a time machine and go back and buy Apple or Under Armour, but how many people wish they bought Novo Nordisk? Don't you want to study what's working and get on the money making train? Not everybody has the brains/stomach to buy great beaten down companies that will rebound.
So what's the story?
Americans are fat. Western Europeans are getting fat, and Latin Americans are starting to gain weight. Obesity leads to a number of problems, one of them being Type 2 diabetes. You can also develop diabetes from hereditary reasons, that happened to a family member of mine and I got to see how horrible the disease really is.
If you have diabetes chances are you might not even know you have it. The statistics show that only about 6% of people with diabetes live a life free of complications.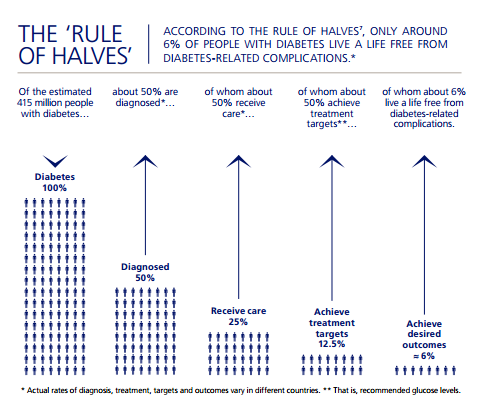 Novo Nordisk is a leader that owns about 27% of the global diabetes care market, and that market has grown around 10% annually for a decade.
Of the diabetes care market, insulin accounts for 56%, oral diabetes products (tablet-based medications) account for 37% and GLP-1 products account for 7%, measured in value.
Novo Nordisk's business is ~ 80% diabetes care so it's the purest play there is on an awful growing trend. Novo Nordisk is the market leader in both insulin and GLP-1 based therapies with 40% and 75% market share respectively.
The remaining 20% of the business is focused on Haemophilia (bleeding disorder), Growth Hormone deficiency, and Obesity.
Novo Nordisk's growth hormone, Norditropin, is the global market leader, with a market share of 35% measured by value.
Saxenda has quickly grown a 31% market share amongst the branded anti-obesity medications.
Pipeline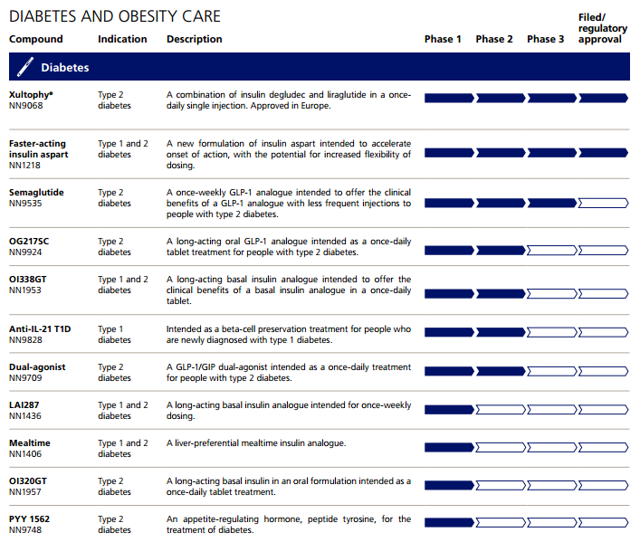 I've broken the pipeline down into Diabetes vs. Non Diabetes. You will notice 2 seeking approval, 1 Phase 3, 4 Phase 2, 4 Phase 1. In the DoctoRx article I linked above he speculates that semaglutide could be a super blockbuster, possibly the biggest seller of all-time. Even "just" in the injectable delivery it has huge potential. His detective work shows the company could also be working on pre-clinical studies of oral insulins, another potential game changer. It's something everybody wants but it's so hard to make.
PLM Investments is a top contributor of Novo Nordisk and his work similarly estimates an Oral GLP-1 could be worth $10-20 billion with a potential 2019-2020 launch date. Link to his article. Keep in mind in 2014 Humira was the top selling drug in the world at $12.54 Billion, Sovaldi at $10.28 Billion, and Remicade at $9.24 billion.
The key point here is that Novo Nordisk's diabetes R&D team is working on some potential big reward stuff. If some of these big reward opportunities hit then this stock can continue to be a tremendous winner.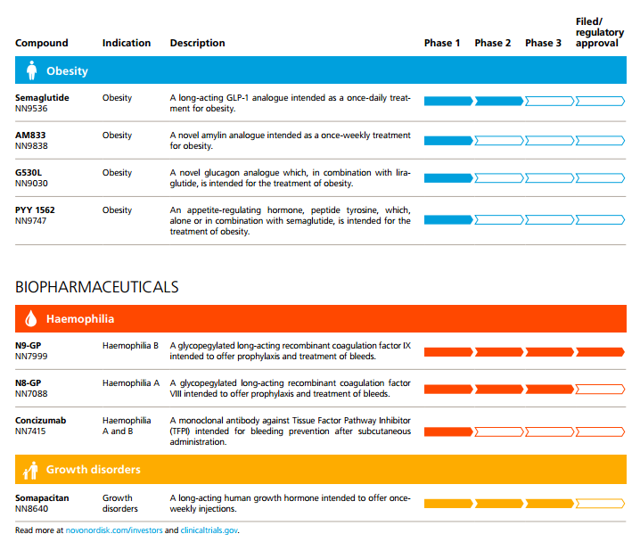 With the number of projects we have in our pipeline these days, one would also expect a number of setbacks. However, we were privileged to have only one significant disappointment in 2015: the results of phase 3 trials showed that liraglutide (Victoza), as adjunct to insulin therapy, met the primary end-point of improving blood glucose control for people with type 1 diabetes, but unfortunately without the hypoglycaemic benefit experienced in type 2 diabetes. We therefore decided not to submit an application to expand the label of Victoza for use in type 1 diabetes
Performance
CEO Lar Sorensen was rated the best performing CEO in 2015 by Harvard Business review. They have good corporate governance which I like, they are also very progressive which I don't care for (but some people like). I like that the company has goals and hit all their goals from 2013.
No debt and growing earnings is huge for me. Even if you wanted to complain guidance was lowered from operating profit growth of 15% to 10% that's organic growth. How bad would IBM (NYSE:IBM) or Proctor and Gamble (NYSE:PG) kill to grow by double digits annually?
A proposed dividend increase of 28% and a 14 Billion Krona repurchase plan rewards shareholders. Check out the dividend growth. They have raised the dividend 19 years in a row and it's been pretty substantial. The dividend is paid in Krona but this is what an American investor could have collected in dollars.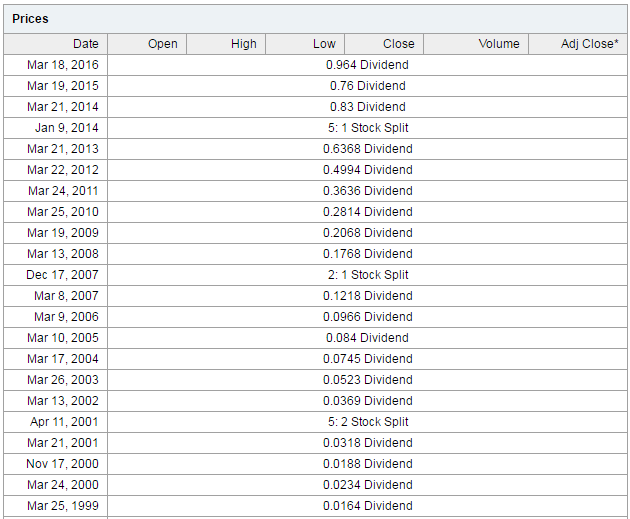 Valuation
Would I want to pay $53.50 per share now? No, especially after I just bought shares at $47 and I believe the market is overvalued. The stock isn't cheap but it's great quality and sometimes you have to pay up, I'd call it "fairly valued". If you are patient opportunities present themselves, you just need the courage to be able to act when they present themselves.
The PE is about the same as you'd find with PG, KO, PEP, MCD but Novo Nordisk's growth blows them out of the water. I'm not intending on viewing Novo Nordisk as a Dividend Growth investment, I'm just comparing it to what I consider other historically great companies. Their 19 years of solid dividend growth is a bonus in my opinion. Even if their ~ 25% dividend growth rate slowed to say 15% annually going forward, that's powerful foreign taxes or not. In 1999 you were getting in between 1 cent and 2 cents per share and now it's grown to almost a dollar per share dividend split adjusted. I'd sign up for that.
I own Novo Nordisk and plan on doing so for the long term. I look to add on weakness or potentially from good news on the pipeline front, particularly from positives on semaglutide or oral insulin.
Disclosure: I/we have no positions in any stocks mentioned, but may initiate a long position in NVO, APPL, GOOG, CMG, JNJ, IBM, KO, PEP, MCD over the next 72 hours.
I wrote this article myself, and it expresses my own opinions. I am not receiving compensation for it (other than from Seeking Alpha). I have no business relationship with any company whose stock is mentioned in this article.