Global Market Analysis
The United States
The big news this week was the US GDP print which was revised to 2% from 1.9%. Aside from this, other economics news (new home sales, existing home sales, flash PMI) results were mixed. Housing prices continue to climb, while a slowdown in sales was largely due to seasonal factors, such as January's blizzard on the east coast.
Year-over-year growth in industrial production was down, again. This is unsurprising to us as it's fitting with a number of macro themes, including a high US dollar and slower international growth. This creates a slight drag on GDP growth for the US, and fits into our view that US GDP growth will average around 2% for the foreseeable future.
On the earnings side, since we are approaching earnings season, we suspect there may be some upside on an aggregate basis for the S&P 500 on earnings terms. The recent increases in oil prices, coupled with the decline in USD, improves the picture for US companies should it continue. However, we view the 17x multiple on the S&P 500 as inflated, in spite of low interest rates. The net effect of the multiple contraction to fair value coupled with an increase in EPS in the S&P 500 should the USD and oil hold where they are leaves 5-10% downside for the S&P 500 in our view.
China
In China this week, the most interesting news to us was the default of Guangxi Nonferrous Metals Group, which defaulted on $2.3 billion of debts, including bank debt. China didn't allow defaults on SOEs until 2014, and even now many market participants still assume that the government backstops many entities. Indeed, Guangxi had been receiving government support for many years, thus, it is quite a statement that the entity has been allowed to default.
Because China's SOEs hold significant bank debt, we view this as a significant negative for the Chinese financial system, largely because SOE lending is a far larger portion of banks' balance sheets than private sector lending. Because of the assumed government backstop, until now, markets assumed that the SOE loans on balance sheets were safe. This is no longer the case.
We are particularly bearish on the Chinese resource companies and the banks that lend to them. According to documents submitted to parliament by one of China's coal companies (Huaibei Mining), coal and steel debts amount to $8 trillion yuan ($1.22 trillion), of which about 33% is bank debt. If 20% of these loans fail, it would put significant stress on China's banking system. Given significant overcapacity in China, coupled with an active effort on the government's part to rotate the economy away from industrials into consumer focused activities, we believe that recovery rates will be very low on any NPLs coming out of the resource sector.
Also of note is the rise in yields in so-called "wealth management products" which are effectively used as shadow financing in a number of industries, most notably real estate. Yields have been kept low for years because of an assumed government guarantee on these products. These products have seen their yields rise recently due to the default of Guangxi, which has shown the government's guarantee is significantly more intangible than once thought.
This hastens the day of reckoning for a number of uneconomic projects in China which only survive because financing in the wealth management product space can simply be rolled over at stable interest costs. Once interest costs start to rise, more and more must be borrowed, and eventually the whole thing comes crashing down.
We continue to maintain our shorts on the Yuan as well as Chinese equities.
Fund Performance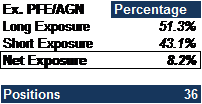 Long Portfolio Updates
The SunEdison Complex (SUNE, TERP, GLBL)
SunEdison (SUNE) this week suffered a large decline in the value of the company's equity as rumors circulated that the company was in DIP financing. TerraForm Global (NASDAQ:GLBL) also sold off as a SUNE bankruptcy threatens the opex guarantees that SUNE has extended to GLBL.
The trouble with SUNE for us is that we love the business model, and there isn't really another operator in the solar space that we feel has the competitive advantages that SUNE does. Unfortunately, as we are not 144A qualified, we are not able to participate in the debt, which we would view as an attractive position.
Currently, the June 2020 0.25% convertible senior debt trades at ~7% of par, with a YTM of about 85%. The notes are pricing in bankruptcy, and we would enter the trade with the expectation that the company does go under, with the express desire to receive equity or warrants in a newly restructured SUNE. We believe that the majority of SUNE's publicly traded debt has been accumulated by distressed funds that have the experience necessary to restructure the company, and who are likely to press hard for some form of equity in a newly restructured SUNE. This would be a situation in which we would love to find ourselves, and should SUNE emerge from bankruptcy, we would be high on the list of potential buyers for any publicly traded securities.
Because of the uncertainty regarding SUNE's cash position and liquidity, we structured our SUNE position in small size and using options. Given the news about SUNE seeking DIP financing, which we view as plausible, and DE Shaw's opportunistic purchase agreement of SUNE's Hawaiian assets (which we view as illustrative of potential problems at SUNE), we took the opportunity this week to exit our SUNE position.
As stated above, we still like the company's business model, and so we view this as unfortunate. We will continue to monitor the situation and are also looking for alternative ways to play what we feel is a coming "green revolution" worldwide.
We maintain our positions in GLBL and TerraForm Power (NASDAQ:TERP).
Short Portfolio Updates
Tesla
This week Tesla's (NASDAQ:TSLA) VP Finance and Worldwide Controller scuttled back to Amazon (NASDAQ:AMZN) from whence he came. There are many potential reasons for the move, and ultimately, we are never going to know the reason. However, given our skepticism of Tesla's accounting and presentation of the company's results (for example, producing 6 different gross margin numbers), we think it is interesting that the company's finance team has seen the significant turnover that it has.
Amazon
The news this week from Alphabet's (NASDAQ:GOOG) (NASDAQ:GOOGL) Google, which affects Amazon , is Google's plan to open 12 new data centers in a bid for market share. The attractiveness and success of Amazon's AWS business is a key reason underlying our short thesis in the company: where there are profits and competitors who can break into the market, profits for incumbents tend to shrink.
Given the very slim margins at Amazon, coupled with market expectations of a perpetual monopoly of Amazon on everything it touches, anything that threatens its competitive positioning, in turn undermines the company's financial performance, and therefore its valuation.
Because AWS is Amazon's highest margin segment (AWS earns a 24% operating margin vs. the 2.7% operating margin in the rest of the business), any decline in that margin from price pressure will place undue pressure on Amazon's consolidated margins. If AWS's margin was to decline (as it did in 2014 when AWS was facing significant competition), Amazon's margin expansion that has been occurring largely due to the growth in AWS would likely reverse. The high (we use the term "high" loosely) margin expectations for Amazon would then have to come down to a more realistic level, implying a reduced valuation for Amazon shares.
When ones takes competition in the web services business into account, Amazon's weakness is apparent. Amazon did ~$7.3 billion in free cash flow in 2015. Alphabet did $16.1 billion in 2015. Amazon has $19.8 billion of cash and marketable securities (of which a significant portion is operating cash), while Alphabet has $73 billion of cash and marketable securities to play with. Simply put, Alphabet has more than double the financial flexibility of Amazon, and as such can stomach a price war in its cloud services business if it wishes to steal market share from Amazon. Given the high margin nature of the business currently, there is significant money to be made as the dominant player in the industry, even with prices significantly lower than they are today. It then makes sense for Google to compete fiercely and stay in this business for the long haul.
We suspect this is already happening: Alphabet has signed Spotify (Private:MUSIC) (an AWS customer) to its cloud services and has also signed on Apple (NASDAQ:AAPL) and Home Depot (NYSE:HD). We suspect that Alphabet offered significant pricing advantages to these key customers, as AWS has a much larger feature set and ecosystem than Alphabet does presently.
The key here is presently: Alphabet is arguably the most sophisticated tech company on the planet today, and it has the resources to build out an ecosystem rivaling Amazon in a relatively short order. This new investment in data centers is part of this strategy.
As such, we remain long GOOG and short AMZN.
Disclosure: I am/we are short AMZN.
I wrote this article myself, and it expresses my own opinions. I am not receiving compensation for it (other than from Seeking Alpha). I have no business relationship with any company whose stock is mentioned in this article.