Whenever I read a bullish article on Fitbit (NYSE: FIT) there's one thing which always stands out to me. The bullish authors see the stock as undeservedly undervalued (currently trading at nearly 10 times forward earnings) and argue that the market is missing out on a tremendous opportunity. They typically tell a happy tale of the undisputed leader in wearables sales (IDC, 2016) with a large market potential in health and fitness and an ecosystem so entrenched it may already be too late for any other competitor to catch up.
However, I don't think that the market is blind here. Wall Street is no stranger to Silicon Valley IPOs with a hit hardware product and also knows a thing or two about the peculiarities of the health and fitness industry. And even if there was anything to miss, I would still argue investors have had much time since Fitbit's IPO in June 2015 to thoroughly analyze the company and the developments in its key metrics. Instead, FIT reached a new low of $11.91 in February 2016, down nearly 80% from the high of $51.90 in August 2015. Over the past month, the stock has recovered some of its losses but that should rather be seen as a correction than a sustainable upward trend.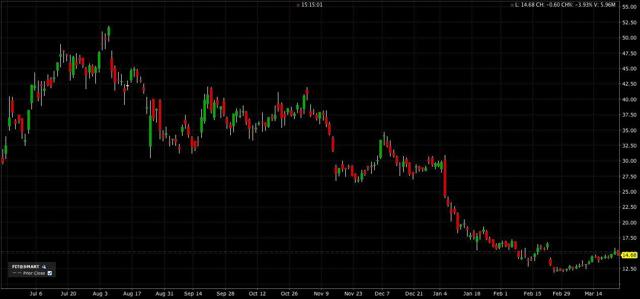 So what is it that the bulls are missing and the market can so clearly see? Let's have a closer look to find out.
1. Fitbit's narrative contains too much risk
Fitbit is a relatively young hardware company. Its cash flows come from a single product category targeting the market for casual health and fitness. Unfortunately, such a narrative contains elements of high uncertainty and risk.
It is important to realize that from Wall Street's perspective, future cash flows from hardware are hard to model as they are highly unpredictable. Technology comes and goes and former giants like Nokia (NYSE:NOK) and BlackBerry (NASDAQ:BBRY) remind fund managers of the fragile position of today's technology leaders. Dependence on a single product category and attrition problems found in the health and fitness industry make things even worse. Furthermore, Fitbit is still a young, relatively inexperienced business. It has yet to prove it is able to withstand challenging situations related to competitive pressures, changing market conditions, and altering technology and economy cycles.
Fitbit's narrative simply contains too much risk and this naturally weighs down on the stock's valuation.
2. Fitbit has no moat
Fitbit is the sales leader in the wearables market (Apple (NASDAQ: AAPL) is the top vendor in terms of revenue), serving the lower-end of the market. As that is typically characterized by heavy competition, it is important to establish Fitbit's economic moat.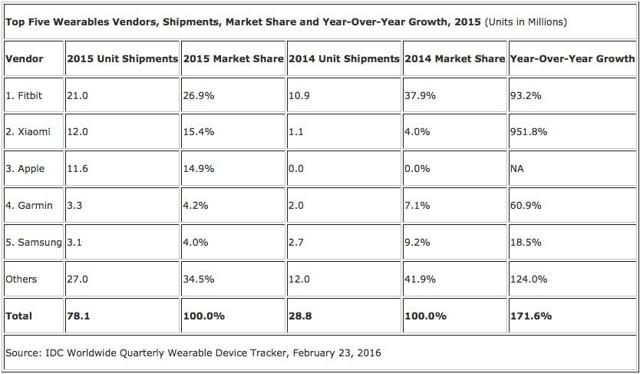 Among the company's advantages are being early to market, a fitness platform with social features, corporate wellness programs, and a wide retail presence with strong marketing support and brand awareness. The problem is - none of these advantages are sustainable. In theory, a new platform's head start, value, and stickiness should help make it entrenched and sustainable, similar to what we have seen with the iOS and Android mobile ecosystems. In reality, existing Fitbit users are leaving the platform at a high rate due to the unique nature of fitness (it is hard to keep motivation and dedication to regularly exercise over a long period of time). Out of 28.8 million total registered users, only 16.9 million users remain active (see Fitbit's report). That means 41% of Fitbit's customers have stopped using their device. Management tries to give a more positive view with the 2015 data showing only 28% left the ecosystem as of the year's end. However, to get a more accurate reading we need to exclude the strong holiday sales as these products were likely gifted (Fitbit is very popular among holiday shoppers) and measuring user engagement for the short period of time between holidays and the year-end does not make much sense. The resulting abandonment rate for 2015 then comes at 51%. As you can see, the stickiness of Fitbit's ecosystem is rather overstated.
Furthermore, the barriers to entry in the low-end segment of wearables are rather low. Technology for casual health and fitness tracking such as accelerometers for counting steps and heart-rate monitors is a commodity. When Fitbit introduced one of its latest products, the Blaze fitness watch, the stock sold off as investors saw no technology innovation in the product and nothing to build a sustainable competitive advantage. Fitbit does plan for new, possibly innovative products as per management's comments. But at its current innovation rate, investors are hardly holding their breath.
There is simply no moat in Fitbit's business and this leaves the company highly vulnerable to other competitors.
3. Fitness is a niche
Fitbit bulls often speak of a large potential in the health and fitness market. However, they use a rather broad definition. It is important to note that the company's current focus is only on casual fitness. The obvious question for investors is the size of this segment and its long-term growth potential.
Unfortunately, Fitbit's sales projection for 2016 signals the target market might not be as big as the bulls hope for. Despite growing from a small revenue base of $1.9 billion, two new products on the market (Blaze and Alta), and global media campaigns, Fitbit expects a rather big drop in revenue growth, slowing from 149% in 2015 to just 32% in 2016. This is rather worrying but probably not that surprising. Fitness is a niche in the mainstream lifestyle of convenience. Fitness naturally goes against that convenience. It requires motivation, physical effort and discipline and dedication to sustain regular activity. This is rather difficult and the reason why so many people quit. It also helps to explain the high abandonment rates for fitness trackers.
Fitbit can of course combat the slowing sales growth by going upmarket with more professional devices and/or broadening its focus beyond fitness. But as there are no indications of such plans, the market's focus remains on the slowing growth and attrition problems.
4. Long-term growth is in the smartwatch
If technology convergence trends are any indication, Fitbit's casual specialty devices are likely to become largely irrelevant. You may remember what has happened to the iPod. What was once a cultural icon is now an insignificant product as its single utility could not compete with the versatility of the smartphone.
We are again likely to see the history repeat itself with wearables. A smartwatch has the best chances of appealing to the wider market as it delivers a rich variety of functions based on universal themes of accessibility, convenience and health and fitness. While fitness trackers will keep battling the attrition problems and their growth will be limited by their niche appeal, the smartwatch market competing for anyone's wrist has the best potential for sustainable, long-term growth. Gartner forecasts 120% growth and sales of 67M units for the smartwatch category in the next two years while only 30-50% growth for sport watches (27M units) and wristbands (44M) over the same time. There are 1.2B watches sold annually and even if we exclude the nearly 700M basic cheap watches made in China, we are still left with a huge market opportunity.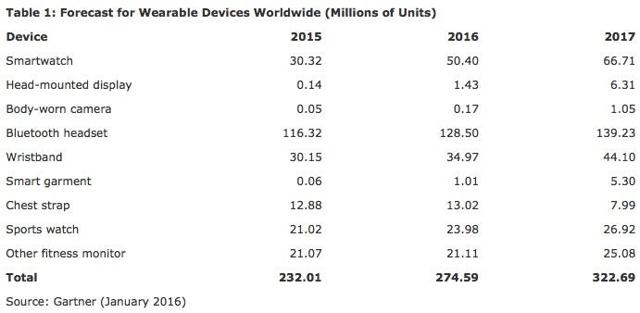 Therefore I view investing in FIT in 2016 more akin to buying a stake in an MP3 player company in 2007, the year the first iPhone was introduced. Sure, Fitbit's Blaze smart fitness watch is a step in the right direction, but it is still a fitness tracker first with all of the product's shortcomings.
5. Management makes mistakes
Finally, looking at Fitbit's product portfolio I'm not too confident in management's ability to take the company and its products in the right direction.

Admitting customer confusion? There is something wrong here.
Fitbit's product portfolio is a mess. The company is currently selling as many as eight wrist-worn trackers, mostly undifferentiated from one another. What is the difference between the Charge and Alta? Why are there two different Charge products? What is the raison d'etre for so many products with so few differences? Such a complex product portfolio naturally results in consumer confusion and heavily weighs on the company efficiency and focus. Inventory management gets more complex and expensive. Marketing and sales costs are higher while the product message and positioning is less clear and less effective. And most importantly - all this clutter negatively impacts the future product strategy with less focus and unclear direction. Building a sustainable competitive advantage then becomes rather difficult.
I'm simply not too confident in a company which is repeating business mistakes already solved a few decades ago.
Investor takeaway
It is very hard to recommend Fitbit as a long-term investment. There are just too many problems with the company's business model and its sustainability. The first signs can already be seen - a large portion of existing customers stops using the products while the rapidly slowing revenue growth hints at the limited size of the casual health and fitness market. The company has no sustainable competitive advantage to defend its current position and no products which could dramatically alter its path. FIT might look cheap at nearly 10 times forward earnings but such a valuation exists for a reason - the future of Fitbit is too uncertain to warrant a long-term investment.
Disclosure: I/we have no positions in any stocks mentioned, and no plans to initiate any positions within the next 72 hours.
I wrote this article myself, and it expresses my own opinions. I am not receiving compensation for it (other than from Seeking Alpha). I have no business relationship with any company whose stock is mentioned in this article.
Additional disclosure: This is no recommendation to buy or sell securities as that carries with it very high risks. The information contained in this article is for informational purposes only and subject to change at any time. Do your own due diligence and consult with a licensed professional before making any investment decision.