Despite a 30 percent short float on Fitbit (NYSE:FIT), the company may prove its resilience in the wearable athletics market. The company has a broad spectrum of products and faces limited competition from Garmin (NASDAQ:GRMN) and Apple (NASDAQ:AAPL) (via Apple Watch). Due to its strategic investment in research and marketing, Fitbit may prove the bears wrong this year.

Fitbit's sales may surprise investors this year after it introduced several new products a year ago. On its website, consumers have nine products to choose from. Two new devices, the Alta and the Blaze, address the fashion aspect of wearable devices. Apple's price cut announced on March 21 strongly suggests the company faced weak demand despite all the initial hype. Apple is still addressing the demands of fashion by offering choices of watchbands. Similarly, Fitbit's Blaze is priced at $249, $50 lower than that of the Apple Watch. Smart watches are less of a competitive threat for Fitbit than Garmin. Engadget ranked Garmin's vivosmart HR as the best fitness tracker, followed by the Fitbit Charge HR.
Garmin has a technical advantage over Fitbit for reporting more accurate fitness data. This is due to the use of a GPS to measure such things as running distance. Still, Engadget said Garmin's user interface is less user-friendly for users compared to that of Fitbit.
R&D costs increase
Fitbit boosted its R&D by threefold, increasing headcount to 624 by the end of 2015, compared to 226 the year before. By aligning the products with the needs of the growing user community, the company's revenue should improve over time. Fitbit's active users grew to 16.9 million, up from 6.7 million as at the end of 2014.
To support its global growth, Fitbit more than doubled its sales and marketing expenses. As awareness for the company's product improves worldwide, expect Fitbit to lower S&M spend but sustain its revenue growth.
Three Months Ended

December 31,

Year Ended

December 31,

2014

2015

2014

2015

Revenue

$

370,184

$

711,570

$

745,433

$

1,857,998

Cost of revenue

199,290

363,271

387,776

956,935

Gross profit

170,894

348,299

357,657

901,063

Operating expenses:

Research and development

18,325

54,227

54,167

150,035

Sales and marketing

69,882

154,069

112,005

332,741
Source: Fitbit
As Fitbit inks supply deals with corporate employers, such as Wendy's (NASDAQ:WEN) and YMCA, it will further build its moat in health wellness.
Investors who believe Fitbit's stock is rebounding need not rush into buying just yet. The company's last quarter benefited from seasonal strength. Holiday sales helped the company grow revenue by 92 percent in the fourth quarter. Gross profit margin improved to 48.8 percent, up from 45.9 percent year-over-year. It is worth noting expenses grew at a faster clip, up 139 percent year-over-year. As brand recognition strengthens, expect expenses to decline.
Risks
Fitbit runs the risk of not outpacing expenses with better sales. In the fourth quarter, DSO (day sales outstanding) jumped from 48 (in Q4/2014) to 56 days. An inventory overhang may hurt the current quarter. Fortunately, Fitbit issued its guidance for this year. It expects up to $2.5 billion in revenue and sustained gross margins (to 49%).
Fitbit a worthwhile speculation
Fitbit's profitability is at an inflection point. If the company's sales and marketing spend help boost awareness for its brand and offering worldwide, revenue growth will accelerate. The broad array of products gives Fitbit flexibility in adjusting the product mix as required.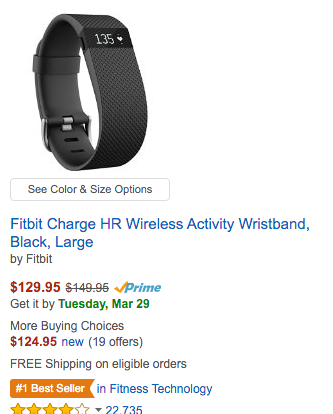 Already, on Amazon.com, Fitbit Charge is the number one best seller in the fitness technology. Conversely, Microsoft (NASDAQ:MSFT) Band has only around 650 reviews, while Garmin's vivofit has 1,500. With its brand dominance over the competition, Fibit has strong momentum in exceeding its own expectations.
Disclosure: I/we have no positions in any stocks mentioned, but may initiate a long position in FIT over the next 72 hours.
I wrote this article myself, and it expresses my own opinions. I am not receiving compensation for it (other than from Seeking Alpha). I have no business relationship with any company whose stock is mentioned in this article.