On Good Friday, BioTelemetry, Inc. (NASDAQ:BEAT) signed a definitive agreement to acquire VirtualScopics Inc. (NASDAQ:VSCP). For those unfamiliar with VSCP, they should read my previous article on the company. While a buyout offer on VSCP is not too surprising, given how much value the company can offer in a unique space in biotech while also trading at a revenue multiple of around one, what is surprising is how low this offer is for existing shareholders. The offer of $4.05 per common share is 10% below Thursday's closing price of $4.48.
What makes this offer even worse is that VirtualScopics is on the verge of thriving. The company's Q4 2015 is one of its best quarters on record with $3.66 million in revenue, positive operating income of $106,000 and EPS of $0.02. Shareholders need to do whatever it takes to voice their displeasure with this offer, including contacting the company and not tendering their shares. I expect a slew of ambulance-chasing lawyers to try to solicit class action lawsuits. This is one of the rare times where this course of action might be legitimately pursued.
Merck's shares are offered a significant premium over common shares as part of this deal
As stated in my previous article and as in VSCP filings, Merck & Co. Inc. (NYSE:MRK) owns 3,000 Series C-1 Preferred Shares which are convertible into 249,107 common shares of VSCP, a conversion rate of 83.036 common shares per each preferred. According to Friday's press release:
BioTelemetry will offer investors $4.05 per share for VirtualScopics' common stock, $336.30 per share for VirtualScopics' Series A and Series B Convertible Preferred Stock and $920.00 per share for VirtualScopics' Series C-1 Convertible Preferred Stock. The total purchase consideration is approximately $15.5 million.
The conversion rate of 83.036 also applies to the Series A and Series B Preferred Stock, so a $336.30 price per share equates to a $4.05 common share price assuming conversion. However, a $920.00 per share offer for the Series C-1 with an 83.036 conversion rate leads to a converted equivalent of $11.08 per share.
Why is VSCP management willing to sell out common shareholders and A&B preferred shareholders at $4.05 per share, but the shares owned by Merck get an offering of $11.08 per share? There are 3,000 Series C-1 Preferred Shares outstanding so the total payout for that class of shares is $2.76 million of the total $15.5 million purchase price. Accrued dividends at the end of 2015 were only $335,000 and there is no indication that they are absorbed into the purchase price or remain as a liability, so the Series C-1 Preferred Shares aren't being priced at that much of a premium due to dividends. The shares owned by Merck rank ahead of the other series, but those preferred shares also rank ahead of the common shares and they are being offered the same converted equivalent.
If VSCP Board of Directors can fight for a $11.08 payout per share on a converted basis for Merck, then they should be able to fight for the same price for ALL classes of stock. This is an egregious failure by the Board and VSCP management if this ends up being the final deal.
Q4 results show profits and strong revenue growth, so why sell the company now?
VSCP also released its 2015 10-K after announcing the deal. The filing of the financials came late compared to recent quarters so there was suspicion that something was up. It turns out that VSCP wanted to announce this deal before filing its financials because BEAT would have had no chance of being able to buy VSCP at $4.05 per share after these excellent Q4 results went public. The chart below shows full-year 2015 revenue and net income numbers with Q3 2015 YTD results subtracted to come up with Q4 2015 results:

The company achieved profitability in Q4 for the first time since Q2 2013. Even with a modest $0.02 EPS for the quarter, the 35% revenue growth (compared to 18% Q3 YTD) and 97% growth in gross profits for the quarter foretells a 2016 that should significantly build on these numbers. And yet for some reason, management felt that now is the time to sell VSCP at a fire sale price.
In addition to the strong financial performance in Q4, the company's backlog (an indication of near-term revenue) showed healthy growth to $36 million at the end of 2015, up 24% from $29 million at the end of 2014. The company tries to set the tone for the buyout by stating that $26 million of the $39 million will not be recognized as revenue in 2016:

That leaves $13 million in backlog which reasonably can be viewed as revenue for 2016 and it has $1.2 million in unearned revenue sitting on the balance sheet as a liability that we can expect to be earned in 2016. Even if the company was to procure absolutely no other business that resulted in revenue in the year, that would still be a decent 12% revenue growth on a base that appears to be strong enough for the company to break even. The way the above paragraphs are written makes it sound like the company is trying to coerce shareholders into accepting this deal when they should be livid that $36 million in backlog on a company that recently turned profitable can only generate a $15.5 million buyout offer.
The competition section tips management's hand as to where it thinks the company is truly headed:

As of the date of this report, we believe that none of the leading imaging CROs have technology capabilities that are comparable to our technology.

However, we believe these academic centers lack the required FDA compliance standards and ability to scale their operations to meet customer demand and we believe they offer inferior technology.

Aside from university centers, there are a few commercial entities that have a desire to provide these advanced imaging services. However, we believe they are constrained by a lack of technical capabilities.
If these quotes are indeed true, then why is the company being sold out for $15.5 million? That is around 1.2x of trailing revenue and less than 0.5x of backlog. As shown in my previous article, BioClinica was purchased in 2012 valued at a 1.3x trailing revenue multiple (on a 17% growth rate) and at a 1.0x multiple on backlog. Since VSCP has superior technology and can serve the needs of biotech and pharmaceutical companies through all three phases of a clinical trial program, a 1.0x multiple on backlog should be the starting point for any buyout offer. This offer is more than a 50% discount to that. The $11.08 offer for the Merck shares starts to make a lot more sense in that context. The knowledgeable investors in Merck would not be willing to sell their shares at $4.05.
I supported VSCP management before, but I do not support this deal in its current incarnation
My previous article was highly complimentary of VSCP management and in particular CEO Eric Converse as he worked hard to quickly turn around the company. I personally feel insulted by this offer because I stuck my neck out for this otherwise undercovered company with multiple contact points between myself and management in January to ensure that I got the story completely correct. I wrote about VSCP while it was priced in the high $2s and the offer is for $4.05 per share so I would make some money on this deal, but I invest in small float nano-caps expecting returns well over 100%.
This buyout offer is 40% below the 52-week high achieved in October, and is less than 10% of the stock price when it started trading in 2006. The vast majority of long-term investors will lose money if they tender their shares at this price. This is all happening just when management has made good on its promise to turn the company around. VSCP has $2.4 million in cash and about the same in working capital as well as access to a $2 million line of credit while heading towards cash flow positive operations. So selling out cheap because there is no money to support the company would not be a valid excuse.
Eric Converse said this on the Q3 earnings conference call held on October 29, results and comments that had the stock trading as high as $6.65 the next day: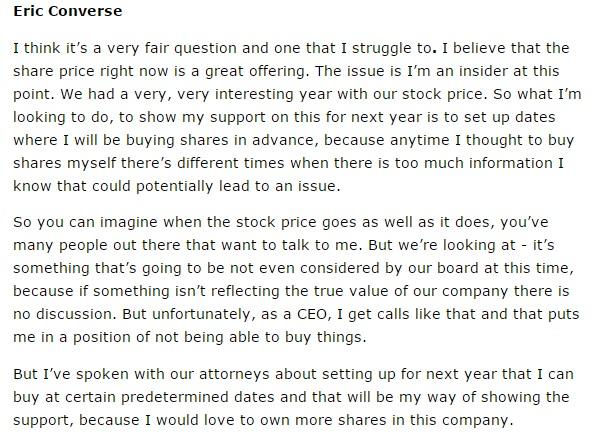 So what happened between October and today where Mr. Converse said that the board isn't even considering any offers at that time and an offer is accepted at a price that is 10% below current market price and the price at the close of business on October 30th?
The sudden change of behavior that has made Mr. Converse drop from a hero to a sell-out in the eyes of shareholders, including myself, is confusing and disheartening. Perhaps this is part of a larger plan to solicit more bids in a bidding war. If that is the case, then he and the Board can actually redeem themselves by trying to maximize shareholder value with such a bold move. Keep in mind that upon the termination of the Merger Agreement, VSCP will be required to reimburse BioTelemetry for costs and expenses incurred in connection with the transaction up to the maximum aggregate amount of $620,000.
Even with this termination cost scare tactic, I encourage shareholders to NOT tender their shares at $4.05. This is especially true in light of these excellent Q4 results where there is no indication that the company has anything other than a bright future. I encourage my fellow shareholders to pass this article around, and if need be, use it as fodder for a class action lawsuit against the Board for accepting such a pathetic deal, if this indeed ends up being the final deal we see. BioTelemetry needs VirtualScopics a lot more than VSCP shareholders need $15.5 million from BioTelemetry. Give us the same $11 as Merck and maybe we will think differently.
Disclosure: I am/we are long VSCP.
I wrote this article myself, and it expresses my own opinions. I am not receiving compensation for it (other than from Seeking Alpha). I have no business relationship with any company whose stock is mentioned in this article.
Editor's Note: This article covers one or more stocks trading at less than $1 per share and/or with less than a $100 million market cap. Please be aware of the risks associated with these stocks.