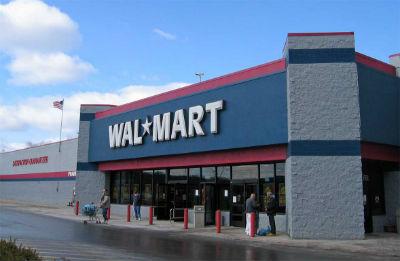 Wal-Mart Stores, Inc. (NYSE:WMT) has been plagued by multiple negative news coverage. Much of it covers the slowing sales growth, store closures and lower profit which the firm is facing. However Wal-Mart has started working on a number of new initiatives which should start delivering good results in the next few quarters.
Fresh Angle
Wal-Mart is known for the big-boxes which helped it create a highly efficient supply chain and allowed it to provide lower prices than competitors. But the same huge stores can work against it by making the shopping experience monotonous and less inviting. In order to overcome this they have launched a new project named as "Fresh Angle".
It will change the look and feel of the produce section of Wal-Mart. Some of the main features include: the fixtures in the produce department will be reoriented and the profile will be lowered, sight lines will be increased which will allow the customers to see the wet wall from the front of department, bulk fresh produce will be moved to the front, fresh-cut will be shifted to the rear and an increase in the fresh-cut offerings.
The "Fresh Angle" roll-out has taken place in 180 stores and by the end of the year the firm hopes to expand the program to 3,300 stores. These might not be headline grabbing changes but continuous incremental changes to improve customer experience should help in improving the brand image.
Sam's Club revamp
Sam's Club is also looking to bring changes to its business model. It is planning to increase the number of stores in higher income neighborhoods, giving local buyers more options in the gourmet and natural foods category and improve store foods. Although the membership renewal's went up by 35%, the comp sales declined by 0.5% in Q4. In comparison to it Wal-Mart U.S saw comp sales increase of 0.6% for same period and competitor Costco Wholesale Corporation (NASDAQ:COST) saw comp sales increase of 6.0%.
By buying stores in higher income neighborhood, Sam's Club is trying to make a frontal attack on Costco's customer base which have been quite loyal till now (Costco has a 90% membership renewal rate). The next few quarters might see heavier expense on this category but it should also help the firm gain larger market share from this highly profitable segment.
Entry in food processing sector
It is also building a new milk processing plant in Indiana which will supply private label milk to over 600 stores in Indiana, Ohio, Michigan and northern Kentucky. The 250,000 square foot plant will be built in Fort Wayne, Indiana. This will reduce the dependence of the firm on other suppliers and is the first time the firm has moved into food processing. The move itself led to shock waves in the stocks of the suppliers. One of the main suppliers, Dean Foods Co (NYSE:DF) saw a 12% fall in stocks when the news was reported. This move will help in controlling input costs and bring it closer to other grocery chains like Kroger (NYSE:KR) which have their own milk processing plants.
Wal-Mart had shown little interest in e-commerce during the growth stage. This was a similar reaction to what any well-established incumbent would have to a new fledgling competitor. Even in this late stage in the e-commerce industry, Amazon's revenue is a mere 20% of Wal-Mart's sales. This complacency in its size could have been one of the main reasons why it lagged in the e-commerce segment. However, it does need to make up for the lost time and take giant steps to increase the growth and acceptance of the firm within e-commerce space. This might take another couple of quarters, during which time the stock will continue to be behind other industry peers.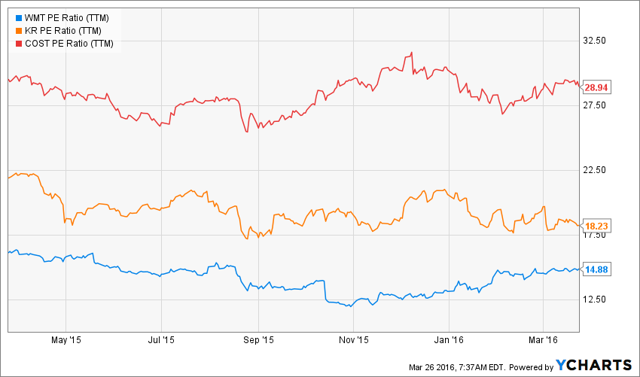 Fig: PE ratio comparison of WMT, COST and KR
Conclusion
Wal-Mart is still the same aggressive, nimble, skillful retail giant which is always looking to expand its reach, reduce its cost and maintain margins. It still forms a big part of the retail ecosystem and can take pride in the fact that 90% of US population lives within 10 miles of a Wal-Mart store. Long term investors who are ready to be patient and provide WMT with another 2-3 years to turn around should get good returns on investment at current price point. Till then they can enjoy the 3% dividend yield and get protection from the $20 billion buyback program which should prevent the stock from any massive slides in the future.
Disclosure: I/we have no positions in any stocks mentioned, and no plans to initiate any positions within the next 72 hours.
I wrote this article myself, and it expresses my own opinions. I am not receiving compensation for it (other than from Seeking Alpha). I have no business relationship with any company whose stock is mentioned in this article.