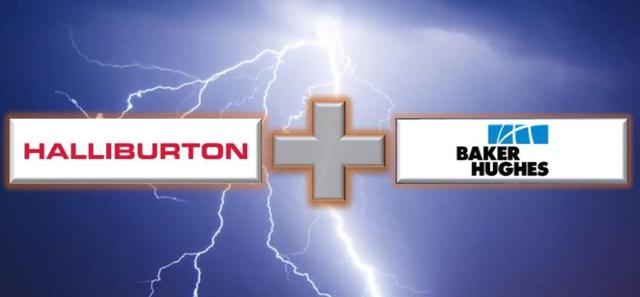 Important Note: This article is not an investment recommendation and should not to be relied upon when making investment decisions - investors should conduct their own comprehensive research. Please read the disclaimer at the end of this article.
Halliburton (NYSE:HAL) and Baker Hughes (NYSE:BHI) announced the agreement to merge in November 2014. At the time of the announcement, the two companies expected that the transaction would close within approximately a year. Several months past the initial deadline in the merger agreement, the two companies are nowhere close to having received the most important regulatory approvals. Moreover, there are strong reasons to doubt that such approvals can be obtained. In the meantime, merger-related costs continue to accumulate at a rapid clip. In 2015 alone, Halliburton recorded $308 million of costs related to the proposed deal.
A Questionable Merger Concept
To date, the proposed merger has received regulatory clearances in Canada, Colombia, Ecuador, Kazakhstan, Russia, South Africa and Turkey. However, it does not take an antitrust lawyer to figure out that the deal is struggling in the most important jurisdictions and there is no guarantee that the necessary approvals will be granted.
In December, Brazil's antitrust regulators found that Halliburton's planned tie-up with Baker Hughes is likely to fuel higher prices in Brazil. The review was turned over to the agency's tribunal to issue the final ruling on the merger. The standard timeframe for review is 240 days after notification, although that timeframe can be extended for another 90 days. This puts the deadline for the tribunal's ruling at the very earliest in August 2016, and possibly as late as November 2016.
In January, after performing preliminary investigation, the EU Commission indicated "serious potential competition concerns in more than 30 product and service lines, both offshore and onshore." The Commission emphasized particular concerns with regard to the merger's impact on competition in tenders and in innovation. (The Commission's press release is provided in Appendix A at the end of this note.) The regulators are undertaking a full review. In March, the review process was suspended for the second time in two months due to incomplete information on file. While the suspension is technical in nature (and reflects the review's complexity and cost), it extends the Commission's response deadline by another 20 business days, pushing it at least into August 2016. Halliburton and Baker Hughes stated in their press release that they are "working to provide the additional information as expeditiously as possible."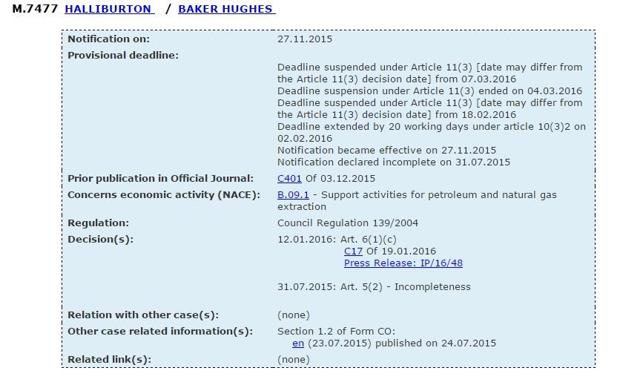 Source: The European Commission
In Australia, the antitrust regulator expressed concerns that "the proposed acquisition may create conditions that would facilitate coordinated behavior in the market." The regulator was particularly concerned in relation to the supply of complex or high-risk projects, such as off-shore drilling projects. (The ACCC's Statement of Issues is provided in Appendix B.) The initial December 17, 2015 deadline for a regulatory ruling was postponed to give Halliburton time to provide additional information and give the regulators time to review new information. On March 10, the regulator stated that it is "assessing a large amount of information. The timeline will be updated with a proposed decision date in due course."
Halliburton was equally unable to receive an antitrust clearance in the U.S. by the December 15 deadline. The review is still pending and the timeline is unclear at this point.
The delays in receiving regulatory approvals is the least of the challenges the proposed transaction is facing. The fundamental issue is obviously the concern that the proposed combination would significantly reduce competition in the oil service market, particularly as it relates to large scale projects and high-technology products. While Halliburton has done everything possible to keep the process going, the anti-competitive nature of the proposed combination may simply be impossible to mitigate, regardless of the time spent in review.
Indeed, let's take a look at the competitive landscape in the global oil service industry. It includes "three-and-a-half" major integrated global providers who dominate several important segments of the market. It is hard to imagine how an acquisition of the third largest player by the second largest player would not create a dominant duopoly of two mega-majors in those segments. Partial divestitures proposed by Halliburton do not appear to be an adequate remedy, even remotely.
The decision by Halliburton's management and Board to pursue a questionable combination - which from the outset appeared to challenge basic antitrust principles and market share thresholds - is a major puzzle and a case study for students of corporate governance. Even more puzzling was Halliburton's decision to fully underwrite the risk of a failed transaction with a giant $3.5 billion antitrust termination fee, on top of the acquisition premium and massive merger-related costs.
The Clear And Present Danger
While regulatory reviews often stay out of the public eye, in some cases process can become intense and involve many interfering parties. The biggest threat can be customer objections. This seems to be the case with the proposed Halliburton-Baker Hughes merger.
As part of their probe, regulators receive or solicit feedback from customers, competitors and other interested parties. If customers' interests are impacted by the merger, objections can be quite forceful, even if customers abstain from public comments for business relationship reasons. Moreover, a case can be made that managements of publicly traded companies have a duty to their own shareholders to interfere and object to a proposed merger by two key suppliers if there are reasons to believe that the combination would lead to increased supply chain costs due to less competition.
So what customer category is the most likely to interfere? I would argue that the proposed HAL/BHI combination is likely to cause fierce objections from the most powerful customer groups - Oil Majors and National Oil Companies.
I would argue that not all of Halliburton's and Baker Hughes' customers will be impacted by the merger to the same degree. In areas where most oilfield services and products are commoditized and highly competitive - such as U.S. onshore, for example - customers may not see much threat to their supply chain prices. However, in certain other areas, such as global mega projects and deepwater, competition may be substantially reduced by the proposed merger. Those areas are dominated by Oil Majors, such as Exxon Mobil (NYSE:XOM), Chevron (NYSE:CVX), Total (NYSE:TOT) and BP plc (NYSE:BP) and National Oil Companies, such as Petrobras (NYSE:PBR) and Sonangol.
During the current downcycle in oil, deepwater and long lead-time mega projects have been among the hardest hit, forcing some big companies to exit or scale back their investment. Examples would be ConocoPhillips (NYSE:COP) and Marathon Oil (NYSE:MRO) who have decided to exit deepwater exploration and Chevron who announced reduced capital allocation to deepwater in favor of shorter-cycle, lower-cost shale projects.
Given that deepwater and mega projects remain central to many Oil Majors' and National Oil Companies' business, these companies have a strong vested interest in maintaining adequate competition in their supply chains. In contrast to smaller E&P independents, the Majors and NOCs tend to be very large companies who have legal resources, regulatory experience and government relations to be able to influence the outcome of the Halliburton-Baker Hughes antitrust reviews. It is hard to imagine that these companies would passively observe how the cost structure in some of the most critical parts of their business is being re-set to a higher level, putting them at an even greater disadvantage in the global competition.
Customer objections sometimes become public. For example, last week's article by Bloomberg quotes Total SA CEO Patrick Pouyanne's view on the proposed combination between Halliburton and Baker Hughes as leading to "less competition." Specifically, the article quoted Mr. Pouyanne as saying:
"Obviously when you have less competition in service providers, I'm not in favor," Pouyanne said in an interview in New Orleans at the Scotia Howard Weil Energy Conference. When asked if he voiced his opinion on Halliburton planning to buy Baker Hughes, he said, "I'm doing my job."
The last part of the comment appears to indicate that Total is an interfering party or commenter in antitrust reviews, possibly in multiple jurisdictions.
Customer objections came very clear in the filings with Brazil's Administrative Council for Economic Defense, or CADE, the country's antitrust regulator. Chevron Brazil stated in its filing that the merger could reduce the number of large service providers for certain products for drilling and completing wells available to customers in Brazil, such as completion tools and cementing services, to two from three. Sonangol also stated in its filing with CADE that the merger would reduce services offered in Brazil and result in price increases. The file also includes statements from BP and Total which are confidential.
Based on its initial review, CADE concluded that the deal would bring together two major local suppliers of products and services, pointing out that Petrobras is their largest client in Brazil. Given Brazil's massive state ownership in Petrobras and the company's importance to national interests, it is difficult to imagine that the merger can be approved if the tribunal sees a risk of increased costs for Petrobras.
CADE stated that "the transaction's approval in the way it was presented could result in price increasing in several markets and reduction of innovation incentives, which would directly impact Brazilian oil and gas sector."
The Deal Spread Continues To Widen
While the antitrust concern appeared obvious from the outset, in my opinion, traders and the financial community were remarkably sanguine with regard to the deal's risks, as one can see from the BHI/HAL "deal spread." For an extended period of time in 2015, the spread traded below $5 per BHI share, as compared to the current $13-$14 level. While at $5, the spread was quite wide by risk arbitrage standards, it nonetheless reflected an expectation of the deal closing with a roughly 80% probability, based on my estimate.
The market started to discount the dangers only half a year later, after it became clear that preliminary reviews did not deliver approvals.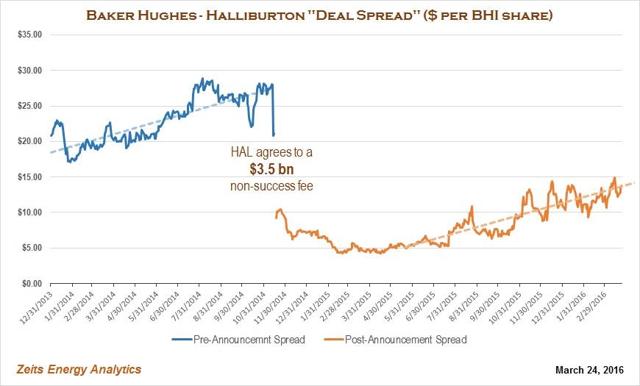 Despite all the apparent concerns, the deal spread still reflects a roughly one-third probability of the transaction eventually going through, based on my estimate. Please note that the $3.5 billion antitrust termination fee amounts to over $8 per share positive impact for Baker Hughes stock and a ~$4 per share negative impact for Halliburton stock.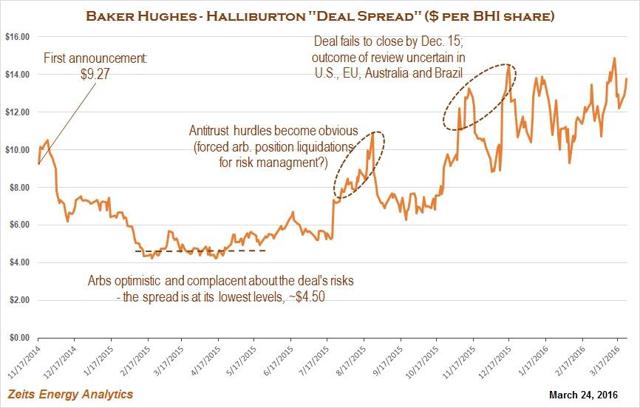 Is It Time To Cut Losses?
Given the nature of the concerns publicly stated by the regulators in the European Union, Australia and Brazil, the limited divestitures proposed by Halliburton are unlikely to be the answer to the issues. Moreover, limited additional divestiture would not provide the answer either. Therefore, chances of the proposed combination receiving the necessary approvals are low, in my opinion.
Even if approvals could be obtained, their cost - in the form of required major divestitures - would defeat the purpose of the merger and would be too high for Halliburton to accept.
Another challenge is the ability to find buyers for the assets at reasonable prices which cannot be taken for granted in the current commodity price environment. Halliburton is effectively attempting to purchase a giant asset package at a premium but is forced to put on the auction block more and more assets at a time when the market environment for divestitures is unfavorable. At some point, these "value scissors" may make the transaction economically prohibitive.
Halliburton may be facing a difficult choice between abandoning the poorly conceived deal concept now or continuing to fight the expensive uphill battle for another several months, with a very high likelihood of having to abandon the deal then. The latter alternative also has a less visible but still substantial cost of stress on Halliburton's organization due to the deal's uncertainty.
A case can be made, therefore, that it is in the best interest of Halliburton's shareholders to avoid additional cash losses and move on with a standalone business plan.
For in-depth data and analysis of commodity fundamentals, please consider subscribing to Zeits OIL ANALYTICS.
APPENDIX A: European Commission Press Release
Mergers: Commission opens in-depth investigation into acquisition of oilfield service provider Baker Hughes by Halliburton
Brussels, 12 January 2016
The European Commission has opened an in-depth investigation to assess whether the proposed acquisition of oilfield service supplier Baker Hughes by rival Halliburton would impede effective competition in breach of the EU Merger Regulation.
Both companies are US-based.
Commissioner Margrethe Vestager, in charge of competition policy, said: "The Commission has to look closely at this proposed takeover to make sure that it would not reduce choice or push up prices for oil and gas exploration and production services in the EU. Efficient exploration and production of oil and gas resources within the EU form an important element of our Energy Union strategy in terms of ensuring security of supply."
The takeover would bring together the world's second and third largest oilfield service suppliers, thus eliminating one of the three current main global competitors (i.e. Halliburton, Baker Hughes and market leader Schlumberger (NYSE:SLB)). The opening of an in-depth inquiry does not prejudge the final result of the investigation. The Commission now has 90 working days, until May 26, 2016, to take a final decision.
Halliburton and Baker Hughes supply a broad range of tools and services for drilling and evaluation as well as completion and production of oil and gas wells. Both areas include a wide range of specific product and service lines, namely:
Drilling and Exploration: products and services that relate to the drilling of the wellbore and evaluation of the formation. This group includes at least eight individual product and service lines.
Completion and Production: products and services that prepare the well for production, maximise the subsequent output and maintain the integrity of the well over its lifetime. This group includes at least twenty product and service lines.
Oilfield service markets are characterised by high technological and financial barriers to entry, leading to a market with only four globally active competitors with extensive portfolios: Halliburton, Baker Hughes, Schlumberger and to a lesser extent Weatherford (NYSE:WFT).
The Commission's preliminary investigation indicated serious potential competition concerns in more than 30 product and service lines, both offshore and onshore. In particular, the investigation revealed that Halliburton and Baker Hughes seem to be close competitors, both in terms of tenders and in innovation.
Competition regarding tenders
Competition from smaller suppliers is limited in tendering proceedings, due to the importance of quality and reputation, especially for offshore projects. The Commission's preliminary view is that the conditions of competition differ in tenders for projects taking place offshore as compared to onshore due to greater complexity, more challenging conditions and higher running costs for offshore operations.
The investigation also revealed that only three suppliers are currently able to provide integrated services that run across many product and service lines, namely Halliburton, Baker Hughes and Schlumberger. The ability to offer such integrated solutions represents a significant competitive advantage, for cost saving reasons in particular. Therefore, the transaction would reduce the number of integrated service providers from three to two, which may lead to less choice and potentially higher prices for customers. Barriers to entry are particularly high for integrated services as a new supplier would need to enter (or expand into) a large number of product and service lines to be able to compete in tenders.
Competition regarding innovation
The Commission is concerned that a reduction of the number of competitors could reduce the incentive to innovate, especially given that Halliburton and Baker Hughes currently compete fiercely with each other in developing new products.
The Commission will now investigate the proposed acquisition in-depth to determine whether these initial concerns are justified.
Given the worldwide scope of the companies' activities, the Commission is cooperating closely with several competition authorities, including the US Department of Justice.
The transaction was notified to the Commission on 27 November 2015.
More information will be available on the competition website, in the Commission's public case register under the case number M.7477.
APPENDIX B: The Australian Competition and Consumer Commission - Statement Of Issues
ACCC releases SOI on proposed acquisition of Baker Hughes by Halliburton
23 October 2015
The Australian Competition and Consumer Commission has released a Statement of Issues on the proposed acquisition by Halliburton Company (Halliburton) of Baker Hughes Incorporated (Baker Hughes).
"The ACCC's preliminary view is that the proposed acquisition is likely to raise competition concerns in a number of markets for the supply of oilfield goods and services," ACCC Chairman Rod Sims said.
Halliburton and Baker Hughes are close competitors across a broad range of oilfield goods and services in Australia, and in many countries around the world.
"The ACCC is concerned that the acquisition would result in the merged entity being one of only a small number of suppliers that could service the relevant markets. The ACCC is particularly concerned in relation to the supply of complex or high-risk projects, such as off-shore drilling projects," Mr. Sims said.
"The ACCC is concerned that the merger parties are two of the 'big 3' global oilfield services providers. These businesses have significant competitive advantages in providing services as they benefit from extensive product ranges, economies of scale and scope, large R&D budgets and significant industry experience.
"The ACCC also considers that the proposed acquisition may create conditions that would facilitate coordinated behaviour in the market," Mr. Sims said.
The merger parties are the second and third largest oilfield services providers, both globally and in Australia. The fourth largest service provider, Weatherford, has a smaller share of supply and offers a narrower range of goods and services than Halliburton or Baker Hughes.
The ACCC is inviting further submissions from the market in response to the Statement of Issues by 12 November 2015. As a result, the ACCC's final decision will be deferred until 17 December 2015.
The proposed acquisition is also being considered by competition authorities in a number of jurisdictions, including the US, the European Union, India and China.
Disclaimer: Opinions expressed herein by the author are not an investment recommendation and are not meant to be relied upon in investment decisions. The author is not acting in an investment, tax, legal or any other advisory capacity. This is not an investment research report. The author's opinions expressed herein address only select aspects of potential investment in securities of the companies mentioned and cannot be a substitute for comprehensive investment analysis. Any analysis presented herein is illustrative in nature, limited in scope, based on an incomplete set of information, and has limitations to its accuracy. The author recommends that potential and existing investors conduct thorough investment research of their own, including detailed review of the companies' SEC filings, and consult a qualified investment advisor. The information upon which this material is based was obtained from sources believed to be reliable, but has not been independently verified. Therefore, the author cannot guarantee its accuracy. Any opinions or estimates constitute the author's best judgment as of the date of publication, and are subject to change without notice. The author explicitly disclaims any liability that may arise from the use of this material.
Disclosure: I/we have no positions in any stocks mentioned, and no plans to initiate any positions within the next 72 hours.
I wrote this article myself, and it expresses my own opinions. I am not receiving compensation for it (other than from Seeking Alpha). I have no business relationship with any company whose stock is mentioned in this article.