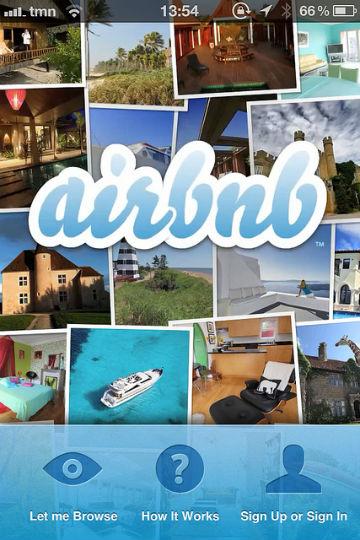 Priceline Group, Inc. (PCLN) and Expedia, Inc. (NASDAQ:EXPE) have faced growing concerns over their future growth potential due to the rise of Airbnb, Inc. (AIRB). Currently, Airbnb is valued at $25.5 billion, which is more than EXPE's market cap of $16 billion and close to 40% of PCLN's market cap of $64 billion. In the third quarter of 2015, Airbnb sold 23.8 million room nights in comparison to 61.5 million by EXPE and 115.6 million by PCLN.
Both Priceline and Expedia have been able to survive in the highly competitive online travel agency (OTA) market by spending billions of dollars in the past few years to consolidate the market. The end result has been that 95% of the market is now in the hands of these two OTA behemoths. Both these OTAs currently charge commissions as high as 15% to 25% for bookings made on their platform.
Entry by another player in this market would mean an instant pressure on commissions which are bread and butter for these OTAs. Currently, Airbnb charges 3% commission from hosts and additional 6-12% fee from travellers. Hence, the gross fee charged comes to 9-15%, which is much lower than those charged by Priceline and Expedia.
A bigger issue is that Priceline or Expedia cannot simply enter Airbnb's market of peer to peer apartment rental because of regulatory and legal issues. Although, both the firms have tried to expand their market: Expedia by buying HomeAway and Priceline by making in-house development to allow travellers to book an apartment. Airbnb has a natural moat in this niche which would be very difficult to overcome by either of the two OTAs.
At the same time, there is exponential room night and listings growth on Airbnb platform. There are several pros and cons for hosts within the Airbnb platform, but overall, the system is growing at a very fast pace and getting high degree of acceptance from both hosts and travellers.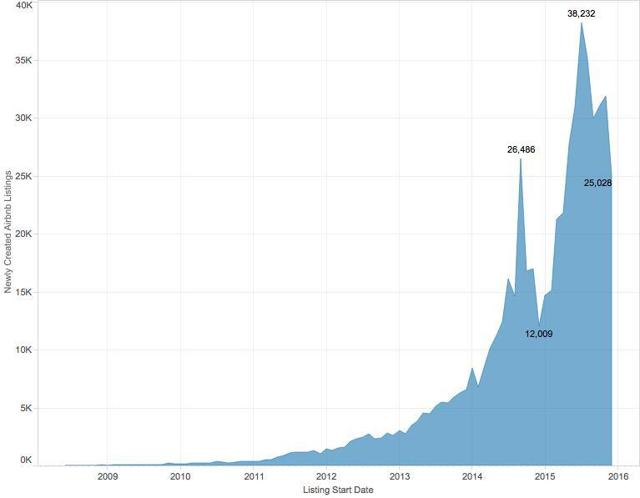 Fig: New listings on Airbnb platform in the past eight years. Source: Airdna.co
This will lead to increasing cannibalization of the room nights booked on Priceline and Expedia. A recent report posted by STR Global and Morgan Stanley points to this fact.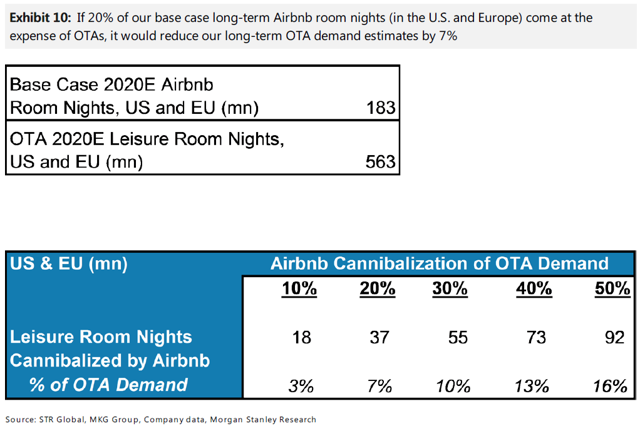 Fig: Impact of Airbnb on other OTAs. Source STR Global, Morgan Stanley Research
The report estimates Airbnb having 183 million room nights booked in 2020 against 563 million by other OTAs. If 20% of these room nights come from other OTAs, it will lead to 7% fall in their demand. On the other hand, if 50% of these room nights come from other OTAs, the fall can be as high as 16%.
Airbnb has a number of hurdles to overcome. These include safety, zoning permission, taxes and hosts working on an equal footing with hotel industry. However, all the regulatory bodies will also have to look at the income charts for hosts. A majority of the hosts have an income below the median income and many of them use this platform to pay for important necessities. This fact should reduce the blow which regulators might otherwise deal to Airbnb.

Fig: Breakup of household income of hosts in France. Source: Airbnb.com
Hotel chains have shown an ostrich behavior to the growth of Airbnb, trying to ignore it instead of meeting the challenge head-on. Increasingly, more and more CEOs from bigger hotel chains have started accepting the strength of Airbnb in their earnings call and looking at ways to deal with the challenge. Many of these incumbents have even hinted in using Airbnb as an additional distribution channel. Currently, Airbnb requires only 3% fee from hosts. Bigger chains might be able to negotiate a lower total service fee by Airbnb, as they are able to do with Priceline and Expedia.
Airbnb has not been very aggressive in pursuing hotel industry, but if it is to increase its market share, then we should see big announcements in terms of partnerships or collaboration by hotel chains and Airbnb, sooner rather than later. This should be a win-win situation for both. Hotel chains will get a much deeper insight into Airbnb platform and deep knowledge on the current customer requirement trends. They will also get a lower commission rate than they currently pay. Airbnb will get additional revenue stream and would be able to provide travellers with comprehensive lodging options.
Valuation impact
Priceline gets a major chunk of its revenue from Europe where it is also facing pressure due to price parity rules. It also relies on its agency model to a greater extent where hotels pay commissions on bookings made instead of the merchant model. This has contributed to higher profit margin for the company and hence better valuation than Expedia. As Airbnb increases its market share, Priceline will face a higher pressure on profit margins which will be squeezed to lower levels, thus impacting its valuations to a greater degree than it will affect Expedia.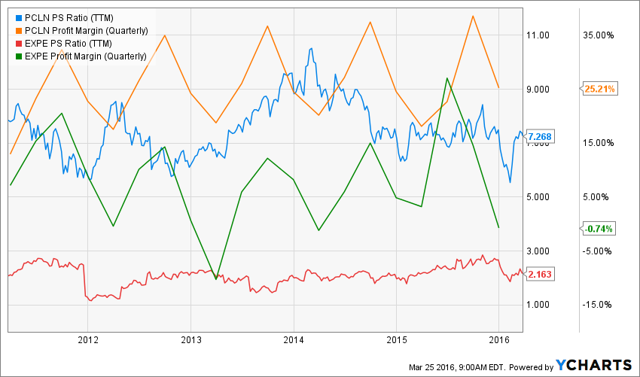 Fig: Higher profit margins have provided better valuations for Priceline than Expedia.
Any hit on the profit margin will impact Priceline much more adversely than Expedia.
Conclusions
Priceline and Expedia are facing increasing challenges from Airbnb which is able to boast of a high number of room nights booked on its platform. They will face a double whammy due to competitive pressure on the commissions charged and possible use of Airbnb platform as a distribution channel by hotels. The next few quarters will be particularly tough on these two OTAs. Avoiding Priceline stock at this price point should be an ideal approach in this fluid market scenario.