Introduction
On March 17th, 2016 our article "Barrick Gold: Not All That Glitters Is Gold" was published. That same day Barrick (NYSE:ABX) Gold traded at its 52-week high of $15.52/share. We outlined why the bull case in Barrick Gold is unsubstantiated. Specifically we addressed that the negative implications of the Zambian loyalty problems, RSI technical indicator, relative equity valuations, credit risk assessment, high CAPEX amidst declining production, and high financial leverage challenges Barrick's bull case.
And in less than two weeks our bearish case has already started playing out. Barrick's stock price has declined by ~15% in the last seven trading days.
(Source: Nasdaq - Barrick Gold Corporation Interactive Stock Chart)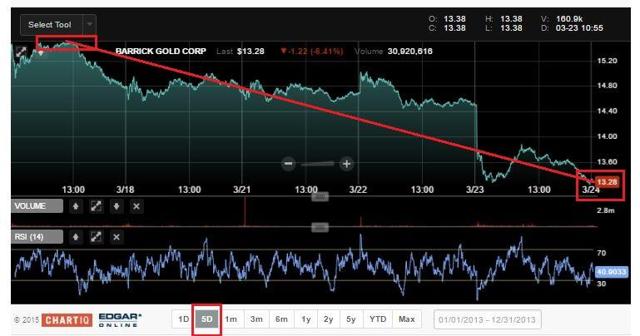 But the misconceptions that were driving Barrick's stock price higher are not limited to Barrick. They are deeply embedded in the perceived value of gold-related equities and its future prospects.
Thesis
There is more to gold-related equities than gold. They face political risk, production constraints, company mismanagement etc. These companies need to discover new gold reserves or keep mining more gold y/y. These projects are capital intensive and leave companies highly leveraged with higher probabilities of default.
In addition, reasons like gold is an inflation hedge, increase in gold demand is rising y/y and gold mining companies are increasing production are simply not true. We believe that these equities are too risky for long-term investors because they are highly speculative.
There is no factual evidence to substantiate the idea that gold is an inflation hedge
There are several reasons why gold-related equities have been favored. One of these reasons is that gold is an inflation hedge.
"It's directly linked to the turmoil we had in August. When the markets are in a really bad mood, gold is in favor," said Axel Merk, founder of Merk Investments, a firm that specializes in currencies and gold." - CNN Money

"The ultimate dollar hedge investment will always be gold. Investing in gold through ownership of the metal itself, mutual funds, or goldmining stock provides the most direct counter to the dollar." - Daily Reckoning, "The 5 Best Ways to Invest in Gold."

"Gold has been and remains a good hedge against inflation. Throughout history, from ancient Greek and Roman times to Europe in medieval times to Germany in the 1920s and many other countries in the 20th century, gold has protected people's savings and wealth from the debasement of paper currencies and from the scourge of inflation." - Goldcore: Gold as an investment.
In the paper, "The Truth about Gold: Why It Should (or Should Not) Be Part of Your Asset Allocation Strategy" by Campbell R. Harvey, Professor at the Fuqua School of Business at Duke University, showed that gold does not have a consistent relationship with inflation over long periods of time.
An inflation hedge should protect investors against unexpected inflation. Meaning that as inflation rises, so should the price of the hedge - gold. But from January 1975 to March 2012, the price of gold showed no such positive relationship with inflation, aside from a single year in 1980. To make matters worse, here were some key findings.
Gold is more volatile than inflation in both real and nominal terms: The standard deviation of gold was found to be ~10 times the standard deviation of CPI inflation.
There is no factual correlation between Gold and inflation: Gold can account for only 15.5% of the variation in inflation (the R2 ).
Gold is a dangerous inflation hedge: In the 10-year horizon, gold accounts for only 1.2% of the variation in inflation.
Gold seems to be useful in hyperinflation. It is not a good currency hedge. The currency-hedge argument is another form of the inflation-hedge argument.
To phrase these findings another, the price of gold has moved inconsistently relative to inflation. This implies that gold is a dangerous hedge against inflation and investors are more likely to lose a lot of money due to gold's volatility. The correlation used to argue for gold to low real-return assets is spurious. Gold is not a good hedge for unexpected inflation.
(Source: "The Truth about Gold: Why It Should (or Should Not) Be Part of Your Asset Allocation Strategy" by J. Paul Sticht)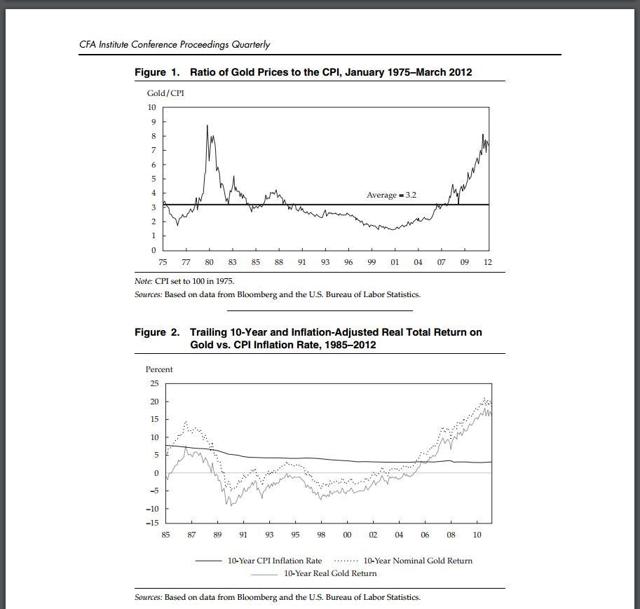 You do not invest in gold. You speculate on gold.
Most investors who want to preserve wealth tend to be risk averse. Avoiding unnecessary risk behavior such as speculating on weekly ups and downs of stocks without a long-term plan. But gold equities might be exactly that. Gold only grows in value when someone is willing to speculate more than you did when you bought it.
Some countries driving gold prices higher are not doing it because of economic reasons. It is a historical trend that has been going on for generations.
Gold demand in China and India, for example, are strongest in the fourth and first quarter, in large part due to the Chinese New Year, religious holidays in India and rising incomes also add to higher demand for gold jewelry.
Indian phenomenon: Jewerly and religious reasons
In November and December for example, India saw gold prices rise in anticipation of Dhanteras. Dhanteras is the first day of the five day Diwali festival, which heralds the start of the wedding season.
(Source: The World Gold Council Report)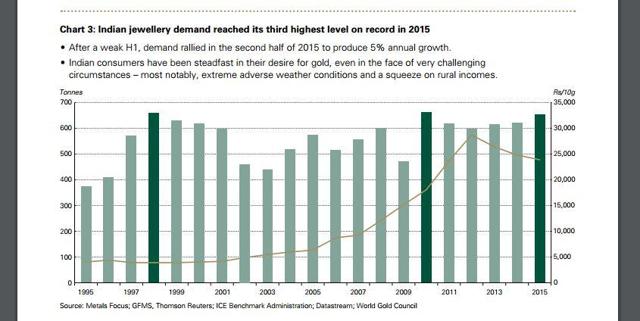 Artificial and real demand amid declining gold supply
The demand for gold by central banks intensified in the second half of 2015 as shown below. The need for reserve asset diversification, led by China and Russia, prompted central banks around the world to accelerate gold-buying activities.
(Source: The World Gold Council Report)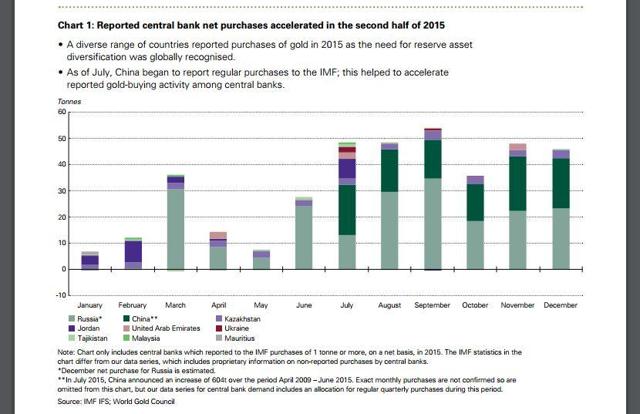 This accelerated demand occurred amidst declining mine productions. According to the World Gold Council, mine production in 2015 saw its first quarterly decline and its slowest annual growth rate since 2008.
(Source: The World Gold Council Report)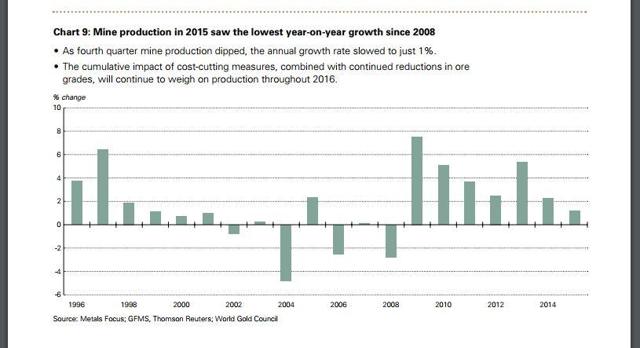 Gold's supply constraints amidst accelerated gold purchases by central banks created the illusion of a high demand for gold. But this is not the case. Gold demand was ~8.7% lower in 2015 than it was in 2014. Meaning that gold demand actually declined.
(Source: The World Gold Council Report)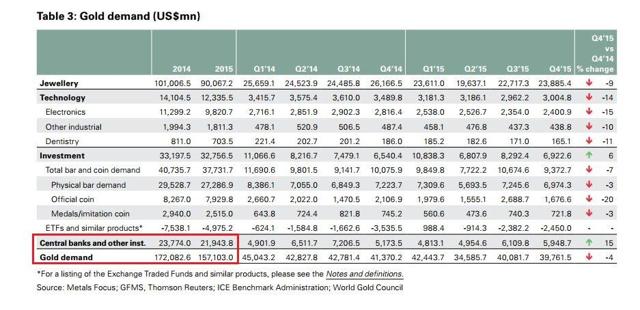 Conclusion
Gold-related equities will gain momentum now but after the gold headline loses momentum, fundamentals will take over and it will not matter whether or not gold is high. Headwinds such as political risk, production constraints and company mismanagement that investors might be overlooking now, will start to matter. For instance, we mentioned data from the World Gold Council that shows that gold demand was 8.7% lower in 2015 compared to 2014 and gold mining companies had the slowest annual growth rate since 2008. But if these production challenges persist and demand continue to deteriorate, gold miners will continue to have less gold to sell amidst declining demand.
In addition, we believe that gold-related equities are risky because their surge is tied to something speculative. Gold stocks are not a substitute for real gold ownership, that is, in the physical form as coins and bars. These stocks are momentum driven. The gold headline is driving everything and anything gold-related higher. This momentum has nothing to do with solid long-term fundamentals.
Also, gold prices are surging largely due to the scarcity of gold as people are loading up on physical gold. Meaning that once interest rates start to rise again, the supply will suddenly be higher as more people will want to sell their gold because suddenly holding cash at the bank pays interest. Consequently, gold miners will have to sell their inventory at cheaper prices should supply increase relative to demand. This implies that buying gold miners now, is purchasing them when their actual and projected inventory is overvalued due to the gold rally. Meaning that there is more downside to your investment than there is upside.
Disclosure: I/we have no positions in any stocks mentioned, and no plans to initiate any positions within the next 72 hours.
I wrote this article myself, and it expresses my own opinions. I am not receiving compensation for it (other than from Seeking Alpha). I have no business relationship with any company whose stock is mentioned in this article.