Danaher Corp (NYSE:DHR) has been making very exciting moves over the past couple of years. The company has completed more than 14 acquisitions in the last year alone, mostly in emerging markets, including China. However, the company is also expanding its penetration into developed markets, with acquisitions like Nobel Biocare.
Danaher acquired the water filtration systems company, Pall Corporation, for $13.6 billion, the largest acquisition in its history. This acquisition could realize $300 million in synergies for DHR for the next 5 years. This acquisition has already significantly strengthened Danaher's Life Science & Diagnostics business segment. The company has further supported this segment - which accounts for nearly 40% of its revenue - with the acquisitions of MicroScan and Devicor.
On the back of these acquisitions, the company's core revenue from the Life Science & Diagnostics segment has increased by 34.5% in the latest quarter. In addition, this segment's core operating margin has expanded by 75 basis points.
The Noble Biocare acquisition has significantly strengthened its Dental segment, which contributed nearly $2.7B to overall revenues in the last year. This business segment's revenue has soared almost 17%, largely due to the acquisition. In addition, the Dental segment posted operating margin growth of over 500 basis points.
On the other hand, Danaher's Industrial and Test & Measurement segments have been buffeted by microeconomic headwinds. Both these areas have been struggling since the start of 2015. Revenues from the Test & Measurement segment decreased 9% in Q4 of 2015 over the same period of last quarter.
Danaher has again made a smart move by announcing the separation of its existing company into two separately traded entities. Danaher will retain its Life Science and Technology businesses, including Pall's assets. This separation will add strength to the remaining business segments, segments that have been growing at a double-digit rate for the past few quarters. The newly created company, with the name of Fortive, will run the Test & Measurement segment and the Industrial Technologies line.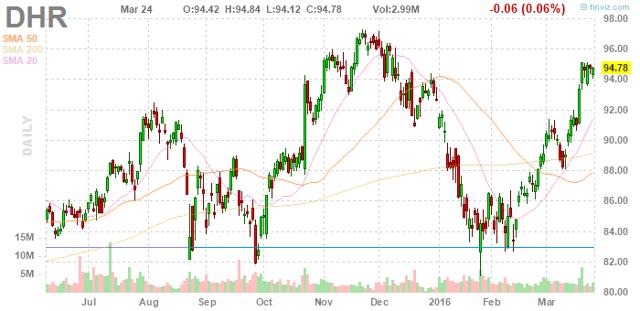 Investors are really admiring this strategy of separating out its lower-performing business segments into a separate company. As a result, Danaher's share price has surged by almost 12% in the past twelve months, despite a historic plunge in the Chinese and global stock markets.
At the moment, its share price is trading close to its 52-week high of $97 a share. This is just a start, however; the company's stock is holding even more upside potential, as we should see in days to come.
Final Thoughts
Danaher has recently affirmed its double digit earnings growth for this year on the back of strong performance from its life science businesses. Its presence in both developed and developing regions reduces its dependence on any particular market. In addition, the separation of lower-performing business segments will further strengthen its future fundamentals and enhance its share price performance.
Selling this stock near its 52-week high is an unwise strategy. With its latest dividend growth exceeding 15%, we have a clear demonstration of the management's confidence in its future fundamentals. Therefore, I believe that holding onto this stock, could well result in major profits for investors.
Disclosure: I/we have no positions in any stocks mentioned, but may initiate a long position in DHR over the next 72 hours.
I wrote this article myself, and it expresses my own opinions. I am not receiving compensation for it (other than from Seeking Alpha). I have no business relationship with any company whose stock is mentioned in this article.