This article would apprise the readers about the latest releases of GDP numbers of the last quarter of 2015 and my opinion on the future performance of PCE and the effect of impending rise in Fed rates on the future performance of PCE going forward.
US GDP has edged up by 1.4%, above the consensus estimates of ~1%, resulting in 2.4% GDP growth rate of 2015. The growth was primarily driven by the robust performance of PCE (private consumption expenditure) and residential fixed investments, contributing a percentage increase of 2.4% and 10% respectively.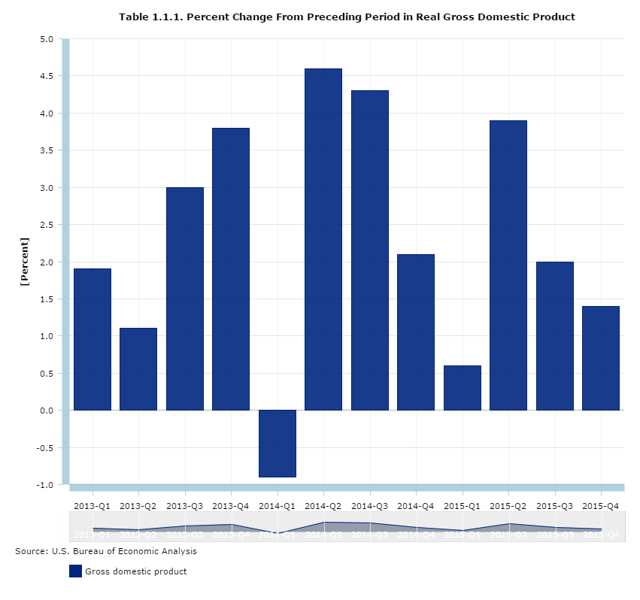 As I have mentioned in one of my earlier articles by the name of "Consumer Spending Driving Up U.S. GDP Growth" that US economy's growth is strong in consumer spending, where one can see an astounding performance in retail and sales of motor vehicles. The latest figures of the last quarter of 2015 also depict a similar trend, where "recreational goods and vehicles" swelled by 0.26%, contributing ~93% of growth to the durable goods section of the PCE. Following map shows the steady increase in the PCE over the span of last four years.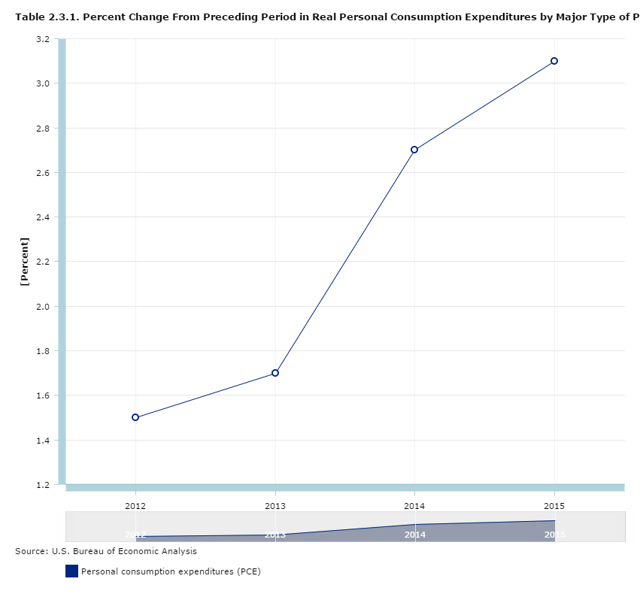 Another key variable that pushed the GDP growth to settle at 1.4% is the surge of 1.1% in household consumption expenditures for services, contributing ~85% to the overall growth of 1.3% in services portion of PCE. It is to be noted that the trend of both household consumption expenditures for services and PCE go to a large extent in sync with each other. I order to substantiate this claim, I ran a regression test where the result (R square) cloaking in at ~0.98, meaning both variables have high positive correlation with each other. Further, following graph displays the same pattern:
Further, if we analyze the performance of price index of both of these above mentioned variables, then again we will see a similar trend as there is steady increase in the price of an index. See the graph below for more information: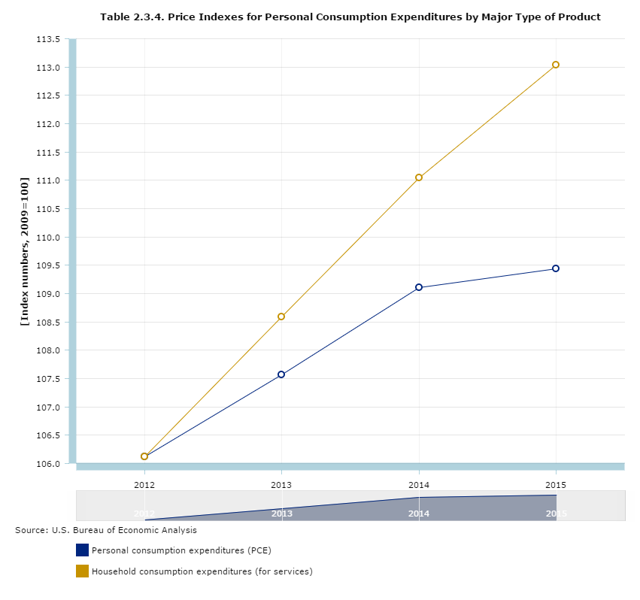 In conclusion, going forward, I foresee a recovery in an economy would bode well for the future growth of PCE. However, the future growth might to some extent be subdued as I expect a hike in federal funds rate in June this year. This is because expensive credit to some extent dents the purchasing power of the consumers.
I foresee strong economic recovery of US on account of better employment and consumption data but one has to be wary of the factors residing outside the geographical boundaries of US.
Disclosure: I/we have no positions in any stocks mentioned, and no plans to initiate any positions within the next 72 hours.
I wrote this article myself, and it expresses my own opinions. I am not receiving compensation for it (other than from Seeking Alpha). I have no business relationship with any company whose stock is mentioned in this article.