Overview
KaloBios Pharmaceuticals(OTCMKTS:KBIO) is a pharmaceutical company trading OTC at the moment, following a delisting by the NASDAQ in December. It generates revenue through the sale of therapeutics for various diseases. As of 3/24/2016 the stock is trading at $12.60 per share with a market capitalization of $51.96 million. The 52 week range is $.44 - $45.82 and EPS is -$8.11.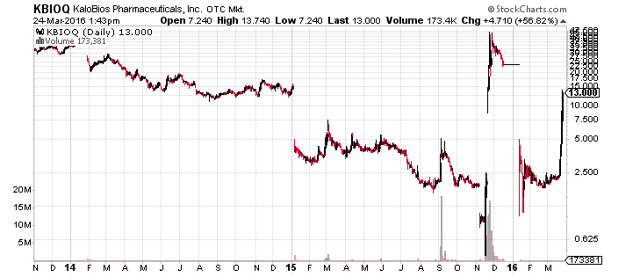 The company has experienced heavy volatility over the past few months. A group of investors led by infamous hedge fund manager and pharmaceutical executive Martin Shkreli purchased a majority stake in the company in November, 2015. Within six days, the company was trading up more than 4000%. By December 29, 2015 Shkreli had been arrested on charges of securities fraud and removed as CEO, and the company had filed for Chapter 11 bankruptcy.
Bankruptcy
KaloBios is operating under Chapter 11 bankruptcy protection in order to restructure its finances and raise additional capital. The company has secured $14 million in loans, in part from Nomis Bay Ltd. and Black Horse Capital LP. Through these loans, KaloBios is in the process of striking a deal with Savant Neglected Diseases LLC to acquire benznidazole, a Chagas' disease treatment. The proposed deal, led by new CEO Dr. Cameron Durrant, has potential to pull the struggling company out of bankruptcy. The loans from Black Horse Capital and Nomis Bay have been made with the assurance that former-CEO Shrekli will not hold more than 20% of shares following the bankruptcy process. Judge Laurie Selber Silverstein, the company's bankruptcy judge, plans to allow the company to proceed with the discussed loans.
Black Horse Capital and Nomis Bay have agreed to terms on an "Amended Stalking Horse LOI" which provides KaloBios with a $3 million DIP Financing facility. The loan was approved today, March 24. Durrant expects the additional liquidity to allow the company to begin the revival of its drug development programs, as well as begin a clinical testing program for KB003, a drug used to treat chronic myelomonocytic leukemia, or CMML. The DIP Financing has potential to send a very positive signal to the marketplace that KaloBios is making progress and will soon exit bankruptcy.
The Shkreli Effect
Current CEO Durrant has argued that Martin Shrekli's influence on the company has deterred potential investors. According to court documents, Durrant stated his belief that, "Investor reticence is derived from the Debtor's brief, but disastrous association with Martin Shkreli and the negative press coverage, legal troubles, and ill-will surrounding Mr. Shkreli, as well as broader concerns about the state of the biotechnology and pharmaceutical industry that Mr. Shkreli's comments have fueled". Though Shkreli's lawyers have scoffed at this accusation, his large influence on share prices is still important to note. On March 23rd, Shkreli tweeted his thoughts on the company.

Two days later, shares are up 180.62%. Though he did not outright suggest an investment, it does seem to imply that he believes the stock is undervalued. Investors certainly took note.
Summary
The week's heavy volume for KaloBios is likely still based on speculation. The company opened Monday at $2.30 and closed Thursday at $12.60, an increase of 436.17%. Before potential investors hop on the KaloBios train, it may be wise to perform due diligence. A lot still has to be done for the company to emerge from bankruptcy and be re-listed on the NASDAQ. Regardless, its been an interesting few months for KaloBios.
Disclosure: I/we have no positions in any stocks mentioned, and no plans to initiate any positions within the next 72 hours.
I wrote this article myself, and it expresses my own opinions. I am not receiving compensation for it (other than from Seeking Alpha). I have no business relationship with any company whose stock is mentioned in this article.
Editor's Note: This article covers one or more stocks trading at less than $1 per share and/or with less than a $100 million market cap. Please be aware of the risks associated with these stocks.