The WisdomTree Dividend ex-Financials ETF (NYSEARCA:DTN) offers an appealing sector allocation for investors that are tired of being overweight on financials within their dividend ETF positions.
Expenses
The expense ratio is a .38%. When it comes to investing, who wants to throw away their capital on high expenses ratios or trading costs? I'd prefer to see lower expense ratios, but this feels like a common challenge when I'm reviewing funds by WisdomTree.
Dividend Yield
The dividend yield is currently running 3.34%. It is worth noting that dividends are paid monthly, but they aren't paid with the level of consistency many investors seeking monthly dividends would want to see.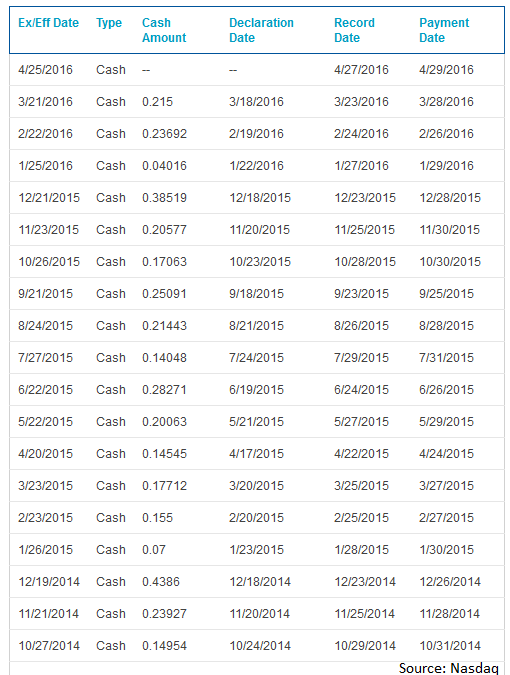 Holdings
I grabbed the following chart to demonstrate the weight of the top 20 holdings: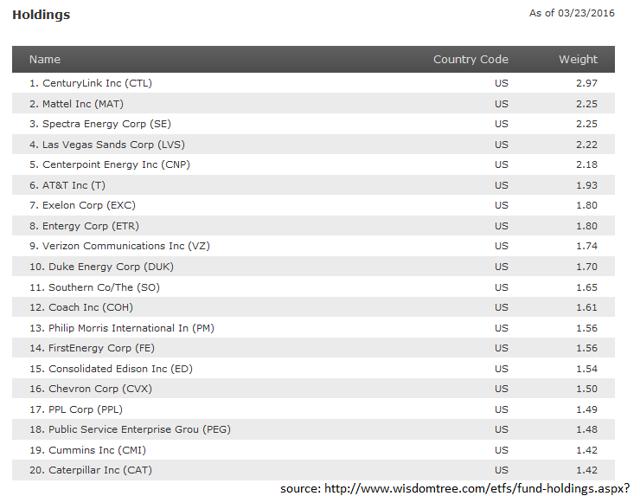 Two of the highest holdings go to the telecommunications sector with AT&T (NYSE:T) and Verizon (NYSE:VZ). I've found those allocations to be fairly risky given the aggressive competition in the telecommunications industry, but there are some positive aspects to doing a heavy allocation here as it aligns part of the risk with the investor's expenses. If T and VZ are having a hard time covering their dividend, it would indicate that the profits within the telecommunications industry had dried up and would suggest that the investor is probably saving a chunk of money on their cell phone bill each month.
CenturyLink (NYSE:CTL) offers some of the same benefits as the investments in T and VZ. If CenturyLink is unable to make a profit then it suggests that profits have fallen off dramatically in the business of delivering high speed internet. While it is possible that difficulties could be associated with increasing costs, it seems more likely to be a challenge of revenue growth due to competition. There is a third option in having free cash flows inhibited by high levels of capital expenditures, which in my opinion would be a bearish indicator as it would signal potentially higher levels of competition within the industry.
Phillip Morris International (NYSE:PM) is a dividend champion in all but name. If the company received credit for its years as a part of Altria Group (NYSE:MO), it would have decades of raising dividends. When the company was split from Altria Group the shares of PM were given to shareholders of Altria Group so that shareholders could choose if they wanted to own more or less of the international tobacco business.
Earnings estimates for Phillip Morris were indicating fairly low growth rates for the next year or two as management prepared for more harsh impact from foreign exchange movements. The earnings growth rate would look great for Phillip Morris if it weren't the foreign currency impacts. Phillip Morris is my largest international allocation.
Sectors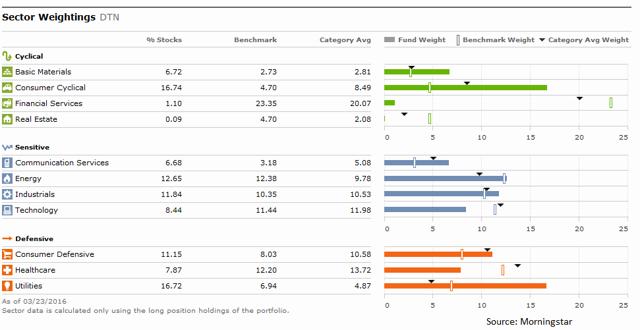 This is a fairly interesting fund. Financial services are almost entirely omitted. By the definitions Morningstar uses it would appear there is still one or two companies in the sector, but for all practical purposes this is a dividend growth ETF that is excluding the financial sector. Since the financial sector is often overweight in other dividend growth ETFs, having an option that excludes the allocation is providing investors with the ability to make a choice on their allocation.
Morning star is using the label "Consumer Defensive" for what I would generally be treating as "consumer staples", but the result is the same. The fund is offering fairly material allocations to the consumer defensive, healthcare, and utility sectors. These are three of my favorite sectors precisely because they are defensive and the market prices feel pretty high to me. When I see the market getting more expensive as measured by factors like price to sales and price to earnings, it pushes me to be more defensive in my allocations. If we see market prices fall dramatically, then I would want to focus on more aggressive allocations.
What You're Excluding
Investors looking at this fund as an alternative to a dividend ETF that holds the financial sector should be considering their expectations for the financial sector to determine the wisdom (sorry, bad pun for WisdomTree) of this investment.
Increasing short term rates could be very favorable for banks seeking higher levels of interest on excess reserves. Based on the latest employment reports it looks like the Federal Reserve may have a clear path to raising rates later this year. The challenge that we have yet to see is how the weak oil prices shake out. Bankruptcies in the oil sector could lead to a significant number of layoffs which would push unemployment higher. If the rest of the market can produce jobs quickly enough to offset the job losses in the energy fields it would suggest less difficulty in raising rates. If employment figures drop (higher unemployment) it would push the Federal Reserve to wait longer before raising rates. The market is currently pricing in about one increase in short term rates this year.
Conclusion
The dividend yield is not huge, but the sector allocations provide investors with an intelligent portfolio that is completely excluding the financial sector. For investors that are looking to increase their allocations to dividend ETFs without increasing their allocations to the financial sector this would be one easy way to get the job done. Since their holdings include several established dividend champions, I see some positive factors for this ETF even if it faces some headwinds relative to the ETFs that went overboard on financials in an environment where the Federal Reserve is able to continue pushing rates higher.
Disclosure: I am/we are long PM, MO.
I wrote this article myself, and it expresses my own opinions. I am not receiving compensation for it (other than from Seeking Alpha). I have no business relationship with any company whose stock is mentioned in this article.
Additional disclosure: Information in this article represents the opinion of the analyst. All statements are represented as opinions, rather than facts, and should not be construed as advice to buy or sell a security. Ratings of "outperform" and "underperform" reflect the analyst's estimation of a divergence between the market value for a security and the price that would be appropriate given the potential for risks and returns relative to other securities. The analyst does not know your particular objectives for returns or constraints upon investing. All investors are encouraged to do their own research before making any investment decision. Information is regularly obtained from Yahoo Finance, Google Finance, and SEC Database. If Yahoo, Google, or the SEC database contained faulty or old information it could be incorporated into my analysis.