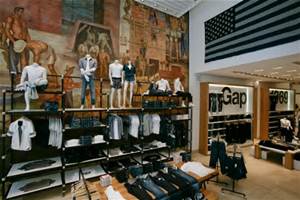 Apparel retailer Gap (NYSE:GPS) has been punished in the last year or so as sector and company-specific headwinds have combined to create a bear market for shares. The company's struggles have been well documented and up until recently, I bought into the GPS story from a valuation perspective. However, a very weak Q4 and light guidance for this year caused me to reverse my position recently. However, there is a lot more to Gap than just valuation as it returns a lot of capital to shareholders and with its prodigious yield, GPS is certainly a candidate for income seekers. In this article, I'll take a look at GPS' financials with respect to the dividend and see just how safe the yield is considering the volatile action in the stock.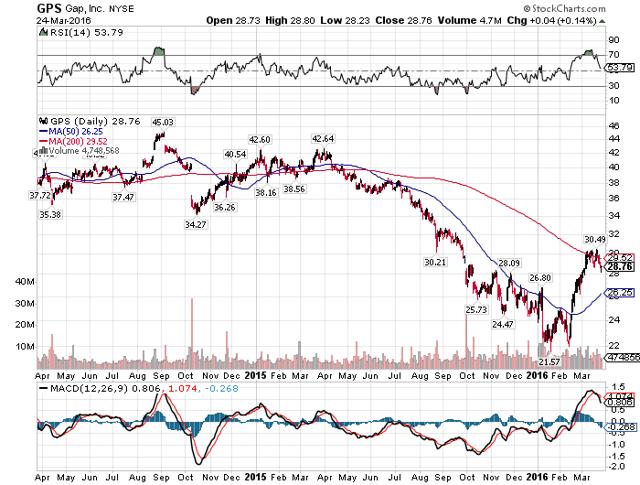 All data points were taken from Morningstar, unless otherwise noted.
Let's begin with a quick look at GPS' dividend growth over the past decade to get a sense of where the payout has come from.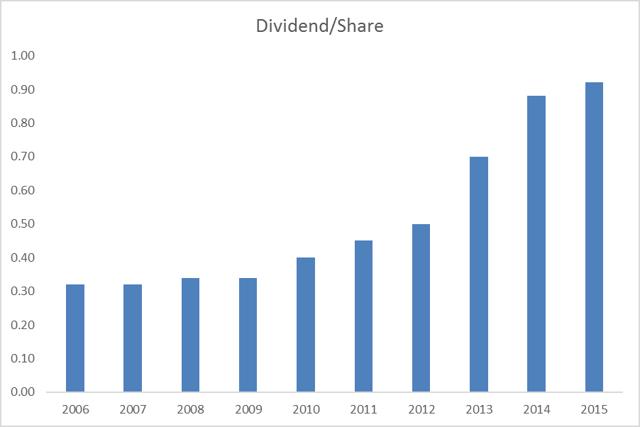 Gap's dividend has nearly tripled in the past decade, offering investors impressive income growth in the process. Gap has become a mature chain and at that point in a company's life cycle, capital returns become much more important than they are during the growth stage. And with GPS' growth stage dead and gone for at least the short term, capital returns are certainly the focus.
While Gap's overall growth in the payout has been impressive, it has been a bumpy road to get there. This chart depicts the company's percentage increase in the payout over the same time period as above.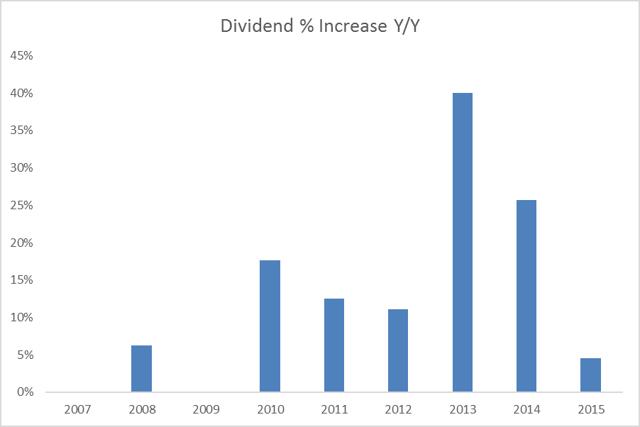 Gap's increases, on average, have been very large at around 13% annually but the path to get there is much lumpier than that. Some years offer no increases or very small ones whereas others offer 25%+ increases. Over time these things smooth out but the lumpiness of the increases may diminish the appeal of GPS as an income instrument for some investors that rely on the raises to fund living expenses, etc.
So how is Gap funding those increases? When looking at a company's dividend sustainability, I always start with FCF. This is the only recurring source of cash for any company as other sources such as debt or asset sales are necessarily finite. FCF is the principal way any dividend should be funded because if it isn't, the music will stop at some point. Here are Gap's FCF numbers plotted against the cost of the dividend for the past decade.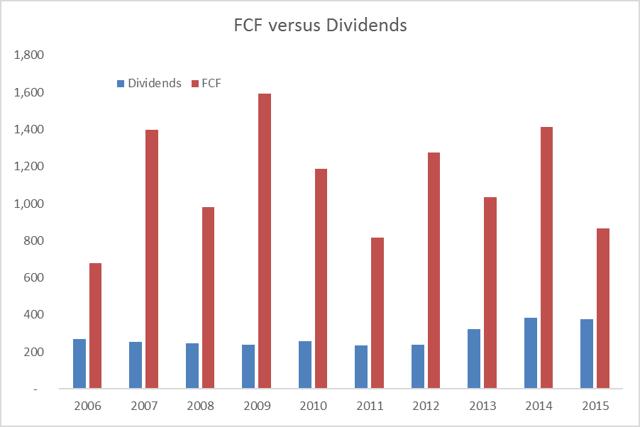 Gap's FCF is lumpy as well as it moves around wildly from year to year. But one thing has been constant throughout the past ten years; Gap always produces FCF well in excess of its distribution needs, indicating that the yield is not only strong, but has the potential to go a lot higher. Gap's five-year average FCF number is close to $1.1 billion whereas its average dividend cost during that same time frame is just $300 million despite the raises that have taken place. In other words, despite the near term pressures on the company's earnings, Gap is a FCF machine and that bodes very well for its future as an income stock.
Seen another way, the company's FCF coverage - the amount of FCF that is consumed by paying the dividend - continues to impress.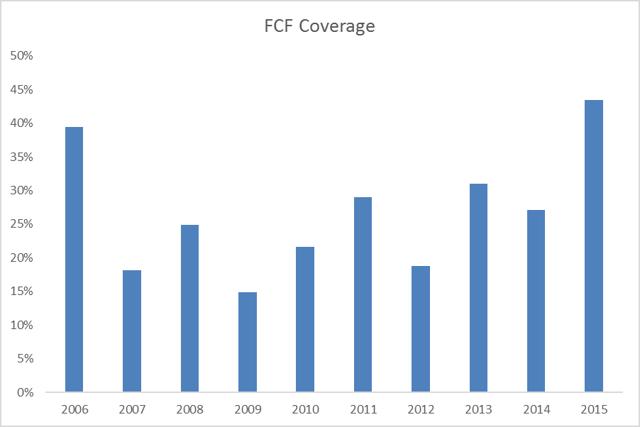 Last year's number of 43% was the peak over the last decade and while you'd ideally see this number decline, the fact that the ten-year peak is only 43% is very strong. I am comfortable with a company's FCF coverage at anything below 80% and GPS is at roughly half that level right now.
But as we know, dividends are only part of the story at Gap as the other piece is the company's sizable buyback program.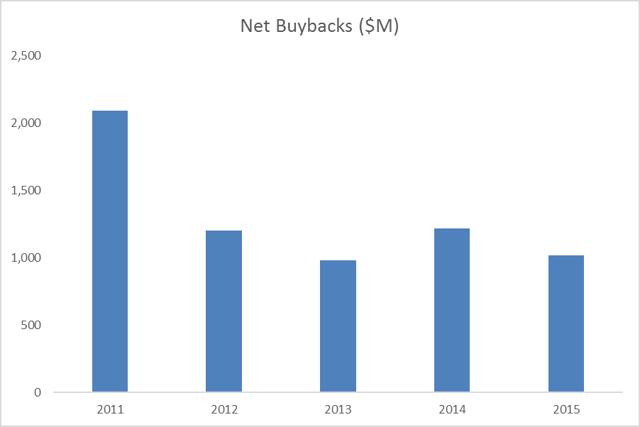 Net buybacks in just the last five years have accounted for $6.5 billion in spending in comparison to just $1.6 billion for the dividend. Gap's buyback has been right around $1 billion annually since 2012 and after Q4 earnings, the company reauthorized another $1 billion buyback. While I don't doubt GPS' commitment to the buyback, management stated they would be paying down debt this year instead of going all in on the buyback. Time will tell what actually gets repurchased this year but expect it will be a much-diminished total this year in comparison to last year.
Perhaps that's a good thing because while the buyback has been effective at reducing the float, the company's share price hasn't reflected that value. Gap has spent more than half of its current market cap buying back stock in just the past five years, an almost unbelievable total. So given that the share price is deflated at this point and the buyback seems to have been a failed experiment, perhaps it is time for management to focus on the dividend.
Management guided for capex to be ~$650 million this year, about $75 million less than last year. That will help boost FCF in 2016 and should help GPS pay down some debt while still financing its dividend and buyback. But as earnings are expected to decline, I fear FCF may come in lower this year than last, sending the company's FCF coverage ratio up once more. But even so, the move should be slight and I expect GPS will still be under 50%.
The wild card is the buyback as management guided for a reduced buyback in favor of paying down some debt. This move should allow GPS to reduce interest costs over time and that's ultimately good for its ability to generate cash and pay the dividend. However, I think management should take advantage of its FCF situation and boost the dividend meaningfully. The buybacks haven't worked to create value as an enormous reduction in the share count has gone unnoticed by the market.
If GPS were to boost its dividend to $1.25 from the current 92 cents, its dividend would cost about $500 million in comparison to the ~$365 million it costs today and would expend roughly 60% of its FCF this year, assuming $825 million in FCF. That level is certainly sustainable and would put Gap's yield in the 4.3% area, much stronger than today's yield and one that would almost certainly attract some buying interest from dividend seekers.
Whether Gap adopts this strategy or not, its dividend policy is holding back shares in my view. The buyback has been a failure despite its reduced share count and the irregular dividend increases make it difficult for investors to know what Gap is worth from a dividend perspective. I think a sizable raise on the order of 30 cents annually would signal to investors that management is serious about returning cash to shareholders in an effective way and not simply buying more and more stock. Gap's dividend is ultra-safe but shares are being held back but what I'd characterize as mismanagement of the company's capital returns. A large increase and then smooth, mid-single digit increases after that would go a long way towards creating value for shareholders.
Disclosure: I/we have no positions in any stocks mentioned, and no plans to initiate any positions within the next 72 hours.
I wrote this article myself, and it expresses my own opinions. I am not receiving compensation for it (other than from Seeking Alpha). I have no business relationship with any company whose stock is mentioned in this article.