Introduction
Ionis (NASDAQ:IONS) is a shareholder-friendly biotech with a market cap of $4.8 billion. It is unlike any other biotech its size. Other biotechs follow the routine of diluting existing shareholders with secondary offerings and using the proceeds to acquire compounds and conduct clinical trials. With unpredictable clinical trial costs and results, and volatile equity markets, the shareholder dilution becomes unpredictable.
Instead, Ionis partners with big drug companies who bear the cost of clinical trials. Ionis gets a royalty on eventual sales of its drug candidates along with upfront and milestone payments. Currently, Ionis is partnering with Bayer (OTCPK:BAYRY) (OTCPK:BAYZF), Roche (OTCQX:RHHBY), Biogen (NASDAQ:BIIB), AstraZeneca (NYSE:AZN), Johnson & Johnson (NYSE:JNJ), and GlaxoSmithKline (NYSE:GSK) in various Phase 1, 2 and 3 clinical trials.
Unlike other mid-cap biotechs, Ionis has a great drug discovery platform. Ionis' platform is very valuable and should not be given away in secondary offerings. The strategy of giving up some of the upside by partnering, using the proceeds to improve its platform, and avoiding shareholder dilution is a great one in my opinion. At least for 2014 and 2015, Ionis has been self-funded and 2016 looks like another self-funded year.
Ionis' platform is actually getting better over time. Twenty years ago, Ionis could not even get its drugs inside cells. Now, Ionis has three drugs in different Phase 3 trials with results coming out early next year (covered in a previous article.) The results reported for its Nusinersen drug so far are fantastic and analysts keep asking Ionis about the chances of early approval. Ionis says that even if one of these drugs are approved, Ionis will reach profitability.
Ionis has a lot of drugs in Phase 2 and Phase 1 trials as shown on its pipeline page, many with orphan drug designations. This article looks at two more potential mega-blockbusters in Ionis' pipeline in Phase 2 trials. A previous article looked at Phase 3 trials here.
VTE, NOACs and enoxaparin
People who have knee and hip surgery are at risk of VTE (Venous thromboembolism.) VTE refers to the formation of blood clots that can kill. This link says that around 1 million cases are estimated annually in the United States of which around 300,000 die.
VTE can be avoided by using enoxaparin injections or "novel oral anti-coagulants (NOACs)." Enoxaparin made $3 billion in annual revenue before going out of patent last year. By my calculations, the "novel oral anti-coagulants" (Xarelto, Eliquis, Pradaxa) are making around $5 billion in annual revenue currently and are growing at a double-digit pace.
There are a huge number of studies comparing NOACs to enoxaparin. These can be found with Internet searches for "rivaroxaban versus enoxaparin," "apixaban versus enoxaparin" and so on. Xarelto is the marketing name for rivaroxaban and Eliquis is the marketing name for apixaban. The downside of consuming these NOACs or enoxaparin is bleeding. So all the studies compare the upside (VTE prevention) and downside (bleeding).
One could spend a long time going through the countless studies, dosages, indications and statistics. But for the purposes of this article, this rough summary would suffice. I am just using the relative risk numbers. Xarelto prevents VTE more than other drugs but also causes more bleeding than other drugs. Eliquis may prevent VTE at a lower rate than Xarelto, but also causes bleeding at a lower rate. These two are the biggest NOACs. Xarelto is a Bayer, Johnson & Johnson joint venture, and Eliquis is a Bristol-Myers Squibb (NYSE:BMY) Pfizer (NYSE:PFE) joint venture.
Eliquis has been by far the fastest-grower among the NOACs, making $1.9 billion last year, with $600 million in Q4 2015. Eliquis made $774 million in revenue in 2014, so 2015 was more than twice 2014 revenue. Analysts had predicted that Eliquis would be the most preferred due to its relatively lower bleeding risk. Xarelto's revenue growth seems to have slowed sharply after Eliquis showed up, but looks like Xarelto made over $2 billion last year. Pradaxa made around $800 million last year with flat growth.
Ionis Breakthrough #1 Factor XI inhibitor (FXI-ASO)
Ionis sponsored a clinical trial published in the NEJM in January 2015. This was a Phase 2 trial with 293 patients undergoing knee surgery. It compared Ionis' new drug candidate called FXI-ASO with enoxaparin. FXI-ASO is an injection. FXI-ASO dosages used were 200mg and 300mg. The number of patients was 144, 77, and 72 in FXI-ASO 200mg, FXI-ASO 300mg and enoxaparin respectively.
The efficacy outcomes (lower is better) were 36, 3 and 21, in FXI-ASO 200mg, FXI-ASO 300mg and enoxaparin respectively (remember that the FXI-ASO 300mg has twice the number of patients as enoxaparin.) The safety outcomes (lower is better), were 4, 2 and 6 in FXI-ASO 200mg, FXI-ASO 300mg and enoxaparin respectively. The FXI-ASO 300mg was the only statistically significant result (p<0.001 superiority.)
That NEJM paper says that the pathogenesis of VTE is not properly understood. What I gathered from reading that paper and other articles on the Internet is that Factor Xa was understood to be involved in the initiation of blood clots and not Factor XI. But Ionis observed that people with genetically lower Factor XI had lower VTE rates. So it produced a Factor XI inhibitor (FXI-ASO) that has shown very good results. Based on this, the NEJM paper speculates that Factor XI could also be involved in the initiation of clots. Factor Xa and Factor XI are entities in the "clotting cascade." Blocking any of the entities in this cascade is sufficient. The NOACs inhibit Factor Xa.
The relative risk results from FXI-ASO are a breakthrough if they can hold up in large trials with statistical significance. The efficacy-safety tradeoff looks far better than any of the NOACs. Ionis has partnered with Bayer for this drug. Bayer will pay 20-27% royalties on sales and bear all future costs. Bayer made a $100 million upfront payment to Ionis and will pay another $55 million if a second ongoing Phase 2 study shows good results.
Bayer is conducting this second Phase 2 for FXI-ASO where the patients are people with compromised kidneys. It seems people with compromised kidneys are not prescribed any NOACs due to bleeding risk and reduced excretion capability. So I guess Bayer seems to think that it would be easier to get FXI-ASO approved first for people with bad kidneys. This Phase 2 trial is supposed to report results at the end of 2016.
These anti-coagulant Phase 3 studies are conducted on a huge number of patients. So reaching full revenue potential will take time. But the market is large. If we add pre-patent-expiration enoxaparin revenues to NOAC revenues, it is close to $8 billion a year with double-digit growth.
Ionis Breakthrough #2 - Reducing Lp(a)
Ionis recently set up a wholly-owned subsidiary called Akcea. Drugs that Ionis chooses to keep entirely for itself are moved into this subsidiary for commercialization. Currently, Ionis has moved some cardiovascular drugs into Akcea. One such drug is Apo(a)-Lrx that treats high levels of Lp(a).
High Lp(a) levels are a genetic condition, and cannot be controlled with diet and exercise. High Lp(a) is regarded as a major risk factor for heart disease. Ionis has invented a drug to reduce Lp(a) levels as shown in the figure below.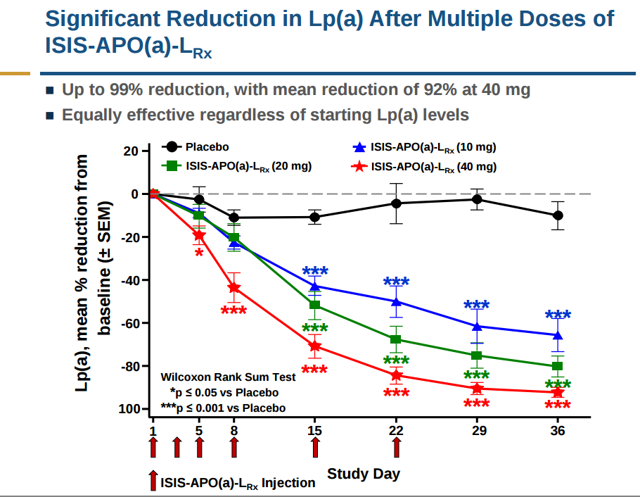 Ionis thinks it can avoid cardiovascular outcomes studies for this drug for some narrow indications. For example, Amgen's (NASDAQ:AMGN) Repatha and Regeneron (NASDAQ:REGN) and Sanofi's (NYSE:SNY) Praluent were approved only for narrow very-high LDL indications. Those companies are conducting cardiovascular outcomes studies in 27,000 (Repatha) and 18,000 (Praluent) patients to win approval for a broader patient base. This is what Ionis thinks: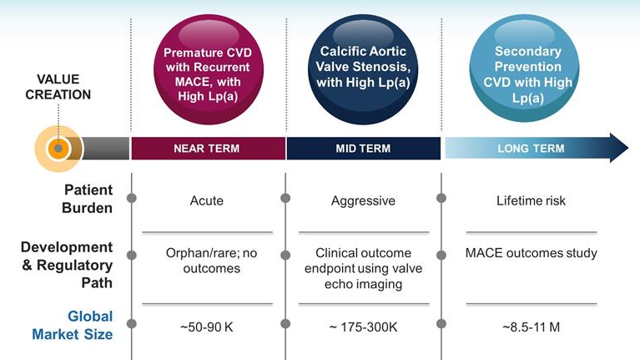 Ionis avoids cardiovascular outcomes studies due to the expense. But as it gets other drugs approved, it will have enough money to conduct their cardiovascular outcomes studies. I believe getting the anti-Lp(a) drug approved for millions of patients would result in a wholly-owned mega-blockbuster.
Conclusion
Ionis investors are protected from the current wickedness of the biotech stock market thanks to the phenomenal drug discovery platform at Ionis that lets Ionis partner with several big pharmas. Other biotechs have to pay a hefty ransom to short-sellers who hold them hostage over secondary offerings. Ionis has several breakthroughs in its pipeline and may reveal more neurological breakthroughs at the AAN meeting in April.
I believe this wicked biotech stock market has arisen due to the media and consequently political attention drawn by Valeant Pharmaceuticals (NYSE:VRX). Valeant has been featured in a Hillary Clinton campaign ad and has been probed by the Senate. Valeant is the exact opposite of Ionis. Valeant is an R&D-free, patent-free, debt-heavy, generic-heavy, price-gouger with dubious accounting and secret specialty pharmacies set up to fool insurers. It is very bizarre to see genuine drug-discovering biotechs (the kind Hillary Clinton has said she won't hurt) hurt by Valeant's behavior.
It is a strange set of circumstances that have put IBB and XBI into deep bear markets. If you stick with self-funded Ionis, you need not worry about how long this bear market lasts.
Disclosure: I am/we are long IONS.
I wrote this article myself, and it expresses my own opinions. I am not receiving compensation for it (other than from Seeking Alpha). I have no business relationship with any company whose stock is mentioned in this article.
Editor's Note: This article discusses one or more securities that do not trade on a major U.S. exchange. Please be aware of the risks associated with these stocks.