The S&P 500 was slightly down for the week just before Easter, after five straight weeks of gains. After establishing its highs for 2016 early in the week, oil pulled back some to end the week under $40 a barrel again. Some hawkish comments from the St. Louis Fed president around the timing of possible interest rate hikes also was a negative for the market and a good excuse for some profit taking after more than a month of solid gains.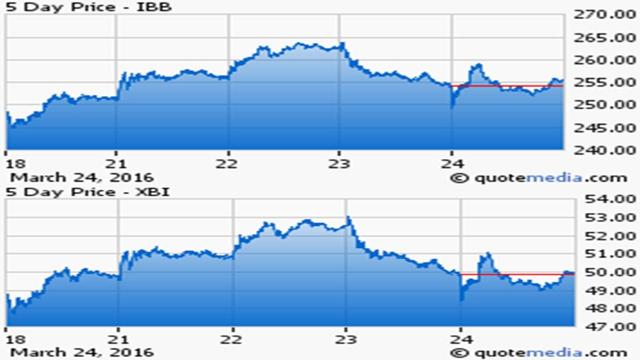 Biotech actually slightly outperformed the overall market this week and was largely flat. Valeant Pharmaceuticals (NYSE:VRX) ousted its CEO and its stock was up for the week despite significant losses Thursday. The soap opera the company has become has cast a pall on the entire pharma and biotech sectors of the market in recent months. Any stabilization in this one-time market darling would be a positive for biotech and pharma overall.

One big topic of conversation in the biotech sector last week involved the verdict Merck (NYSE:MRK) won against Gilead Sciences (NASDAQ:GILD) during the week around a couple of patents involving Gilead's blockbuster hepatitis C drugs Sovaldi & Harvoni. This knocked the stock down hard when the news was released mid-week. However, damages were then decided subsequently of only $200 million not the $2 billion that Merck had sought. Royalties still are to be decided. Regardless, Gilead will appeal and this appears to be a very minor issue that will not change the investment outlook for this core position. The stock actually ended up for the week overall. The shares sell for seven times earnings and should have a free cash flow yield north of 10% in 2016, so a lot of bad news is already priced into the stock at these levels.
Amgen (NASDAQ:AMGN) also put in a solid performance this week, rising some three percent this week. One of the original biotech pioneers won in a patent dispute around its drug Repatha against competitor Regeneron (NASDAQ:REGN) and its partner Sanofi (NYSE:SNY). Repatha is a PCSK9 inhibitor that is the first major advance in the treatment of high cholesterol in more than two decades. It competes against Praluent from Regeneron and Sanofi.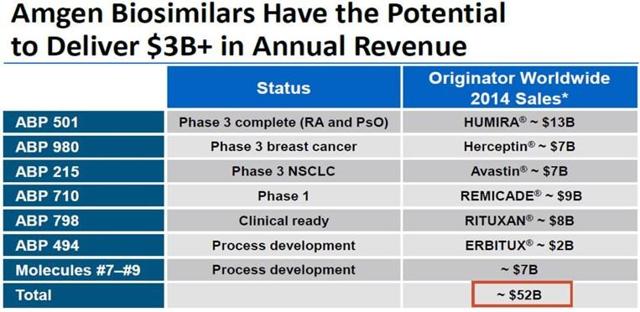 Amgen is counting on this drug to deliver at least $2 billion in annual sales five years out. Along with its emerging biosimilar pipeline that should have five new products come to market by 2019 producing a total of at least $3 billion in global sales by 2020, it is one of the key reasons I own Amgen. The stock is also more than reasonably priced at under 14 times this year's consensus earnings with a 2.7% dividend yield.
Shareholders of Portola Pharmaceuticals (NASDAQ:PTLA) had a very bad week. In a Phase 3 trial, its key drug candidate, betrixaban which is an anticoagulant failed to achieve its primary endpoint against the injectable enoxaparin from Sanofi in an over 7,500 patient study for the prevention of blood clots in acute medically ill patients.
The company still believes the data are robust enough to support a New Drug Application (NDA) later this year. As such, it intends to discuss the data with regulatory agencies in the near future. However, based on the reaction of the stock to the results and management commentary on a conference call after the news was announced, the outlook for Portola looks significantly cloudier than it was at the start of last week. The shares lost some 30% of their value on the trial news and its immediate aftermath. Goldman Sachs downgraded the shares to Neutral from Buy after the news and lowered its price target to $30. Goldman's analyst noted he now believes after this recent disclosure the chances of eventual approval of betrixaban has gone from 60% to 20%.

It was a pretty slim period for analyst commentary since our last Biotech Forum Daily Digest on Wednesday due to the long Easter holiday weekend. Agios Pharma (NASDAQ:AGIO) was reiterated as a buy over at Credit Suisse. The investment bank has a $66 price target on AGIO.
It was the first positive rating on this small concern in quite some time. Agios focuses on cancer and rare genetic metabolic disorders in the United States. Canaccord Genuity, Leerink Swann, Janney Montgomery & Oppenheimer have all issued "Holds" over the past four months or so. Recent trial results have done nothing to excite investors recently and the stock has lost two thirds of its value since July. Its chief operating officer also left in December. Despite the huge plunge in the price of the stock, there has been no insider buying recently. On the bright side, the company does appear to have plenty of cash on hand to develop its pipeline. I don't follow the company closely but there are better bets in the small development space in my opinion.
United Therapeutics (NASDAQ:UTHR) was reiterated as an Outperform over at Wedbush on Thursday. Its analyst did cut her price target from $238 to $229 due to the timing of its remodulin implantable pump. This device was rejected for its partner Medtronic (NYSE:MDT) by the FDA on Thursday which sent United's stock price down some 10% on the day.
Remodulin is a treatment for pulmonary arterial hypertension and it has become a top seller for United Therapeutics in injectable form. The company has been developing different delivery methods that broaden the patient base and also help extend the drug's patent life.
The FDA rejection "noted various measures that Medtronic should take" to make the filing approvable, which the two companies were currently discussing. United Therapeutics has filed for a label extension on Remodulin to approve it for use through the device, which is due for a decision by October.
This seems like it could be a temporary setback and a possibly good long-term entry point on the stock, which sells just below $110 after this news. H.C. Wainwright issued a Buy rating and $175 price target on United on February 26th. Standpoint Research upgraded the shares to a Buy on February 10th. It has a $148 price target on the stock. The company is robustly profitable, has a great balance sheet, expanding pipeline, and is attractively valued. Remodulin in its current form does start to come off patent in 2018 but a small stake seems warranted here.

For our Monday spotlight feature, we look at Merrimack Pharmaceuticals (NASDAQ:MACK). This is a small biotech firm based in Cambridge Massachusetts that came public four years ago. The stock has begun to rally as of late and currently trades just over $8 and has a market capitalization of approximately $950 million. The focus of the company is to discover, develop and commercialize treatments for cancer. It is developing two categories of therapy: signaling inhibitors and nanotherapeutics.
Product Portfolio & Pipeline:
The company has a deep and evolving pipeline with multiple "shots on goal." MM-398 also known as "Onivyde" is Merrimack's lead product candidate. In late October, it was approved for the treatment of metastatic pancreatic cancer in patients who have not responded well to gemcitabine.
Gemcitabine is a chemotherapy drug that has been shown to improve 10-year survival rate by 58% (from 7.7% to 12.2%) but is also associated with unpleasant side effects. There are approximately 18,500 individuals in this country with this type of cancer and the market is believed to be an approximately $800 million addressable market.
Merrimack did a Phase 3 study in 2015 which MM-398 and two common chemotherapy drugs were administered to patients who had been treated with gemcitabine in the past. The data was positive, showing a statistically significant improvement in survival rate, progression-free survival rate, and response rate compared to the control group, which was treated only with the two chemotherapy drugs. These results led to the FDA approval.
The company is going through the approval process for this compound in Europe and it should be available on that continent by the end of the year, which should provide a nice boost to sales. Onivyde is being developed within a collaboration deal with much bigger Baxalta (NYSE:BXLT) which specializes in developing compounds for rare diseases. Beside the type of pancreatic cancer that Onivyde was recently approved for, the compound is in various stages of trials for five additional indications of cancer. The most advanced is a Phase 2 study against front line metastatic pancreatic cancer, which impacts approximately 25,000 people within the United States on an annual basis.
These indications for Onivyde are all covered by the collaboration deal with development partner Baxalta. Merrimack can earn a total of $970 million in regulatory, development and sales milestones within this agreement if all candidates are successful. It is critical to note this agreement is only for non-US sales. Merrimack controls Onivyde in the United States. This is in addition to royalties on sales of approved products outside the country. This will consist of tiered ex-US royalties from sub-teens to low-twenties percentage of net sales. That the company was able to reach such a lucrative arrangement shows the belief others have in the potential of this compound.
Onivyde is the central part to the value story behind Merrimack but it does have multiple other drug candidates in early and mid-stage development, which represent additional "shots on goal." For the purpose of this quick deep dive analysis, we will not go into other candidates in the company's pipeline in detail.
Analyst Commentary:
Overall, Merrimack currently has positive analyst coverage. Four analysts currently cover the company. Their price targets range from $11.00 to $16.00 a share on MACK with a median price target of $14.00 a share, or more than double the current price of the stock. Brean Capital was the last to issue a rating on Merrimack when on February 26th it reiterated its Buy rating and a $16.00/share price target on the stock.
Brean's analyst noted in support of his price target and rating on MACK "Merrimack believes that Onivyde is on track to become standard of care in post-gemcitabine pancreatic cancer. The supply chain, manufacturing, distribution, field team, and related logistics for Onivyde are in place. The ESMO treatment guidelines already include Onivyde and approval in the EU is expected in 2016. Merrimack ended 4Q15 with $185.6M in cash and equivalents, which should be enough to carry the company through to profitability in 2018, by our estimate"
Balance Sheet & Recent Results:
In its first two months on the market after FDA approval, Onivyde racked up some $4.3 million in net sales, which was above management's expectations. As the company gets Onivyde added into insurers and government program coverage networks, sales of the compound should continue to ramp up. In addition, oncologists are in the early stages of acceptance of this new drug and are working it into their treatment programs. Approval in Europe later this year will also be beneficial for additional sales growth.
Merrimack has some $185 million in cash on hand as of the end of 2015. In addition, it should earn more than $45 million in milestones in 2016 as well as see accelerating sales of high margin Onivyde during this year and beyond. Thursday after the close of the market, it was announced that Onivyde has now been classified as a Category 1 Treatment Option in the 2016 NCCN Guidelines for Pancreatic Adenocarcinoma. This should provide a nice boost to Onivyde sales going forward.
Merrimack has myriad attractive traits at its current price. First, it is down some 50% from its highs this summer despite approval and strong initial sales with its first commercial drug. It has a strong partnership deal and a path to profitability by 2018. Pipeline risk has been mitigated and it has no need to seek additional funding in the foreseeable future. Once sentiment becomes more positive on biotech in general, Merrimack is a good candidate to climb back to previous highs. If "animal spirits" come back into the sector, it also could make a good buyout target. I think if the company continues to execute in rolling out Onivyde, the stock is an easy double by 2018 if not sooner.

Thank You & Happy Hunting
Bret Jensen
Founder, Biotech Forum
Disclosure: I am/we are long AMGN, GILD, MACK.
I wrote this article myself, and it expresses my own opinions. I am not receiving compensation for it (other than from Seeking Alpha). I have no business relationship with any company whose stock is mentioned in this article.
Editor's Note: This article covers one or more stocks trading at less than $1 per share and/or with less than a $100 million market cap. Please be aware of the risks associated with these stocks.