By Contributing Analyst Kevin Caldwell
JPMorgan Chase & Co (NYSE:JPM) is the largest bank in the United States, and the 6th largest in the world with $2.39 trillion in assets. The company as a whole has two different branches. Chase is involved with credit cards, it is essentially retail banking. JPMorgan covers the investment banking side of the company. The company was formed in 2000 when Chase Manhattan Corporation merged with JPMorgan & Co. The Chase credit card is primarily offered in the United States and Canada whereas JPMorgan offers their services internationally. The Chase branch is headquartered in Chicago, IL whereas JPMorgan is headquartered in New York City. Its main competitors consist of KeyBank (NYSE:KEY), Barclays (NYSE:BCS), and Bank of America (NYSE:BAC). JPM is currently trading at around $60 per share (3/8/16).
As a whole, larger banks should be the play for investors looking to allocate money into the financial sector. Larger banks are able to remain profitable in low interest rate periods, like the one we're in right now. The larger banking play has become increasingly prevalent because of the uncertainty of when interest rates will raise again (or if they ever raise again). Many smaller regional banks are currently suffering because most of their profits come from high interest rates. With the housing market not having fully recovered from its 2008 meltdown, there are plenty of loans available for a larger bank to capitalize on such as JPM.
When analyzing JPMorgan's financial information its extremely low P/E ratio of 10.01 is the first thing that stands out. This stock could be considered both a value play and a growth play because of this. If the U.S. Markets were to hit a downspell in the near future, JPM is a reliable security because of its relatively strong and consistent dividend payments.
| | |
| --- | --- |
| Payment Date | Cash Amount |
| 1/31/15 | .44 |
| 10/31/15 | .44 |
| 7/31/15 | .44 |
| 4/30/15 | .4 |
| 1/31/15 | .4 |
| 10/31/14 | .4 |
| 7/31/14 | .4 |
| 4/30/14 | .38 |
Despite having a higher Beta at 1.22 than its peers, JPM has been able to stabilize itself compared to its peers in the recent downturn. It is down 9.2% on the year which means we're in the midst of an excellent buying opportunity. One reason why JPM wasn't affected very badly over the past 6 months is strong leadership. This past quarter, JPM was able to bring in $420,438 of revenue per employee, compared to the midwest regional bank, KeyBank, who has a revenue per employee of $329,600. Because this company is able to stabilize itself during a correctional period, it has the potential to excel in a bull market.
Competitor Analysis
JPMorgan's return on equity is outstanding compared to its competitors. They have proven that shareholders will be rewarded with their previous investments. They have a 10.35% return on equity compared to BCS -.66% and KEY 8.62%. Its EPS is 6x earnings where BCS is -1.50x and KEY is 1.05x; recently, this company has trounced its competitors in its per share valuation. With an operating margin of 32.82% JPM is able to control its costs better than its competitors.
Although JPM has a greater international presence than many of its U.S based competitors, its large revenues will allow the company to reinvest. This should improve the company's ROE and will generate even more cash flow with time. Although this company's forward PEG is higher than a few of its competitors, its still relatively low compared to the industry average (1.58x). With a P/S ratio of 2.47x and slightly below the industry's average isn't something to be concerned about when evaluating this stock. The stock price has dipped recently, and with that the company has less free cash flow, because of this the P/S will drop some. However, the company's strong return on equity percentage doesn't have me worried at all that this will affect the stock price.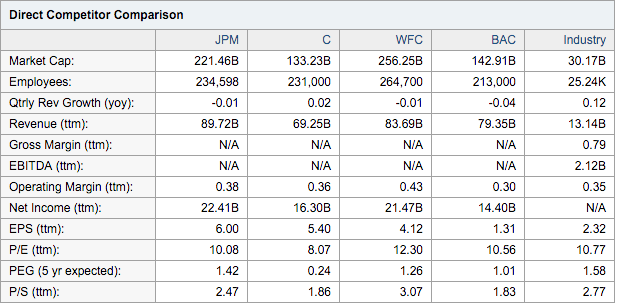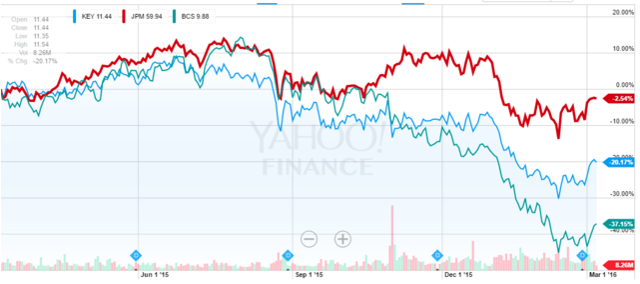 (taken from yahoo finance on 3/8/16)
With the housing market still not having fully recovered from its peak in 2006-2007, all banks are benefitting from houses finally being bought back up again. Nationally the housing market could be coined as a "buyers market". As you can see from the graphs below, the economy is getting closer to those highs but it still has some room to grow. This will make a positive impact on housing loans. With Chase being spread out across the U.S and Canada it will benefit greatly from housing growth.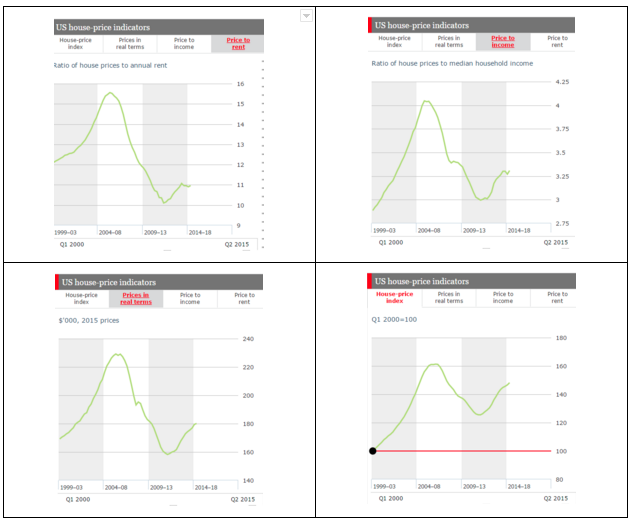 (economist.com 3/8/16)
I've used the net profitability margin index as another ratio to portray the company's strong leadership. At 24.25%, JPM has an outstanding net profit. Compared to KEY who has a net profit margin of 20.59% and BCS who had a negative net profit of -1.25% this fiscal year. Although I can't predict the American market in the short term, this stock has rebounded considerably over the past few weeks from its 52 week low of $50.07. In the past year, the highest this stock has been is $70.61 per share, although I could see it surpassing this mark at some point in the next year. I expect this because of how the company has surpasses EPS estimates the past 4 quarters. Even during the down Q4 in 2015 JPMorgan Chase was able to beat analysts estimates.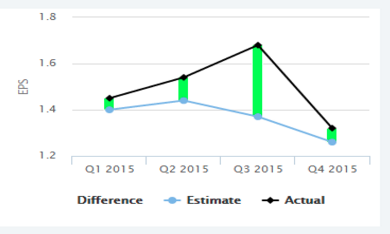 (Barrons.com 3/8/2016)
Technical Analysis
JPM recently traded off its lows of about 52.5/share and has shown stable momentum since. It is currently running into resistance between 60-62.5/share, but we believe that it this recent relative volume increase will boost JPM up to 65/share with the potential of breaking through to its highs of 70/share from last July. To the downside we see a strong ascending support trendline above 57.5/share, which can act as a very effective stop for a long position at its current levels.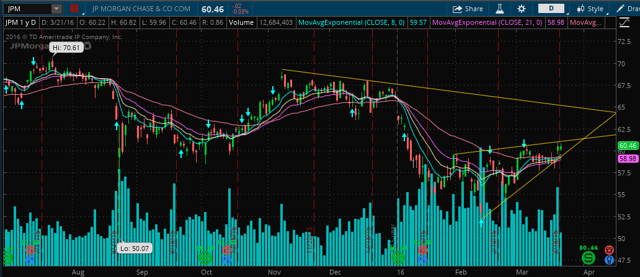 Risks
The main risk to this stock are future downturns in the economy and uncertainty in who will be the next U.S. President. Between different tax proposals and a new fiscal policy there will be unpredictable variables that will affect banking nationwide. However, I expect JPM to be able to weather these events. Although JPMorgan Chase was able to stabilize itself during the recent bear market, the stock still took a hit. If the markets trend downwards again in the near future this stock will most likely begin to fall as well.
Disclosure: I/we have no positions in any stocks mentioned, but may initiate a long position in JPM over the next 72 hours.
I wrote this article myself, and it expresses my own opinions. I am not receiving compensation for it (other than from Seeking Alpha). I have no business relationship with any company whose stock is mentioned in this article.