Introduction to Tin: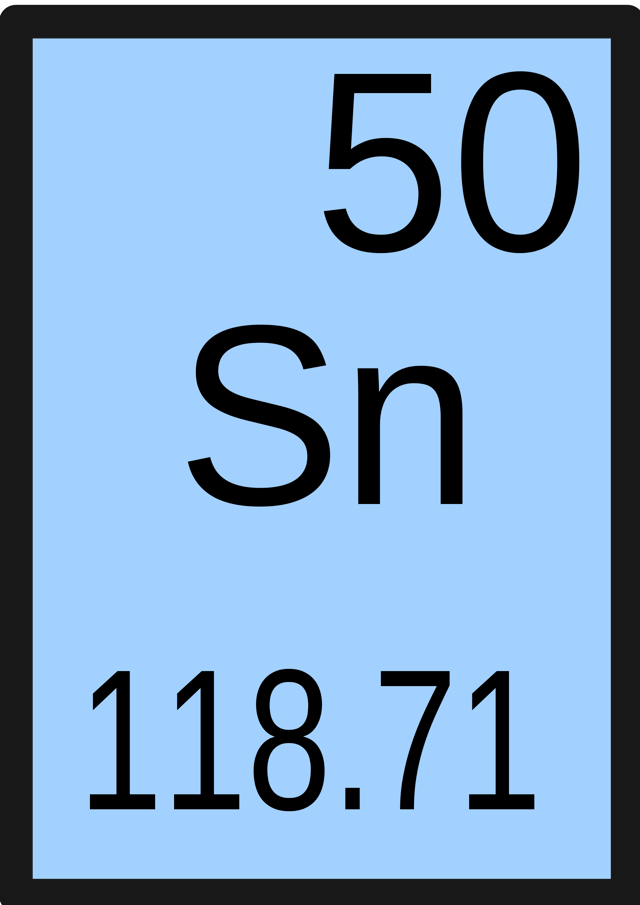 For those investors who like to diversify with commodities as well as those just considering commodities as a method of diversification, we wanted to spotlight a well performing non-ferrous metal that we believe to be undermentioned. The metal that came across our radar is tin.
For those interested in gaining exposure to tin without getting involved in tin futures on the LME, there is one convenient method of exposure for most investors: ETFs. While there is only one tin ETF currently available, it provides a tradable method of gaining exposure to tin in their brokerage accounts and the like.
Tin's Uses:
Some of the most common uses of tin are not what most people think of when they hear the mention of tin. For most people, tin cans will come to mind. However, most cans these days are made of aluminum.
One major use of tin is to make flat glass over a bed of molten liquid tin. Another major use of tin is in the manufacture of semiconductors in amorphous silicon-tin alloys. As in semiconductors, tin is highly used when mixed with other metals to form commonly used alloys. One major application of tin we often overlook is solder. Tin is used for this application in everything from iPhones to calculators.
Tin's Sources: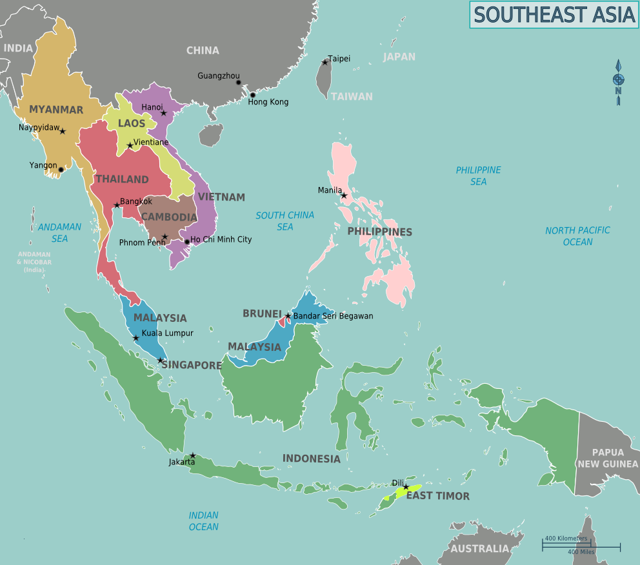 Over 50% of the world's tin comes from the aptly named "Southeast Asian tin belt."
This region stretches from Myanmar to Malaysia including the Indonesian islands and the like.
Additionally, a lot of the world's tin is found and mined in countries such as Brazil, Bolivia and Peru.
Tin's Performance:
Compared to other non-ferrous metals such as aluminum, copper and nickel, tin has outperformed the group substantially. Due to tight supplies, and increased South Korean demand for the necessary semiconductor material tin has seen a measurable rise in price for 2016 so far. Shown below is a chart comparing four ETNs representing the four non-ferrous metals: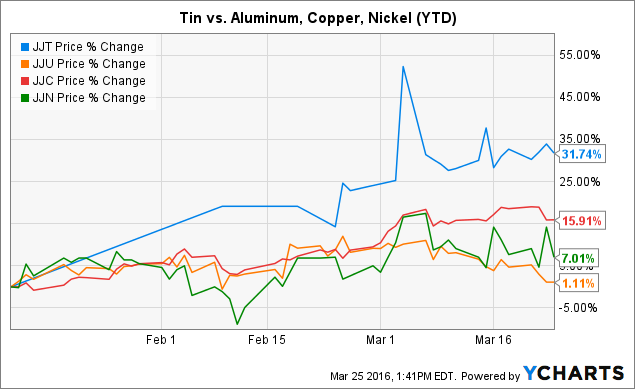 With JJT up 31.74% YTD compared to JJC's 15.91% YTD or JJN's 7.01% YTD performances, there is no contest. Whether or not tin will continue to rise due to the previously mentioned fundamentals, we are not certain. Societe Generale believes that supply constraints will continue as smaller, less profitable mines close down.
If so these trends do continue, we are sure that JJT is a convenient way to get exposure to movements in tin.
JJT Breakdown:
Strategy: JJT uses a rolling front-month tin futures contract strategy to track prices of tin. While this is not physically backed, JJT does a good job of tracking the tin markets.
| | |
| --- | --- |
| Ticker | JJT |
| Price | $38.06 |
| AUM | $2.26 M |
| Expense Ratio | 0.75% |
| Legal Structure | ETN |
| Counterparty Risk | Barclays (NYSE:BCS) |
| Average Daily Volume ($) | $7.43 K |
| Optionable? | No |
| Shortable? | Minimal |
We wanted to note that JJT is an exchange traded note, a.k.a. an ETN. Since an ETN is essentially an exchange traded unsecured debt instrument, there is some degree of counterparty risk involved. The issuer of JJT is Barclays, which means that there is limited counterparty risk as Barclays is viewed as a fairly stable financial institution.
Additionally, we wanted to note that while JJT is shortable through Interactive Brokers (NASDAQ:IBKR), that only roughly 200 shares were available to short at time of writing. Be sure to check with your broker regarding JJT short availability.
Warning: Sporadic Volume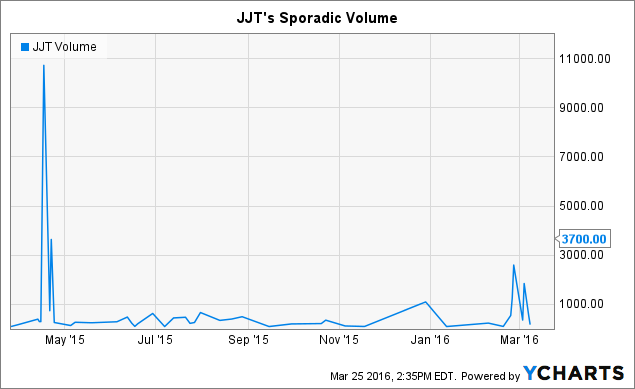 It should be noted to anyone trading or considering trading JJT, that due to sporadic volume, there can be a lack of liquidity or an extremely wide bid-ask spread. Be sure to monitor JJT's relationship to NAV as well as it's tracking error to the Bloomberg Tin Subindex before making an investment. Consider using limit orders when trading in JJT, as market orders may not provide a satisfactory fill.
Conclusion:
Whether or not you are ready to jump into investing in tin, we hope that this was a useful guide to unerstanding the metal better. As for those ready to make a move, we hope that this has been a useful guide into the tin ETN, JJT. While we are not certain as to the future of tin prices, we will be keeping a close watch on supply constraints for tin as well as industry demand for the metal.
References:
LME Tin Futures Further Reading
Tin Supply Constraints as Mines Close
Southeast Asian Tin Belt Further Reading
JJT Short Availability @ Interactive Brokers
Disclosure: I/we have no positions in any stocks mentioned, and no plans to initiate any positions within the next 72 hours.
I wrote this article myself, and it expresses my own opinions. I am not receiving compensation for it (other than from Seeking Alpha). I have no business relationship with any company whose stock is mentioned in this article.