Goodyear Tire and Rubber Co. (NasdaqGS: GT) is one of the largest tire manufacturing companies in the world, with operations across the world serving both the new and replacement tire markets. The company has a market capitalization of approximately $8.6 billion and reported 2015 net income of $307 million.
Investment Thesis
We believe that Goodyear's stock is overvalued for three reasons.
First, the company has been receiving significant tailwinds from incredibly low input prices. Goodyear uses two main inputs for manufacturing tires (86% of revenue) - natural and synthetic rubber. Natural rubber has its own commodity pricing, while synthetic rubber pricing is generally derived from crude oil prices. The below graph displays natural rubber prices (trading on the Singapore Commodity Exchange) in the past ten years. The last time rubber prices reached current levels was during the Great Recession in 2009. Global rubber inventories have been decreasing over the last two years, but analysts expected them to level or increase in 2016.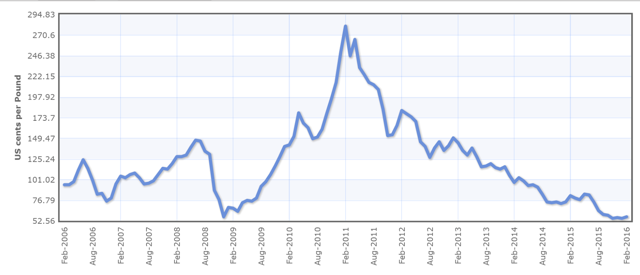 Additionally, oil prices have decreased considerably in the last two years. The below graph shows the price of WTI Crude in the past five years.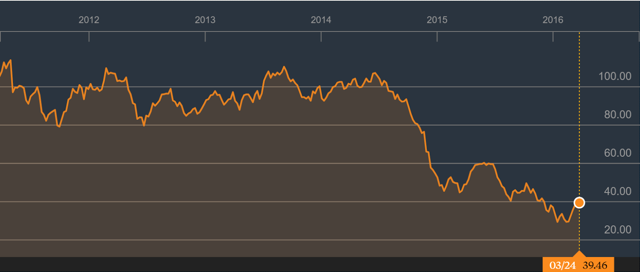 However, commodities like rubber tend to enter periods of oversupply and then flip to a period of undersupply once producers cut back capacity. This process has already begun, with many rubber farmers in India, Vietnam, Indonesia, Thailand and other countries chopping down their trees and switching to producing other crops. Thailand, Indonesia, Malaysia and Vietnam (who together make up over 70% of the rubber export market) have recently decided to cut production by 15% by August of this year - a decrease of over 700,000 tons. Moreover, Indonesia has decided to purchase 500,000 tons of natural rubber to help stabilize prices and contribute to its infrastructure projects. Contrary to prior analyst expectations, these two factors should lead to accelerated inventory decreases within the next year. An increase in input prices should be particularly punishing for Goodyear since revenues have seen a consistent decline in the past few years. As a result, margin compression would have a compounded effect on net income.
Second, revenue is also declining because Goodyear is losing market share in each of their geographic market segments for a combination of reasons. Consumers across emerging markets are indicating a rising preference for cheaper replacement tires. Brands such as Goodyear are equated with high quality and high prices causing consumers to avoid Goodyear products when purchasing replacement tires. As a result, the Goodyear brand is losing significant market share in Asia to local brands with a reputation for low prices. While the Asian tire market is expected to grow at nearly an 8% CAGR till 2020, Goodyear has experienced a 6% decline in the region each year over the past two years. On top of shifting consumer preferences, Asian tire companies are cutting into the market share of the world's largest tire manufacturers in markets around the world. The cause of this erosion in market share is that Asian tire companies are able to produce their products at a lower cost than competitors in other areas of the world. In comparison to Goodyear, the Asian tire companies Yokohama, Sumitomo and Kumho all produce at a lower cost. Further, these companies are able to produce tires of comparable quality to domestic and European producers in regions with consumers having a slightly higher inclination towards mid-quality products. Rising gross margins have largely mitigated the effect that this decline in revenue would have on Goodyear's net income. Should input prices rise, Goodyear would have an even harder time competing with their Asian competitors.
Third, we are concerned about the recent stock price appreciation being largely attributable to aggressive share buyback programs initiated by management. In 2014, management authorized $450 million in share buybacks, leading to over 5.5 million shares being repurchased in 2015. Furthermore, last month management increased that share repurchase authorization to $1.1 billion. We feel this is an extremely unwise decision, given the current state of their balance sheet. Their D/E ratio of 1.4 is immensely higher than their competitors'.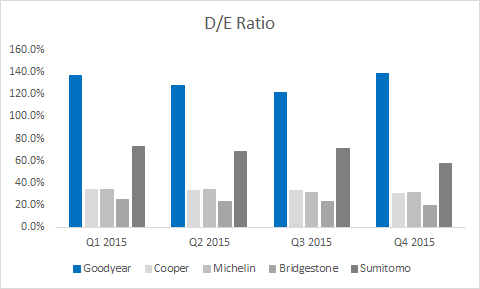 Furthermore, based on the 10K, their current portion of long-term debt spiked because 250 million euros worth of debt originally due in 2019 became recalled for 2016. This sudden recall could have been due to a debt covenant being broken. Such a large amount of debt unexpectedly becoming due, coupled with the precipitous decline of $1.5 billion in cash over the last two years, likely was what forced the company to issue an additional $1.272 billion in debt this past year, only adding to the amount of interest the company has to pay and associated risk with a long investment. Perhaps most damning is the fact that while management uses share buybacks to pump the stock up, their CEO sold $6 million in shares in the past months, the first time he has ever sold shares. Finally, a comparison of TTM (16.56x) and NTM P/E ratios (7.79x) suggests that analysts are predicting earnings to double next year to about $3.88. We feel this is highly unlikely given that in past years, the company has never generated anything close to $3.88 EPS (except in 2014 when the company flooded the income statement with almost $2 billion in tax credits). Analysts' overly optimistic projections in the face of major macroeconomic headwinds are setting the stock up for a major earnings miss and subsequent analyst downgrade.
Trading Considerations
Investment Horizon: 8-16 months

Float %: 99.6%

Short % of Float: 6.40%

Forward Annual Dividend Yield: 0.90%

Borrow Rate: 0.25% (+0.90% Dividend Yield)

Days to Cover: 4.83

Monitor to maintain exit strategy
Disclosure: I/we have no positions in any stocks mentioned, and no plans to initiate any positions within the next 72 hours.
I wrote this article myself, and it expresses my own opinions. I am not receiving compensation for it (other than from Seeking Alpha). I have no business relationship with any company whose stock is mentioned in this article.