Thesis
AbbVie (NYSE:ABBV) is a leading biopharmaceutical company with over 40 approved drugs and another 50 currently in development. It develops, manufactures and sells products such as the top-selling drug in the world, Humira, which raked in sales of more than $14 billion in 2015. Because Humira represents such a big portion of AbbVie's revenues, investors have been discounting the company's value recently for fear that the looming expiration of Humira's patent will cause a sharp drop in sales. My thesis is centered around the idea that those fears have been blown out of proportion and result in an undervaluation of the company, which I will try to demonstrate in the following paragraphs.
Company Description
AbbVie was founded in 2013 as a spin-off from Abbott Laboratories (ABT) which wanted to split its pharmaceutical research division from its diagnostic and devices unit. Therefore, the company only has three full years of history as an independent public company, but it benefits from years of experience in the development and commercialization of new drugs. The company operates in 170 countries, but makes most of its business in the U.S. (59% of sales in 2015) and Europe (17%). AbbVie is a research-based manufacturer, which means that it is involved in all the stages of clinical development, from research and clinical trials to manufacturing and commercialization. The company is at a turning point, as its biggest revenue driver Humira will soon be off patent, making it legal for competitors to produce a biosimilar version.
Humira
Adalimumab (sold under the brand name Humira) is a biologic therapy approved for several autoimmune diseases, including but not limited to rheumatoid arthritis, psoriatic arthritis, plaque psoriasis, and Crohn's disease. It was launched in 2003 to treat rheumatoid arthritis, and quickly gained traction, generating over $1 billion in sales in 2005. The drug was subsequently approved for several other indications, and revenues kept growing at a fast pace to exceed $10 billion in 2013 and $14 billion in 2015. Humira is commercialized in over 60 countries, including North America, the European Union, Japan, China, Brazil and Australia.
In 2015, Humira represented 61% of AbbVie's total revenues, which could be seen as problematic since the composition of matter patent covering Humira expires in December 2016 in the U.S., and in October 2018 in the European Union. However, Humira is covered by more than 50 other patents on formulation, method of treatment, manufacturing and more. Those other patents are due to expire between 2022 and 2034, which should make it more difficult for competitors to come up with biosimilar versions of Humira. The illustration below from AbbVie's latest investor presentation shows the extent of ABBV's intellectual property on Humira.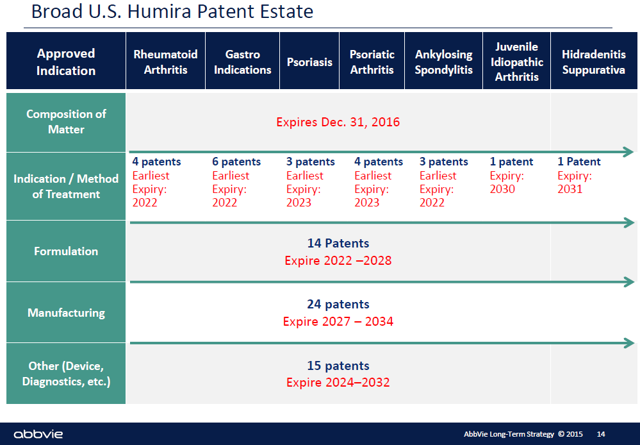 The company believes those patents should be enough to allow sales of Humira to keep growing until 2020, peaking over $18 billion. This should in turn allow AbbVie to reach its objective for revenues of $37 billion in 2020, which translates into a CAGR of 10%. I believe this is the reason AbbVie is currently undervalued, as the consensus of analysts covering the company believes Humira should bring in a much more modest $13.3 billion of sales in 2020. Furthermore, even when biosimilar competition finally enters the market, it will still have to gain market share from Humira, which is currently recognized by patients, doctors and payers to be the best treatment for several indications. These factors represent additional layers of protection for Humira, which is guaranteed to generate tens of billions of dollars of revenue in the coming years.
Other Blockbusters
Besides Humira, AbbVie has several drugs that have achieved or have the potential to achieve blockbuster status.
Viekira is an oral, once-a-day treatment for hepatitis C (HCV). It received FDA approval in December 2014 for the treatment of genotype 1 chronic HCV in adults. The drug was successfully launched in the U.S. and Europe in 2015, bringing in $1.6 billion in revenues for the year. Last September, Viekira was approved in Japan, the second largest HCV market in the world, which should be a big contributor to Viekira's revenue growth. AbbVie expects Viekira to contribute $3 billion to total revenue by 2020, which represents a CAGR of around 14%.
Imbruvica is a first-in-class, once-a-day oral therapy administered to patients with chronic lymphocytic leukemia (CLL), mantle cell lymphoma (MCL), or Waldenstrom's macroglobulinemia. AbbVie acquired the rights to Imbruvica in 2015 with the acquisition of Sunnyvale, Calif.-based Pharmacyclics, Inc. The $20.77 billion acquisition was announced in March and completed in May, and was paid for with $12.4 billion in cash and the remainder in AbbVie common stock. Imbruvica generated sales of $754 million in 2015, and is expected to exceed $1 billion this year and $5 billion by 2020.
Duopa is an intestinal gel for the treatment of Parkinson's disease. Thanks to its innovative delivery method which allows the gel to be delivered directly to the small intestine, Duopa represents a promising new treatment for people with advanced stages of Parkinson's disease. Duopa received regulatory approval in 2004 in Europe, where it is sold under the brand name Duodopa, and was approved by the FDA in January 2015. The company believes approximately 190,000 patients may be eligible for treatment with Duopa in the U.S., which should allow sales to exceed $1 billion by 2020, as opposed to $231 million in 2015.
Pipeline
AbbVie has one of the most extensive pipelines of the industry, with over 50 candidates or indications currently in development. The pipeline is at a fairly advanced stage, with 10 products or indications currently in pivotal phases and over 20 potential new drugs or indications expected to receive approval by 2020. According to the company, this pipeline has the potential to bring $30 billion in new revenue by the year 2024. This reflects the company's continuous investment in research and development, with R&D spending growing 20% per year to reach $4.3 billion in 2015. The proportion of R&D to revenue has also been steadily increasing, which shows that the company is dedicating more and more resources to find the compound that will replace Humira. Below is the full pipeline as of October 2015, still from the company's investor presentation.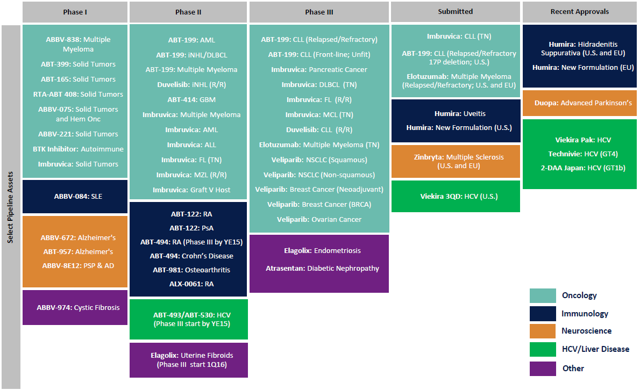 Financials
In 2015, AbbVie's revenues grew 15% to $22.86 billion while unadjusted operating income rose 121% to $7.54 billion. After adjusting the financial statements in a pro forma spreadsheet, adjusted EBITDA rose $29 to $14.9 billion. This sharp improvement in profitability is due to a continuous improvement in gross margin, which increased by 200 bps each year since 2013 to reach 80%. This increase is due to a better product mix, as well as price hikes and operational efficiencies. The proportion of SG&A to sales has remained constant, at around 28%, which results in higher operating income. As a result, there was also a slight increase in net margin, which rose to 22.4% from 21.85% in 2013. AbbVie has $29.2 billion of long-term debt, which is almost a two-fold increase from the $10.5 billion of last year. This is attributable to the issuance of $16.7 billion in long-term debt, which was required to finance the acquisition of Pharmacyclics. The maturities on the debt range from 2016 to 2045, with $2 billion maturing in 2016, $4 billion in 2017, and $6 billion due in 2018.
AbbVie generated $7.5 billion in operating cash flow last year, which represents a 20% increase over the previous year, and the net change in cash was $351 million, reflecting the $11.5 billion outflow related to the acquisition. ABBV has been paying a dividend since it went public in 2013, and has increased it every year, which is another reason to buy the stock. Since 2013, the dividend has grown at a CAGR of 14.5% to reach $2.1 per share last year. Management has already announced it was increasing the dividend from $0.51 to $0.57 per quarter, which assumes a total dividend of $2.28 for 2016. AbbVie has also been buying back shares quite aggressively, in part to supply the stock portion of the Pharmacyclics acquisition. Last year, the company bought back a total of 119 million shares for $7.8 billion, and still has $1.9 billion left in its buyback program.
Valuation
I used a proforma spreadsheet to value AbbVie with a focus on invested capital. My assumptions are as follows:
10-year forecast period
Sales of $37 billion in 2020
Continuing period operating margin of 50%
Continuing period revenue growth of 3%
Continuing period beta of 1
Continuing period cost of equity of 9.78%
Constant cost of debt of 5.2%
Constant D/E ratio of 0.32
The summary of the valuation is available below. This gives me an intrinsic value of $73.6 per share with a one-year target price of $86.37.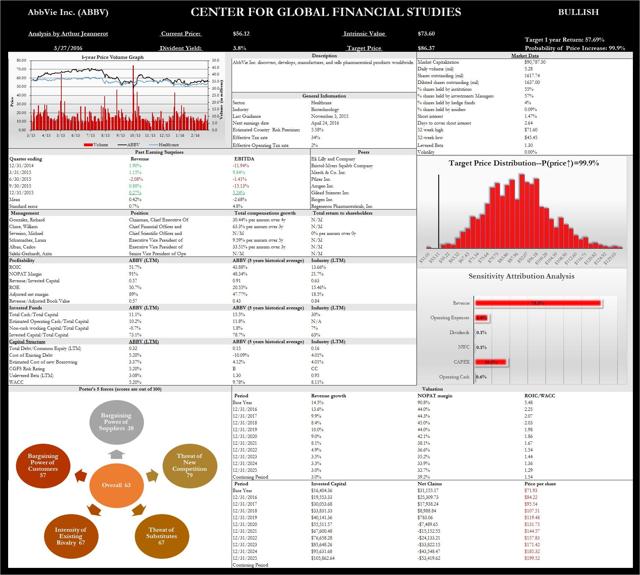 Investment Risks
Like any investment. AbbVie carries substantial risks. In addition to the risks common to all investments (bankruptcy, volatility, liquidity, business risk), buying shares in a biopharmaceutical company comes with additional risks. ABBV currently generates over 60% of its revenue with one product, and the intellectual property surrounding this product is due to expire between 2016 and 2034. The company could fail to develop new products to make up for the inevitable decrease in Humira's sales or its new products could fail to gain significant market share. The company has a substantial amount of debt, and a decrease in revenues could render it unable to service such debt. Finally, the company could go bankrupt, in which case the stake of equity holders would end up worthless.
Conclusion
Since it started its life as an independent company, AbbVie has demonstrated its ability to generate value by increasing sales and margins. The company's leading product, Humira, is the top-selling drug in the world, and should provide significant cash flows for at least the next few years. The looming expiration of the patent covering the formulation of Humira has sent the stock in a downward trend since July, causing the price to drop from $71 to a low of $45.45 before recovering in the mid-'50s. I believe the concerns surrounding Humira's intellectual property have been blown out of proportion, and that the drug's sale will continue to grow until 2020. I believe the company is currently worth $73.6 per share, and give ABBV a one-year target price of $86.37.