The V20 portfolio is an actively managed portfolio that seeks to achieve an annualized return of 20% over the long term. If you are a long-term investor, then this portfolio may be for you. You can read more about how the portfolio works and the associated risks here. Always do your own research before making an investment. Read the last update here.
Note: Current allocation and planned transactions are only available to premium subscribers.
Existing holdings: CONN, SAVE, I, CALL, OTCPK:DXMM, ACCO
Over the past week, the V20 Portfolio declined by 3.6% while the SPDR S&P 500 ETF (NYSEARCA: SPY) slipped by 0.6%. Since the V20 Portfolio has been in existence for more than a year now, I thought that it might be interesting to compare one-year returns. Over the past year, the V20 Portfolio has appreciated by 13.6% while SPY declined by 2.7%. However, over the next several weeks, we may see the one year return of the V20 Portfolio become negative as the high watermark nears.
What does this mean? I think for one, it shows that I am not a great market timer. If I had the foresight that the market sentiment will take such a drastic turn against our biggest position, Conn's (NASDAQ: CONN), then certainly I would have trimmed more aggressively a year ago. But then again, as a value investor, the market price is not of particular concern. Let's take a closer look at Conn's and how it fared over the past year.
The company has grown store count from 90 in FY 2015 to 107 in FY 2016 (assuming no closures in Q4 2016) and increased retail sales from $871 million in the first three quarters of 2015 to more than $946 million in the comparable period in 2016. Retail operating margin actually increased from 12.6% to 13.1% for the first three quarters despite the tightened lending policy. The only setback in my view was the rising cost of debt. The company's first securitization transaction had an all-in cost of funds of 9.1%, much higher than what it was paying for the credit facility and the high yield debt. However, as the company has completed the second securitization, we are already seeing the cost of debt declining. The 2016 securitization had an all-in cost of funds of 7.8% (granted this securitization had a larger equity cushion). As the capital market loosens up to Conn's, I believe that the cost of debt will continue to decrease. Evidently, Conn's fundamentals have improved tremendously over the past year (i.e. the intrinsic value has grown), yet the shares have declined precipitously from $29 to less than $16. Although I do not know when the market will recognize Conn's value, there is no loss in waiting as the company will continue to grow its intrinsic value. In fact, as prices declines, there would be additional opportunity to pick up shares, as we have done so in the past.
Continuing from our discussion on MagicJack (NASDAQ: CALL) from last week, the stock has declined by another 11% since we significantly trimmed the position. Why did I "downgrade" MagicJack from one of the top holdings to where it is now? If you read my previous update, you already know that there has been some fundamental changes in the company itself. While the company is still extremely cheap from a financial perspective, the execution risk that is involved in reaching fair value has increased. In other words, the company has become more risky. It is quite strange to call a company trading at 4-5x FCF with 40% of market cap in cash (with no debt) "risky," but that is exactly the type of "qualitative" risk that investors should be aware of. As mentioned in the previous article, if the management doesn't do the right thing, value cannot be realized. While the company remains exceedingly cheap, I do not believe that its value outweighs the execution risk in a portfolio context. By trimming our position, we have limited our exposure to compensate for the increased risk.
Performance Since Inception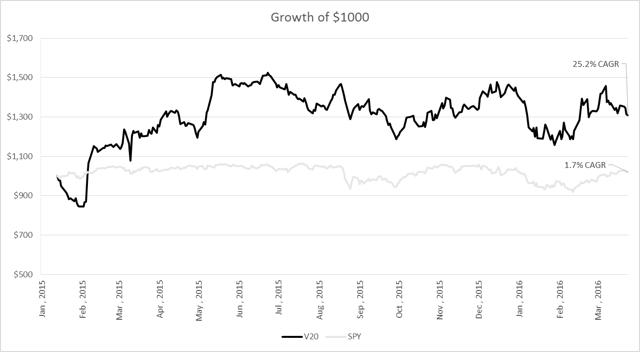 Disclosure: I am/we are long CONN, I, CALL, DXMM, SAVE, ACCO.
I wrote this article myself, and it expresses my own opinions. I am not receiving compensation for it. I have no business relationship with any company whose stock is mentioned in this article.
Editor's Note: This article covers one or more stocks trading at less than $1 per share and/or with less than a $100 million market cap. Please be aware of the risks associated with these stocks.