After five straight weeks of gains, the market finally buckled. It wasn't a big pullback last week - only 0.6% - but all big trends start out with that first small step. We at least have to acknowledge the possibility that last week's weakness may be the beginning of something bigger.
And that possibility isn't just the result of one losing week. The S&P 500 (SPX) (NYSEARCA:SPY) bumped into a major resistance line, and if the bears were/are going to make a stand anywhere, it's where the index peaked last week.
We'll look at it in detail below, as we always do. First up though, let's take a quick look at last week's and this week's key economic numbers.
Economic Data
There wasn't a lot on the economic calendar for last week. In fact, the only news of any real interest was February's existing-home sales and new-home sales. The former was down to a pace of 5.08 million, from January's pace of 5.47 million. The latter, however, stepped up to a rate of 512,000, from 502,000. We covered it in more detail on the BigTrends site here, but the gist of the analysis was, real estate demand is reasonably strong, and is perhaps being held back by a limited amount of inventory for sale.
Existing-Home Sales and New-Home Sales Chart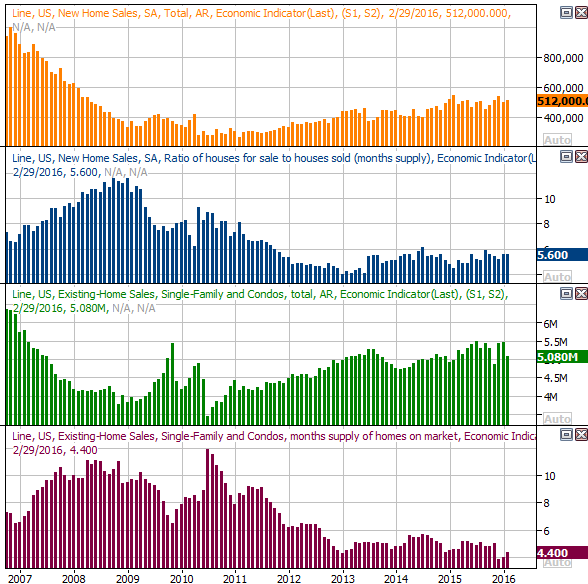 Source: Thomson Reuters
Everything else is on the grid below. Note that durable orders fell 2.8% in February, but that reading merely offset a strong showing in January. It's not a major concern yet.
Economic Calendar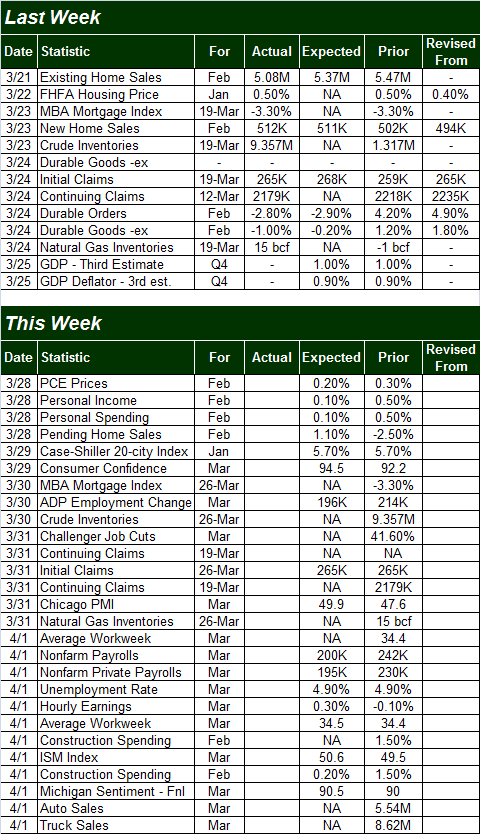 Source: Briefing.com
This week is clearly going to be much busier, but the only news we're really interested in is Friday's jobs report from the Department Of Labor. Economists think we're going to add a total of 200,000 jobs for March. That's down more than a little bit from February's tally of 242,000, and won't be enough to push the unemployment rate any lower than the current reading of 4.9%.
Job Growth and Unemployment Rate Chart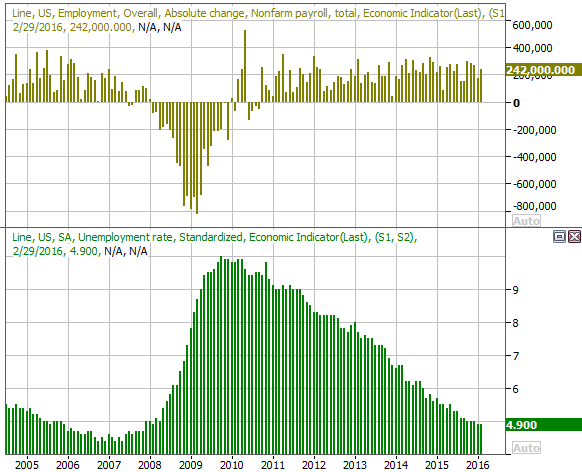 Source: Thomson Reuters
Technically speaking, we're making progress on the jobs front. We're not, however, making enough progress fast enough to let the economy reach full escape velocity. We're just grinding along. It works, but it's not graceful.
Stock Market Index Analysis
Although last week was a loser, it's still way too soon to assume the worst. It's not too soon to plan for the worst, but it IS too soon to assume a steep pullback is inevitable.
For starters, take a look at the shape of Friday's bar for the S&P 500 (though the NASDAQ Composite (COMP) (NASDAQ:QQQ) looks the same). It's a hammer-shaped bar, with an open and close near the high and a long-tail. The shape suggests a transition from a net-selling environment (which got rolling on Wednesday) back into a net-buying one.
S&P 500 & VIX Daily Chart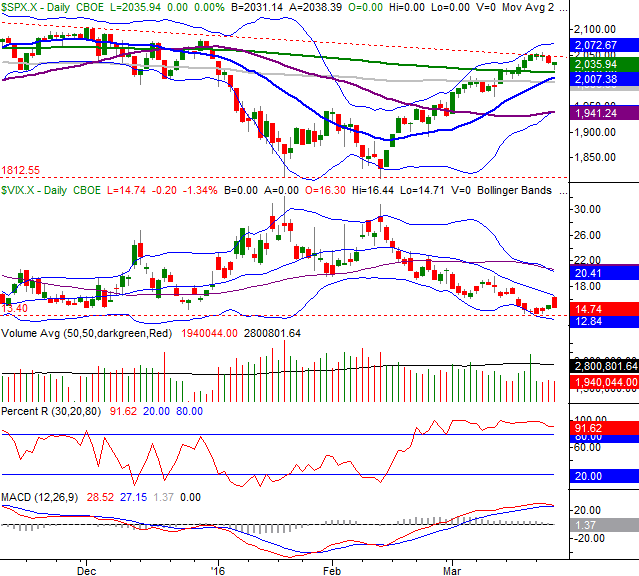 Chart created with TradeStation
Bolstering the bullish argument is the fact that Friday's low almost reached the 200-day moving average line (green), but even before the index got a chance to touch it the bulls dug in again, assuming a rekindling of the uptrend was inevitable.
In other words, the uptrend has yet to be broken. The Percent R line remains above the 80 threshold as well.
In retrospect, none of this can be surprising. There's a major intermediate-term resistance line where the S&P 500 peaked last week... a line that tags the highs hit late last year. This is where the bulls SHOULD try to make a stand. So far they're winning the battle, but the war isn't over yet. The bulls did a pretty good job of holding the line on Friday.
Backing out to a weekly chart of the S&P 500 we can get a better feel for that intermediate-term resistance line, which extends all the way back to the highs hit in the middle of last year.
S&P 500 & VIX Weekly Chart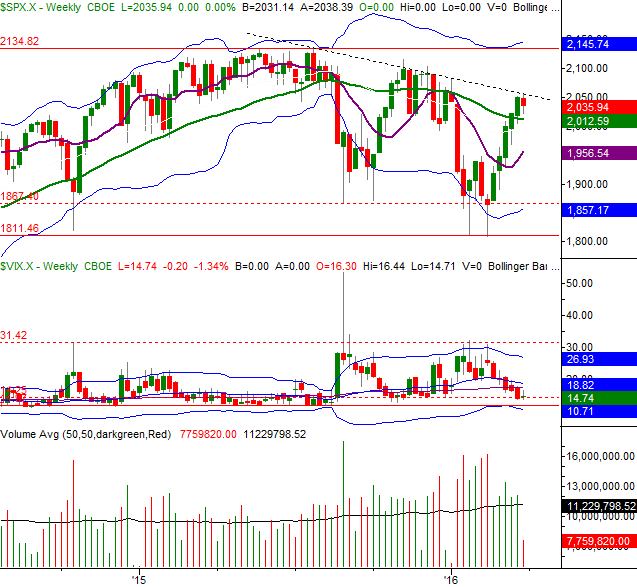 Chart created with TradeStation
It's also on the weekly chart of the S&P 500 we can see how low the CBOE Volatility Index (VIX) (NYSEARCA:VXX) is. It's not yet to the absolute floor at 11.8, but it's at an established floor near 14.3. That may be as low as it's going to go with this particular ebb and flow cycle.
It's very much a market in limbo, though for the time being the bulls still have the edge. In fact, the S&P 500 could fall all the way back to the 2000 level - where the 100-day moving average line (gray) currently rests - before getting into any real technical trouble. For that matter, the index could fall as far back as the 1940-ish area where the 50-day moving average line (purple) and the lower 20-day Bollinger band (both of which have acted as technical floors in the past) and still not be in a technical downtrend. A move under that level would likely coincide with a bearish confirmation from the Percent R line.
Point being, don't confuse a soft patch with a downtrend.
Either way, should the S&P 500 finally break above that intermediate-term resistance line currently at 2048, that may well incite yet another wave of buying.
Clearly this is going to be a pivotal week for the broad market (NYSEARCA:DIA) (NYSEARCA:IWM). Just wait for the majority to tip its hand.
Q1 Earnings Season Preview
It's difficult to believe, but the end of the first quarter is here and Q1's earnings season is just around the corner; it's time to start thinking in those terms.
The good news is, overall market earnings are expected to rise. The projected increase is only 0.7%, but would be a considerably stronger figure were the energy sector's results not dragging the whole market's overall income lower. That said, know that the current earnings outlook for energy stocks is little more than a coin toss. It could be much worse than expected, but it could also be much better.
S&P 500, Sector Earnings Growth Trend and Valuation Chart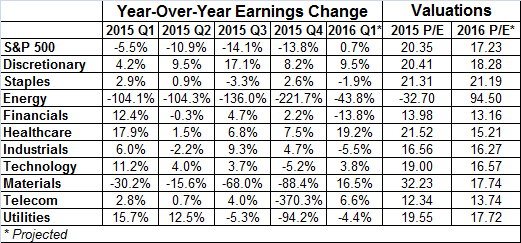 Data provided by Standard & Poor's
Though the trailing and forward-looking P/E ratios are above historic norms, they're no longer wildly above those norms, and the energy sector is the sole culprit. Even so, most non-energy sectors still don't have a great deal of room to add capital appreciation in 2016 unless they can outperform their current earnings projections... and most of the time, earnings outlooks are whittled down. It's a scenario that suggests the current year could deliver another choppy, sideways market.
Disclosure: I/we have no positions in any stocks mentioned, and no plans to initiate any positions within the next 72 hours.
I wrote this article myself, and it expresses my own opinions. I am not receiving compensation for it. I have no business relationship with any company whose stock is mentioned in this article.