KKR and Co. L.P. is an MLP (Master Limited Partnership) trading on the NYSE (NYSE:KKR). Headquartered in New York, it is a multinational private equity firm, with over $119bn in AUM (assets under management). The stock peaked in Jan '14 shortly after a merger with KKR Financial Holdings LLC (KFN), and has since lost 56% in share price only to recently rally 40%, bottoming concurrently with US equity markets on Feb. 11th. Dividends and EPS have been decreasing steadily as shown by the below graph, but it is worth noting that they are making higher lows in comparison to the sharp downturn in 2011.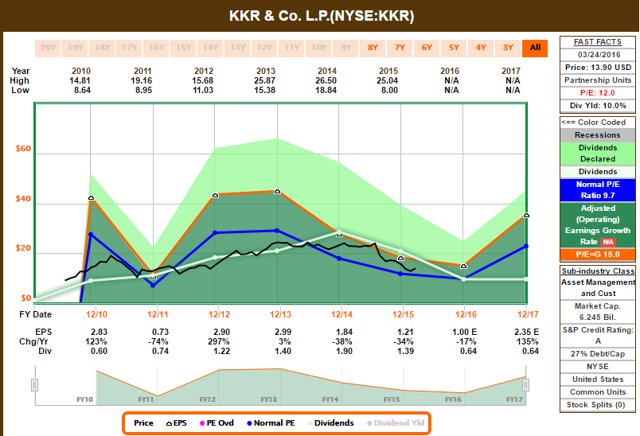 source: fastgraphs.com
The newly issued preferred stock will trade on the NYSE as KKR-A after a 30 day stint on the OTC Grey Market. If you can buy KKKRP (as it is currently known) in this market for below par $25 you may have a head start as issues often trade higher into their main listings. However, before taking undefined risks for the sake of a few basis points reward, we must know exactly what we are getting into.
KKR-A has a coupon of 6.75% and is non-cumulative. There is a standard 5 year optional call date of 6/15/2021. Full details below.

source: www.quantumonline.com
So now we know some details, how do we evaluate if this is a great opportunity, or if there are better trades elsewhere? Firstly, we have to find comparable issues.
KKR has one other outstanding preferred stock, KFNp; a hangover from the KFN days, with a coupon of 7.375% and rating of BB+. This currently trades at a premium and will almost certainly be redeemed on the call date of 1/15/18. Even so, the yield to call (actually yield to worst) is a decent 3.32% with very little risk as something drastic and unexpected would have to happen for these not to be redeemed. We can use KFNp as a model for the new issue which suggests that we shouldn't expect large swings in price; even during the early 2016 sell off, $24 acted as a floor. A strong recovery since then currently places it just below the highs of $27. This will re-assure income investors looking for a safe, steady yield, and is also encouraging for short term opportunities. More on this later.
Also for comparison we can use KKR's peers such as Apollo Global Management (NYSE:APO) and The Carlyle Group (NYSE:CG), private equity firms with similar market caps. Unfortunately neither have preferred shares closely enough related. Not all preferreds are created equal, and we would be wrong to equate an unrated, higher yielding issue, even if the parent company closely resembles KKR in size and structure.
KKR-A comes with a strong BBB+ rating, and we will compare its data with equivalent rated preferred stock. This would place KKR-A alongside the likes of:

source: author's database.
The current price of KKR-A on the grey market is 25.05, but I do not have experience in trading there so I used a price of 25.50 for calculations. The stocks chosen for comparison are 2 BBB+ rated preferred stocks(PSA-B, WFE-A), a preferred stock that is not rated but is also a recent IPO with similar nominal yield and call date(STAG-C) and a BBB- REIT debenture(WRB-C). The numbers speak for themselves and I really think that KKR-A will be a decent addition to the dividend investor at a price bellow 25.50, leaving a nice capital gain potential.
Risks
One concern, given the recent history of shrinking dividends in common, is that the company suspends payments in common and, if in serious trouble, preferred shares. KKR-A are non-cumulative so there is a risk of missing some or all future dividends. Granted, this does seem unlikely, but lets not forget anything is possible, and it is unwise to conclude 'it's unlikely' and leave it at that. Lets look at some data for re-assurance -

source: Author's input
The $530m dividend in common dwarfs the $20.25m due in the preferred. A cut of 30 basis points in common is enough to meet the preferred coupon, and a suspension of common could buy back the entire debt. The likelihood of suspension in common AND preferred is very small. For me personally, issuing a non cumulative preferred stock is a really positive sign in terms of safety. An MLP company would usually issue a cumulative stock, because profits are distributed and the effect of accumulating profits as a future buffer is absent. None cumulative preferred stock historically has a lower chance to get its dividend suspended and by issuing such a stock, the company is actually sending a message to the investors that they are in such a good financial shape that they can afford to do that currently.
Another consideration with any longer term hold in fixed income is an associated interest rate risk. Raising rates will usually affect lower yields first, and coupons closer to 7% such as KKR-A will be sold to below par. No-one knows what the Federal Reserve will do, but we do know what could happen to preferred stock. The worse case scenario here is that KKR-A price falls responding to the parallel shift in the yield curve. The author's suggestion here is to learn how to hedge interest rate risk. In a recent article I received a comment that the best way to hedge interest rate risk is to switch from long to short. This is exactly what a trader would do and this is how I personally act in a raising yields environment.
Reward
The 6.75% yield has been discussed, and income investors could do a lot worse. However, there is also a trade setting up in the short term and this is what interests me. Trade on the OTC Grey Market is already underway and price is fluctuating around the $25 par.

source: OTCmarkets
If I can get in under $25.5 I think there will be an opportunity to sell in the next 3 months at $26.50-27 range. This is based on assumptions made earlier that the market will eventually price it in line with comparable issues. If I can make a quick 5-7% then I will be out and on to the next opportunity. If not, I can afford to sit back and earn the same amount in dividends, even if it does take much longer. This trade will be added to my arbitrage trader portfolio once I can get a fill. I may have to wait till trading commences on NYSE on 11th April.
Conclusions
The IPO arbitrages in preferred stocks are long gone. There were days when a new stock coming to the market could have been seriously undervalued. Most of the new issues coming to the market are issued by the best financial companies in the world and they know how to calculate numbers, leaving a very tiny portion of IPO profit for us, traders. KKR-A is one of the few stocks recently that caught my attention as being undervalued. I would be really glad to add it to my portfolio in the first days of trading and currently I am looking for a way to buy it on the grey market.
Disclosure: I/we have no positions in any stocks mentioned, and no plans to initiate any positions within the next 72 hours.
I wrote this article myself, and it expresses my own opinions. I am not receiving compensation for it (other than from Seeking Alpha). I have no business relationship with any company whose stock is mentioned in this article.
Additional disclosure: I am trying to find a way to buy this stock while it is still trading on the grey market