The durable goods report is a critical leading indicator of economic activity. It shows the strength in new orders received from an approximate 4,000 manufacturers in more than 85 industries of higher-priced goods that have a useful life of three years or more. These are items purchased by consumers and businesses such as cars, appliances and computer equipment, as well as trains, planes and industrial equipment.
When consumers and businesses start to lose confidence in the strength of the economy, as we think they are now, they typically hold off on purchases of higher-priced items first. Changes in the rate of growth for durable goods orders lead to changes in the rate of industrial production, which ultimately impacts job growth.
The Commerce Department reported that new orders for durable goods fell 2.8% in February, which was the third decline in the past four months. This comes as no surprise, given the huge build in business inventories that has led to the highest inventory-to-sales ratio since the last recession.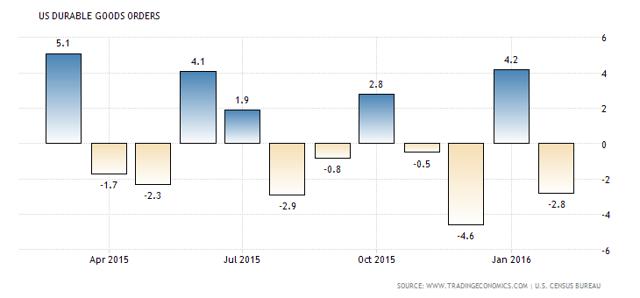 In a variation of this report that better reflects how much businesses are spending on new equipment, otherwise known as capital expenditures, orders for non-defense capital goods excluding aircraft declined 1.8% in February. One area of strength in the durable goods report was in orders for motor vehicles and parts, which rose 1.2% in February, after rising 2.7% in January. This comes as a surprise, given that we saw a significant build in inventories in this category in last week's business inventories report.
When we look at the year-over-year change in non-defense capital goods orders excluding aircraft for February, we see a decline of 0.1%. It is clear that business investment will detract from overall economic growth in the first quarter of this year, and it is likely to continue to detract from growth until inventories are reduced dramatically.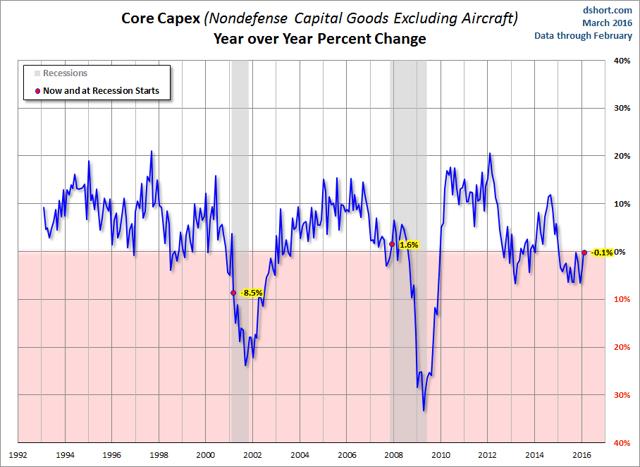 Markit's service sector business activity index, or services Purchasing Managers Index, which contracted in February after 27 months of consecutive growth, bounced back to 51 in a return to a modest rate of expansion (a number greater than 50 indicates growth). This is good news. This is a valuable index because it speaks to the health of businesses that sell services to consumers, and we know that consumer spending accounts for 70% of overall US economic activity. Still, this is a very weak number, and it is clear that business activity in the service sector does not portend the kind of economic strength that the monthly payroll jobs number portends. We would place more significance on this report rather than the payrolls report.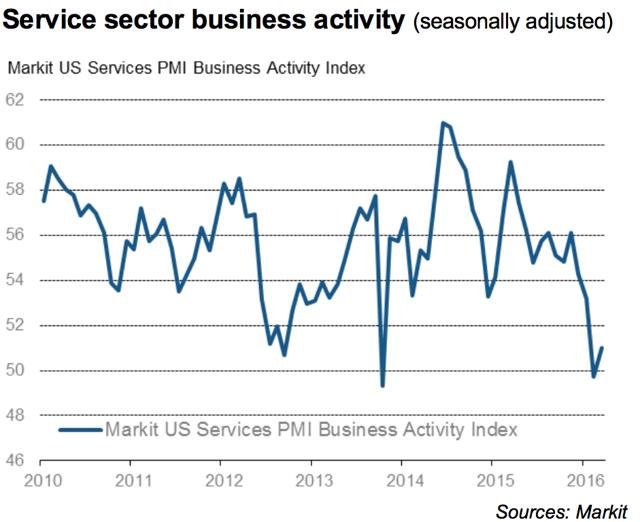 The Bureau of Economic Analysis upwardly revised its estimate for economic growth in the fourth quarter of 2015 from 1.0% to 1.4%. While this report is clearly one of the most lagging indicators in the series that we follow, it is closely scrutinized as the ultimate scorecard for economic growth. It can be useful in terms of telling us what parts of the economy are contributing to growth and what parts are not.
The upward revision was driven predominately by a faster rate of growth in consumer spending. In fact, consumer spending contributed 1.66% to the overall rate of growth of 1.4%. Obviously, other segments of the economy detracted from growth to bring the rate down to 1.4%. What concerns us about the current quarter is that we have seen significant weakness in reports related to consumer spending for January and February. This indicates to us that the real rate of economic growth in the first quarter is much weaker than the consensus estimate.
The most valuable way to view the economic growth figures is on a year-over-year basis, because this is what best reflects the long-term trend in growth. Accounting for the latest revision to the fourth quarter of last year, the rate of growth has now slowed from 2.9% to 2.7% to 2.1% to 2.0% over the past four quarters. The economy grew 2.4% for 2015. Following the durable goods report, most economists lowered their estimates for the first quarter of 2016 to approximately 1.5%. The Atlanta Fed's GDPNow forecasting model has reduced growth expectations to just 1.4%. Our estimate has been 1% since the beginning of the year.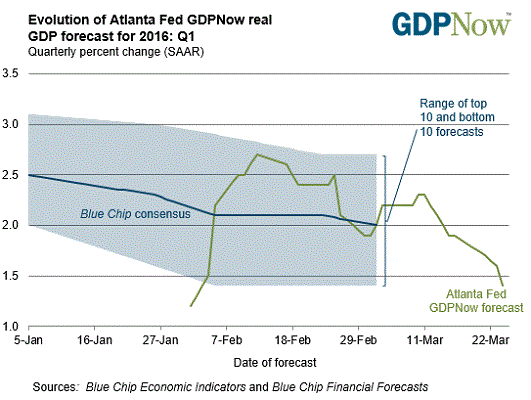 Disclosure: I/we have no positions in any stocks mentioned, and no plans to initiate any positions within the next 72 hours.
I wrote this article myself, and it expresses my own opinions. I am not receiving compensation for it (other than from Seeking Alpha). I have no business relationship with any company whose stock is mentioned in this article.