Global X Funds is one of the best ETF developers around. These guys produce MSCI tracking market cap ETFs for specific nations that allow retail investors to gain exposure to exotic and unique markets. Many of these markets are in their infant stages and can be higher yielding, more volatile and faster growing than investments available here in the states. Sometimes however, the risk and uncertainties of these far away markets can eclipse their rewards.
When it comes to global markets there are three categories; developed markets, emerging markets and frontier markets. Investing in a frontier market can be thought of as investing in the third world. Many of the countries listed in the frontier indexes are experiencing political instability, economic turmoil and even actual war. Yes, actual war. But as we all know, not even war can stop the exchange of money. When there are profits to be made people will do business and the investor who seeks exposure to frontier markets should be well compensated for his risk.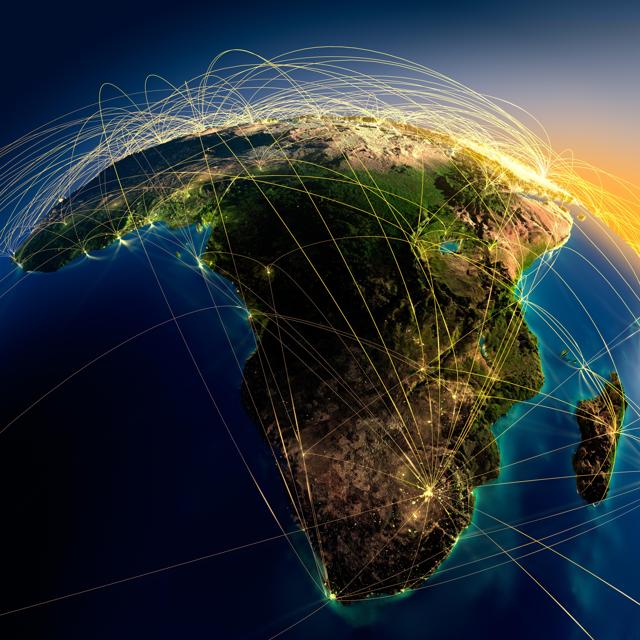 The Global X MSCI Nigeria ETF (NYSEARCA:NGE) is Global Fund's MSCI index fund for Nigeria.
First we will look at the economic and political situation in Nigeria and decide if NGE provides good exposure to this market. The risks of this investment will be weighed against the rewards and the potential investor in this ETF should end with a better understanding of what they are signing up for if they buy this security.
Note: Investing in Frontier markets is extremely risky and should only be undertaken by those who understand geopolitics and the economic situation in the country they seek to gain exposure too.
Name and Creator: Global X Nigeria ETF
Index tracked: MSCI ALL Nigeria Select 25/50 USD
30 Day average Volume: 87,662
Price: $6.40
Expense Ratio: .93%
Assets Under Management: 21.28M
Net Asset Value: 6.17
Premium to NAV: 3.73%
What is Nigeria and what are the risks and benefits of investing there?
Nigeria is located in West Africa and is the most populous country on the African continent. It also has the largest nominal GDP in Africa clocking in at around 500 billion USD. Growth occurs at a respectable rate of around 5.4% per year. (GDP growth is important to note when investing in foreign countries because this is the rate of growth expected of large cap companies that have passed their horizon date.)
You may be surprised to hear that Nigerian bonds yield up to 12%. This is a sum that I believe vastly overstates default risk and is probably the result of severe inflation. Let me rephrase that; the 12% yield is unequivocally the result of severe inflation because the inflation rate in Nigeria was a staggering 11% this year! This level of inflation raises serious concerns for an investor seeking to invest in The country. Along with all the other problems it suggests an inflation rate of 11% means that converting USD into Naira is capital suicide.
Despite all these issues, investing in Nigeria seems to be primarily an oil play and all the speculative forces in its economy move on the price of oil. While this unsurprising, as oil accounts for 98% of the nations export revenue and 63% of government budget revenues, the resource is only a meager 14% of the countries total GDP.
| | | | | | | | |
| --- | --- | --- | --- | --- | --- | --- | --- |
| Nigerian Breweries | Guaranty Trust | Nestle Nigeria | Zenith Bank | Dangote Cement PLC | United Bank of Africa | First Bank of Nigeria | Guinness Nigeria PLC |
| 17.67% | 8.63% | 7.53% | 6.66% | 5.70% | 4.47% | 3.88% | 3.81% |
The Stock allocation heavily favors consumer defensives and financials. The market potential here is truly vast, companies like NESTLE (OTCPK:NSRGY) are ubiquitous in many parts of Africa. We are talking about a part of the world where market monopoly is perfectly legal and large multinationals corporations exploit every opportunity.
| | | | |
| --- | --- | --- | --- |
| Medium | Small | Micro | Large |
| 44.08% | 33.22% | 12.03% | 5.70% |
The market capitalization is on the smaller side, giving the ETF growth potential.
The performance of NGE
1. The performance of NGE shows that the ETF is highly correlated to the price of oil.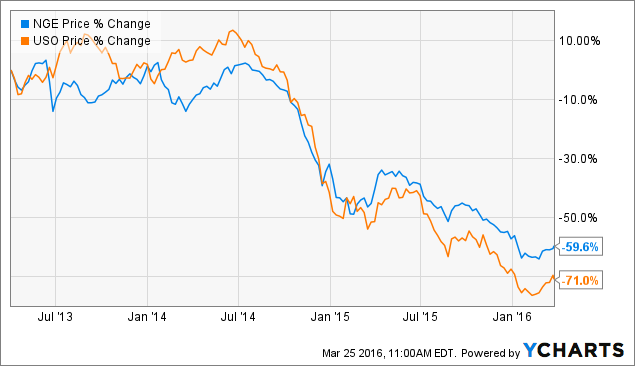 It is important to note that there is very little direct oil exposure in this ETF. Even though it is possible that the Nigerian financial sector was tainted by falling oil prices akin to what occurred in the United States fracking space, I find this to be unlikely. The major oil producers in Nigeria are large cap multi-nationals. This includes blue chip companies like; Royal Dutch Shell (NYSE:RDS.A), Exxon (NYSE:XOM) and Chevron (NYSE:CVX) so default risk is limited.
It possible that speculation drives Nigerian currency to follow the price of oil and thus lowered the value of the Naira denominated securities listed in NGE relative to the Dollar.
We know for a fact that thee majority of Nigerian government revenue comes from oil and falling oil prices have caused them to dip into their national cash reserves, thus increasing the value of USD relative to Naira. The following graph shows the growing gap between the official value of the Naira and the black Market price at which people are willing to trade this currency pair.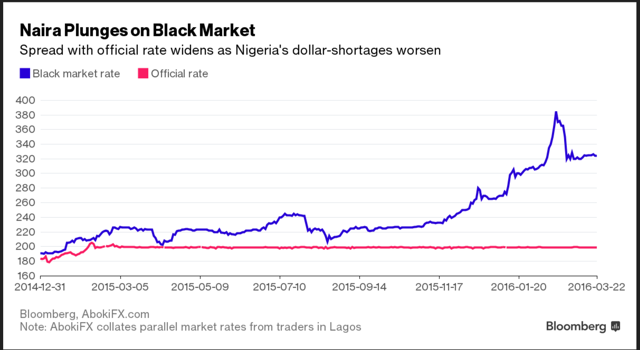 Loss of faith in the Nigerian governments revenue stream should also explain the high inflation rate. If Nigeria's inflation is not the result of overprinting it should be noted that the currency will quickly recover with the price of oil. If the securities listed in NGE are denominated in Naira this should boost their prices also. This furthers the notion that investing in Nigeria should be seen as an indirect way to bet on an oil recovery.
2. NGE has a promising 4.5% dividend yield which is paid annually. I think this is welcome compensation for the amount of risk this ETF possesses. However, further research results in disappointment. The payout is completely unreliable, NGE has skipped an entire decade before resuming payments in 2014.

3. NGE is just an index fund. It does not take advantage of Nigeria's massive government bond yields. This is disappointing because for such a large management fee I would expect something a little more creative than just a stock portfolio.
Investors should note that government bonds are supposed to represent the "risk free" rate of return in a country. If Nigerian bonds are yielding so much I suspect they are the only worthwhile investment to make in the country. They, like any other security in Nigeria should closely track the price of oil.
4. There is some good news. The companies represented in this ETF are strong multinationals with a proven record of success and poised to exploit a fertile market. No matter how bad the economy gets in Nigeria there will always be a demand for a lukewarm Guiness. Trust me. And there is no reason to expect that these stocks not to outperform once the economic situation in Nigeria is ameliorated.
Conclusion
At this point in time the risks of NGE vastly outweigh the rewards and this ETF should be seen as a high risk oil play with moderate growth potential if things go well. In all honesty though, if you like massive risk and you want to make a gamble on oil you would be better served with horror shows like the VelocityShares 3x Long Crude Oil ETN (UWTI) over NGE.
Disclosure: I/we have no positions in any stocks mentioned, and no plans to initiate any positions within the next 72 hours.
I wrote this article myself, and it expresses my own opinions. I am not receiving compensation for it (other than from Seeking Alpha). I have no business relationship with any company whose stock is mentioned in this article.