I am always on the lookout for companies with sound business model especially those in the healthcare sector. Recently, I wrote about Cambrex (NYSE:CBM) and China Biologics (NASDAQ:CBPO) which you can find here and here. These two companies have a business model that focuses on growing niche markets that carry high margin and relatively low competition. While I really like both companies, I have to admit that both are not as interesting as Ligand Pharmaceuticals (NASDAQ:LGND).
The Shots-on-Goal Business Model
"Shots-on-goal" originally refers to the way pharma companies conduct their R&D programs. It started in Pfizer's oncology lab in late 90's. During that time, there are many ideas on how drugs can be used to stop cancer based on different "targets" such as inhibiting the formation of blood vessels by the tumor, preventing the tumor from metastasizing and suppressing the cells from undergoing uncontrolled division. Later, they realized that it's difficult to know which approach is the best, therefore the best idea is to select the most promising compound from each approach and test them. These categorical compounds represents their "shots-on-goal".
In the case of Ligand, the shots-on-goal is its large portfolio of drug development programs fully funded by its partners. The hope is that some of those drugs would eventually generate revenue at different levels. Because the number of shots needs to be large to increase chance of success, partnership plays an important role in this business model. The way it works is that Ligand focuses on what they are good at which are drug discovery, early stage development and product formulation while its partners work on what they are good at which are late stage development, lifecycle management and commercialization. A win-win situation embedded in the business model!
As such, Ligand's main goals are to drive R&D to the earliest inflection point for partnership and at the same time, purchase other revenue generating assets to further build its portfolio. Using this business model, Ligand could receive revenue at two different levels which are royalties from commercialized products and R&D milestone payments. But sometime, instead of getting milestone payment, compounds at early stage can be licensed completely to its partner for further development. Coupled with lean cost structure, it's not hard to see why this business model could work really well.
Ligand currently have over 140 programs with 85 different partners. So, if you own Ligand Pharmaceuticals, you pretty much own the biopharma industry. Due to its diversified portfolio, Ligand offers the chance for investors to enjoy growth that could be higher than the average biopharma company but at lower risk.
Performance Review
So, the business model sounds great. But does it translate into growth and profitability. You can take a look at the charts yourself and I really don't have to explain much here.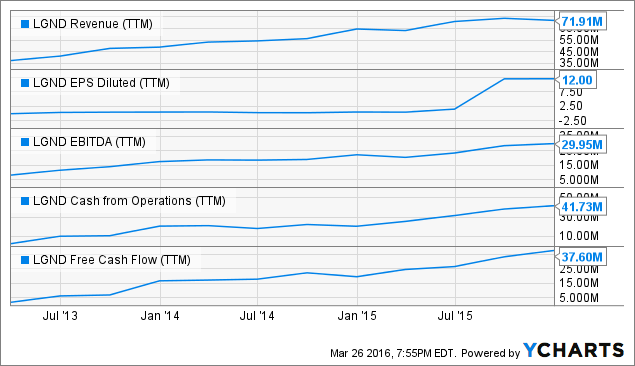 LGND Revenue (TTM) data by YCharts
Ligand is also performing well on the margin front indicating robust improvement in the business.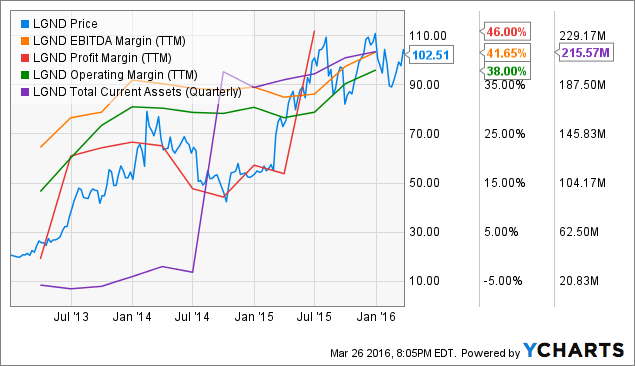 LGND data by YCharts
Growth Drivers
Great, now we know that the business model actually works. But is it sustainable? So, let's go deeper and see which products are driving Ligand's growth. From its recent 10K filing, the company disclosed that it has 9 commercialized products. However, two products, Promacta and Kyprolis contributed significantly to their revenue and will continue to be the main revenue generating assets.
Promacta was developed with Novartis. The drug boosts the number of platelets (an important blood clotting agent) in the blood vessels. Because there are many diseases that are related to platelets insufficiency, the potential for label and indication expansion should supply increasing royalty payments to Ligand without the need for the company to spend because late stage developments and commercialization is conducted by Novartis. In fact, Novartis is currently working on expanding the indication to treat myelodysplastic syndromes (MDS), acute myeloid leukemia (AML) and chemotherapy-induced thrombocytopenia (CIT) which could make Promacta a potential blockbuster.
Kyprolis is a drug developed by Onyx Pharma (a subsidiary of Amgen) that is used to treat patients with relapsed or refractory multiple myeloma. Ligand wasn't involved in the R&D directly, but it supplies Amgen with its formulation technology called Captisol. Currently, Amgen is working on two Phase III programs to expand the label for Kyprolis.
So how long will the royalty payments last? Well, according to the FDA's Orange Book, Promacta won't expire until 2027. As for Kyprolis, Amgen has to pay royalty up until four years after patent for Captisol expires, which won't be until 2033. The revenue for both products is forecasted to climb higher by sell side analysts covering Amgen and Novartis. This is due to the label and indication expansion as mentioned.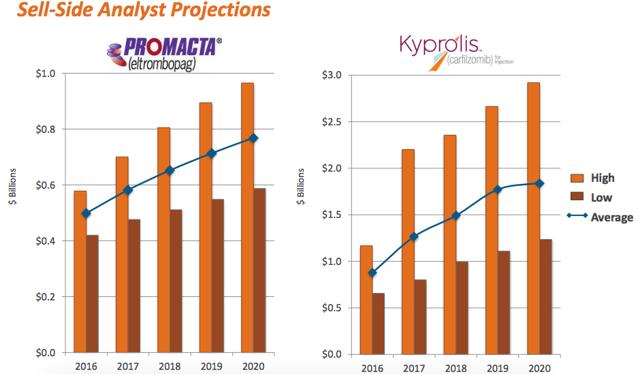 Source: Investors Presentation
So what's next for Ligand? Well, because Ligand has a huge pipeline, I don't think this company will run out of news for investors. Going through its 10K filing, I found 6 programs that are currently in Phase III and remember, all of these are fully funded by its partners! On top of that, there are 20 programs currently in Phase II.
Before you get excited, not all of these drugs will bring significant revenue to Ligand. Some will bring more revenue than the others. The management has identified six programs that could serve as catalysts in 2016 as shown below.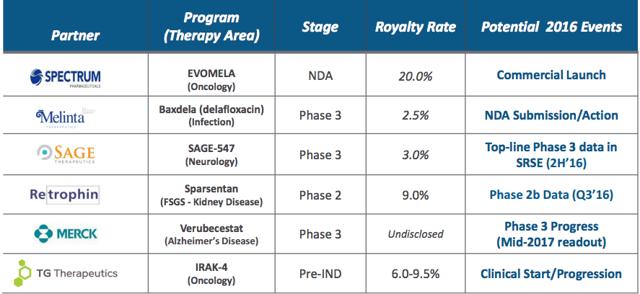 Source: Investors Presentation
It is also worth mentioning that in many of these programs, Ligand's contribution is through its technology platform such as Captisol, a formulation technology. I think this is important because it highlights the effectiveness of Ligand's technology investment and its reliance to the platforms. Therefore, in future events where Captisol's effectiveness is challenged by newer products, Ligand's could see less demand for partnership and inferior turn out from its R&D . But one thing that keeps me from red flagging this is the fact that Ligand is also expanding its technology platform as shown below.

Source: Investors Presentation
Also, since Ligand works with most of the major companies in the biopharma industry, I think the management would be quick to spot emerging trends and future demands. Recently, the company purchase Open Monoclonal Technology (OMT) which gives it the platform for human antibody discovery. The main rationale behind this is that antibodies are actually one of the most successful drug class. This is a smart move since OMT will complement Captisol which is used to enhance solubility of small molecule drugs such as Gilead's Sovaldi and Harvoni.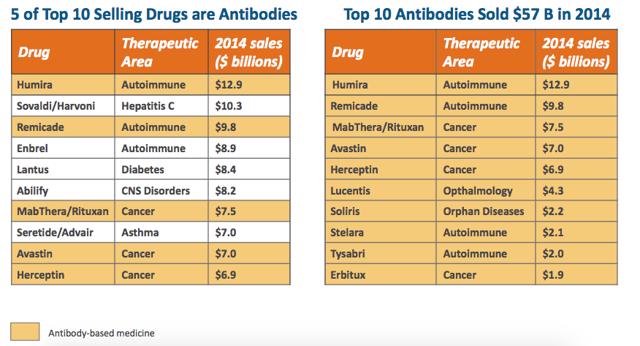 Source: Investors Presentation
Last but not least, Ligand has also ventured into the biosimilar arena. Currently it has 17 biosimilar programs in collaboration with 6 companies. Two biosimilars were already commercialized.
As you can see, Ligand's portfolio is truly diverse with regards to disease areas, revenue contribution and also size of partners. With more than 140 programs currently running, I think Ligand has a remarkable "shots-on-goal" and going forward, the company could be netting more goals than what investors expect.
What About Valuation?
So, based on the success of its business model, it's quite easy to say that Ligand is the company that you should go long, maybe very long. But what about from valuation basis?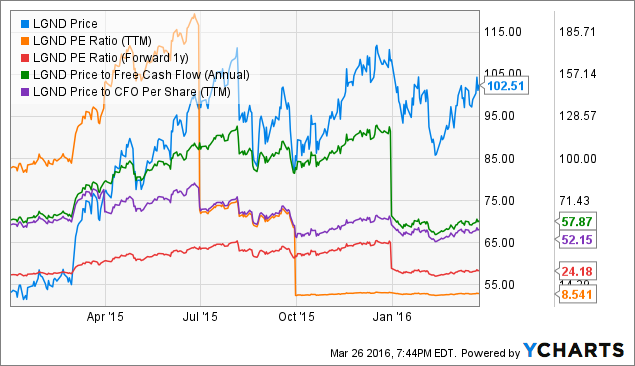 As you could see, Ligand's share is currently trading at very low PE of 8.5 which appears to be cheap compared to S&P 500 (21.55) or the US biotech industry (25.5, Factset) . Forward PE and other metrics look high, but actually they are at lower level compared to where they are in 2015. I'm quite indecisive at this point, so I make some quick comparison with US Biotech Industry using Factset.
| | | |
| --- | --- | --- |
| METRICS | LGND | US-BIOTECH |
| 2016 PE | 29.6 | 25.58 |
| 2017 PE | 29.7 | 20.43 |
| PE/G | 0.6 | 1.78 |
| EV/EBITDA | 32.7 | 14.94 |
| 2015 ROE | 155.6 | 18.32 |
I might be biased here but not for nothing. Ligand's TTM P/E of 8 is cheap as I mentioned. Forward P/E is indeed higher compared to the industry but I think it is still in range. Even if it is expensive, I think it is justified given the high return to equity that Ligand has generated in 2015. And as a growth stock, Ligand's growth comes at a cheaper price compared to the industry as represented by PE/G. So, do I think Ligand's a buy at this level? I think so, although there might be a pullback in the short term.
Conclusion
Ligand's offers a unique investment opportunity in the biopharma industry at lower risk but higher return. The business model is compelling and since it turned profitable in 2013, Ligand continues to grow. Ligand's current valuation is reasonable. With a good market condition, an excellent stock such as Ligand could fly high.
Note: If you like my research, be sure to get notified on my latest articles by hitting the "Follow" button on the top of this page. I usually cover growth stocks in healthcare industry and just recently started to write about emerging markets. If you want me to cover specific stocks, please let me know by sending me a message or leaving a comment below. Good luck!
Disclosure: I/we have no positions in any stocks mentioned, and no plans to initiate any positions within the next 72 hours.
I wrote this article myself, and it expresses my own opinions. I am not receiving compensation for it (other than from Seeking Alpha). I have no business relationship with any company whose stock is mentioned in this article.
Additional disclosure: I am not a certified investment advisor. Ideas express here are to help me articulate and inspect my investment thesis as well as to receive feedback from the public. Investors should do their own due diligence before investing in the market.