While many assumptions are priced into Tesla's (NASDAQ:TSLA) stock, all of the most important hinge on the Model 3. The Model 3 is presented to bring Tesla further downmarket from the large luxury sedan category to the Audi A4 and BMW 3 series level, helping to achieve the minimum internal goal of 500,000 vehicles.
Will it be $35,000? Will it be on time for a late 2017 production ramp? What will it look like? What will the range be? When will the tax credit expire? These questions and the current market sentiment toward them are important for understanding the price of Tesla's stock.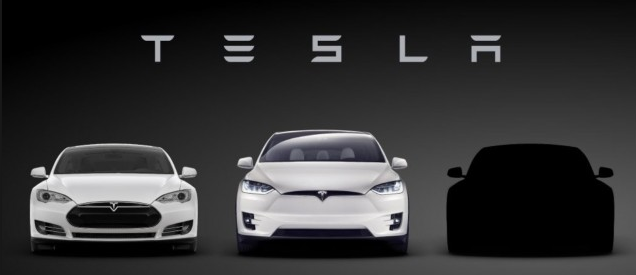 (Image Source: Here)
If Tesla reveals not only what the Model 3 will look like at the event on the 31st and some details about its capability, but also a working prototype, the stock will respond very dramatically. I see this going one of two ways:
Option 1) Tesla presents a working, drivable Model 3, complete with test drives for those in attendance:
This would be a first for Tesla. It has never had something before when it announced it. Call it jumping the gun, call it being over-excited, or even "Elon creating a hype machine," but Tesla has always mentioned "in the works" items, rather than waiting to reveal them in their full glory. This is something that pains me when watching Tesla's story unfold, as it is easily correctable. If Tesla has remedied this past behavior, and kept lips tight until it could back the talk with some walk, I believe the stock could very well reach new highs by the end of April.
As was pointed out by JPR3, a devout Tesla follower in the comments, Tesla has revealed drivable prototypes before the launch of the vehicle for both the S and X. What remains to be seen is if the Model 3 it reveals will be hand-built or a production version. I believe that if Tesla is able to reveal a physical car and show that it is further along with production than is currently believed, this will be a tremendous catalyst.
This will only occur, however, if Tesla also delivers a desirable product that meets consumer expectations. This leads me to the other possible outcome.
Option 2) Tesla fails to deliver a working model, or the working model fails to meet expectations:
I'm sure the bears are salivating at the prospect of this potential outcome. With all the anticipation and heightened hopes for the reveal, plus the Model 3 in general, this could be quite a fiasco for the longs. If even Tesla's greatest believers, those invested both in the products and the stock, are disheartened by the capability or the looks of the Model 3 in a big way, this could be devastating for the stock. I don't think anyone on either side would argue that the Model 3 is not "ride or die," quite literally, for Tesla.
If Tesla has a reveal event that goes over as poorly as the Model X launch event did this past September, the stock price could be in big trouble.
TSLA was around $250 in the week preceding the Model X event. Investors were happy the delays were "over," the deadline was not pushed back again, and Tesla was finally becoming a multiple car company, unlike with the Roadster and S. These things, while all true, were not as glorious as they may have been. Musk was late to the show, and he droned on about safety for way more of the presentation should have allowed. The Model X ramp was much slower than many were hoping for, and the X seemed to be the unloved child in the family. Musk even said "he wouldn't do it again," with regard to some of the design decisions on the SUV.
As a result largely of these factors, Tesla slid. And I mean slid. Tesla's stock lost over $100 before beginning to recover after February 10th. A look at the chart below will show you what I mean.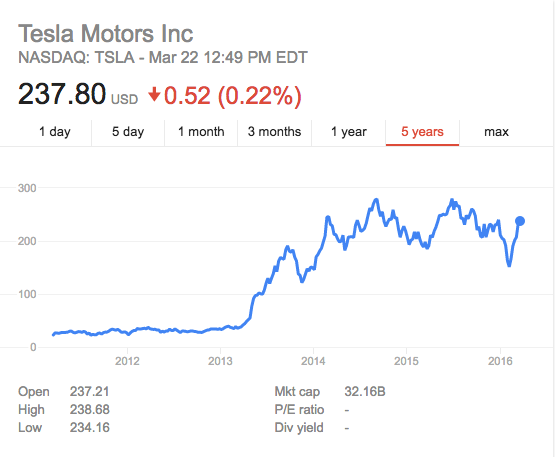 (Image Source: Here)
With new lows for the year, as well as the prior year, Tesla seemed to be in trouble. I think that a similar thing happened after the Model S was released and was beginning to ramp in 2013 with the S fires. People were worried that Tesla's first major product release designed by it was a flop and that the company would be finished.
To sum up a long story that most of us should be familiar with, the hype was proven to be just that over the next few months, and it was clear the Model S was going to be a hit.
I believe that the same is happening with the X. People are citing demand as an issue already, when most of the people in this country either don't know it exists, can't afford it, are waiting to order it until they are considering a new vehicle, or waiting for it to prove itself out in the market.
As the X proves itself out and gets some early bugs fixed, which the S had plenty of (cough, drive trains, cough), I think that a similar result to the tear of 2014-2015 will occur and TSLA will hit new highs, easily in the $300 range.
Couple increased assurance in the success of the Model X with a timely launch of a desirable Model 3, and this becomes apparent. I think the most important things Tesla needs to do during the launch event are as follows:
Show a physical Model 3 that will match the production version 99%
Reveal a higher than 200-mile base range
Confirm delivery begins in 2017
Confirm base price of 35K for RWD and a non-autopilot enabled vehicle
If Tesla can pull off these things without raising any more money, which I believe are fairly reasonable requests, and perhaps bring out one or two "wow" factors that were unexpected like an earlier delivery or some sort of new capability, I believe that it will not be a good time to be short.
Potential wow factors could be several things. Tesla going the way of Subaru with only all-wheel drive vehicles and still hitting the base price of 35k before incentives is a likely one, if anything, in my opinion. Others could be earlier delivery than predicted, like in 2016 or Q1 2017 early. Beyond that, I don't think there are many really unexpected things that Tesla could introduce with the Model 3, beyond the next model (Y?). What will happen remains to be seen.
Conclusion:
I believe the event this Thursday will be a huge catalyst for the stock. If it goes well, coupled with Model X repeating the cycle the S underwent in association with the stock, the stock will certainly set new highs in the coming months.
If it does not go well, and especially if major problems come up with the X before the 3 is delivered, or if Tesla needs to raise huge sums of cash once again to get the Model 3 delivered, Tesla may have another year or two that are essentially flat.
Now could be the last time to get in before the stock price is really up or a great time to get in on the short side.
Disclosure: I am/we are long TSLA.
I wrote this article myself, and it expresses my own opinions. I am not receiving compensation for it (other than from Seeking Alpha). I have no business relationship with any company whose stock is mentioned in this article.