"There is nothing new in Wall Street. There can't be because speculation is as old as the hills. Whatever happens in the stock market today has happened before and will happen again." -- Jessie Livermore
"To buy when others are despondently selling and to sell when others are avidly buying requires the greatest fortitude and pays the greatest ultimate rewards." -- Sir John Templeton, 1958
"Knowledge is limited. Imagination encircles the world." -- Albert Einstein
Introduction
Growth stocks have outperformed value stocks for the last five years. The relative performance has reversed in 2016, with value stocks now outperforming their growth counterparts, on a year-to-date basis. Downtrodden sectors, with a number of individual value opportunities, like transportation stocks and energy companies, have shown signs of life, suggesting the long winter for value-oriented investors may be over. With future expected returns still painfully low, savvy investors should look to alternative portfolio strategies that have not kept pace with a long only investment in the S&P 500 Index over the course of the bull market.
Thesis
After trailing the long only market substantially since March of 2009, long/short equity strategies are set to outperform.
Expected Returns Leave A Lot To Be Desired
As part of my regular research, I have periodically put together a table of forecasted asset class return data from GMO, which is illustrated below.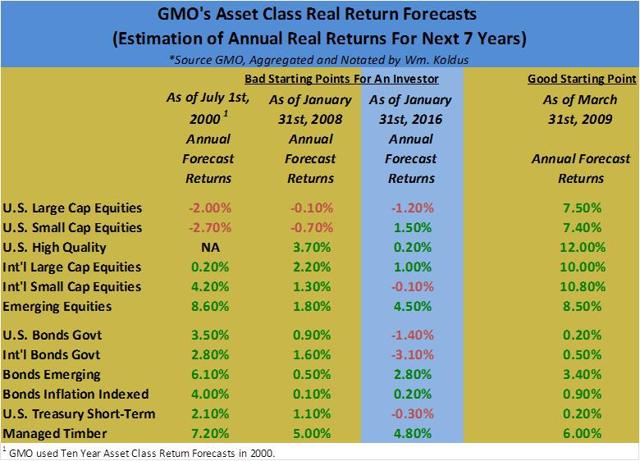 While even Jeremy Grantham, the "G" in "GMO", expects a further rise in the equity markets (he thinks the S&P 500 Index could get to the 2300 level) to get to true "bubble" status, before the bubble bursts, the majority of returns in the current bull market, more than likely, have already occurred.
The Growth Rally Fades, Value Rises
Ever since the markets hit an air pocket in August of 2015, and then re-visited this turbulence in the first two months of 2016, growth stocks have lost their market leading status. The fall-off has encompassed momentum leading favorites like Netflix (NASDAQ:NFLX) and Tesla (NASDAQ:TSLA), growth-at-a-reasonable price stalwarts like Apple (NASDAQ:AAPL) and Gilead Sciences (NASDAQ:GILD), and near universally loved firms like Nike (NYSE:NKE), The Walt Disney Company (NYSE:DIS), and Visa (NYSE:V).
Examining the relative performance of the Russell 1000 Growth Index, as measured by the iShares Russell 1000 Growth Index ETF (NYSEARCA:IWF), compared to the Russell 1000 Value Index, as measured by the iShares Russell 1000 Value Index ETF (NYSEARCA:IWD), illustrates a definitive trend change in 2016, with value leading growth for the first time in years.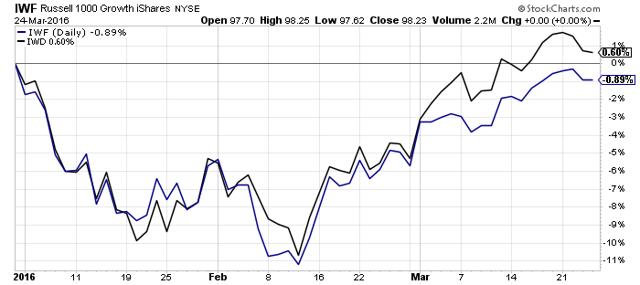 The recent outperformance of the Russell 1000 Value Index, relative to the Russell 1000 Growth Index, has closed the performance gap between the two indices over the past year.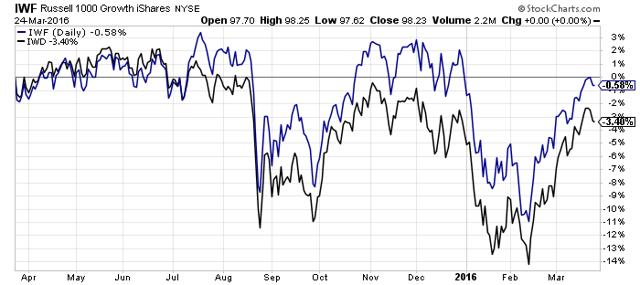 Over the past five years, however, large-cap growth stocks have clearly outperformed their large-cap value counterparts.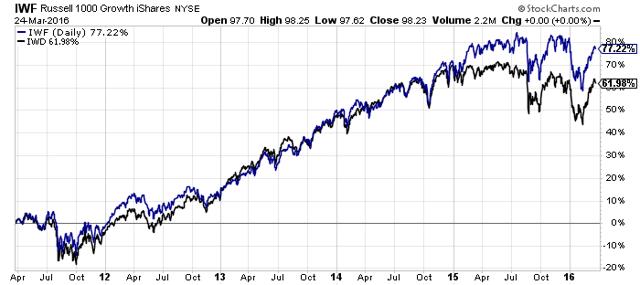 Thus, the trend change, of value stocks outperforming growth stocks, may just be getting started.
Value Stocks Offer Opportunity In A Long/Short Portfolio
Since the inception of my premium research service on Seeking Alpha, The Contrarian, I have been presenting the results of four portfolios (soon to be five) that I am actively overseeing and monitoring, including The Contrarian "All Weather" Portfolio, which is predominantly a long/short portfolio.
The Contrarian All Weather Portfolio was introduced with a published SA article on January 6 th, 2016. On January 22, 2016, I authored an update that examined the outperformance of larger capitalization stocks. I authored a third update on February 26 th, 2016, that examined the portfolio's performance.
With this overview of the All Weather Portfolio, I wanted to show how my interpretation of a long/short strategy faired in a market environment that was rising, as the S&P 500 Index, as measured by the SPDR S&P 500 Index ETF (NYSEARCA:SPY) rose for five straight weeks, prior to this past week.
A Rising Stock Market Reveals That Value Stocks Are Still Outperforming
The following portfolio screenshot is from "The Contrarian" premium research service's March 21st, 2016, weekly portfolio update. Subscribers received their weekly update this morning, March 28th, so this update is from one week ago.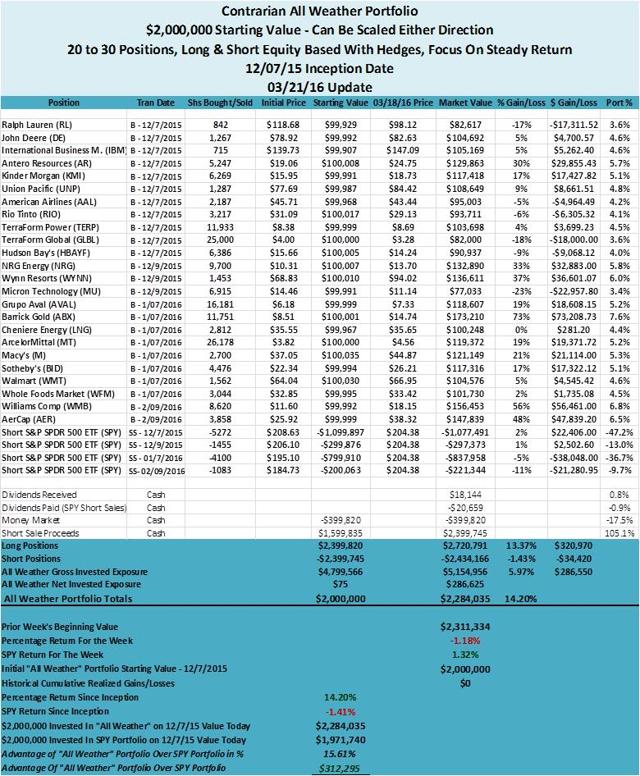 For the week ending 3/21/2016, the Contrarian All Weather Portfolio declined 1.2%, while the SPY gained 1.3%, which was the fifth straight week of gains for the SPY.
The improbably rally in the broader stock market, brought the SPY to roughly 1.4% shy of breakeven since December 7 th, 2015, while the "All Weather" Portfolio gained 14.2% over this timeframe, for a 15.6% advantage in performance.
Translating this to a dollar impact in a $200,000 portfolio, invested according to the same percentage weightings, the outperformance of the "All Weather" Portfolio versus the S&P 500 Index, as measured by the SPY, would approximate to $31,230. In a $2,000,000 portfolio, the outperformance roughly calculates to $312,300 versus a long position in SPY.
Drivers Of Outperformance
A substantial majority of the stocks in the "All Weather" Portfolio can be classified as value stocks, and eighteen of the twenty four individual positions have gained since the portfolio's inception.
Barrick Gold (NYSE:ABX) gained 73%, as the price of gold rallied and the out-of-favor shares of the world's largest gold producer rebounded, Williams Companies (NYSE:WMB), gained 56% as the pipeline owner rebounded from a deep sell-off, and AerCap Holdings (NYSE:AER) moved up 48%, as a well-timed purchase paid dividends.
Wynn Resorts rose 37% since its inclusion into the portfolio, and a look at its year-to-date (depicted first) and one-year charts, shows that there could be more upside potential if the company's Macau operations have bottomed, and a turnaround is in progress.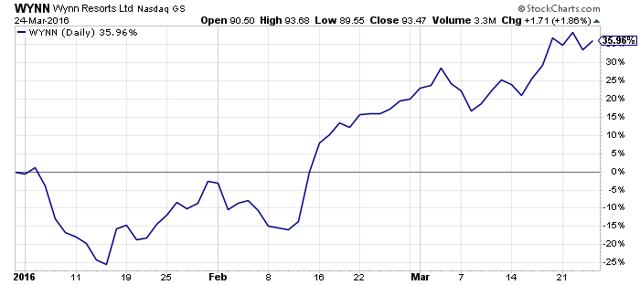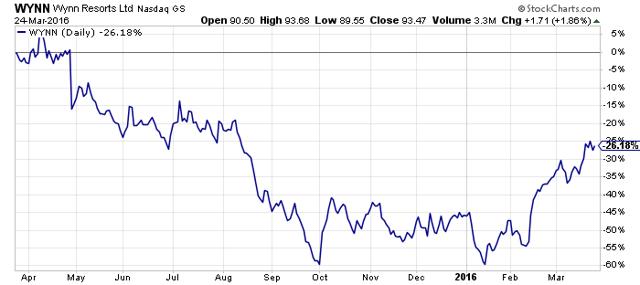 NRG Energy (NYSE:NRG) rose 33% since its purchase in the portfolio on December 7 th, 2015, Antero Resources gained 30%, Macy's (NYSE:M) advanced 21%, ArcelorMittal (NYSE:MT) gained 19%, Grupo Aval (NYSE:AVAL) moved higher by 19%, not including dividends, Kinder Morgan (NYSE:KMI) advanced 17%, Sotheby's (NYSE:BID) has gained 17%, and Union Pacific (NYSE:UNP) rose 9%.
Union Pacific has struggled over the past year, but it has perked up in 2016, as the following two charts show, and like WYNN, it could have more upside potential if global economic growth picks up.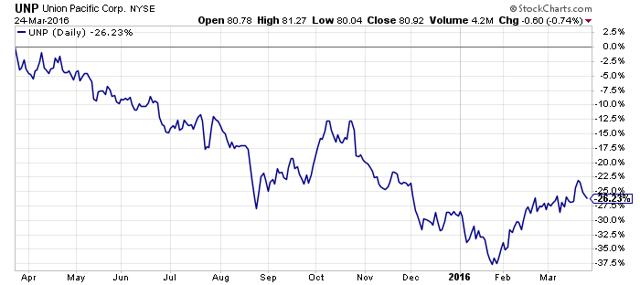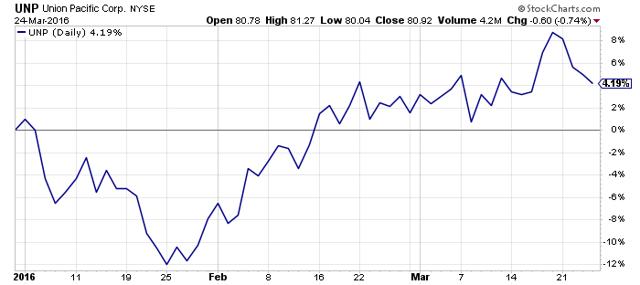 International Business Machines (NYSE:IBM) has moved up strongly as the U.S. Dollar has weakened over the past month, and it has gained 5% for the "All Weather" Portfolio. John Deere (NYSE:DE) gained 5%, Walmart (NYSE:WMT) gained 5%, TerraForm Power (NASDAQ:TERP) advanced 4%, Whole Foods Market (NASDAQ:WFM) eked out a 2% gain, and Cheniere Energy (NYSEMKT:LNG) was flat.
The only "losers" in the "All Weather" Portfolio, were American Airlines (NASDAQ:AAL), which was down 5%, Rio Tinto (NYSE:RIO), down 6%, Hudson Bays (OTC:HBAYF), down 9%, Ralph Lauren, down 17%, TerraForm Global, which declined 18%, and Micron Technology, the portfolio laggard, down 23%.
Almost without exception, the stocks held in the Contrarian All Weather Portfolio are value stocks relative to their own historical valuations, and thus, they have the opportunity to outperform relative to the market going forward, subject to their own individual company risk.
The Portfolio Hedge - An Update
Every time an individual stock position is taken in the Contrarian All Weather Portfolio, an off-setting short sale position is initiated in the SPY, for a roughly equivalent dollar amount. By doing this, the net exposure of the "All Weather" Portfolio is kept approximately at zero, and the resulting portfolio returns should be the performance of the individual companies minus the return of the SPY.
With the recent rise in the market, the hedged positions have cumulatively subtracted from the portfolio's value, as illustrated by the returns from their purchase date listed below:
Short S&P SPDR 500 ETF, 12/7/2015, Up 1%
Short S&P SPDR 500 ETF, 12/9/2015, Up 1%
Short S&P SPDR 500 ETF, 01/7/2016, Down 5%
Short S&P SPDR 500 ETF, 02/09/2016, Down 11%
Cumulatively, the short sale positions in the SPY have subtracted $34,420 from the "All Weather" Portfolio's performance. Additionally, the payment of dividends for the shares held short, has subtracted another $20,659, so the hedge position in total has cost the portfolio $55,079 in performance, or roughly 3% of the portfolio's initial value, rounding up, yet the gains on the long positions have more than made up for the hedged position losses.
As a reminder, the hedged position smoothes out returns, provides an investor with downside protection, in a wholesale market sell-off where indiscriminate selling overwhelms individual company fundamentals, and could add to returns if the broader market struggles going forward.
Conclusion - Consider A Long/Short Strategy
The bull market that began in 2009, fueled by central bank liquidity, evolved by 2013 into a rampaging market that punished any investor who dared to be different that the market indexes. Short-sellers were eviscerated, and active stock pickers continually trailed their market benchmarks, as value stocks fell deeply out-of-favor.
2015 saw a return to prominence of stock selection, as the dispersion of the stock market increased dramatically. In 2016, value stocks, after five years of underperformance, have finally started to outperform. Investors should anticipate both of these trends reversals to continue, as the reversion to the mean trade, in both situations, has a long way to go to correct the excesses accumulated over the course of the recent bull market.
To close, the advantages and disadvantages of a long/short equity portfolio approach, focused on value oriented names, should at least be studied by most investors.
For more information on my perspective, please click here.
Disclaimer: Every investor's situation is different. Positions can change at any time without warning. Please do your own due diligence and consult with your financial advisor, if you have one, before making any investment decisions. The author is not acting in an investment adviser capacity. The author's opinions expressed herein address only select aspects of potential investment in securities of the companies mentioned and cannot be a substitute for comprehensive investment analysis. The author recommends that potential and existing investors conduct thorough investment research of their own, including detailed review of the companies' SEC filings. Any opinions or estimates constitute the author's best judgment as of the date of publication, and are subject to change without notice.
Disclosure: I am/we are long THE STOCKS LISTED IN THE PORTFOLIO AND SHORT SPY.
I wrote this article myself, and it expresses my own opinions. I am not receiving compensation for it (other than from Seeking Alpha). I have no business relationship with any company whose stock is mentioned in this article.