Introduction
I have always had Semafo (OTCPK:SEMFF) on my radar but I don't think I have ever written an article about the company. As the company has now released its financial and operating results for 2015 and a positive feasibility study on the Natougou project, I think this might be a good moment to have a look at this company to see if I need to keep it on my radar.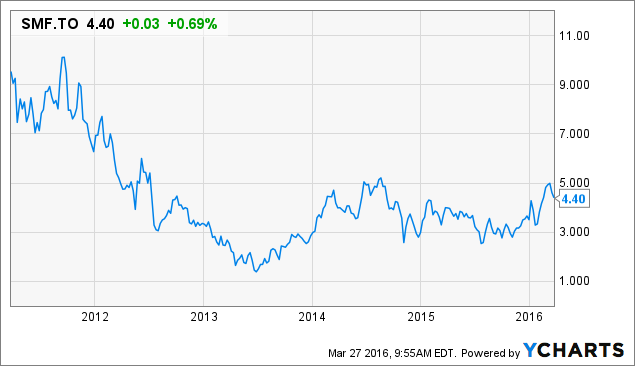 SMF data by YCharts
Semafo is a Canadian company and it would make more sense to trade in the company's shares through the facilities of the Toronto Stock Exchange. Semafo is listed with SMF as its ticker symbol, and the average daily volume is almost 2 million shares (which compares quite well with the 40,000 shares on the US listing).
Free cash flow positive and a net cash position, what else do you want?
In 2015, Semafo has produced in excess of 255,000 ounces of gold, a nice 9% increase compared to the previous financial year. But what's even more important is the fact these ounces were produced at a lower cost as the cash cost fell by 24% whilst the all-in sustaining cost fell by 19% to just $645 per ounce. The Mana mine in Burkina Faso performed really well, but shareholders should keep in mind the average grade will fall by approximately 10% this year, as the company processed ore with an average grade of 3.63 g/t.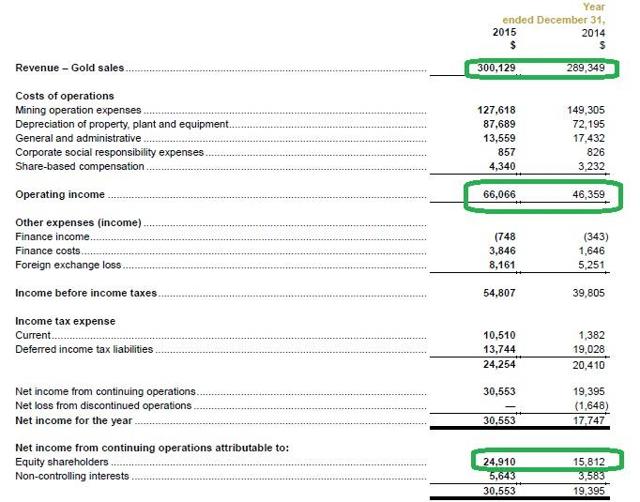 Source: financial statements
This high grade (an increase of 25% compared to the previous financial year) was also the main reason why the cost per produced ounce was lower than in 2014, despite having processed 13% fewer tonnes. The total revenue also increased to $300M and the operating income increased by almost 50% to $66.1M. Not bad for an African gold mining company in a time where the gold price was quite depressed. In fact, we would have to think hard to come up with another gold miner with an operating margin of 22%!
Semafo also recorded some of the taxes as deferred tax liabilities (which does increase the liabilities-side of the balance sheet) and despite this high tax bill, the net income attributable to Semafo's shareholders was $25M, a 65% increase compared to FY2014. So, yes, 2015 was a great year for Semafo and its shareholders!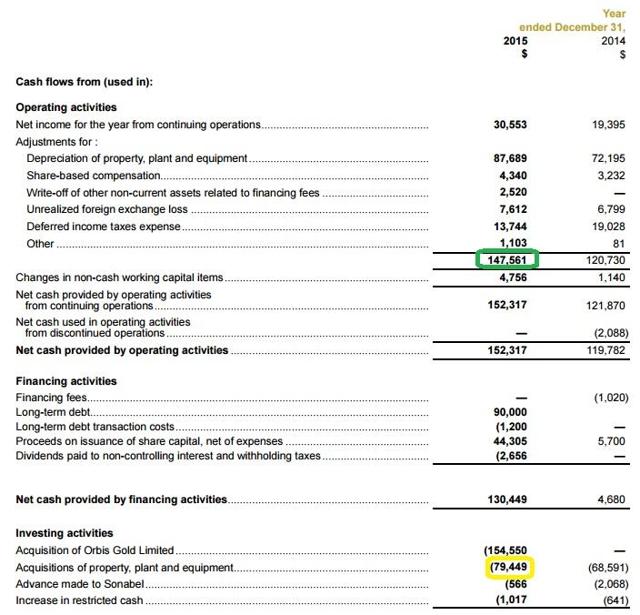 Source: financial statements
That's also emphasized in the company's cash flow statements. The operating cash flow (excluding changes in the working capital position, and excluding the deferred income tax charge) was almost $148M and after deducting the $80M the company has spent on capital expenditures, Semafo generated a positive free cash flow of $68M and that's not bad at all for a company with an enterprise value of $850M.
The feasibility study on Natougou is very positive
This also means Semafo probably won't have to raise more cash to fund the construction of the Natougou gold project in Burkina Faso. The company acquired Orbis Gold, which owned a high-grade open pit gold project in Burkina, and has now recently completed a feasibility study.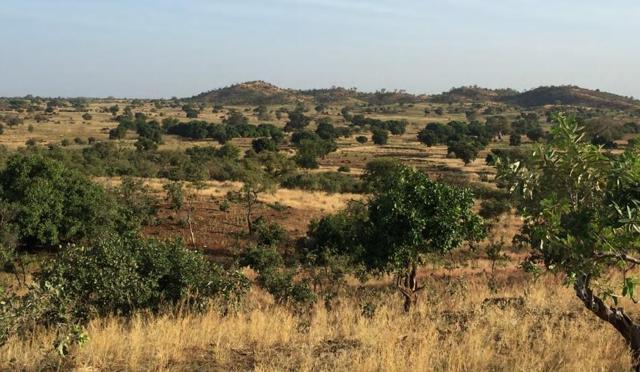 Source: company presentation
And the result looks quite interesting. The final result is a bit less exciting than I expected, but Semafo seems to have been quite conservative with its assumptions. The initial capex is expected to be $219M (including $42M in pre-stripping expenditures) but the after-tax IRR at $1100 gold is a very impressive 48% (increasing to 58% based on a gold price of $1200/oz), thanks to the exceptionally high production rate in the first three years of the mine life.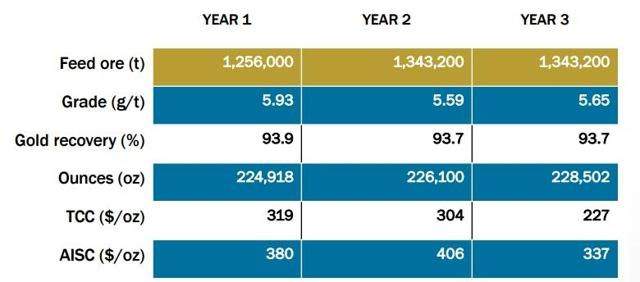 Source: company presentation
Indeed, during the first three years of the mine life, Semafo is planning to process ore with an average grade of almost 6 g/t (which is exceptionally high for an open pit mine), resulting in an average annual gold production of 226,000 ounces at an AISC of less than $400/oz. That's great, but despite this the after-tax NPV5% remains quite limited to $334M based on a gold price of $1200/oz.
Don't get me wrong, that's still good, and with a payback period of less than 1.5 years, the acquisition of Orbis Gold seems to have been a good one. Semafo now hopes to have the permitting completed by the end of this year, where after the construction could begin.
Investment thesis
With a cash position of $167M, an expected net cash flow of $85-90M at $1225 gold in 2016 and an additional $75M in 2017, it sure looks like Semafo won't need any additional cash to finance the $219M capex bill. That being said, Semafo decided to be safe and agreed with Macquarie to increase the credit facility from $90M to $120M, with the first repayments scheduled to start from Q1 2019 on, and Semafo should be close to producing 400,000+ ounces per year by then.
Semafo sounds like an intriguing buy as 2015 was good, 2016 might be better whilst we will have a great year in 2018. The one thing I'm a bit worried about is the reserve grade at the Mana mine. Whereas Semafo plans to process ore with an average grade of 3.25 g/t this year, the average reserve grade is 10% lower, at 2.95 g/t. On top of that, the resource grade is much lower at just 2.03 g/t in the measured and indicated categories, so Semafo will have to come up with a new game plan in the next few years if it wants to keep Mana open after the next 2 million ounces will be mined out.
Disclosure: I/we have no positions in any stocks mentioned, and no plans to initiate any positions within the next 72 hours.
I wrote this article myself, and it expresses my own opinions. I am not receiving compensation for it (other than from Seeking Alpha). I have no business relationship with any company whose stock is mentioned in this article.
Editor's Note: This article discusses one or more securities that do not trade on a major U.S. exchange. Please be aware of the risks associated with these stocks.