On February 9 when its share price was just $46.66, we saw a good deal of upside for Paychex (NASDAQ:NASDAQ:PAYX). We had a six-month target price of $49.44 and an 18-month target price of $53.52. Well, fast-forward to today and the share price closed at $53.99 before the Easter break. With its third quarter earnings due out on Wednesday we have decided to close our position.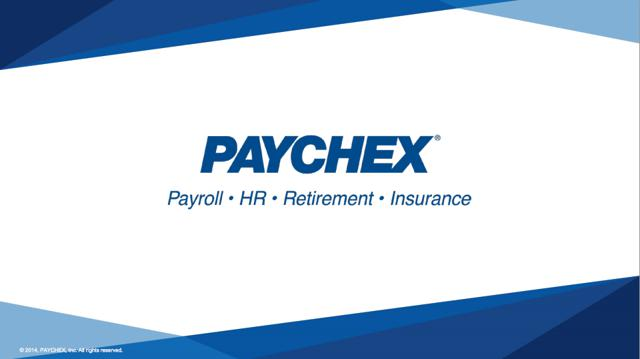 We have been as delighted as anyone to see the shares climb by almost 16% since we bought in. But we are now fearful that anything short of exceptional for its third quarter results will create heavy selling pressure. We have achieved exactly what we set out to achieve and so moving on to a new undervalued company is fine by us. The only opportunity we now see here could be a short opportunity for those brave enough.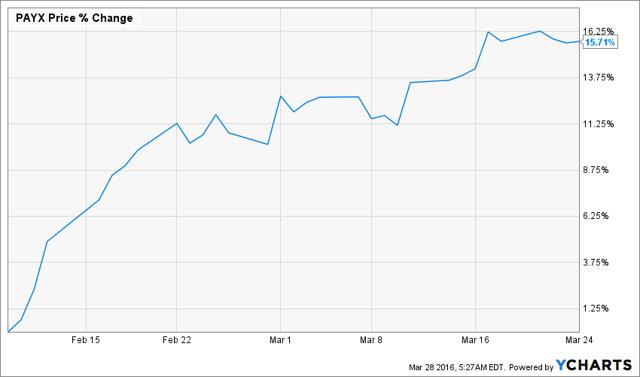 Our investment thesis was based around Kauffman Foundation's research which showed that small business activity had been growing in 49 U.S. states. With small to medium-sized businesses being the life-blood of the Paychex business, this was a great catalyst to a strong performance in our opinion. But perhaps not as strong as the market is now expecting.
We believe the company is valued fairly at 24 times earnings. The current share price of $53.99 is indicative of full-year earnings coming in at $2.25 per share. Looking at the analyst consensus estimates we find that only the most bullish analyst currently believes the company can produce earnings per share of that level in fiscal 2017. No one thinks it will get anywhere close to that level in fiscal 2016.
In fiscal 2017 the highest estimate is $2.26 per share and in fiscal 2016 it is $2.06 per share. Of course 24 times earnings is just our preference for what we feel to be fair. Other investors are very welcome to pay more for the shares than that, but we aren't as comfortable with paying more.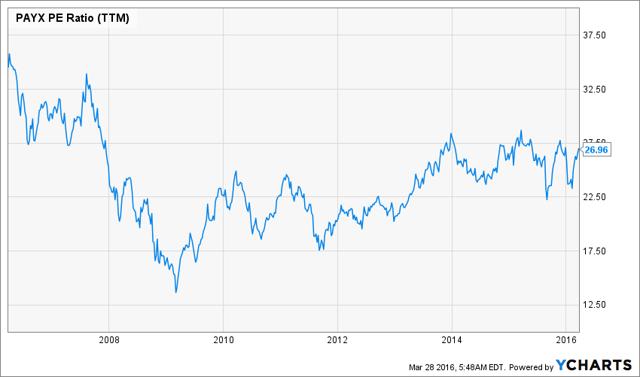 As you can see above the price to earnings ratio had a tendency to peak at around 24 times earnings from 2008 through to late 2013. We are not expecting any spectacular earnings growth in the next five years which could justify paying a premium to this level.
The boom in small business could cause a surprise, but we feel there is significant downside risk if it doesn't. We would see the shares dropping down around 10% to $49.00 if there is a poor result on Wednesday when the market is expecting 50 cents per share.
We still think that Paychex is a great company at the right price. If the company has been able to capture some of the small business boom, then the future could be very prosperous. Building relationships with its customers is key for it to build on its success. By successfully assisting small businesses with their payroll, we have little doubt these companies will stay loyal and grow with them. As these small businesses grow they will have to hire more staff, which then potentially allows Paychex the opportunity to assist with the Human Resources side of the business.
In the third quarter we expect the company will produce earnings per share of 50 cents on revenue of $750 million. This will set up the company well to achieve full-year earnings per share of $2.06 as we forecast at the start of February. But sadly those earnings are just not enough to warrant paying a premium for the shares today.
We would recommend closing positions in Paychex right now as we just feel it has become too expensive and is at risk of being chopped down substantially on Wednesday after earnings are announced. We would be very happy to be wrong and would love to see the company smash earnings estimate and have the share price skyrocket. But after amassing a 16% return in a market that gives very little, we are locking in our gains now.